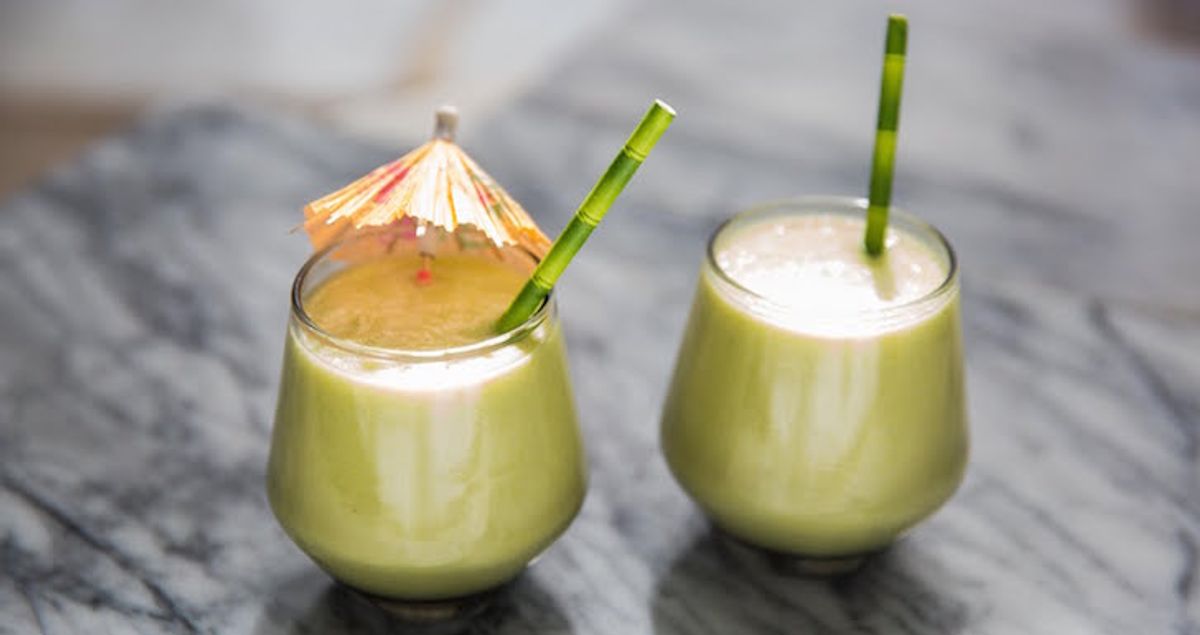 Entertaining
Hemsley + Hemsley's genius piña colada smoothie recipe.
The healthiest and simplest thing you can do for yourself is to eat seasonal, whole foods. By this point, we've learned that much. But that doesn't mean we necessarily follow that mantra—there's many a hurried workday when we end up with a Styrofoam takeout container of Thai food for lunch followed by a dinner of movie popcorn. As inconsistent as we are, there are people who make eating well (and making food that is healthy but never boring or bland) look ridiculously easy. Take sisters Jasmine and Melissa Hemsley, the London-based foodies who are masters at seasonal nutrient-dense cooking that also, gasp, tastes good. Every Tuesday, Hemsley & Hemsley will be back with a new, easy-to-make recipe perfect for al fresco summer dinners (rosé not included) and packed lunches alike. We're hereby limiting our popcorn dinners to a once-a-month max.
---
This smoothie is sunshine in a glass! We love this as an enzyme-rich meal for breakfast. Rich in Vitamin C, the delicious piña colada flavours of coconut and pineapple envelop the anti-inflammatory turmeric, so you don't have to rely on curries to enjoy this spice. Add a raw egg yolk if you need more oomph and a little raw honey if you have a sweet tooth.
Full of antioxidants, baobab powder is also a great addition, adding a delicate sherbet flavour. This powdered, nutrient dense fruit dries naturally on the branch of the baobab tree, known as 'the tree of life.' It's a source of 14 essential vitamins and minerals and is particularly high in vitamin C, vitamin B6, calcium, potassium and thiamine. Grate a little fresh nutmeg over for a true piña colada taste!
INGREDIENTS
Use Organic where possible
2 (350 ml each)
• 1⁄2 large pineapple, peeled and cut into blendable chunks, about 300 g

• 200 ml full-fat coconut milk

• 1 ripe medium avocado, peeled, about 100 g

• 1 tsp vanilla extract

• 1⁄2 tsp ground turmeric

• 150ml water or coconut water
OPTIONAL
• 11⁄2 tsp baobab powder

• 11⁄2 tsp raw honey

• 1 egg yolk
INSTRUCTIONS

1. Blend everything together with 150 ml water or coconut water until smooth, adding more liquid if necessary.

2. Drink immediately or pour into a glass jar or stainless steel flask and keep in the fridge for up to 48 hours.
Our book, The Art of Eating Well, contains over 150 nutrient-dense recipes free from gluten, grain and refined sugar. Follow @HemsleyHemsley on Instagram for behind-the-scenes sneak peeks and the latest from Jasmine and Melissa.