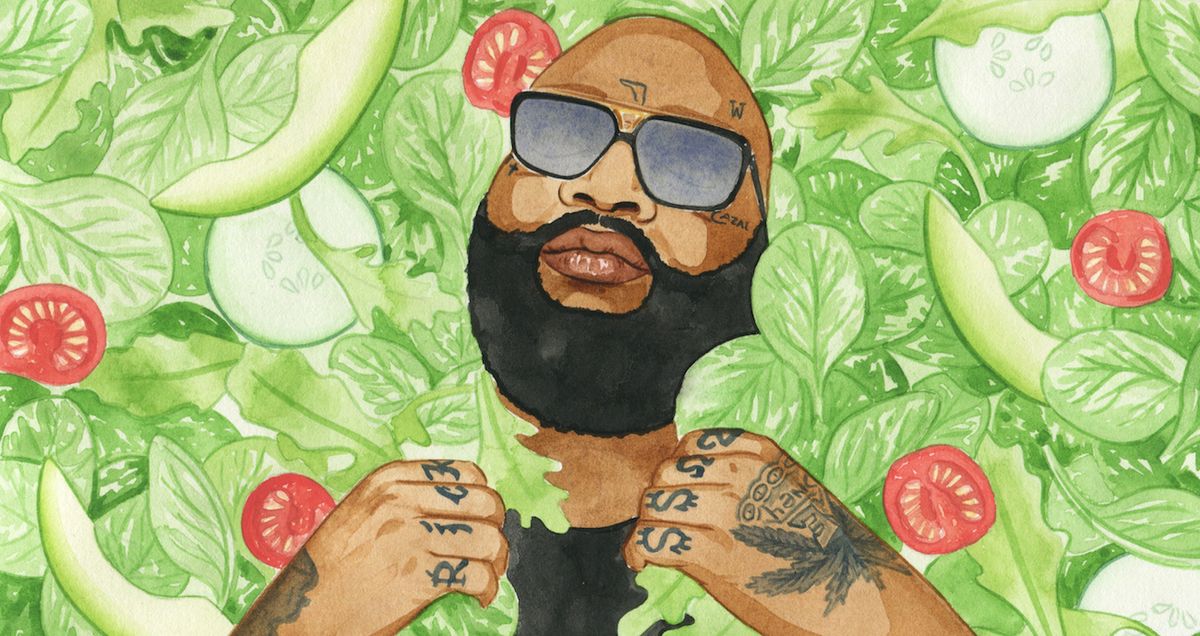 Entertaining
Rick Ross's Favorite Salad (& How to Make It)
Ross' go-to, Chef Amaris Jones, breaks down Da Boss's healthy & protein-packed meal of choice.
Here's the deal: Remington Guest of The Cheap, The Best & The Hidden has filled us in on pretty much everything from the best vegetarian and vegan bicoastal eats to Mother's Day gifts and sneaker slang. True to form, he's now gone ahead and copped the recipe to Rick Ross's favorite protein-rich salad for us to DIY this weekend. Pretty sure if it's good enough for Rozay, it's good enough for us mere mortals, too. We'll let Rem take it from here.

You ever wonder what Ricky Rozay, A.K.A. the boss A.K.A. hood billionaire likes to eat? YOU'RE SO LUCKY, because I was just chillin' with Ross's personal chef, and got the low down on 'the boss salad.' I asked Chef Amaris Jones, queen of soul food and well-known for her Southern fried, free-range chicken pop-ups at The Forge in Miami Beach, a few questions about Ross and his new get-fit initiative, ROSSfit. Peep her responses below.
---
HOW OFTEN DO YOU COOK FOR ROSS?
"Between three to four times a week, when he's not traveling."
HOW MUCH DOES HE EAT? LIKE, 3 PLATES?  
"No, he eats one plate per meal. Each meal is packed with protein; then, he may have a snack like a coconut yogurt parfait with fresh berries."
ANY CRAZY REQUESTS? 

"Nothing crazy."


MOST DIFFICULT THING TO GET HIM TO EAT?  

"Kale. I find creative ways to blend it into his meals."


WHAT ARE YOUR HEALTH TIPS FOR PEOPLE WHO DON'T HAVE PERSONAL CHEFS? 
"Focus on purchasing organic as much as you can. Prep and store your food the same day you go grocery shopping. Cook with healthy fats such as coconut oil, ghee butter, olive oil and grapeseed oils. Use plenty of herbs and spices in your meals, always have a green veggie with your meals, and avoid eating processed food."
WHAT'S A FUNNY ANECDOTE ABOUT RICK YOU CAN SHARE?
"One day after his workout, I handed him a glass of red juice, full of berries and pineapples. He was like, 'what kind of juice is this?'. 'Oh, beet juice'. He was like, 'what?'. I told him, 'it's super healthy for you and your digestive system'. He said, 'oh, you like doing that shit... sneaking beets in my juice. But it tastes good as shit!'." 
WHAT'S THE ONE THING ROSS ALWAYS ASKS YOU?

"'Did you prepare the Boss Salad today?'"


INGREDIENTS:

2 garlic cloves
3 tablespoons fresh lemon juice
1 tablespoons Dijon mustard
Oinch of sumac spice
1 tablespoon of mayo
2 shallots thin sliced
1/2 teaspoon anchovy paste
2 tablespoons worcestershire sauce
1 hard boiled egg
2 raw eggs
1/2 cup of flour
1/2 cup of panko bread crumbs (can be gluten-free bread crumbs)
1 teaspoon of smoked paprika
3/4 cup, plus 3 tablespoons grapeseed  oil
1/2 cup freshly grated Parmesan, plus shaved Parmesan for serving
3 heads romaine hearts, sliced lengthwise in 1/2
Salt
Freshly ground black pepper


INSTRUCTIONS



FOR THE DRESSING:
In a blender, combine the garlic, salt and pepper, sumac, lemon juice, mayo, Worcestershire sauce, anchovy paste, Dijon mustard. Drizzle in 3/4 cup grapeseed oil to emulsify.



FOR THE BAKED CRISPY SHALLOTS:
Beat eggs, add smoked paprika and pepper into a bowl. Add  sliced shallots, remove shallots and coat with flour and panko crumbs. Place on parchment lined baking sheet. Bake at 325 for 10 to 15 minutes until your desired crispiness has developed. Remove from oven and top with sea salt.



BUILD YOUR SALAD:
Chop romaine lettuce heads, slice lengthwise. Top with dressing, shaved Parmesan, fried shallots and boiled egg (cut in half). Add sea salt and cracked black pepper to taste.


INGREDIENTS:



RICK ROSS' FAVORITE THE LAMB CHOPS
1 tbsp grapeseed oil
1-2 tsp red wine
1 blood orange (cut into 4 wedges)
2 tsp fresh garlic, minced
2 tsp fresh rosemary, minced
2 tsp fresh parsley, minced
1 tsp of cajun spice rub
4 lamb rib chops



FOR ROASTED CAULIFLOWER & PEPPERS
1 tbsp unsalted butter
Kosher salt and freshly-ground black pepper
1 large head of cauliflower
1/2 pound of mini whole peppers


INSTRUCTIONS:
1. Mix together the  grapeseed oil, garlic and herbs. Season the lamb chops lightly with cajun spice. Rub the chops with the grape seed oil mixture. Set aside to marinate 10 to 20 minutes.
2. Roast the veggies: heat oven to 400°F  Lightly oil a large roasting pan or baking sheet. Cut the cauliflower into florets, add whole peppers and place them in a bowl. Toss with cajun spice and minced garlic. Drizzle with grapeseed oil and toss so that the florets are lightly coated with oil. Spread the florets and peppers out into a single layer on the roasting pan. Sprinkle with salt and pepper. Place in oven for 20 to 30 minutes until lightly brown and are tender.
3. Heat a skillet over medium heat. When the skillet is hot, add blood orange wedges (squeeze the juice in the pan and add wedges), rosemary and garlic. Remove wedges after 2 minutes. Add the chops to the skillet and cook to desired doneness, about 3-4 minutes per side for medium. Serve lamb chops on top of veggies.