Entertaining
Day Drinking: Grove Gimlet & Savory Gin Cocktail
With owner Adrian Vezina, The Belmont. Ottawa
---
Welcome to Day Drinking, our new series in which we'll be celebrating just that—the age-old tradition of getting tipsy during the daytime. We'll be spotlighting cocktails, bars and their respective bartenders every Friday—think of it as your digital pre-drink for the weekend ahead.
In case you've been on some sort of obscure social media cleanse, something's happening across feeds right about now. Engagements. Yup, a whole damn slew of hidden-camera proposal snapshots, bling pics, and calligraphic, Etsy-purchased 'Save the Date' invite previews… you know what we're talking about. Did your BFF just ring you up with news that her boyfriend of 8 months popped the question? For that you need a cocktail… a strong one. So if you're having wedding jitters, but you know, you're not getting married (and if you are, too—they're really, really pretty), jot this recipe (or two) down. Adrian Vezina, of The Belmont, concocted the perfect libations for such an occasion. Drink up!
---
Grove Gimlet
1.5 oz HENDRIX GIN
1.0 oz FRESH CUCUMBER JUICE
0.5 oz FRESHLY SQUEEZED LIME
0.5 oz HONEY SYRUP
2 dashes APOTHECARY LATIN LIME BITTERS
4 MINT LEAVES
one > Combine all ingredients.
two > Shake over ice and strain.
three > Garnish with cucumber.
---
FAVORITE DRINKING SOUNDTRACK?
"Anything I know all the words to. I'm a little bit of a show pony after a couple. The albums I have on repeat these days One Life Stand by Hot Chip, Kaputt by Destroyer and Honey Bear by Father John Misty."
FAVORITE TOM CRUISE COCKTAIL-ERA BARTENDING TRICK?
"Bottle tossing is fun. I have zero depth perception, so that makes things difficult and messy."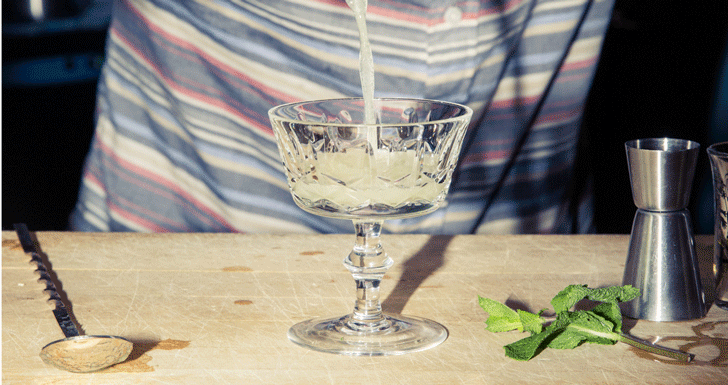 LIQUOR OF CHOICE?
"Jameson"
COCKTAIL OF CHOICE?
"Boulevardier. A real old classic with a lot of great flavor."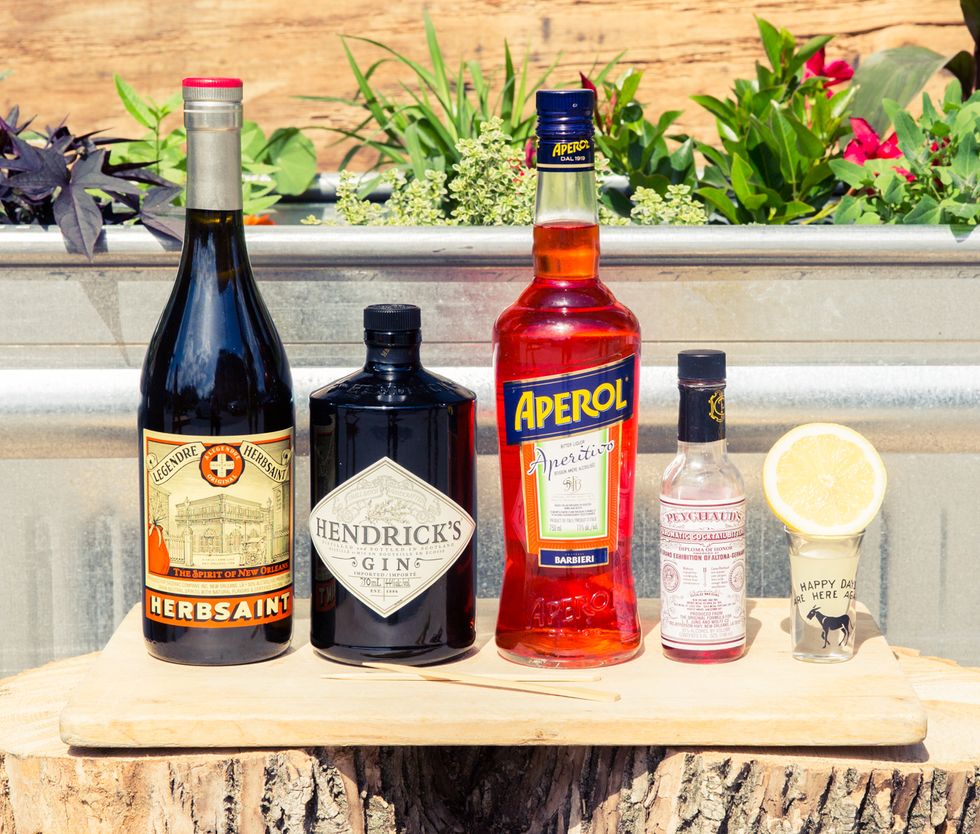 ---
Savory Gin Cocktail 
1.5 oz HENDRICKS GIN
0.5 oz APEROL
.75 oz LEMON JUICE
2 dashes PEYCHAUDS BITTERS
HERBSAINT WASH
one > Pour 1 bar spoon of Herbsaint in the coop.
two > Fill with ice and stir.
three > In shaker add gin, Aperol, freshly squeezed lemon juice and two dashes of Peychauds bitters. 
four > Shake with ice.
five > Empty coop of ice and Herbsaint (this will create your wash) and strain shaker ingredients into the coop.
---
MOST MEMORABLE COCKTAIL?
"I stole a sip of my grandmothers G&T when I was kid—I will never forget that."
BEST HANGOVER CURE?
"Strub's pickle brine. There's always a jar in the fridge for sips."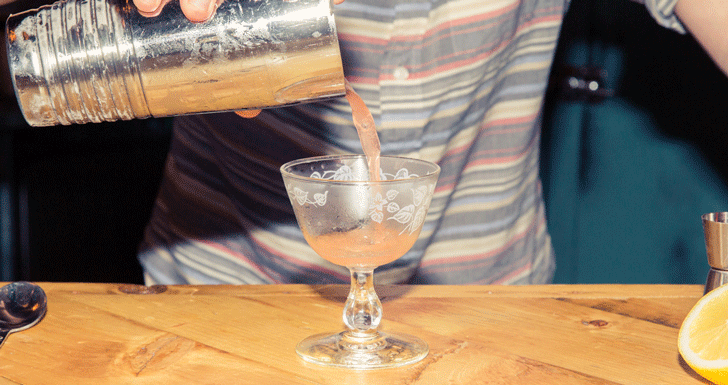 PERSON I WOULD MOST LIKE TO DRINK WITH?
"My grandfather"