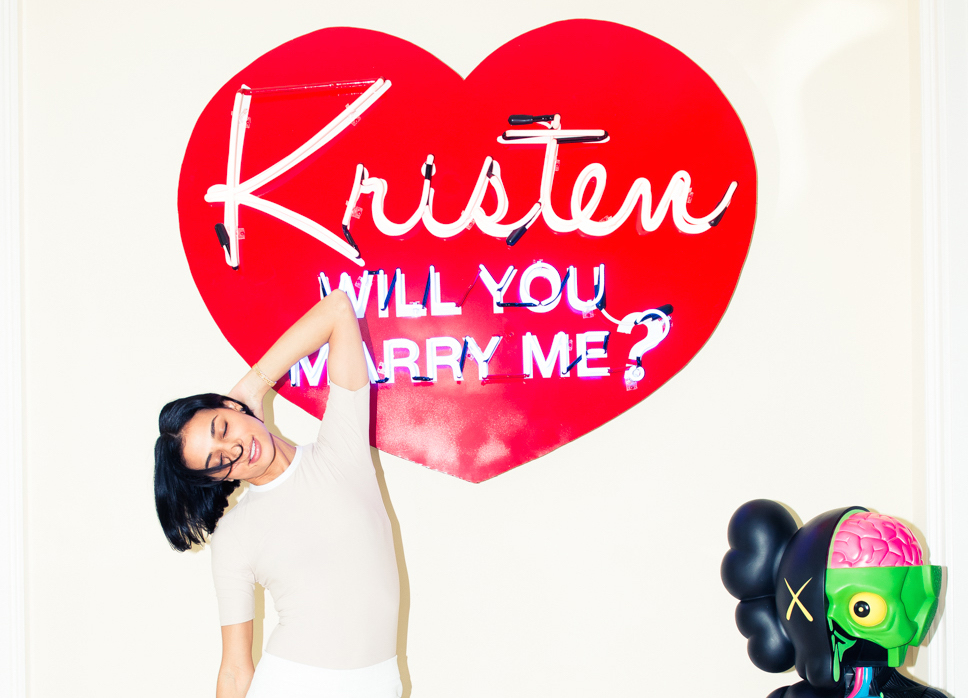 The Ultimate Fashion Industry Engagement Stories
How Jen Atkin, Pamela Love, Simon Doonan and more got engaged. Kleenex not included.
While we've always been purveyors of accessory voyeurism, engagement rings take our obsession to a whole new level. The subtlest glint anywhere near a ring finger and we become private investigators (Instagram, get on that zoom function), we've had guilty-secret pin boards longer than most of our relationships, and we're total suckers for the odd tearjerker proposal clip.*
Essentially, like anyone else in the world, we're suckers for a good romantic story—especially when it comes from the otherwise impossibly chic mouths of our favorite industry vets. (Guys, everyone can get sappy sometimes.) And if we've learned anything from pressing them for the dirty details, it's that it's the simplest proposals that pack the most emotional punch (a.k.a. straight to the gut, er, heart).
From Pamela Love's long-distance reunion to Jen Atkin's Grecian sunset question-pop, here are a few of our favourite engagement stories—and you better believe that with closets that good, their nuptials were next-level eye candy.
*The trite, the tacky, and the top-of-the-Empire-State-Building notwithstanding.
—Chelsey Burnside
"[My engagement] was a total surprise. We were together for five years and never ONCE spoke about marriage. We were on vacation in Greece and he took me to watch the sunset and then asked me to get out of the car to take a picture. He told me how much fun he has with me and asked if I would keep having fun with him the rest of our lives. I couldn't breathe and asked about 30 times 'OMG what is this? What is happening?' Mike designed the ring with Lorraine Schwartz.
We were in Paris for a friend's wedding and we were at lunch and talked about how neither of us wanted a big wedding. So we decided there and then we should elope and do it in Paris, where we had our first kiss. My good friend Fajer Alrajaan lives in Paris and helped us get our flowers and photographer. I wore a red Rami Kadi dress that I had and Mike wore a Burberry suit.
[For our honeymoon] we went to the Maldives for a week—the best place in the world to unwind!
I wouldn't have changed one thing. It was the most romantic moment I will ever have in my whole life. Just me and my husband crying and exchanging vows in Luxembourg Gardens."
Jennifer Fisher
Jewelry Designer
"We were having a huge Halloween party and I had gone out to get my makeup done (as Malibu Barbie—don't ask) and when I came home Kevin had a giant sheet covering the stairs to our upstairs loft and I came in yelling at him to take it down because we were expecting 100 people and I looked ridiculous… He yelled for me to come upstairs; that he had done something cool. I walked up the stairs and when I did he pulled back the sheet and he was wearing a t-shirt reading MARRY ME in Red Sharpie. There were huge arrangements of single color flowers everywhere and he got down on one knee. He video taped the entire thing, too, so imagine the Malibu Barbie makeup without the wig! Not my best moment in the beauty department, but a home run in the life department. My ring had evolved a bit since the engagement, but it started as a 4 carat round solitaire in a 4 prong Tiffany setting.
Our wedding day took a lot of planning. We decided on Bacara in Santa Barbara as I grew up in Montecito and Kevin grew up in Brentwood. It was an amazing day with 400 family and friends. I wore Vera Wang and Manolo Blahnik and Kevin wore John Varvatos and Prada. I knew I wanted a clean and contemporary setting which was achieved with the help of our amazing wedding planner.
Sadly we were married 3 days before 9/11 so we were going to funerals after the wedding and had to cancel our honeymoon to the Maldives. We later ended up going on an amazing week trip to Rome later in the year instead.
Looking back I wouldn't have worried about so many micro details. No one notices!!!"
Simon Doonan
Creative Ambassador-at-Large, Barneys New York & Author
"There was no proposal. It was more like, 'Hey, we should get hitched when we are in San Francisco next, because now we can 'cause now it's legal. Then, if one of us gets hit by a bus, the other one won't have to sell everything in order to pay estate taxes.' #notveryromantic. We have been together for decades so it was all super-casual. It was 2009. I think. We can never remember. Not long after we married Prop 8 was upheld, which meant our marriage was not legal. But then it was made legal again a few years later. Color us confused.
We made sure not to plan anything. It was insanely informal. In the morning we went to SF City Hall with Jonny's mum and sister and waited in line with hundreds of groovy lesbians, who thought Jonny's mum and sister were a May to December lesbian couple. We then went back to the Clift Hotel where a Rabbi performed a short ceremony and the four of us enjoyed a cake. Then we went to Jonny's store to do a bit of re-merchandizing, and then to Barneys SF to say hi to Irene Neuwirth, who was doing a jewelry PA. In the evening, we went to Chez Panisse and Alice Waters treated us to dinner.
We wore what we had on. Jonny had a J.Crew blue sweater and I wore a flowery shirt plus an old Thom Browne velvet jacket with a ripped lining. #fauxhemian.
[Our honeymoon] was the best part. We went to Big Sur and stayed at the Post Ranch Inn with Jonny's folks and Isabel and Ruben Toledo and Ariel Levy and Amy Norquist.
Our wedding was perfect. No pressure. No sweat. Tons of chuckles. No mishegas. It was the ultimate groovy non-wedding."
Mignonne Gavigan
Accessories Designer 
"[My engagement was a] complete surprise. Coming from the south, so many of my friends had marriage on their mind before I could wrap my head around it. I wanted to have a successful career AND a family, but I was very focused on the career first. I was the head footwear designer for Rachel Roy at the time, and my job was taking me all over the world traveling for inspiration and factory visits. My husband (boyfriend at the time) is a very thoughtful person. He casually asked if I'd like to go upstate and stay in a rented house in Millbrook. We like to travel anyway and see new places, so I didn't think anything of it. We hit up the grocery store on the way to the house and he started making dinner. I roamed the beautiful old house a bit. It was nestled into the side of a hill with a waterfall on one side and had this beautiful grass courtyard on the other. The house belonged to two architects and the inside was all open and utilized the light so well. We sat down to dinner and after I failed at making a fire in the fireplace, he brought the cheese tray in. On it was an interesting silver canister and he told me to open it (I was still completely in the dark). I opened it and there was the most beautiful ring I had ever seen… I was speechless, shocked. I couldn't get anything out of my mouth I was so stunned. I started babbling, talking about how we were going to grow old together and do all this cool stuff, when he said, 'So is that a yes?'
I had a lot of apprehension planning the wedding because it seemed so daunting… I was working so much that I didn't have a lot of spare time to put into the wedding. My family was hoping for something traditional, but Gray and I had traveled so much that we wanted to do something a little different. We decided on a place we had been a couple times and fell in love with: Maroma Resort and Spa in Playa del Carmen. We brought our mothers down there (to meet…) and help scout it out. We worked with a planner on their staff to help nail down all the specifics, but my husband played a huge role in the planning. I chose visuals while he did everything else. Thank goodness he took an active interest otherwise it would have taken forever to tie up all the loose ends.
I was going to design something myself, but realized I didn't have enough spare time. I settled on a Vera Wang strapless gown with a mille feuille skirt. I designed my belt and veil. My husband had a light blue suit made by a wonderful tailor in Nolita called SEW. I designed a high neck, low back, short in the front and long in the back dress for my bridesmaids. I let them choose from 5 shades of blue (to match the water) and the result was wonderful. I made them each a necklace from my current accessories line as a gift… they could wear it or not.
[I wouldn't change]  a thing. I was never one of those people who had a scrapbook of what they wanted for their wedding; I was just interested in having it in a beautiful location where all my friends could relax and enjoy themselves with no strict itinerary, just an easy place to kick up their feet."
Pamela Love
Jewelry Designer
"My husband and I were in a long distance relationship for several years. He told me before he moved to New York that he was probably going to come put his stuff down in the apartment and then propose to me, which is exactly what he did.
We had spoken about the ring previously, and he knew that I wanted to have a hand in designing it. Matt picked out the diamond, and then I worked with my friend Monique Péan to create a ring together—which eventually lead to us creating a line of bridal jewelry together, called MPL.
We planned the wedding ourselves. It was really important that we work with friends on everything. My husband's family owns a nursery and he grew up working there, so it was really important to him that we were really involved with the floral arrangements. We also decided to do potted plants instead of traditional arrangements, so that everyone could bring some home and keep them for a long time. My husband's old band mates performed when I walked down the aisle, and our other good friend's band performed during the party. The list goes on. We wanted to keep everything very close knit. I wore a custom Mara Hoffman gown, as did my bridesmaids. My husband wore a Bespoke Billy Reid Suit."
Rajni Jacques
Fashion Editor
"The proposal was a surprise to me. I did not see it coming. My husband, David Dowd, asked in a very David Dowd way; meaning super low key and not showy. He picked me up from work and before we drove off he just asked. It was very subtle and simple. Just how I always wanted it to be.
 
I was never that little girl that dreamed about her fairytale wedding so when I got engaged I took it one day at a time. We did it a Monmouth Park Racetrack because it was cool and it was a place we both enjoyed going so that was done early. I am also not a planner, so I had to hire one to deal with that. I'm more of a see what happens gal, which I know is not the best when planning a wedding.
He wore a Calvin Klein silver suit and I wore a re-worked vintage dress. For the honeymoon we went to Florida for four days—because that was all the days we both had off at the time. But now, whenever we go on vacation we consider it an extension of our honeymoon.
 
My advice to brides would be to take a moment to really take in the reception. It goes by so fast and it's all a blur in the end. I would change nothing about the engagement because it was so fitting for my husband's personality. As for the wedding, I would have taken some people off the list and added others."
Kahlana Barfield
Editor-at-Large, Fashion & Beauty, Instyle
"My sisters, who are my best friends, came to visit me in New York from Seattle. I thought they were just coming to chill for the weekend, but little did I know they were part of my fiancé's proposal plan. They flew in early in the morning and as soon as they pulled up to my apartment we headed to Soho to shop as we normally do when they visit. We were out all day and finally got back around 8pm. When we walked in the door, my fiancé had a feast arranged in the kitchen. I remember thinking "this is a lot of food," but I still had no clue what was coming next. About 20 minutes later, I get a call from two of my girlfriends saying they were in the area and wanted to stop by to see my sisters. They arrived with boxes of Junior's Cheesecake in their hands and that's when I knew something strange was going on. I played it cool, we had a few drinks, and out of no where my fiancé starts talking about the day we first met. Now, he claims I made the first move on him, but everyone knows that's a lie. So we joked back and forth about his fabricated story and then things began to get very serious.
He's standing against the large windows in our apartment (we live in a high-rise building on the 23rd floor) and asked me to come stand next to him. He begins to talk about how much he loves me and how much our relationship means to him, then asked me to look out the window. We have a gorgeous soccer field across the street from our building and as I looked out the window I noticed the lights to the field were on. I looked down and see his two best friends holding a huge sign that says "La, Will You Marry Me?" ("La" is his nickname for me). I can barely breathe because everything's happening so fast. I turn around and he's on his knees holding the ring. The ring couldn't be more perfect. Our Accessories Director at InStyle had referred him to this amazing jewelry designer Alexandra Mor — they designed it together. He said he wanted my ring to be different because I'm different. And that's what makes it so special. It also meant the world to me that he made sure my sisters were there when he proposed. It was the happiest day of my life."