Entertaining
With bartender Gord Hannah, The Drake Hotel. Toronto.
---
Welcome to Day Drinking, our new series in which we'll be celebrating just that—the age-old tradition of getting tipsy during the daytime. We'll be spotlighting cocktails, bars and their respective bartenders every Friday—think of it as your digital pre-drink for the weekend ahead.
We don't need a legitimate reason to celebrate, that much is pretty well established by now. But juusstttt in case, it is the first long weekend of the summer, so... 


Okay, so we're fully aware that we don't reside in any one of the 50 States (some of you can probably relate) but like we said, we'll find any excuse to get together with friends, hole up on a rooftop patio (or park, because cities), and have one, uh, or more cocktails. And nothing quite says 'no work on Monday' like the Marrakesh Express, the Cuban rum-based booze-y bev made with local ginger beer, lime, falernum, pineapple and topped with more than a few dashes of bitters, concocted at The Sky Yard at The Drake Hotel. You can make your way up to #thesix to say 'Hi' or make it yourself at home. See ya'll on a Tuesday!
---
Marrakesh Express

1.5 oz HAVANA 7 CLUB 7 YR OLD RUM
1 oz FRESH LIME JUICE
½ oz FALERNUM
½ oz PINEAPPLE SYRUP
3 oz THOMAS LAUERS GINGER BEER
ANGOSTURN BITTERS FLOAT
 
one > Shake rum, lime juice, falernum, and pineapple with ice
two > Strain over ice in a tall glass
three > Top with ginger beer
four > float bitters on top
five > garnish with a slice of lime
---
FAVORITE DRINKING SOUNDTRACK?
"It really depends on the reason you're drinking. My favorite moment is drinking in celebration, so I guess it would have to be Happy Birthday."
FAVORITE TOM CRUISE COCKTAIL-ERA BARTENDING TRICK?
"The Fountain. You line up four martini glasses and three on top, and then you pour seven drinks at a time."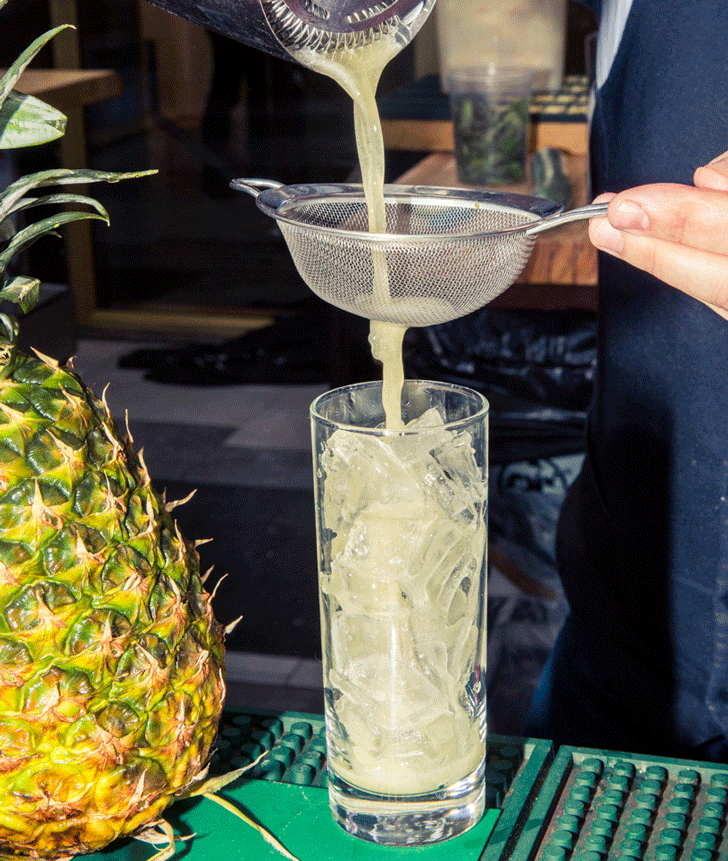 LIQUOR OF CHOICE?
"Depends on the occasion. If I'm drinking with my father, I'll drink scotch. If I'm drinking in the summer, I'll drink rum."
FAVORITE COCKTAIL?
"Manhattan. Old school hotel classic."
MOST MEMORABLE COCKTAIL YOU'VE EVER HAD?
"Frankie Solarik's Manhattan. Go to The Bar Chef and try it — it's a once in a lifetime experience."
BEST HANGOVER CURE?
"Booze. Hair of the dog"
PERSON YOU WOULD MOST LIKE TO DRINK WITH?
"Simon Ho"
P.S.
For your Memorial Day, Marrakesh Express sipping, listening pleasure, we've tasked world-renowned DJ, MICK (he DJ'd the TIME 100 Gala and is LeBron's go-to—need we say more?) with putting together a little summer playlist for us while we sip in the sun. Just press play.
DJ MICK
MEMORIAL DAY WEEKEND PLAYLIST
---