Career
Deskside: Natalie Kingham
Buying Director, MatchesFashion.com. London
---
Welcome to Desksides, The Coveteur's brand-spanking-new series in which we sit down with leaders in various creative fields and figure out how they got there. We guess we could've also named this, "how the hell do I get your cool job," accompanied with a "help me I'm poor" GIF from Bridesmaids, but then we realized going the mononymous route was a little more succinct.
As dream jobs go, head buyer of a major designer retailer is right up near the top of our (ever-growing) list—glamorous travel, long dinners with designers, and a seriously pimped out wardrobe (someone's got to test drive the merch, right?). It goes without being said, then, that we couldn't wait to pick the brain of Matchesfashion.com's Natalie Kingham, the buying director who oversees every inch of the e-commerce site's to-die-for womenswear selection. This is the woman who knows how to negotiate exclusive collaborations with the likes of Mary Katrantzou, Vivienne Westwood and Preen (want, want, want)—she's got connections most of us only fantasize about, and a little black book to match.
We'd think a career like hers would involve serious planning and the kind of goal setting we learned about in junior high careers workshops, but Kingham has never really been the '5-year plan' type. After stints of being a stylist, a stay-at-home mom, and even the designer of her own line, she's now arrived at her dream job. And ours too, as we might have mentioned once or twice. We caught up with Kingham to find out how she got here, what she's learnt—and why becoming a fashion buyer might be less about your CV, and more about your passion.
ON HER FIRST BIG BREAK:
"I entered retail when I was about 20 years old, at Joseph's Brompton Cross store, which in those days was the destination store of London. All the key players in the fashion and art industries were in there all the time. I was lucky enough to get a job there, and very quickly Joseph took me under his wing and asked me to go out and find him up-and-coming British designers to bring into the store, alongside the own label and all the international brands we sold. It was great to be recognized so early on. I did that for maybe a year or two—it was very hard work and very long hours, and I loved it."
ON DEALING WITH UNEXPECTED CHANGES:
"I fell pregnant in my early twenties. When you're in the fashion industry as a young person, you don't earn a great deal of money, so I decided to stay at home with my daughter. It was quite an easy decision, because it wasn't going to make a great deal of difference financially.
After that I had quite an unusual path. I kept styling, and kept my hand in with lots of friends in the industry. When my daughter went to nursery, I started to work part-time at a great store called Pelicano. I then went on to do my own line from 2000 to 2005, which was called Skirt, and I had pretty good success. I eventually wound it up, but continued to do bits of styling and work on other people's collections. Eventually I realised that I really did want to go back to full-time buying—I felt that my daughter was getting to an age where she was pretty grown-up, and I wanted to get back into a good, strong career. I managed to secure myself a position in wholesale for a brand new multi-brand company, and we sold the likes of Giles, Christopher Kane, Jonathan Saunders, Nicholas Kirkwood, and all the new British designers. I did that for a couple of years, getting to know the best stores in the world and really getting back to understanding how designers work.
One of the relationships I built was with Matches. Then when I heard that they were looking for a buyer, I plonked myself in front of them and told them everything I've just told you. I said, 'I have a rich history within the fashion industry—I understand all the different aspects of it, from styling to PR to production to sales.' I really felt that my varied experience would put me in good stead to come in as a buyer for them, to which they said yes. That was five years ago."
ON WHAT HER JOB INVOLVES:
"I head up the womenswear team at Matchesfashion.com, and I oversee everything that we buy on the women's side, including the fine jewellery, the shoes, the bags and the ready-to-wear. We spend a lot of time working on strategies around how we can collaborate with our designers, come up with exciting new visions for the company and continue to keep our retail space an interesting one for our customers. For example, we've partnered up with Mary Katrantzou, and done exclusive bags with her—I really want to come up with innovative ways of bringing product to the marketplace that isn't necessarily there. We have such good, strong relationships with so many designers—those collaborations are very exciting, and I work with our online editorial team and PR team to bring them to life, scouring for new designers that I feel that we should work with.
I also work with our team to decide which trends we're really buying into and what we'd like to talk about all season. Then I guess the more technical side of it is making sure we're spending the money in the right places, and getting on lots of flights around the world to see collections. It's very varied, and there's a big business aspect and a big creative aspect. I think that's what's so great about a buyer's role. I'm a creative person with a business mind, and I think for anybody who has both of those sides, it's an interesting avenue to take within fashion."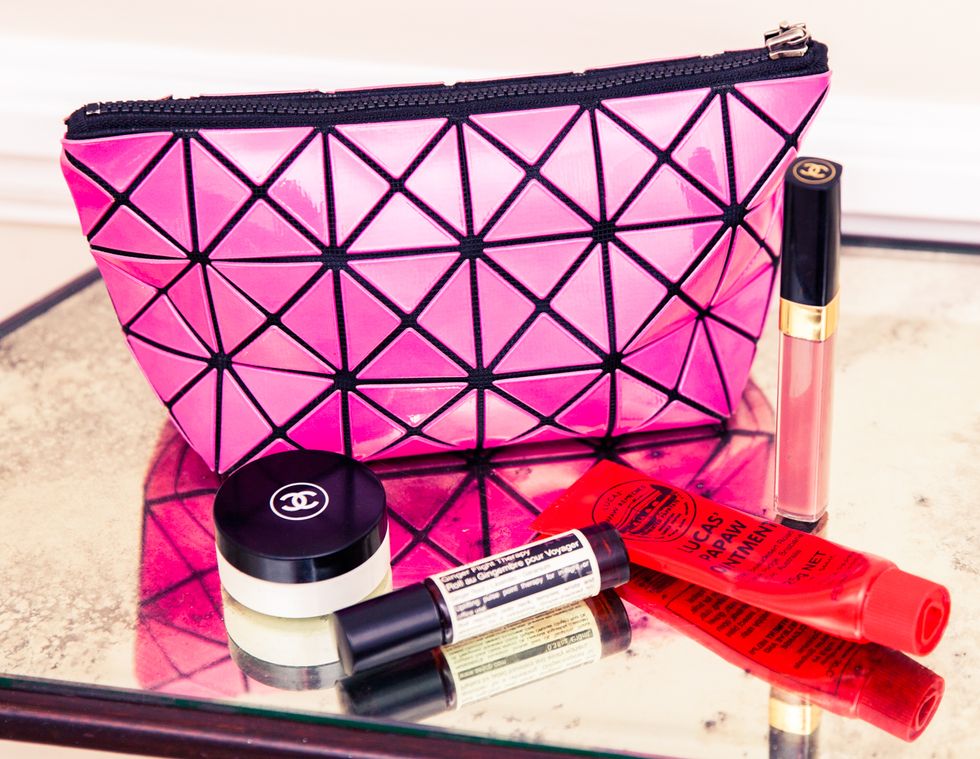 ON HER UNCONVENTIONAL CAREER ROUTE:
"Life takes lots of different twists and turns, and you don't always expect things to go the way that they do. There are deaths and marriages and divorces and children—you know, the usual life-changing things. Really, I just changed my career path along the way, around those events, and made decisions accordingly.
My goal when I was in my early twenties was to be a buyer—I wanted to travel the world with a really amazing retail team and to work with designers. I do believe that if you want something enough and you work hard enough, it can happen. I sometimes pinch myself and think, 'God, I've actually achieved what I wanted to achieve many, many years ago, but through a different path.' I think life has a funny way of bringing you to where you needed to be in the end."
ON TRAVELLING FOR WORK:
"Every three weeks or so, I'm going somewhere. It is exhausting, but I think you get used to it. First and foremost, I've always loved travelling—I travelled a lot before my fashion career. I think you have to be someone who enjoys it, for sure. But it's also about looking after yourself. There is that thought process within our company—we are very interested in wellbeing. Travelling can take its toll, so it's just about vitamins, and making sure you exercise and get fresh air. All these things are essential anyway for a good healthy lifestyle."
ON NURTURING A TEAM:
"There are 15 to 20 people in our womenswear team, and I think there are five or six who report directly into me. Managing a team is a challenge, I think, for anybody in any position. You go into whatever your field of work is and you have a vision of what that's going to be, and then you realise 'Oh my goodness, I have to actually manage people as well.' But I've enjoyed the challenge. I think managing a team is all about encouragement and helping people to develop their strengths, whilst recognising areas they need to work on. Nobody's perfect, but everybody has something that is really unique to them and that they're really good at. I'm quite a maternal manager, which I was a bit concerned about when I started, but now I think that's my style and it works for me. I'm not the big scary boss. I try to look after everybody in our team. They work extremely hard and should be recognised for what they bring to the table."
ON USING HER INSTINCT IN WORK AND HIRING:
"I think as buyers, a lot of what we do is on gut instinct. To buy historically, just from the spreadsheet of what performed last season, is really dangerous, so everything we do is very instinctual, and I think that makes it very successful. You know, you might walk into a room and you've never seen that style before, and you just jump on it and you know it's going to do well. I think it's the same process when we're hiring people. Yes, there's a lot to be said for a job candidate looking stylish, having the right qualifications, the right experience and a great personality, but I think I react very much to my gut instinct about them. I find that to be the most trustworthy thermometer."
ON HOW TO GET YOUR DREAM JOB IN RETAIL:
"For me it's about enthusiasm and passion. I can think of a couple of girls who have really made me notice them, because they wanted an opportunity, and I recognised that. Find interesting ways to try and get an employer's attention. It's not necessarily about going down the normal avenue of sending your CV in—think of other ways of make yourself stand out from the crowd. If you're going to email me, show me a mood board you've put together, or tell me about a designer you love and ask me if I'll give you five minutes. I've been at a show before and somebody's come up to me and said, 'I really would love the opportunity to come and work with you, and here's what I've done before.' The fact that they even knew who I was and were brave enough to come up and talk, and not to feel intimidated—I think that was really smart and clever.
Making yourself heard above the crowd is very important in life anyway if you want to get ahead and be successful. Even within the way that we buy things and come up with ideas at Matchesfashion.com, it's about thinking slightly differently to get ourselves heard above everybody else, and I think that is the way that everybody should be thinking. I'm quite a spiritual person in that way – I don't like things to be too cookie-cutter. I think everything should come from the gut and be very passionate. I believe that those people will always bring something much more unique to the table. Any designer in the world, or anybody who is successful in their field, has succeeded because they love doing what they do."
ON DRESSING FOR WORK:
"I need to be comfortable, so recently I've simplified more and more. I go through different weather when I travel—and maybe in the morning I'm in a meeting, but I have to be at work all day and then go for drinks or dinner. So there are a lot of white shirts going on in my wardrobe recently! And I do like big shoes, because I'm quite challenged height-wise—so I like platforms and heavy shoes that I can actually run around in. They're comfortable and they give me height. I also like a little bit of wit and humour—I'm not very classic, but good quality matters a lot to me.
If I'm completely honest, I only wear things that we stock at Matchesfashion.com. I don't buy anything off the high street any more. I did, but because I'm the buying director I think it's really important to show that we offer a wardrobe that can take a woman from A to B, whether she's going on a beach holiday, or she's skiing or she's got an event. So even at the weekend, I'm wearing sweatshirts and jeans that I've bought from us."
ON WHAT SHE'S LEARNT FROM HER CAREER SO FAR:
"I read something recently: keep your head in the clouds but keep your feet on the ground. I'm never shy to lift a box or to get my hands dirty, but I'm always trying to dream big and think of the next great thing. Everything is possible.
Flexibility is very important. I've done many things in the fashion industry, and I think being flexible has enabled me to do that, and I've learnt so much from it. Keep your mind open to all the other opportunities around you, not just the one straight in front [of you]. We live long lives, and there are so many different aspects within your field that you might want to try.
I feel very, very lucky that I've ended up doing exactly what I wanted to do—that it involves travel, and the creative process, and the business side of things, and that it really drives me to get out of bed every morning. I feel very lucky to look forward to working every day—I think that's important for a happy mind and soul."
Text and interview by Hattie Crisell
Photography by Karen Roze Reyes