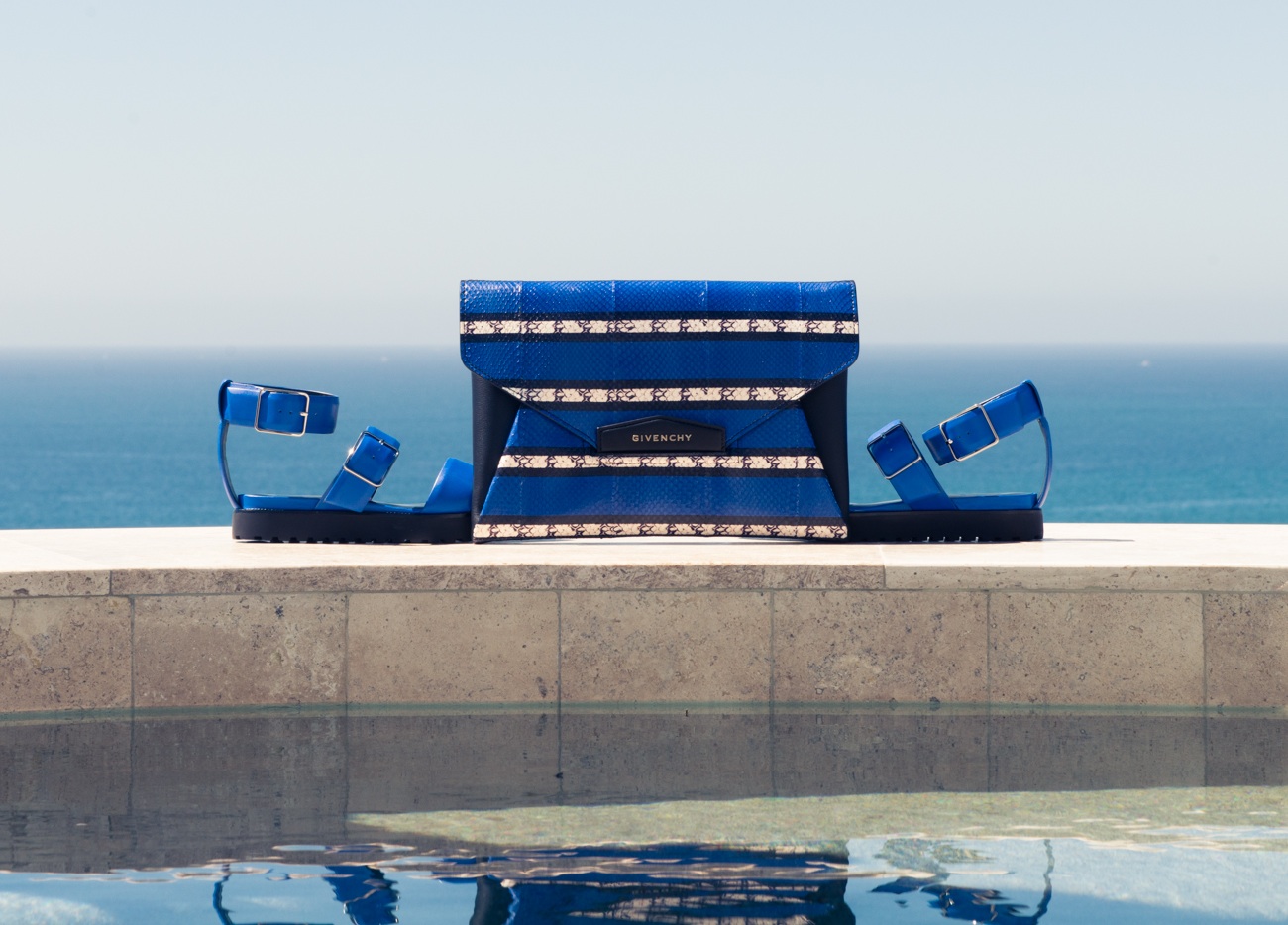 Inside the Fashion World's 10 Best Beach Bags
Kate Foley's is a Mansur Gavriel. Is yours?
After years of beautiful people research, product trial-and-error and a whole lot of 'location scouting' (ahem, lazing on beaches), we've come to the conclusion that there are two kinds of people in this world—those who inspire Katy Perry songs with their sun-kissed skin and mermaid beach waves, and those whose bodies reject all things sun, sand and surf spray. Not-so-spoiler alert: We fall into the latter contingent.
Two words. Heat rash.
And letting our locks air-dry au naturel after submerging our heads in the Pacific? Trust us, the result is a whole lot less Alessandra Ambrosio and a whole lot more Weird Al. Just try getting a brush through that Mufasa mane. Not gonna happen.
Needless to say, we decided to leave the 'what's in my beach bag' disclosure to the experts—you know, the types whose beach essentials need not include a visor the circumference of a CHANEL hula-hoop bag and some kind of topical soothing ointment.
Here's what some of our favorite beach bums had to say about where to go and what to bring this summer (anyone else excited for this weekend?).
If you need us, we'll be under that tree over there.
—Chelsey Burnside
BEACH
"My favorite beach to go to in the summer is in Southampton Village. It's always super quiet and it feels like you have the whole beach to yourself."
READING
"Right now I'm reading The Goldfinch, so I'll bring that with me."
PACKING
"I'll bring a big bottle of water, some frozen grapes and SPF 50 sunscreen, and I'll wear a Solid & Striped bikini."
BEACH
"I spend most of the summer in Amagansett and love to sneak away to a secluded bay beach just a few short blocks from my house. Literally not a single soul can be found on this beach most days—perfectly relaxing with swoon-worthy sunsets. That said, I am also escaping to Sicily in August and plan to visit the black sand beaches of Stromboli. MAJOR SWOON!"
BAG
"A simple Ibizan style straw beach bag—classic and easy."
PACKING
"Prism or Thierry Lasry sunnies
A Lisa Marie Fernandez high-waisted bikini
A Ryan Roche hat
Juno Hydroactive Cellular Face Oil; Anti-aging, antioxidants: DONE!
Coola organic sunscreen
A Brahms Mount linen beach towel; OBSESSED with their linens, especially the classic blue and white stripe.
Nars orange red lip pencil
A cute dress. Isabel Marant to throw over a bikini or a cute floral Marni would be great for dinner after the beach.
Bobbi Brown Beach Body Oil; well hydrated and luminous legs are essential in summer.
A collection of my favorite maggies in the food and design arena: Bon Appetit, Living etc. and Spanish Architectural Digest
My camera—essential!
Some sea mist hair product to further the beachy look!"
BEACH
"Top secret."
PACKING
"I'm very low maintenance. I bring sunscreen, a frozen bottle of water and a cotton beach sheet that triples as a blanket, towel and a cover-up. I always have a wetsuit, shades, board and a chunk of wax."
BEACH AND BAG
"This summer I'm carrying my Marine Grand in natural canvas with me to Ile de Ré, the beach that my family visits every summer in France."
PACKING
"My beach bag is always full of the same things: a Steven Alan beach blanket, a Reinhard Plank straw hat, my Céline Tailor sunglasses and the new CV long-sleeve stripe 'Oui' shirt. I always have some of my favorite magazines with me, from weeklies to Officiel Hommes and Paris Vogue, as well as some kind of game we can play, either Kadima, Pétanque or we travel with the Clare V. backgammon set. We love to make a picnic to bring to the beach with us, with a bottle of rosé and homemade sandwiches on fresh baguettes."
BEACH
"My favorite beach is off the beaten track, about twelve miles from St. Tropez. It's not the most beautiful and no desert island, but it's somewhere we spent the happiest of summers, forest path drifting towards the parasols and a beach bar where the locals played foosball in bikinis and my kids ran amok barefoot and sun-kissed. Carefree days forever linked with a crowded curve of sand somewhere in the South of France."
BAG
"My beach bag is a Mexican-inspired straw basket decorated with multi-colored pom-poms and little gold mirrors. I don't know who it's by, but I found it at The Webster in Miami. If I'm travelling light, I use a small South American woven duffle by Sophie Anderson just for shades and sunblock."
PACKING
"A black ruched swimsuit by Chanel—a classic favorite that I've swum in all over the world.
Crème de la Mer sunblock: a treat, but the best. I also use their Gradual Tan moisturizer in advance for a subtle glow.
A battered old straw hat by Pachacuti, which has seen better days.
Charlotte Tilbury's Beach Stick in 'Ibiza'—just a hint on sun kissed cheeks and her 'Amethyst Aphrodisiac' Color Chameleon eye shadow pencil (for after, not on, the beach).
Cat-eye 'Erzulie' shades by Zanzan Eyewear are current favorites—movie star glamour with a modern twist. Mine are in the palest pink.
A navy bikini by Chucs: glamorous enough for lounging, sporty enough for serious swimming or paddle boarding.
CHANEL Hydra Beauty Essence Mist is my essential refreshing spritz whether I'm on a plane or the beach.
Denim cut-offs by GAP over a swimsuit, with a vintage white cotton shirt or crop top and Tabitha Simmons' espadrilles.
A paperback—I'm saving Siri Hustvedt's The Blazing World and the new Haruki Murakami for summer.
My little Leica camera, even if I'm too often lazy by shooting on my iPhone."
READING
"The Second Coming by John Niven
Cold Hands by John Niven"
PACKING
"Marc by Marc Jacobs Summer tote in blue and white stripe
Marc by Marc Jacobs classic sunglasses in clear
Hillier London blue and white stripe bunny barrette
Adaptasun Tanning Body Lotion
Marc by Marc Jacobs Matte Cat racerback bikini
Marc Jacobs lip balm
Marc Jacobs watch"
BEACH
"We have a private beach at the end of our street in Amagansett, which is a dream and my absolute favorite beach! The water is clean and the beach is never too crowded."
READING
"I am currently obsessed with author Gillian Flynn. I am just starting Sharp Objects after finishing Gone Girl and Dark Places. I love a scary mystery read on the beach."
PACKING
"I am the type of person that packs my beach bag the night before. I never want to forget something! I will ride my bike to the beach wearing my Pret-a-Surf string bikini with skirt cover up. The skirt helps protect my bum from the sizzling hot bike seat but leaves my back bare to catch some extra rays on the ride! I always have my matching tank rash guard with me in my bag. With a string bikini I always feel safer body surfing with a rash guard on. My favorite sunglasses of the moment are my Barton Perreira Bancrofts—perfect amount of coverage and they won't break in your bag (I speak from experience). The above things and a few best friends and I am happy as a clam!"
BEACH
"Malibu."
BAG
"Straw tote."
PACKING
"I always head to the beach with a good linen fouta. It's incredibly versatile as a towel, blanket, scarf or wrap. And when you're not at the beach, they're pretty cute around the house!"