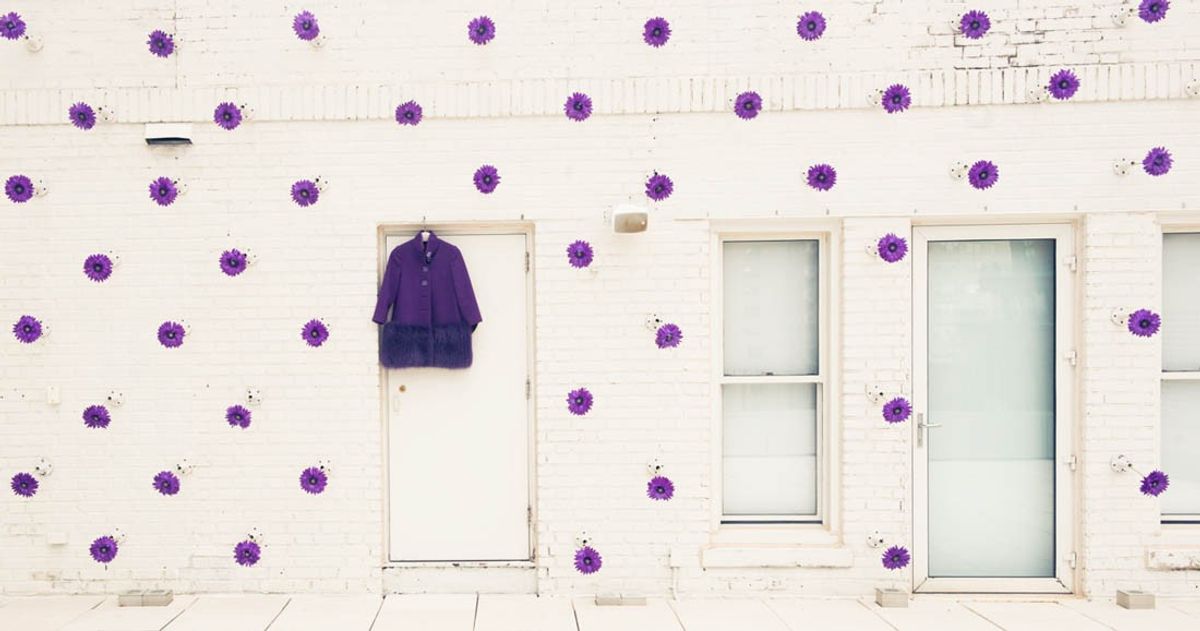 Shopping
Editor's Picks: Frieze New York Edition
In which we do our best gallerist impressions.
While still in its (relative) infancy, Frieze New York is a major effing deal in the art world—and one of the few art fairs in which the emphasis remains on, well, the art, rather than vodka sponsors, as brilliantly pointed out by Style.com.
And so in the interest of looking the part as we navigate everything from the ferry over to Randall's Island to the lines for Dimes' chia seed pudding, we're going shopping. Essentially, we'll be doing our best impressions of a painfully cool gallerist the entire time. Let the games begin!
---
Emily Ramshaw
Senior Editor
As far as great, art-influenced and culturally-relevant design goes, I kind of think J.W. Anderson wins. This dress takes a traditional pinstriped fabric and makes it ineffably cool: structural, yet easy-going and interesting. Want! Sophie Buhai, formerly of much-loved, now sadly defunct label Vena Cava, says her new jewelry line was inspired in part by Robert Mapplethorpe (always a good sign). I'm in love with her tubular silver choker: it's like a sculpture for your neck, right? As for the chairs, I'm in the midst of Marie Kondo-ing my apartment and can't wait to get rid of the terrible plastic chairs we've been using at our dining room table. I love these schoolhouse seats, built in Holland in the early '60s. The lines and proportions are pretty perfect—as in the perfect excuse for me to redo the rest of the house.
I never really understood how a perfectly eclectic gallery wall ever comes to be (even with too many hours I'd ever like to admit on Pinterest). I imagine mine to be made up of ornate, gilded antique-framed floral still-lifes. But since I have yet to commit (choosing art is hard, people), I'll go with this Dolce & Gabbana skirt, which reminds me of the oil painted roses I have in mind. The other thing about art is that it's really, really expensive. So these earrings are perfectly fitting, right? They're nature's art? Okay, so I just think they're pretty. You know what's also pretty and art-y? This plate. And it's only $16. I'll take it.
Meagan Wilson
Senior Editor & Social Media Manager
My hunt for the perfect summer shoe in all of its varying height iterations (sneaker; sandal with a tiny, three inch heel; open-toed with a higher heel but still appropriate for traipsing around during the day unharmed, etc.) is a never-ending one. These Nicholas Kirkwood cork (which I usually despise) sandals fulfill all of the requirements of the latter, and the jumbo pearl wedged between the heel and the platform makes the whole thing just a teensy bit surreal... so, like, art! I've also been spying the silk skirt from Acne, splattered with prints designed by the artist Raquel Dias, for a minute—think it's overkill to wear it with the matching sweatshirt? And as for the Leif Ritchey... well, it's just all dreamy and ethereal and shit––perfect for that pesky $9,500 burning a hole in my pocket.*
*JK.
Alicia Cesaro
Editorial Assistant
I'm going to be honest with you guys, I've had my fair share of impulse buys. You know what I'm talking about. Those pieces languishing in the back of the wardrobe, hangers still turned the same way—a sure fire Martha Stewart-approved way to know which pieces you wear, in case memory fails. The silk dress you insisted on swiping for at Saks or the way impractical (but the SJP in you said, YES) Manolos that'll never go beyond the safety of your apartment (heaven forbid a hand-placed crystal fall out of place). So whenever I spy a dust bag in the corner, ahem, collecting dust, I practice some post-purchase rationalization and convince myself that some things are meant to be admired from a far, kind of like art. Yup. Art. Delusional, I know. But handcrafted pieces made up of varying materials (mixed media), by craftsman (artists), that were kinda $$$$, def classify as such in my book. Cases in point: this Peter Pilotto number, featuring all my favorite mediums, silk, lace *and* plexiglas; some "coke white" (thanks, Remington) sandals I'll admire from afar; and a pair of belong-in-a-museum-case dazzlers. If my "art" hangs in a closet rather than on a wall, I'm totally okay with that. It's all subjective, no?