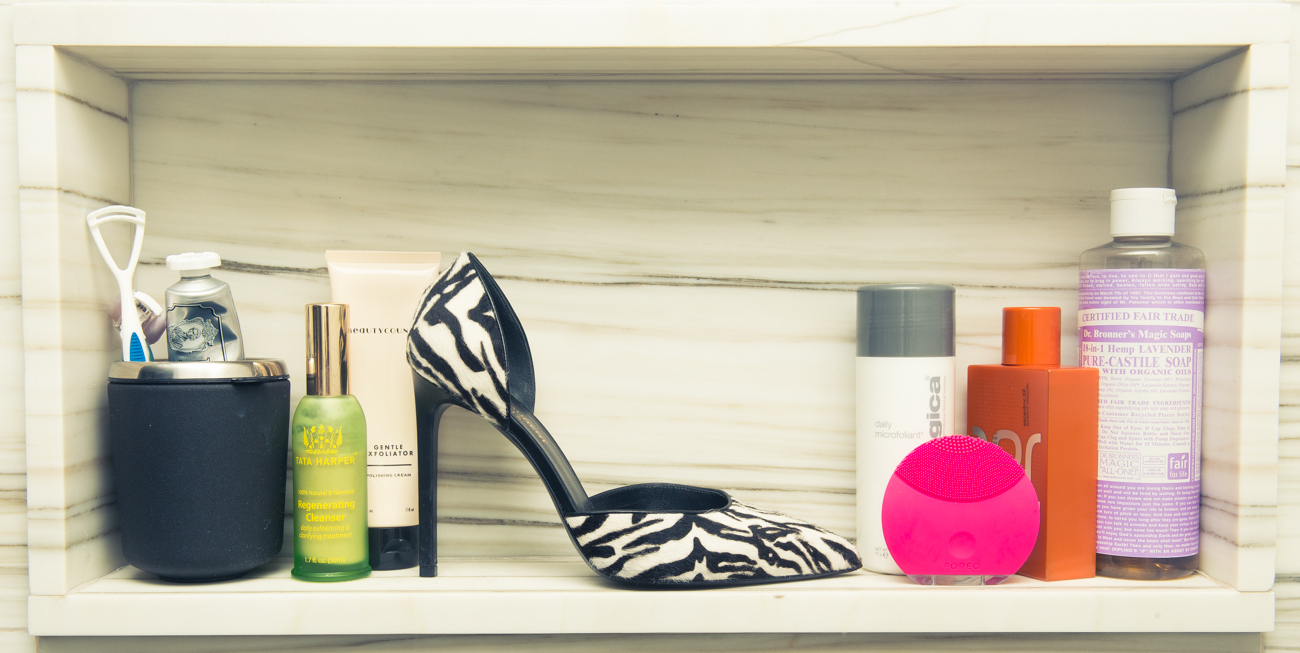 11 Makeup Artists' All-Time Favorite Products
Their best of the best, holy grail, greatest of all time favorites, from foundations to lip balms to mascaras.
A little refresher: not all that long ago, we had our favorite beauty editors (from W Magazine to Refinery29) share their favorite products—from holy grail status to drugstore scores.
Us being, well, us; we weren't quite satisfied, even with intel like Jane Larkworthy's all-time favorite lip balm or the drugstore mascara Harper's Bazaar's Beauty Director calls "a feat of engineering". And we'd honestly felt as if we'd kind of exhausted our recommendation pool—or so we thought — until we realized: makeup artists. You know, the types who dedicate their professional lives to accompanying the endlessly-photographed through late-night gas station runs, globe-trotting press tours, mega-wattage red carpets and just about everything in between. And given that the contents of their kit are required to both withstand scorching stage lights and photograph flawlessly, we were curious: what are the products they can't live without? What are the eyeshadow palettes worth lugging half way across the world for their clients' lids? The lipsticks that last straight through paparazzi'd publicist lunches?
We reached out to some of the biggest makeup artists in the business, from Charlotte Tilbury (Kate Moss, Amal Clooney) to Nick Barose (Lupita Nyong'o, Kate Mara), Beau Nelson (Nicole Richie, Kristen Stewart), Francesca Tolot (mother-effing Beyoncé), and then some. Here's everything from the next-level foundation they swear by to the application tool they "literally can't work without".
CV Includes: Nicole Richie, Kristen Stewart, Nina Dobrev
"Giorgio Armani Designer Lift Foundation—a lot of my peers love [their] Luminous Silk, and so do I, but I reach for the slightly higher coverage, more satin finish Designer Lift foundation even more. It creates a flawless, but completely natural looking finish that looks as good on camera as it does in real life.
Cinema Secrets Concealer Palettes—these allow me to mix the perfect shade and blend seamlessly with skin even over powder. They cover almost anything and give me seamless invisible coverage wherever I need it.
Shu Uemura Loose Powder in Translucent: the only loose powder I carry, its ultra-fine texture sets makeup without dulling its radiance."
Charlotte Tilbury
CV Includes: Kate Moss, Amal Clooney, Rihanna
"Asking me to choose my favourite product is like asking me to choose a favorite child! I can't live without my Magic Cream—it is a miracle-working moisturiser. I've been using and perfecting it for years backstage at shoots and shows. It literally floods the skin with moisture and is the magic dew of youth and luminosity—I call it a push-up bra in a jar!
My Wonderglow has breakthrough fluorescent core technology which re-emits natural light through the skin for a lit-from-within. However tired you are, you will still look radiant and glowing. My Rock 'N' Kohl Liquid Eye Pencils are amazing. It's a revolutionary formula that doesn't move for 14 hours and glides on like a liquid, but can be smoked up like a kohl. 
I'm a mascara obsessive. I spent years searching for The One and used to cocktail up to 5 mascaras to create the effect I desired: curl, length, volume, separation and drama. Full Fat Lashes ticks all boxes and has a five-grooved brush to deposit mascara right at the root of the lashes."
Jeanine Lobell
CV Includes: Cate Blanchett, Michelle Williams, Natalie Portman
Lisa Houghton
CV Includes: Taylor Swift, Dakota Johnson, Tilda Swinton
"The one product I cannot be without in my kit and has been with me throughout my entire career is Estée Lauder Maximum Cover Concealer in light to medium. It's actually a foundation but makes an incredible concealer (not to be confused with Doublewear Maximum Cover) The thing that makes it so amazing is the consistency: its very, very light, non-greasy and easy to blend so you only need the tiniest amount. It's not a concealer I use daily on photo shoots but it's my go-to when I need to cover something very well like acne, bruises, red hands or feet. Also great for dark under eye circles when you're working on a show with very little time and you want the girls to have flawless porcelain doll-like skin—done quickly! I have hundreds of concealers but this one always comes up top."
CV Includes: Kim Kardashian, Gabrielle Union, Jennifer Lopez
"If I had to pick two all-time favorite beauty products, I'd have to go with the original Beauty Blender sponge. I literally can't work without it. It makes blending foundation and concealer so easy and flawless. I just wet the sponge and squeeze it so its damp and blend away.
One of my biggest pet peeves is when eyebrow hairs are unruly and don't stay in place. For this reason, I love the Anastasia Beverly Hills Clear Brow Gel. You just brush through brows one time and they stay in place without getting hard or changing color."
CV Includes: Rose Byrne, Kate Bosworth, Elizabeth Olsen
"I am a product junkie. I love trying new products all the time but if I can only pick one, it has to be Eucerin Aquaphor Original Ointment. It is the most simple and inexpensive product but I use it daily on myself and for my work. For myself, I use it as a lip balm everyday and on my body in the winter time. I also use it when I get a burn or skin irritation. For work, I use it as lip balm as well on every client, or as a highlighter when I want a subtle, dewy finish on the skin. I sometimes mix it with lipstick to sheer out the texture or with pigments to create cream eyeshadows."
CV Includes: Behati Prinsloo, Jennifer Lawrence, Daria Werbowy
"My most loved makeup product of all time is Shiseido Kabuki lipstick. It's the lipstick used by Geishas. It's appears to be a dry crayon, but dip it in water and it comes alive. A painterly red that almost has an emotional intensity to it. When I was in Tokyo, a Japanese assistant gave it to me as a gift. Even the little box it comes in is romantic and very, very special."
Francesca Tolot
CV Includes: Beyoncé, Jennifer Lopez, Cindy Crawford
"M.A.C. Mascara in Extreme Dimension Lash is my must-have mascara. I love it because it gives you the appearance of a full false lash, almost to the point where you don't have to apply one.
Marc Jacobs' Kiss Pop Lip Color Stick in Smack, Pop Rock and Pow! The Marc Jacobs line is great, these sticks are moisturizing, applies like velvet, and comes in a beautiful variety of colors.
CHANEL's Illuminating Foundation—this foundation gives you the possibility of full coverage, or, with a light application, it can give a dewy, translucent effect."
Violette
CV Includes: Kate Upton, Binx Walton, Jamie Bochert
Nick Barose
CV Includes: Lupita Nyong'o, Jessica Chastain, Lena Dunham
Sisley So Intense Mascara: "It's like the Bentley of all mascara. I love the small comb brush that gets in hard to reach roots and the formula is pitch rich black, so one coat adds drama instantly. The comb is so small that it can catch shorter lashes. It's not waterproof, but stays on like one. I even had someone cried on the red carpet and it didn't run so that's when I know it's my #1 go to but at the end of the night it's easy to remove."
Tom Ford Cream and Powder Eyeshadow in Golden Peach: "I love the cream formula that sets and still look creamy, but not greasy, and the powder metallic really adds more drama. I even used it wet to make it more metallic"
Shiseido UV Protective liquid Foundation: "It's really light, but you can layer it. It looks so much like skin and and it's water resistant, making it perfect for summer!"
Pati Dubroff
CV Includes: Charlize Theron, Natalie Portman, Dakota Johnson
"SUQQU FRAME FIX FOUNDATION: Sadly this Japenese brand is not available in the US, but I stock up on trips to London and Asia.
 This full coverage foundation can go on sheer with a brush and imparts the most flawless skin-like glow. What I love most is that it can be layered to give a fuller coverage, it doesn't budge all day and doesn't need much powder.
SISLEY BLACK ROSE CREME MASK: This mask gives the most beautiful boost of hydration. It smells divine and my skin is plumped and very happy after even just a few minutes.
BURTS BEES LIP CRAYON IN SEDONA SAND: I love the natural even tone this shade imparts to the lips. Lips look and feel hydrated and naturally pretty."