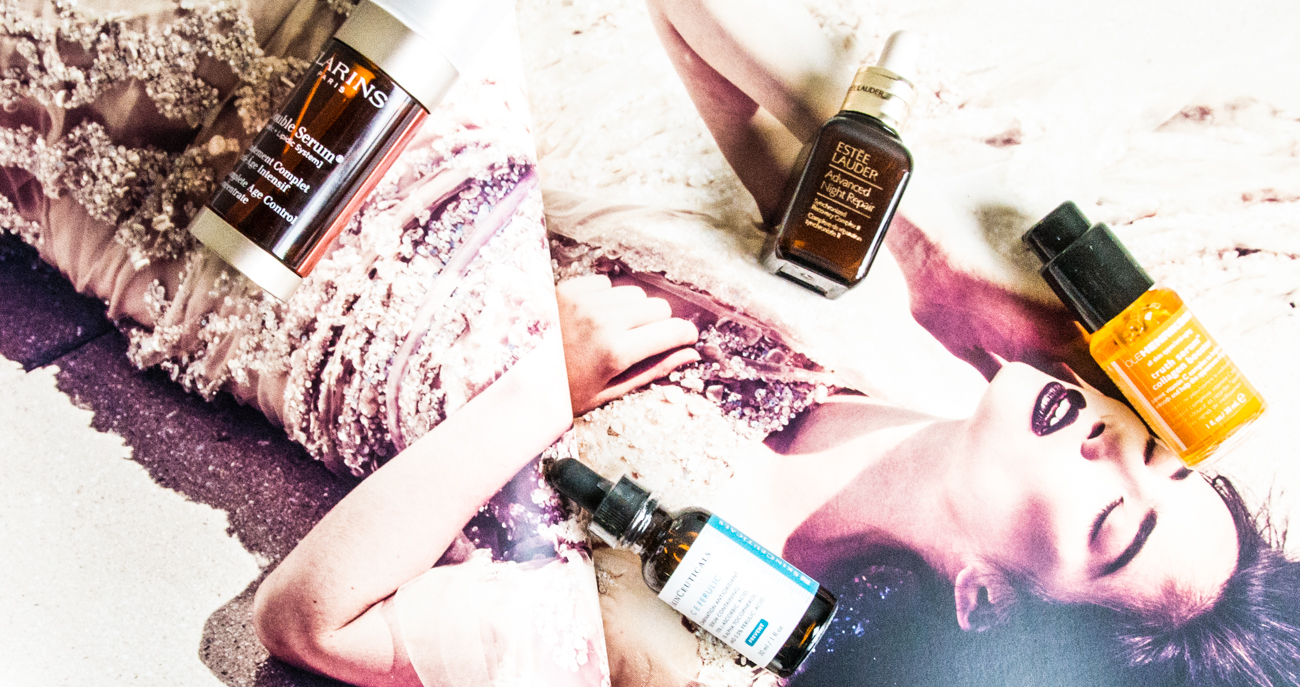 Why You Need to Add a Facial Serum To Your Routine
Two experts share the best facial serums (department store AND Korean) for every skin type.
SKINCARE: it can be baffling. Especially when the purported cure-alls oscillate between 10-step routines and using coconut oil for, well, everything.
For the most part, though, there are a few universal truths we can all agree on. Face-washing is non-negotiable. Ditto moisturizing. The jury's out on toner. But serum? It's one of those do-I-or-don't-I puzzlers. In the interest of getting to the bottom of things, we consulted two experts for the best Western department store AND Korean offerings: Christina Han, Editorial Director of Violet Grey, and Alicia Yoon, co-founder and CEO of Peach & Lily, an e-commerce site that brings the best of Korean beauty imports to this side of the world. Here are their favorites for pretty much every skin type out there.
FOR TIRED SKIN:
Guerlain Midnight Serum
"Part serum, part post-party lifesaver. Cleanse first, then apply this highly absorbent creamy serum. In the morning, no one will know you were out until 3 A.M. with queen Bey and king Jay (it's fine, because no one would believe you anyways)."
FOR AGING SKIN:
ReVive Intensite Volumizing Serum Targeted Skin Filler
"If you're curious about Botox but not quite ready to get needle happy, there's this wrinkle smoothing serum. After about 6 weeks use, you will see fine forehead lines and crow's feet appear less visible. Use this product as a targeted treatment, taking care to only apply to trouble spots."
FOR DRY, DAMAGED SKIN:
La Mer The Concentrate
"Let's say you're recovering from an accidental sunburn or some 'me time' (a.k.a a quick little laser treatment) — this potent reparative serum will help heal skin and reduce redness."
FOR FIRMER SKIN:
Sisley-Paris Global Firming Serum
"If you feel as if your skin is starting to lose in its battle against gravity, it's time to call in the tiger... nut extract. Combined with rye and dill extracts, this blend of actives will work together to give skin a firmer, more lifted look. Stick to a strict routine of applying the serum both morning and night. Right around week 8 is when people will start demanding to know where you've been, who you've seen, and if you had to make a deal with the devil."
FOR SKIN WITH DARK SPOTS:
Tata Harper Concentrated Serum
"A potent blend of daffodil extract, rapeseed oil and Norwegian sea kelp inhibit melanin production for brighter, more radiant skin. After repeated use morning and night, dark spots will appear less visible in two months time."
FOR ALL SKIN TYPES:
By Terry Serum de Rose
"I first heard about this serum from makeup artist Pati Dubroff who considers it a must for her skin prep routine prior to any client's makeup application. The thin, lightweight formula absorbs quickly into skin, leaving your skin's texture smooth and supple. Apply each morning before your SPF moisturizer."
FOR DRY SKIN:
Be the Skin Botanical Nutrition Power Serum
The Be the Skin Botanical Nutrition Power serum includes a luxurious cocktail of botanical and herbal ingredients to hydrate and nourish dry skin and rough patches without irritating skin. This serum mixes beautifully with oils and mixing this with an oil in your hand before applying helps to hydrate and achieve more supple skin (I personally mix this serum in with this oil and LOVE the combo for my dry and sensitive skin).
FOR ACNE-PRONE SKIN:
Mizon Hyaluronic Acid 100
"This is a bit counterintuitive, but this hydrating serum is so great for those with acne prone skin because acne can be caused by excess sebum production, which may be a result of dehydrated skin. This serum helps to hydrate skin so that overcompensation from dryness by producing oils is curbed. Also, when acne occurs, the skin tends to get weaker and more moisture can leave the skin exacerbating the issue sometimes. Opting for a very lightweight, non-greasy serum that helps hydrate can help achieve healthier skin that can both help prevent acne and help skin keep acne from getting worse when breakouts happen.
Before applying serum, especially for acne-prone skin, it's important to keep skin well exfoliated as it helps absorbs serums but also keep skin clear of dead flakes and sebum that can trap impurities and can help promote higher cell turnover, which can help with acne. It's great to stick to a really gentle exfoliator for acne-prone skin such as this one."
 
FOR AGING SKIN:
May Coop Raw Activator
"This serum uses maple tree sap as a base, which is close in size to the skin's barrier versus even distilled water. This base helps deliver ingredients into the skin, and so May Coop packed this serum with vitamins and antioxidants to help combat aging. Always apply with upward and outward strokes then pat in gently."
FOR OILY SKIN:
Botanical Pore Serum
"This serum gently helps to curb back sebum production and control oil without stripping face dry. This serum is gently formulated with botanical and herbal ingredients—this unique formula seems to do wonders for those with oil issues. (This is one of our most popular serums as people with oily skin seem to swear by this one!)"
FOR SKIN WITH DARK SPOTS:
Mizon Mela Defense White Capsule Essence
"This pretty serum uses sakura, white flowers and niacinamide to help with hyperpigmentation from sun damage or acne damage—it smells great, to boot! Most brightening or dark spot correcting products can be a little drying and can make you more photosensitive. It's best to pair this with a hydrating serum and ample SPF!"
FOR COMBINATION SKIN:
Sea Daffodil Aqua Gel Cream
"Unique sea daffodil helps to calm sunburned or irritated skin and the very lightweight gel-based cream hydrates and balances skin. This ingredient smells amazing—very fresh, one-of-a-kind and rejuvenating! Combination skin could be very challenging if the dry and oily bits are extreme, and may actually require using different products for different areas of the face in extreme cases (e.g. not using the heavy cream on the oily parts, but using a gel-based night cream instead)."
FOR ALL SKIN TYPES:
Cremorlab Aqua Essence Water Fluid
"This is an essence of sorts, or what Cremorlab likes to call a booster serum and is great for all skin types. The essence-serum-hybrid is lightweight, gel-based, and is all about hydration. This helps hydrate and prep skin for other serums. When using silkier serums, you can give your face quick massages with knuckles by kneading and rubbing the face lightly with enough pressure to boost circulation."