Makeup
Charlotte Tilbury's 2015 Met Gala Diary
The makeup artist primps Amal Clooney, Ellie Goulding, Maggie Gyllenhaal and more... and then goes out to party.
When we have a busy day at work (typically made up of answering a hundred and one emails, scheduling shoots and shooting stories), all we want to do when it's over is curl up in the fetal position with Ally McBeal on Netflix. But Charlotte Tilbury, go-to makeup artist of every London party girl you've every heard of (Kate Moss, Poppy Delevingne), whose work day, namely, uh, yesterday, (a.k.a. Met Gala day, a.k.a. the biggest fashion red carpet of the year), is made up of sprinting from Amal Clooney to Hannah Davis to Ellie Goulding and back again, to give them that signature Tilbury movie star polish—so what does she do when it's all over? Well, she sips rosé before doing herself up to go partying with Lady Gaga and Alexander Wang. And this is a Monday night we're talking about. Just think about Tilbury the next time you say no to 8 PM drinks with your block-away friend.
But down to the business of her workday. Because, as mentioned, as we were chained to our north-of-the-border desks, we asked Tilbury to chart out her day-long red carpet prep—from her early appointment with Sports Illustrated dream girl Hannah Davis (also known as Mrs. Derek Jeter), to her check-in with Goulding. And yes, she gave us all the eyeshadow palette info and lipstick specifics, too. We mean, why not make like Tilbury and try your own 'Dolce Vita' look for that Monday night out you're totally planning for next week?
---
Yesterday I had the pleasure of working with five beauties for the Met Gala red carpet: Amal Clooney, Ellie Goulding, Maggie Gyllenhaal, Poppy Delevingne and Hannah Davis. 


The Met Gala is such an exciting time in New York, when everyone comes together to celebrate fashion and raise money for an incredible cause. The only other time of year that New York has the same energy and buzz is during fashion week—the city is filled with designers, Hollywood actresses, models and photographers who have been brought together by Vogue and the Costume Institute Gala. It's the most experimental and glamorous red carpet in the world and I feel really privileged to be a part of it.
---
9:00 AM
I started the day at my favourite hotel in the city, The Bowery. For such a busy day I will always have a big breakfast—scrambled eggs with avocado, granary toast and a hot water with lemon. I take my homeopathic drops each morning, which help boost my immune system and keep me balanced with all the travelling, long working days and late nights! 
---
12:00 PM
First stop—getting the breathtakingly beautiful Hannah Davis ready at The Trump Soho Hotel. She's a gorgeous girl inside and out and most recently has starred on the cover of Sports Illustrated. Her face is perfect for makeup, so making her over was easy! We did a strong feline flick eye, with my sultry, red carpet Dolce Vita look mixed with my Colour Chameleon in Bronzed Garnet. Whilst there we filmed with my good friend Zanna Roberts Rassi for E! TV. We shared Hannah's beauty secrets, did a quick demo of how to get the look and revealed what was in her makeup clutch! Both girls were a dream to work with.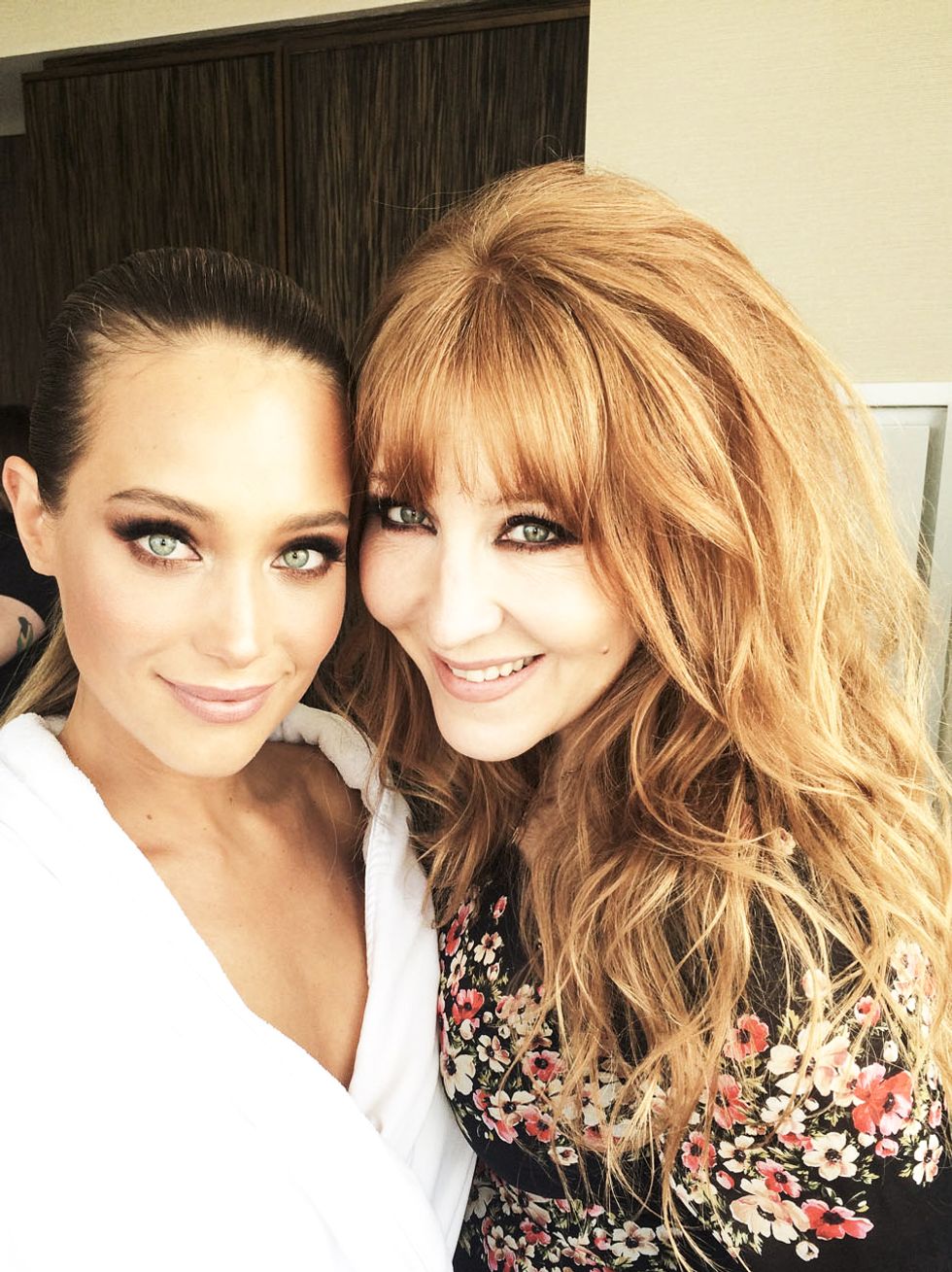 "With the breathtakingly beautiful Hannah Davis, makeup finished and ready for hair."
---
2:00 PM
With the filming wrapped, Hannah looking stunning, and hair about to start, I run with my team from the Trump Soho to the Mercer to see my next client, Ellie Goulding. She is getting ready with one of my lead artists, but I will always try to pop by on each client to check on the makeup, ensure they are looking flawless and finish off the makeup myself. Ellie has the most beautiful burning amber eyes and we had decided that a strong Dolce Vita look would also work well for Ellie, too. Ellie is a lot of fun and so down to earth. She was hanging out with her boyfriend Dougie and they were incredibly relaxed and having fun. 


As I was leaving I bumped into Georgina Chapman and Karen Craig of Marchesa on their way to see Ellie, who they are dressing for the evening. During an event like the gala all the designers, makeup artists, hair stylists are running around New York going from one client to the next—we're like a travelling circus!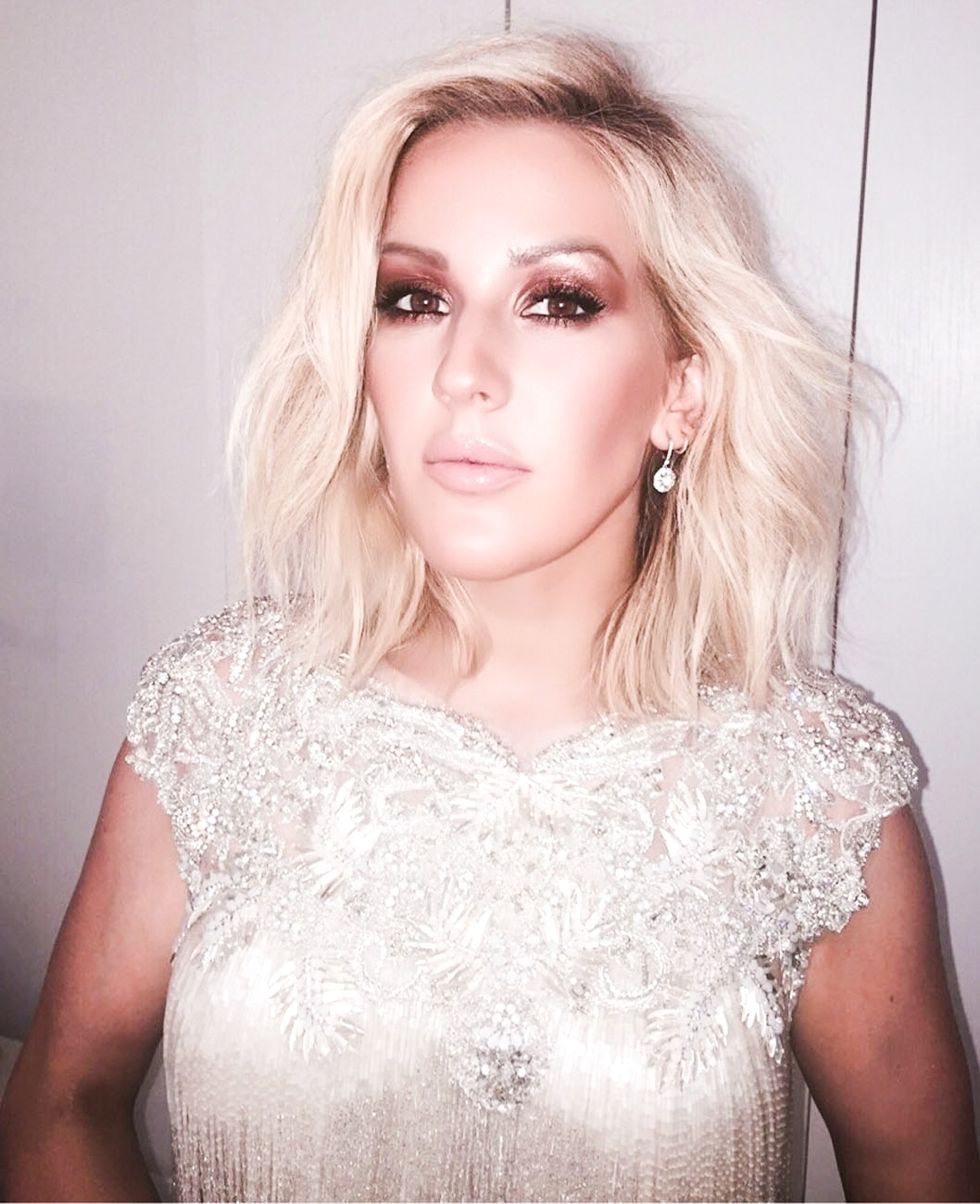 "The final look revealed on the gorgeous Ellie Goulding—she wears a dialled up Dolce Vita look with Penelope Pink Kissing lipstick and face contour using Filmstar Bronze & Glow."
---
3:00 PM
With Ellie looking heavenly, I pile back into the car with my team and head uptown to the Carlyle to get Amal Clooney and Maggie Gyllenhaal ready for the red carpet. 

Amal is one of my favorite clients and I've worked with her a few times now—from her wedding to her first red carpet appearance at the Golden Globes. It's always a privilege and an honor to work with her. For her final look I paired Dolce Vita golden brown eyes with a more Eastern influenced sunset red lip.
I have always wanted to work with Maggie Gyllenhaal—she's so stunning and cool—and I was so happy to be asked to do her makeup for the Met Gala this year. We used my new Eyes to Mesmerise cream eye shadows in Jean and Marie Antoinette to accentuate her crystal blue eyes and paired this with a strong red lip.


At the same time, a member of my lead artist team worked with Poppy Delevingne at the Greenwich Hotel. I was fortunate enough to work with Poppy for her wedding day and also for the Oscars and she is a close friend of mine, too. She will always turn to me or a member of my pro artistry team for big moments such as the red carpet, which I'm really proud of, as she knows she will always have an artist she can trust.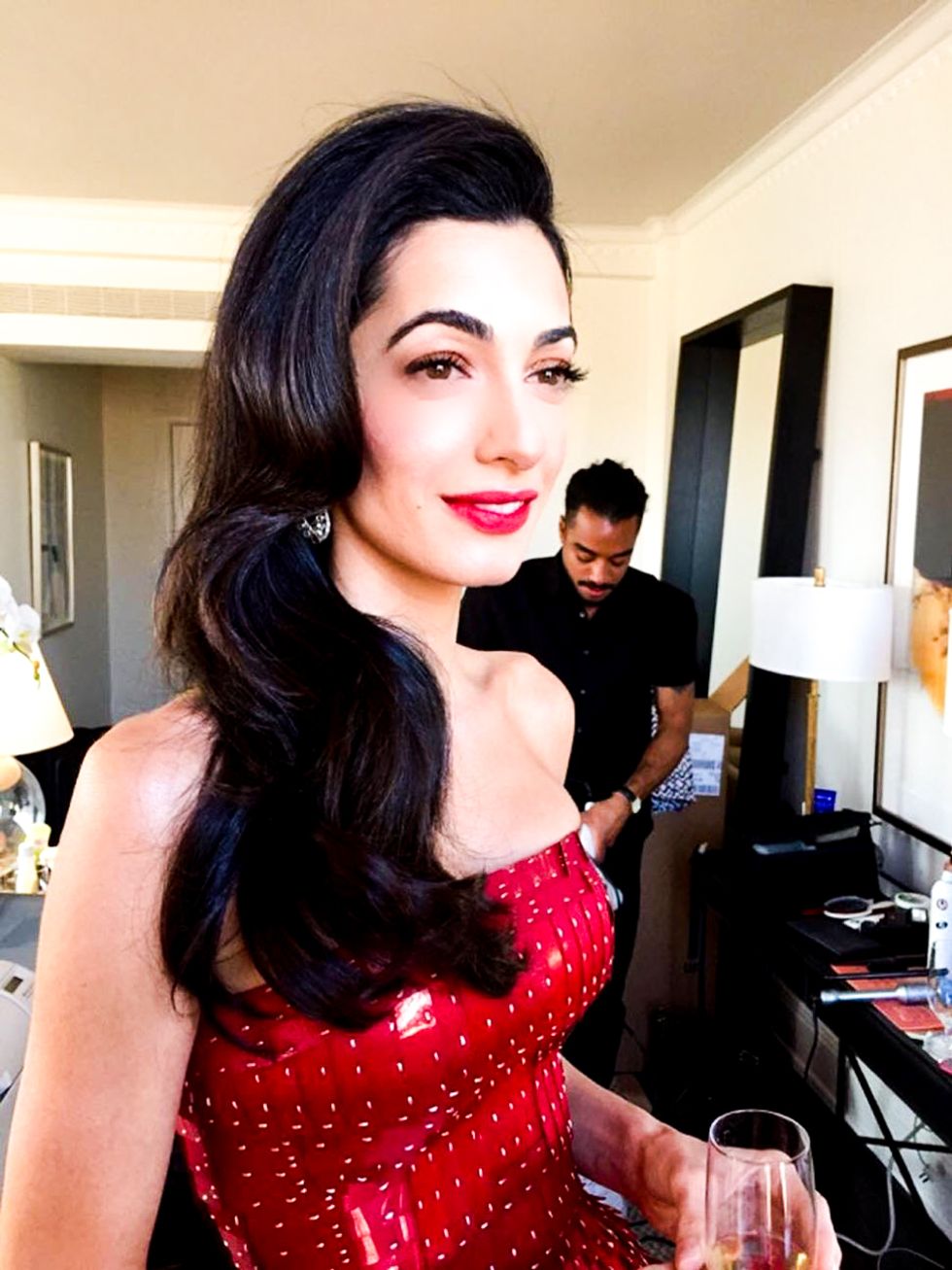 "Getting the amazing Amal Clooney ready for the Met Gala red carpet. I created a Dolce Vita look on her eyes and paired it with a strong sunset red lip using my new Matte Revolution shade in 1975 Red, out in July."
---
6:45 PM
The Met Gala red carpet opens so all my clients have to be finished and polished to perfection and ready to walk! 
---
7:00 PM
My team and I head back to The Bowery hotel to relax and take in the day. My press team have organized a few phone interviews for me so I am on the phone for an hour or so and once this is all wrapped we relax with some rosé wine!
---
8:00 PM
The after parties start. I get ready in my room after relaxing with my team. For nighttime makeup I like to do a dialed up Dolce Vita look or Vintage Vamp look. I opted for the Dolce Vita this time, paired with my Color Chameleon pencil in Amethyst Aphrodisiac and Rock 'n' Kohl in Elizabeth Violet to enhance the golden green tones in my eyes. I always pack my Filmstar Bronze & Glow in my clutch for touch ups, plus Penelope Pink lipstick, my Retoucher concealer and some eyeliner.
---
11:00 PM
I head to the final party of the night—the Lady Gaga and Alexander Wang party at the Diamond Horseshoe. Around an event like the Met there are so many amazing parties to go to—it's a really fun time to be in New York!