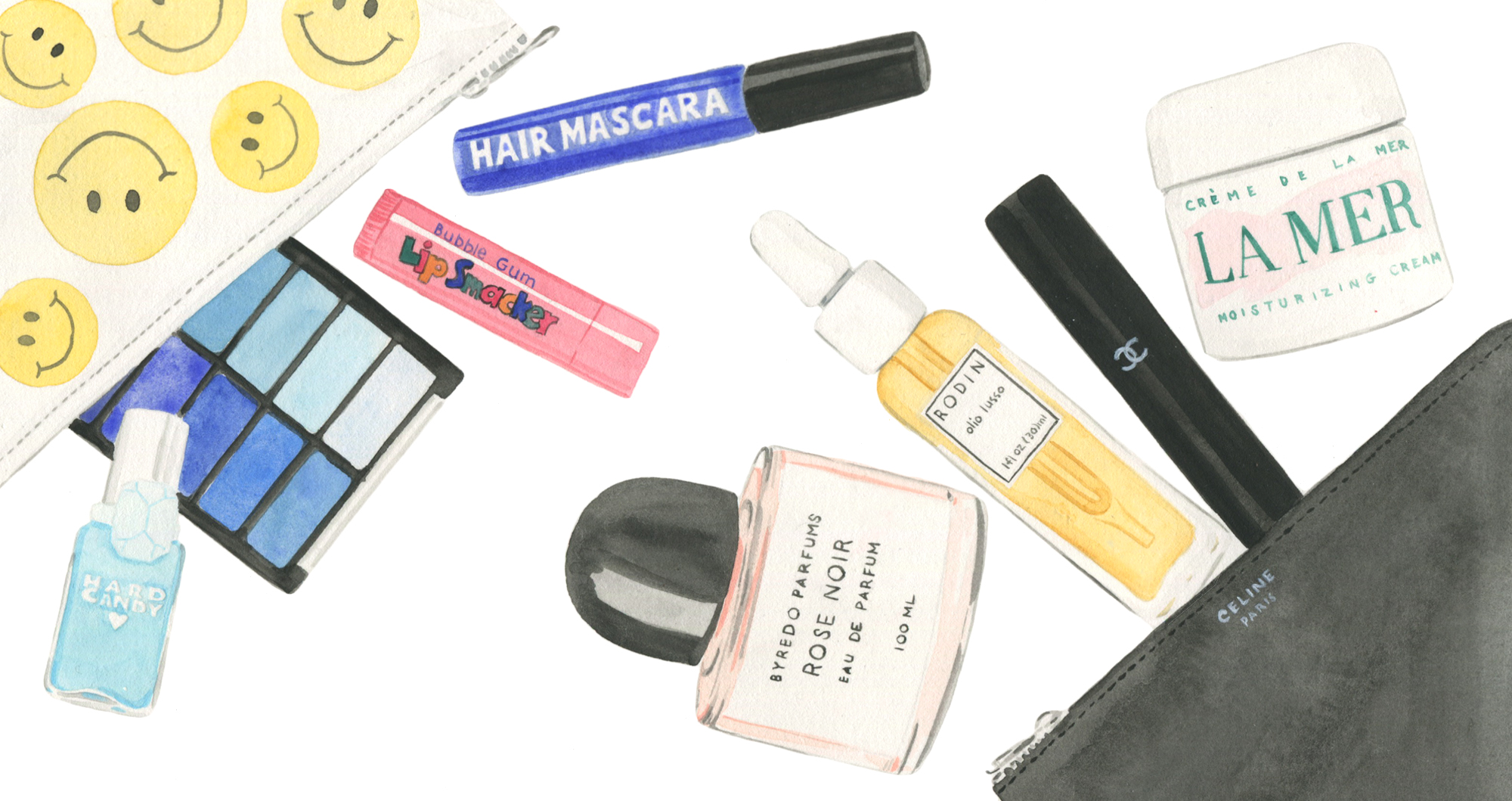 4 Beauty Editors on Their Beauty Bags Then & Now
From Lip Smackers to La Mer. The evolution.
Lip Smackers. The taste of our first Dr. Pepper flavored kiss, the sidekick to our rainbow Crayola in that violet Spacemaker, the lone tube rolling around aimlessly at the crumb-lined bottom of our Jansports. There's no denying it, Lip Smackers were the makeup gateway of our preteen years—and kept our prepubescent lips coated in sweet, glossy wax all through grade school. It got us thinking (and reminiscing) about what other beauty products epitomize our youth—let the nostalgic reverie begin, friends—and the evolution of our go-to products since then. So we asked beauty editors Kahlana Barfield, Leah Wyar, Jane Larkworthy and Milly Almodovar—who surely got into the beauty game early—what they stashed in their Caboodles makeup case way, way back as compared to what's in their grown-up beauty bag now.
BONNE BELL LIPSMACKER IN DR. PEPPER: This product was used purely for its flavoring (and taste, if memory serves) of my go-to soda pop, but it also initiated me in to my lifelong addiction to lip balm.
GOODY HAIRBRUSH: I blame Marcia Brady. Need I say more?
PAPIER POUDRES: My sister Kate turned me on to these, and my oil-slicked complexion sure appreciated them. I'd say I went through an entire packet in a day or two. That was MY "pack-a-day habit."
OXY10 ACNE MEDICATION: Yep, it was THAT bad.
BENEFIT THEY'RE REAL MASCARA: As much as I LOVE the magic of Latisse, my sensitive skin? Not so much. So this tube of magic has been a formidable replacement.
TOP SHOP EYES CREAM SHADOW IN BARE: Call me insecure, but my love of a product definitely rises when I receive compliments while wearing it. First day out was yesterday, and I received three.
BIOLOGIQUE P50V LOTION: In this one bottle lives a zit zapper, skin smoother, lipline eraser and glow inducer. Who cares if its scent is a bit…unorthodox?
BONNE BELL LIP SMACKERS: My best friend Mandie and I collected all the flavors of "chappy" (our nickname for it). Our favorite, of course: Dr. Pepper.
ELECTRIC YOUTH: I wanted to be Debbie Gibson in the 80s. Wearing her fragrance was a no brainer.
WET N WILD EYELINER: It cost 99 cents and lasted forever.
NARS EYELINER STYLO: Black eyeliner is still my desert island product. But I've upgraded to this—essentially liquid eyeliner for dummies. It goes on perfectly every time.
LA PRAIRIE ANTI-AGING STRESS CREAM: I started using this when I was planning my wedding in 2010. The scent always brings me back to that special time. And it's amazing on my skin.
LIVING PROOF BLOWOUT: This is a new fave/now essential. I don't know how, but it basically turns you into a blowout master...it's magic and I can't stop talking about it.
MAC LIP LINER IN CHESTNUT: I wore this chocolate brown lip pencil almost every day in high school, when visible liner was a thing. I'd line my lips with it and tap a clear gloss in the center. Sounds horrendous, I know.
MAC CLEAR LIPGLASS: This is the clear lip gloss that I'd always wear with my dark lip liner. It has a thick consistency and it stays shiny for hours. Pretty much all of my makeup as a teen was MAC.
MAYBELLINE GREAT LASH MASCARA: This was my go-to mascara. I'd buy it from the drugstore and I loved it because it made my lashes really dark and long. It's still one of my favorite mascaras.
LA MER BROAD SPECTRUM SPF 50 DAILY UV PROTECTING FLUID: There was a time, back in the day, when I thought my skin was immune to the sun. But now I wouldn't be caught dead without SPF in my bag. Most sunscreens leave dark skin with an ashy, grayish cast, but this one goes on super sheer and doesn't feel chalky.
LANCOME TEINT IDOLE ULTRA 24H FOUNDATION IN 520 SUEDE: Hands down, one of the best foundations on the market. It comes in a ton of shades, goes on smooth and doesn't feel like I'm actually wearing foundation. And it covers so well that I don't need to wear concealer."
MAC LIPSTICK IN RUBY WOO AND NARS VELVET MATTE LIP PENCIL IN DRAGON GIRL: I'm a red lipstick girl all day. These two matte formulas are my favorites because they both have a vibrant blue-based finish. You can't go wrong with either one.
MAX FACTOR 2000 CALORIE MASCARA: This was my mother's holy grail, and I ended up using it as well. It left me with the longest most glorious lashes and it had great staying power.
EXCLAMATION PERFURME: I still remember those catchy commercials. I couldn't get enough of this stuff as a kid and would spray on way too much.
BONNE BELL LIPSMACKERS: I probably had every flavor of these except the Dr. Pepper one. It was always sold out every time I tried to buy it.
SUN-IN: I wasn't allowed to dye my hair till I left my mom's house, so I bought Sun-In one summer. It turned my black hair the craziest orange shade ever, but for some reason, the color actually looked cool, and I got so many compliments on it. Bonus: my mom couldn't get upset with me because technically I didn't dye my hair!
FRESH SUGAR LIP TREATMENT IN TULIP: These have replaced those lipsmackers from my teens. My lips are always dry, and this not only hydrates them, but leaves me with a very pretty sheer color. Plus I love the SPF 15.
AERIN ROSE DE GRASSE PERFUM: I'll admit the gorgeous bottle is the first thing that attracted me, but rose scents have never been my thing. So, the first day I got it, I sprayed it on my wrist and neck almost absentmindedly, and headed to a meeting. As the day went on, I couldn't stop sniffing my wrist. I was in heaven. And when three people stopped me on the subway and asked me what was I wearing because they had to have it, I knew it was a game changer.
CLARINS EVERLASTING FOUNDATION IN CAPPUCCINO SPF 15: I've been testing this foundation out for three weeks, and I'm hooked. It's full coverage, and covers all of my dark spots, yet doesn't look cakey. In fact it makes my skin look airbrushed, and it lasts for a solid 15 hours.
ANASTASIA DIPBROW POMADE INDARK BROWN: When I was a teen, my brows were "on fleek." But as I got older, I got too heavy handed with the tweezers, and now my brows are as thin as they come. This product gives me the most natural results, and is sweat proof and waterproof.
SEPHORA CREAM LIPSTAIN IN ALWAYS RED: Red lips make me feel more powerful, so I easily have three to four in my bag at a time. However, this is the one I reach for the most. It's the boldest true red ever, and it lasts even after eating dinner.