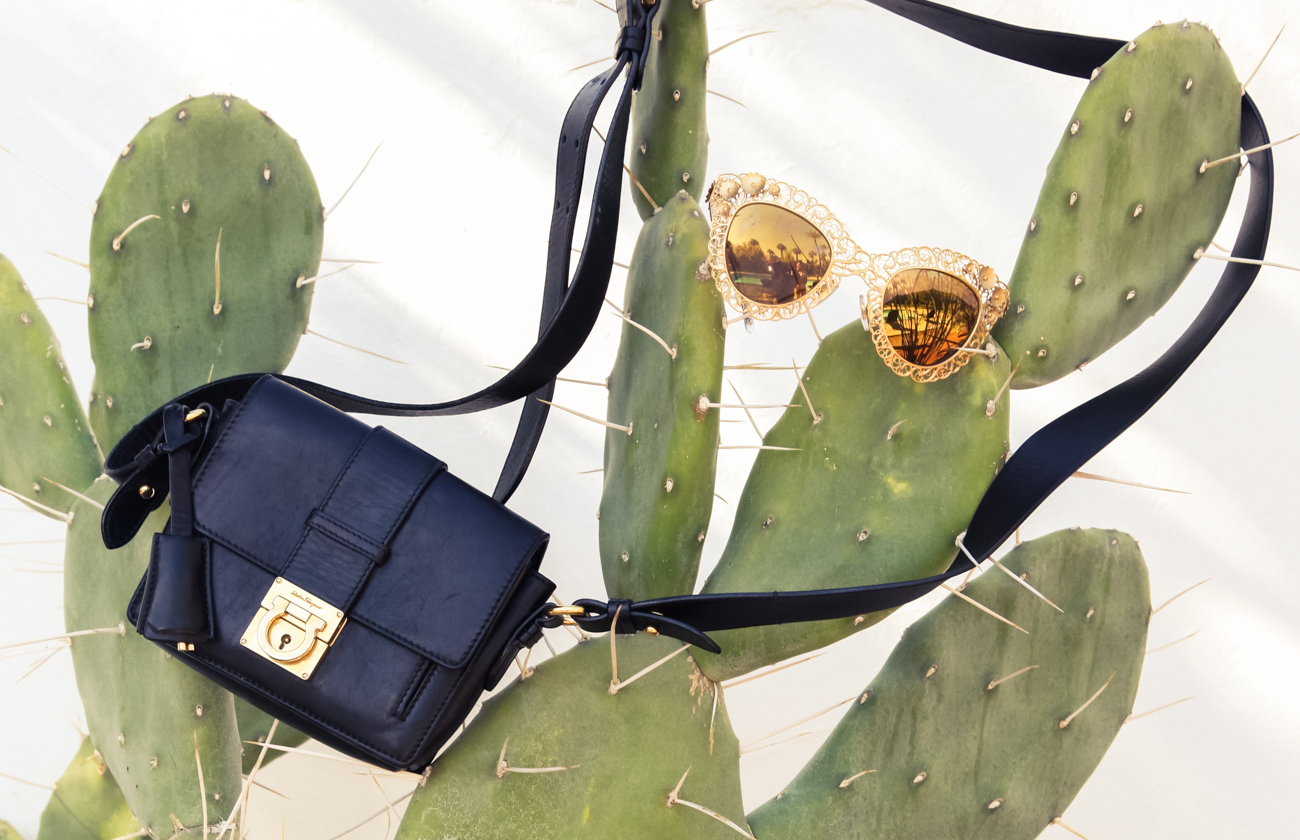 What To Wear To Coachella
Let's be real, it's as much about the style as it is about the music.
Valley girls, sing it with us: it's the most voyeuristic time of the year.
The 9,000 Instagrams of sunset-silhouetted ferris wheels. The celebrities and their inexplicable headgear. The bandanas pulled up over noses as a dust storm swirls through Pharrell's set. The girls pretending that said bandanas were an intentional part of their outfits. The glimpse of an illicit selfie stick glinting in the afternoon sunshine.
Love it or hate it, Coachella is as much about the style as it is about the music—so much so that H&M launched a line of printed rompers and peek-a-boo crochet all in the name of festival fashion. Sure, it's fraught with flower-crowned clichés, but for those of us still trapped in perpetual parka season (#MonclerDon'tCare), it's a timely escape from reality. And the lineup ain't too shabby either.
For those of you who haven't started packing yet, we've broken out this year's festival picks based on some of the acts on our hit list. Because even if you don't know the words, at least you'll look the part.
AC/DC
For those about to rock
Think Kristen Stewart hanging off the arm of a brooding unshowered gentleman—a shredded crop top or threadbare band tee, razor-ravaged micro shorts, a backwards cap, and those Converse you wore into the ground as a high-school freshman. Accessorize with a surly expression and obscene gesture when you realize that street-style photographer is actually just a paparazzo disguised in fringe.
Ryn Weaver
Sail On in florals and delicate crochet
The Poppy Delevingnes of the festival circuit gravitate towards all things light, layered and lacy, usually topped off with statement sunnies and flowers sprouting from crown braids. Add a palm frond print, lived-in ankle boots or a beat-up leather jacket to keep the look from being too saccharine, and accessorize with a gaggle of Young Hollywood pals, a sawed-off coconut and a few song lyrics in your back pocket for emergency captioning.
FKA Twigs
Video Girls in introvert specs and extrovert prints
Your shoe heights err on the side of inappropriate and your hair is your favorite statement piece. Your thick-rimmed glasses contain questionable prescriptions and the only thing louder than your sing-alongs is the print on your joggers. You dance like no one's watching, even though you know everyone is. And we don't even need to tell you what to accessorize with, because it's usually whatever art installation/pool toy/plastic flamingo is nearest you.
Drake
Worst Behavior in thigh-grazing jerseys and oversized gems
Think Katy Perry's mesh Alexander Wang jersey dress or Beyoncé's camo print jacket and snapback—anything comfortable enough to clamor on top of that tall stranger's shoulders just in time to shriek about all of your woes. And for those chilly desert nights, throw on something equal parts cozy and contentious, like Kendall Jenner's now-infamous "I Have No Tits" sweatshirt. We're with you, Jenner. We're with you.
Father John Misty
Breezy maxis say I Love You, Honeybear
For those acoustic sets, sway barefoot in a sheer, sand-skimming frock, a floppy hat the circumference of a hula hoop, and a suede fringed pouch for all the necessities (i.e. temporary tattoos and good vibes). Embrace the flower child clichés, put those fingers into peace signs and shear your maxi into an impromptu midi when someone accidentally steps on the hem during a drum circle between acts. Hey, you go with the flow, right?