Food
5 Beauty "Products" You Can Find in Your Pantry
You'll never have to ask why methylparaben is in your skincare again.
To say that we put a lot of consideration into what we put on our skin would be a massive understatement. Hours are spent comparing serums, cleansers (
oil
,
powder
or foaming?), moisturizers and
miracle creams
. And a relative amount of money is subsequently shelled out so that these lotions and potions can take up residence in our medicine cabinets. But even when there's serious dollars involved in particular tubs and bottles, we still find ourselves scratching our heads at the ingredients list. We mean, we'd need a degree in chemistry to figure out exactly how some of that stuff is interacting with our precious skin.
As this point, we're pretty committed to the whole foods thing, so we figured we'd ask one of our original gurus on the subject, Nutrition Stripped's McKel Hill, to see if she had any insight into some natural alternatives. So all that healthy food you've been stocking your kitchen with? Turns out they're just as good on the outside as the inside. Here are five beauty "products" you never knew you already owned. (TC first: actually saving you money. We're patting ourselves on the back over here.)
---
"I love high-end skincare products as much as the next girl, but I'm also a snob when it comes to the ingredient lists of most products. Remember, our skin is one of the largest detoxification organs in our body; we have to make sure we're putting great ingredients on it because it's going in our bodies as well. And you also don't need to look any further than your pantry or fridge for top of the line natural skincare ingredients. Here's what should be in your pantry or fridge at all times for your skin food."



Cucumber



"They call cucumbers calming for a reason: they're incredibly hydrating, cooling and nourishing to the skin. Just like you see in spa advertisements everywhere, sliced cucumbers placed over your eyes is a great way to naturally calm, cool and reduce under eye puffiness or dark circles. Try slicing a cucumber diagonally so there's greater surface area, then soaking for 10 minutes in ice-cold water. Gently place them over your eyes for a good 20 minutes or so, meditate and chill out, literally. You can continue this process by using a fresh cold slice until the skin around your eyes feels amazing."



Coffee



"Don't throw away your coffee grounds from your morning brew, save them for an at-home body scrub. Coffee is not only physiologically stimulating when we drink it because of the caffeine content, but it's also stimulating for our skin. Coffee grounds not only have caffeine to stimulate circulation and increase blood flow, but the grounds act as a natural exfoliator. Store leftover coffee grounds in the fridge or mix with melted coconut oil to create your own moisturizing coffee body scrub. Try my favorite
here
."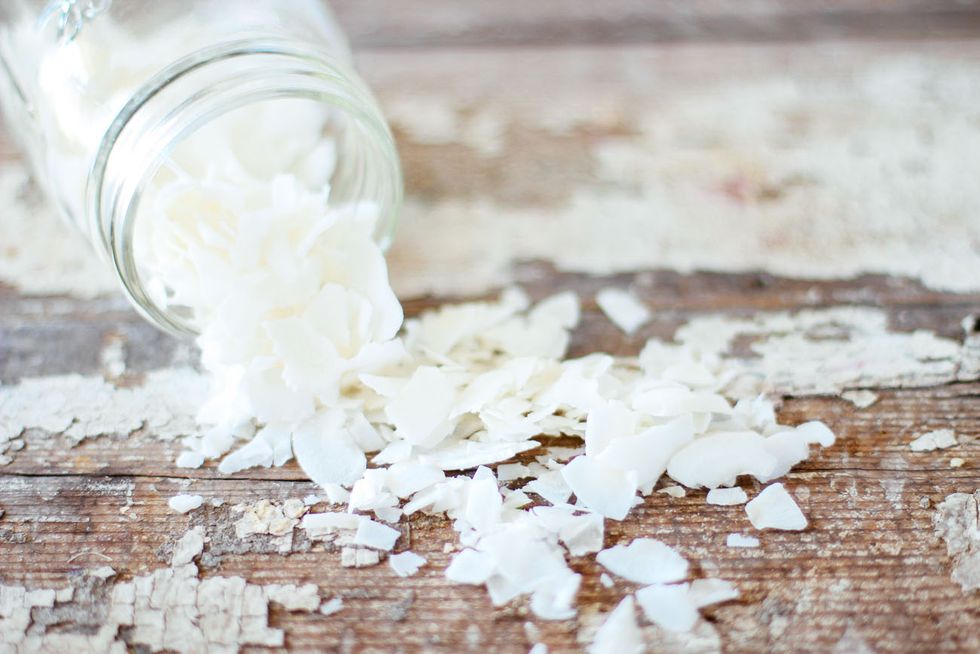 Coconut Oil



"Coconut oil is the king of natural skincare ingredients. It's incredibly versatile and moisturizing to not only our skin, but also our nails (cuticles) and hair, and it works from the inside out to provide a hefty dose of essential healthy fats. Try it as a body moisturizer right after hopping out of the shower. While you're skin is still damp, apply and rub it in as much as possible. Because coconut oil is oil, it takes a bit longer to absorb so I recommend moisturizing with coconut oil at night only so it doesn't stick to your clothing. Support your hair follicles by giving yourself a hair mask at least one night a week by applying coconut oil to your hair, starting from your scalp in a massaging motion, allow the coconut oil to coat the entire hair strand. Sleep with it on overnight and shampoo and rinse like normal in the shower the next morning. Be ready for some of the shiniest locks ever."



Honey



"Honey is one of my favorite natural beauty ingredients in the house! It's a natural anti-microbial, which means it helps cleanse the skin on a deep level getting rid of excess bacteria that can easily clog our pores. Honey is also loaded with antioxidants, which can help keep the skin healthy and protected from free radicals, and it's incredibly soothing to the skin, acting like a moisturizer. Add honey to a mask with mashed avocado and rolled oats for a soothing mask—try this
one
."



Rolled Oats



"If you were like me as a child—running around and always getting poison ivy from adventures in the woods—then you're all too familiar with soaking in an oat bath to calm skin. This has total merit as rolled oats release natural sugars and starches (beta-glucan), which are known to provide a calming and gentle result for the skin. Add about one cup of rolled oats to a hot bath plus a couple drops of lavender essential oils and soak."
McKel Hill, MS, RD, LDN is an internationally known Registered Dietitian, wellness nutritionist and the creator of Nutrition Stripped, a guide to living whole and well. Visit her blog for nourishing recipes, advice on living the whole lifestyle, and for nutrition expertise and advice. She hosts supper clubs in Nashville seasonally, hosts workshops, retreats and cooking videos. The Nutrition Stripped cookbook will be published early 2016.For more natural beauty visit McKel's natural beauty series for DIY recipes.Follow McKel: Instagram, Facebook, Twitter and YouTube.