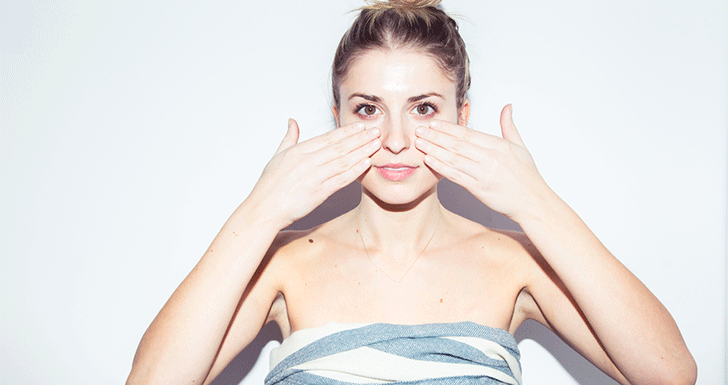 Skin
4 Cov Staffers take on 7 powdered cleansers. Let the games begin!
What can we say? Our faces deserve medals for what we put them through. You can't really blame us though; all those
extreme DIY beauty treatments
and
acid face peels,
we do it for you, readers (okay, and a little bit for us too). We're at it again (obviously), this time opting to set aside our beloved
facial oils
, water cleaners and traditional exfoliators for a few days and go for something a little more on the dry side; powders. These dehydrated cleaners and exfoliators have been everywhere lately, so naturally we needed to know what was up. So, we divvied up seven different varieties on four different skin types and took them to the sink for a try (we even had a doctor weigh in on the benefits).
---
Our Girls
Emily: "In the winter, my skin is super dry (I use an oil cleanser in the winter to keep my skin from flaking off completely), but I also get bits of acne (year round) and spots. In short, my skin is a constant struggle and I still haven't figured out the best way to deal with it."

Alicia: "I'm a consistent face-washer who is a sucker for the illusion of clean pores. The most eloquent way to describe my skin is weird. Acne prone but still somehow dry-as-a-sandbox. "

Kelly: "I'm a sensitive suzy when it comes to my face. My skin is dry and gets irritated really easily so whatever I use always has to be very gentle."

Noah: "I'm kind of addicted to exfoliators — for no particular reason, really. But I have to say, other than a bit of dryness on my forehead and chin in the winter, my skin is pretty balanced year round. I guess I'm lucky?"


The Products
L to R: Tatcha Indigo Smoothing Rixe Enzyme Powder; Amarté Daily Exfolipowder; Dermalogica Daily Microfoliant; Peter Thomas Roth Vitamin C Brightening Cleansing Powder; Boscia Tsubaki Oil-Infused Exfoliating Powder; Nude Detox Brightening Fizzy Powder Wash; Diptyque Radiance Boosting Powder for the Face


The Round Table
E: The thing I don't get is; it's powder but then it just turns into a creamy lather anyway, so what's the point of having it dry in the first place when it turns to regular face wash?

A: I think it's because they can put different minerals and ingredients inside that have a different affect on your skin than a regular cleanser.

N: I wonder if the water activates them and gets things going, instead of having a gel or other stabilizers that can be in other cleansers.

E: Yeah, in my Diptyque one there were a whole bunch of vitamins I don't usually see. But my next question would be, if we're putting it on and then washing it all off, then are the vitamins and minerals actually doing anything? Unlike a toner or serum, which you put on your skin and don't wash off.

N: I had to massage it in for 20 seconds.

K: Mine doesn't even have instructions [laughs].

A: Yeah, mine says massage for a whole minute.

E: Crazy!
"Powdered exfoliators are relatively immune do damage from microbes, so they're less likely to suffer from time and/or environment related degradation. (Meaning, you can store them and use them longer than sugar scrubs or other exfoliates, without worrying about the product drying out or harboring bacteria.)" —Dr. Craig Kraffert, Board Certified Dermatologist and President of Amarte
K: Wait, how much did you guys use?

E: Mine said half a teaspoon but I just eyeballed it. It feels like a lot though.

N: I used a quarter size.
"Powdered exfoliators are able to provide a more predictable exfoliation while minimizing the potential for irritation."
K: I found that the NUDE one, because it has rosehip seeds, was really grainy, so it might as well have been an exfoliator.

E: I know, the Diptyque one with the little sponge felt like it was exfoliating. But when I didn't use the sponge, it didn't feel like anything. It felt like regular cleanser with chalky sediment. It kind of lathered when I used a sponge.

N: I found the Tatcha one got real sudsy. It was good it spread everywhere really easily.

E: It did leave my skin very soft. Although, since it's winter I've been using a cleansing oil recently, so my skin doesn't feel tight and dry after, and I did feel tight after using this one. I feel with my skin gets so dry in the winter, it might be better to use it in the summer.

N: See for me, I feel like oil cleanser always leaves a film. I like that super squeaky-clean feeling, you know?

E: The squeaky-clean feeling is nice.
K: Yeah, the Boscia cleanser says 'to increase hydration benefits mix with oil.

E: Ooo, like argon oil?

K: Boscia's beauty oil.

N: Oh, that's nice!

E: That's actually the oil cleanser I use. I like it a lot.

K: You should take this then!

A: I used the Peter Thomas Roth cleanser and you can add it to your own cleanser if you want some extra exfoliation.

E, N & K: Ooo, that's good!

A: So, it's pretty customizable.

E: So you use it if you want more benefits from your cleanser?

N: I think so, I guess it's a deeper clean.

A: I felt like it really got the dead skin cells off my face.

N: Even the cleanser?

A: Yeah, for sure. It could be an exfoliator as well. So, I had these dry patches and a weird rash on my forehead and now it's gone!

E: Woah!

A: Yeah, it kind of just buffed it away.

E: That's so miraculous!

A: It was! It was this weird hybrid acne-rash thing and it swiped it away.

N: That's actually amazing!

A: I know.

E: Peter Thomas Roth wins.

A: Really!
E: Did anyone have a negative experience with the cleansers?

N: Not at all.

K: No, it was just more exfoliating than I thought it would be.

E: Did it feel rough on your skin?

K: Yeah, and I have really sensitive skin, so I wasn't that into using it twice in a row.

N: You should have used the Tatcha one…for sensitive skin. Because I found this one really light and foamy compared to the other ones.
A: I've used Cetaphil every day for my entire life. I never really used another cleanser. So with this my skin felt so clean and exfoliated — I always forget that step.

K: Me too.
"Foaming powdered cleansers with physical exfoliants can be used regularly without creating problems. This allows them to provide long-term, perfectly exfoliated facial skin (aka, that clear and smooth glow we're all looking for!). This in turn allows each and every subsequent skin care step to reach its maximum cosmetic and functional utility. Brighteners, antioxidants, calming agents and rejuvenative ingredients will all be absorbed more fully and perform their best on calm, clean and perfectly exfoliated skin. Not too much, not too little, … just the exact right amount of exfoliation – all the time, every time."
N: The difference I found between the Tatcha, which is just a cleanser, and the Amarté (exfoliator), is that the Amarté was powdery but every so often you'd feel larger grains in there. So when you're first mixing it up in your hand and putting it on your face you can feel that it's a little rougher. But I love it because it's way more gentle — more like a fine buffing than the other exfoliators that I use. Y'know the ones with apricot and that stuff?

E: Yeah.

A: I agree. It's like you're cleansing but also exfoliating.
E: What about the Dermalogica exfoliator?

A: Noah uses this as well! I remember hearing about this so long ago. The first powder beauty product ever and I really liked it! It says to use it every day, but I would definitely put this in my routine like twice a week.

N: I use it every day but that's beacuse I have really dry skin.

The only thing I would say is when you use it in the shower you have to be really careful to put the lid right back on it. Because getting water in it it's all…just done.

E: I feel like I always ruin by beauty products that way — in the shower.

A: So that Dermalogica has Salicylic acid, rice enzyme, green tea, oatmeal, ginkgo…

E: What is that?

A: I have no idea, but what isn't green tea in?

K: [Laughs]

N: Truth

A: I like it because it's a kill-two-birds-with-one-stone type thing. You use it and then you're done.