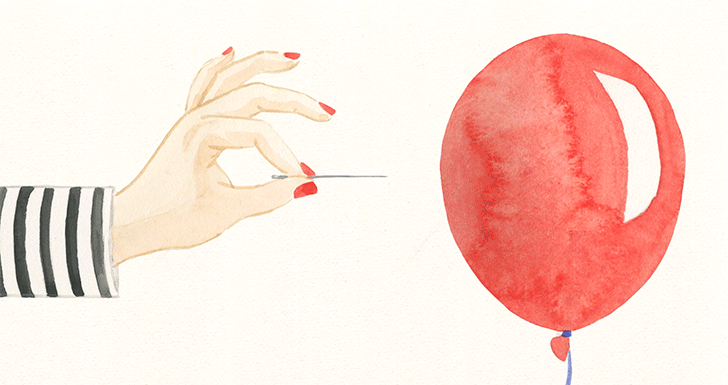 Skin
Two dermatologists break it down.
We've all been there: you wake up, look in your mirror and notice that you have a big throbbing red welt on your chin; or worse, you feel it brewing under the surface, just waiting to pop up in its full glory smack in the middle of your face. Maybe it was a week-long binge on Reisling and maki rolls (these things happen) or you're riding a wave of
dark-circle-causing
, complexion-dulling stress fuelled by a particularly frightening deadline. Either way, you're breaking out.
Without fail, it always seems to come at the least opportune time (actually!). For example: when we're just about to hop on a flight for a weekend getaway where many an Instagram will be had, or on our way to a formidable meeting with the big boss. On top of that, we're somehow supposed to resist the urge to do what seems like the most obvious way of dealing with the situation: pop it. But let's be real, we can keep from touching a pimple just as easily as we can keeping from dropping $500+ on Dior's Technologic sunglasses.
So since we're typically without photoshop IRL, we asked Dr. David Colbert, the founder and head physician of New York Dermatology Group, and Dr. Neil Sadick of Sadick Dermatology, two leading derms, to lay the groundwork on how to properly, ahem, take care of your breakout.
---
ON THE DIFFERENT TYPES OF PIMPLES…

"There are many different types of pimples, the most common being a small red swelling under the skin that can take several days to go away. Less common is cystic acne that can last for several weeks." —Dr. Colbert


ON HOW TO TREAT EACH TYPE…

"For all types of acne a topical antibiotic cream and benzoyl peroxide will help it go away faster. For cystic acne, an oral antibiotic is often required as is topical Retin-A to keep pores from clogging." —Dr. Colbert


ON WHAT TO DO AT FIRST SIGHT…

"When you first spot acne forming, use a warm compress to open pores. Then apply a dab of over-the-counter 5% benzyol peroxide creams. For a more effective result you can use blue light at-home devises to speed up healing," —Dr. Neil Sadick


ON HOW TO PROPERLY DEAL WITH IT AT HOME…

"You can use a dab of Neosporin and hydrocortisone cream but please avoid the temptation to squeeze or pick! It's okay to gently roll a Q-tip with neosporin or alcohol over a pustule to open it for faster healing," he adds.—Dr. Colbert


IF YOU DO HAPPEN TO SQUEEZE A PIMPLE (AND GO OVERBOARD)…

"Squeezing any pimple will ALWAYS make it worse, but if you can't resist, apply a topical antibiotic cream like polysporin and a dab of ColbertMD Soothe Cream with purified Angelica Sinensis to reduce inflammation." —Dr. Colbert


ON HOW TO AVOID SCARRING…

"You can prevent scarring by never picking or squeezing your skin. If pimples are deep and painful, they often require oral antibiotic to avoid scar formation. But keep in mind that most scarring is caused squeezing and picking and not by the acne itself." —Dr. Colbert


ON HOW TO PREVENT OUTBREAKS…

"Cleanse your skin really well and use a daily astringent. And clean your cell phone—it can be a hotbed of oil and bacteria." —Dr. Sadick

"Occasional home exfoliation that contains bromelaine, a pineapple enzyme, can greatly reduce acne formation." —Dr. Colbert