Fashion Week
NYFW Daily Debrief: Diane von Furstenberg
Pat McGrath + Orlando Pita = the damn dream team.
That's right: like peanut butter and jelly or Frank and Claire Underwood, we're at it again. This season, we've hooked up with Tresemme (the official hair sponsor of Mercedes-Benz Fashion Week—you fancy, huh), the inimitable, iconic Orlando Pita and Something Navy's Arielle Nachmani to bring you behind-the-scenes breakdowns of each show's hair looks. Get your blowdryers ready, set... we're off!
---


There are some shows—and in turn, designers—for whom New York Fashion Week (and the city as a whole), are inextricably tied. Diane von Furstenberg, for one. Now that we think of it, it might have something to do with how she's really nailed the whole move-to-America, marry-a-German-Prince, launch-eponymous-fashion-empire thing. Just a hunch.
With the above in mind, you can imagine how each season DVF's shows are in possession of a certain buzz. And having some of the most similarly iconic names in the industry tied to her shows; this season, she had Kendall Jenner leading and Jourdan Dunn closing out the pack, with Pat McGrath and Orlando Pita leading the make-up and hair teams backstage.
And adding to a movement that's becoming increasingly hard to ignore — does anyone else love when fashion collectively decries that effort is officially démodé? — McGrath and Pita's vision was decidedly low-maintenance. Especially that hair. "Our girl wants to look elegant and dressed up but she doesn't want to look too fussy or prim and proper. We've worked with Orlando for many seasons and we always aim to keep our models' personality shining through in their look so that we don't lose her sense of fun out on the runway," Diane explained backstage.
Chimed in Pita, "We wanted the hair to be chic but still feel very undone and easy at the same time. I like this return to very simple, soft looks we are seeing this season that don't look over polished or styled. We used our fingers and a wide tooth comb to really break up the hair, so that even though it pulls back to a beautiful low bun, it still feels very lived-in and has a little attitude." Yup. This means the easiest at-home DIY ever is coming your way.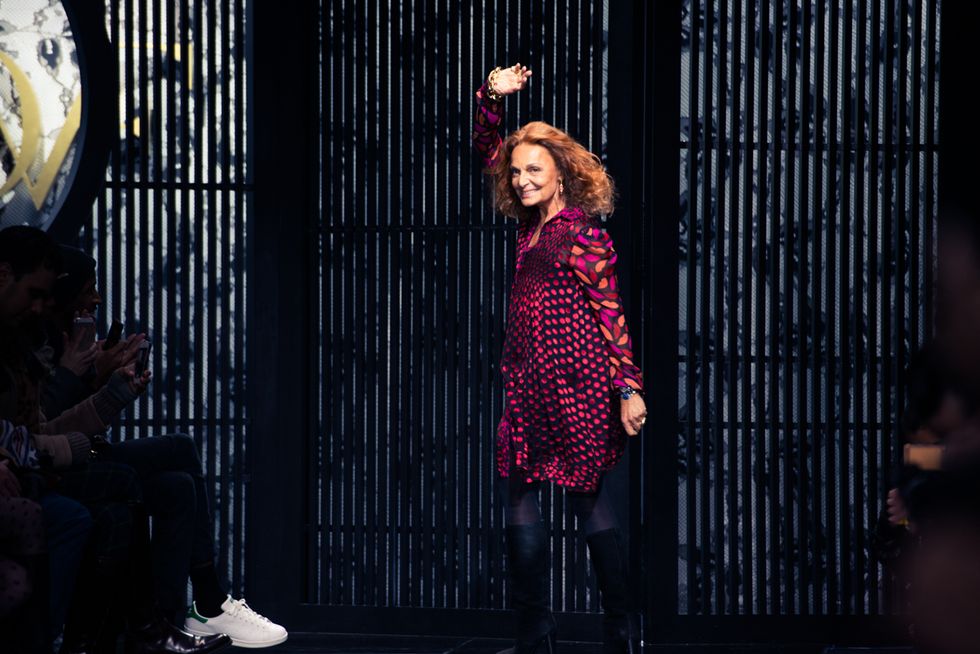 ---


WHAT YOU WILL NEED




Platinum Strength shampoo and conditioner


Runway Collection Get Sleek Blow Dry Balm


Runway Collection Get Sleek


Blow dryer


Soft bristle brush


Bobby pins


Thin elastic







Step 1
Start by washing your hair using TRESemmé Platinum Strength shampoo and conditioner and towel dry.
Step 2
Work in the TRESemmé Runway Collection Get Sleek Blow Dry Balm from root to tip and dry hair straight back (with no part) using a soft bristle brush.
Step 3
Spritz TRESemmé Runway Collection Get Sleek Creation Hairspray all over your hair. Run your fingers through your hair to create texture as you pull into a low pony, about an inch above the nape of your neck. Secure the pony with a thin elastic.
Step 4
Fold the pony into a flat bun and pin loosely on the sides. Leave a few flyaway pieces poking out of the bun to create a soft, easy look.
Step 5
Finish the look by spraying TRESemmé Runway Collection Get Sleek Creation Hairspray.