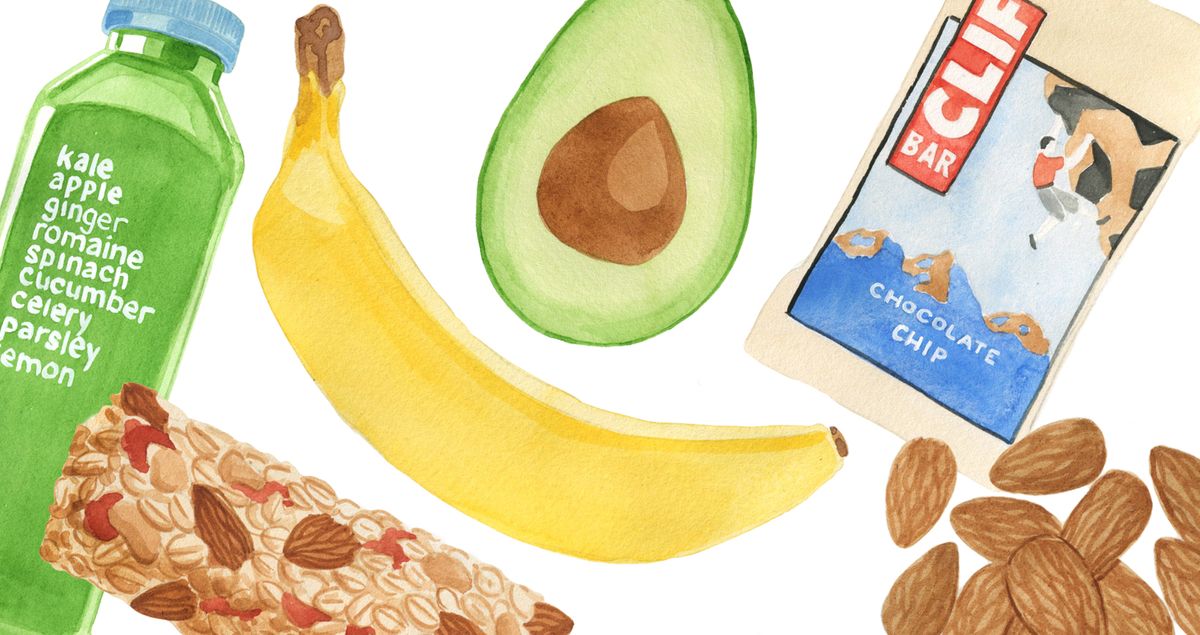 Food
During fashion week... and all the time.
You know that thing where you arrive at the office, get down to tackling your one-thousand-and-one-unread-email inbox have a conference call or two, look up and it's 3:30? Or when you spend a Sunday taking your grandmother shopping (or, you know, vice versa), and you find yourself in a fluorescent-lit corner of the endless-silk-blouse department four hours later? In both cases, you're starving. And then it's all over.
Fashion week is kind of like that, but with a lot more stiletto-shod 5'11" models and a lot fewer chances for Grandma to take you for tea and a scone. In the Girl Scout spirit of preparedness, this season we're doing our best to avoid the 3 P.M. slump and the subsequent urge to eat every last truffle-infused macaroni ball at the
Calla
presentation, by stocking our bags with snacks... and lots of them. And who better to ask exactly what we should be toting and eating ('cause we were totally going to go with gummy bears and corn nuts) than Vanessa Packer, the nutritionist behind
modelFIT
 (a.k.a the person whispering sweet and healthful tips into the ears of ultra fit New Yorkers). She also gets the whole woman on the run thing.
---
1.

"When I know I'm going to be on the go for a while I always pack fruit, apples, clementines or grapes. I rinse them and wrap them in paper towels so they stay nice and then I have a napkin for myself because I always make a mess. I like lighter stuff like fruit."
2.
"If I have the time, I like to do a smoothie in the morning or a juice and then I make extra and I put it in a jar and I'll it in plastic. I'll bring that with me and it will stay cold most of the day."
3.

"I don't like snacking on nuts as it's really heavy on the digestive system and it's really dehydrating, so I'm not a big trail mix person. But what I'll do sometimes is bring chopped veggies: baby carrots and Persian cucumbers, which are really small. I don't even cut them up I just eat them like a carrot stick. And celery, and bell pepper—I just use my hands and break it open and rip strips off."
4.
(if you have to)

"If I'm absolutely starving and I can't find anything… of all the trail mix, bars and things like that, I find that Kind bars are the best. Their ingredient list is really short. I don't like the questionable bars where it's formed into some bulky heavy brick. I like the ones where you can see what's in them. So if I can get something like that I will do it. But if it's fashion week you can usually pop in somewhere and get a smoothie or an acai bowl or do a salad or do a light wrap."
5.
"I carry water with me, I'll either use filtered water and I'll bring my own little water bottle. Or I'll grab a Fiji water—I find it to be really hydrating because it has a good pH. When I can, I love the little health food stores that have the fresh coconuts so if I have a few extra minutes I'll pop in there and get a coconut water or a blended coconut. And herbal tea. I always bring different types of tea bags—if I don't have time I can run into a bodega and get just a cup of hot water and use my own tea. Tiny Tea or Yogi Tea is really good—they have a good peppermint one."