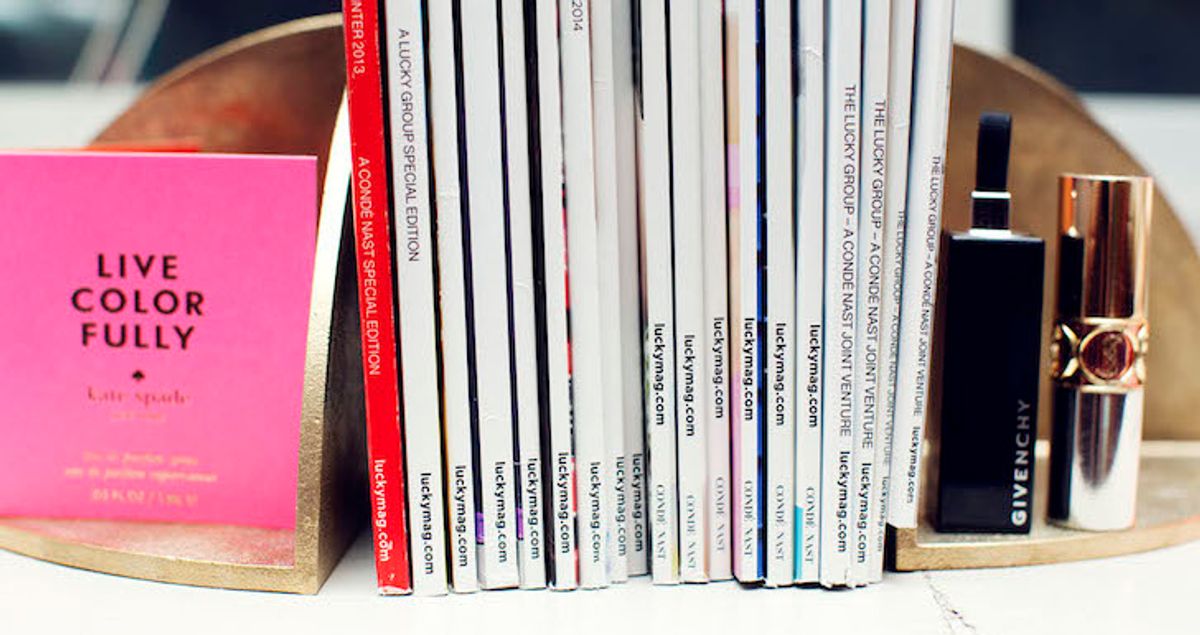 Photography by Erik Tanner
Career
Deskside: Katia Kuethe
Creative Director, Lucky Magazine. New York
Welcome to Desksides, The Coveteur's brand-spanking-new series in which we sit down with leaders in various creative fields and figure out how they got there. We guess we could've also named this, "how the hell do I get your cool job," accompanied with a "help me I'm poor" GIF from Bridesmaids, but then we realized going the mononymous route was a little more succinct.
---
This time, we sat down with Katia Kuethe, Creative Director at Lucky Magazine. Having been at the glossy just over a year after previous stints at Kate Spade (that cutesy branding you know and love? A lot of that is all her), Teen Vogue, YSL and Tom Ford, we got Kuethe to fill us in on her "German work ethic" and working in fashion as an introvert (it's possible).
ON MAKING THE MOVE FROM KATE SPADE TO LUCKY:

"I had left Teen Vogue, and I went to Kate Spade. The job at Kate Spade was a really huge position—I oversaw all creative aspects of the brand, from copy and the voice of the brand to campaigns, packaging, social media, in-store, windows; a huge responsibility. When you're in these managerial positions, you do lose a little bit of the joy and of the craftsmanship. It's not like I sit [at Lucky} and do layouts, I work through my Art Director and Art Department, but I do enjoy having that rhythm of having four weeks to put something together. It's about baby steps. That's something I was missing a tiny bit with the job at Kate. In magazines, you're not making as much money. But in a corporate environment, everything you do is tracked. Every [newsletter], whether it's for a shoe sale, or a bridal shop opening, the results really get... tracked! You try something once and if it's not succeeding right away, the idea is, 'that didn't work, let's move on, let's go back to what we did last year'."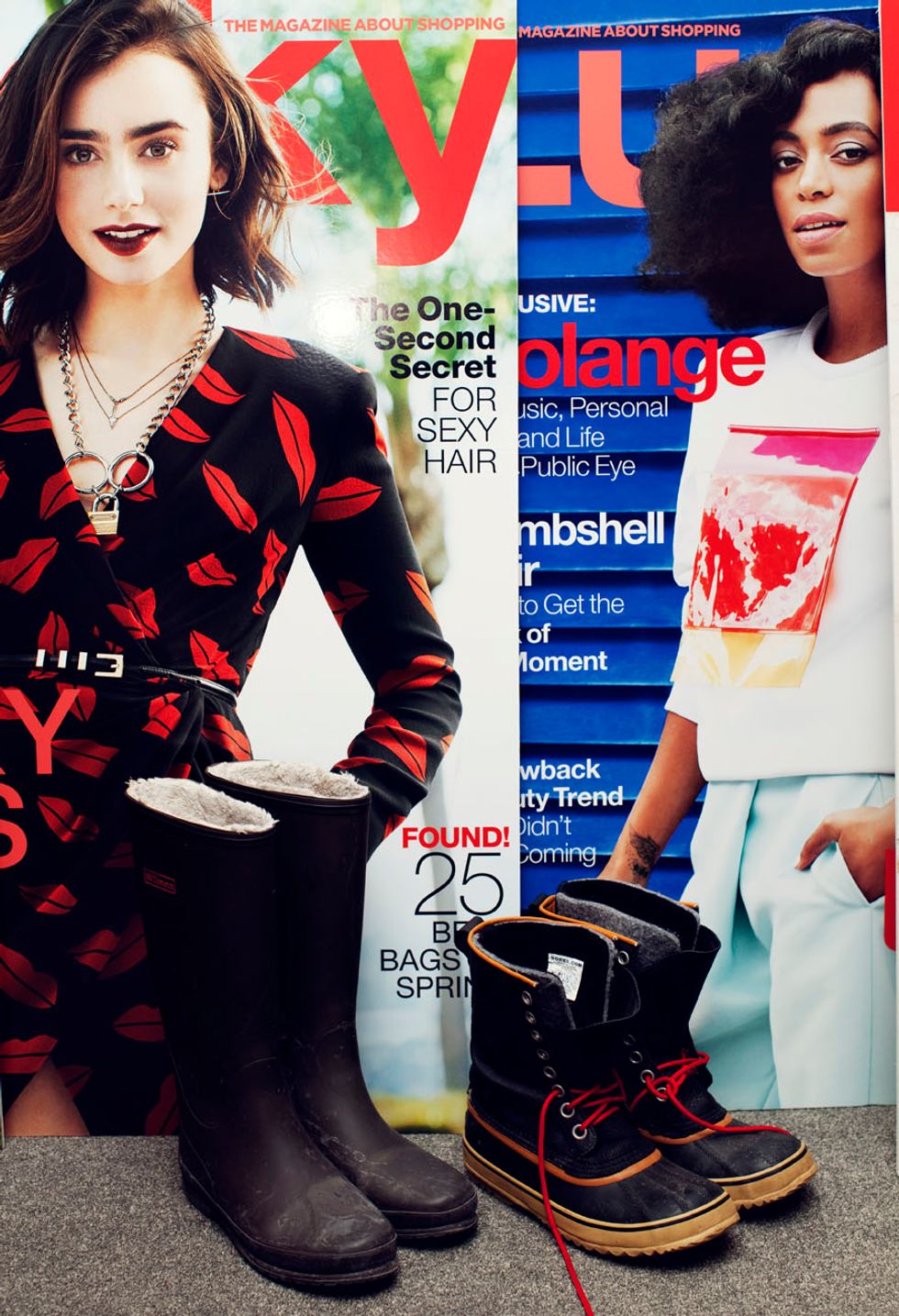 "If I have a 23-year-old coming in with 'Creative Director' on their resume but the resume is not typeset well, there's typos in there... that to me, that's tragic."
ON DEVELOPING A "CREATIVE SYSTEM":

"If you look at Lucky, you don't think [of it as] a particularly crafted magazine. I see it [that way] because I put it together and I see the level of detail that goes into a commercial magazine like this to even be somewhat competitive at the newsstands. For me, it's all about developing a system for creative, a system for Lucky [to see] what works overall. At Teen Vogue, I could really do whatever I wanted under the direction of Amy [Astley]. Now I'm enjoying pushing the benchmark."


ON WHAT THE LAUNCH OF LUCKY SHOPS MEANS FOR THE MAGAZINE:

"I was extremely excited. When I went to Kate, my biggest project was KateSpade.com. They had existing e-commerce, but from my first week, that was all I cared about and I knew I had a vision for it. What I enjoyed about that relaunch was you have unlimited real estate, you have a screen and a lot of people who are willing to look at it. My primary role here is that I'm visually almost a watchdog. Is Lucky Shops looking like Lucky the magazine? When I heard about Lucky Shops, I thought it made perfect sense for the brand—it's the magazine about shopping. To close that gap and actually be offering direct shopping to our reader only makes sense."


"My first few years in New York, I was working freelance and I spent every paycheque only on books."


ON BEING THE RARE BREED WHO ACTUALLY ENJOYS CHANGE:

"One thing that I think that has been beneficial for my career overall has been that I never go in with a negative attitude. That can be a bad thing. Sometimes I've learned you have to be a little bit more critical, you have to see the issues coming quickly. Change, opportunities, my first instinct is usually, 'Cool, let's make it the best we can.'"


ON LEARNING TO LOVE THE LEARNING CURVES OF A NEW JOB:

"I love being back in editorial. As corny as it sounds, I always appreciate any kind of learning. Even at 40, having done a really solid variety of jobs in the industry, I always like doing something I don't know very much about. Lucky is so different as a magazine, even to Teen Vogue. At Teen Vogue, you can be very, very cool and very out there, in a way, just because you have those two things as a part of the brand. Lucky is always about, 'Is it very clickable and shoppable and easy to understand?' Those learning curves of, how do you concept your shoots? What is the threshold? How far can you go? That's something I've been enjoying, I have to say."


ON THE EPIDEMIC OF SAMENESS TAKING OVER THE FASHION INDUSTRY:

"Editorial people are beginning to have commercial outlets; and commercial outlets have blogs that want to appear like a magazine. I think it's all becoming more of the same. There are certain things people think will work and they'll feel very safe, and I have to say I find it sad. I'd like to see more point of view—I think that's the one thing we really need. You need a specific reason to be there. If everybody's doing the same thing, it becomes very boring. Ultimately, you do want a brand to lead you. People talk about the same subjects, like what Taylor Swift's wearing, from the same angle. There's so much more potential and people happily fall into a template. It's become very formulaic in a way."


ON LUXURY FASHION HOUSE'S RESPONSE TO DIGITAL:

"The big luxury houses, I think they are the most behind on e-commerce. They've been reluctant. One thing the big luxury houses have is a big budget. They still have a traditional approach to a budget, as in, 'Here's my money for my big spring campaign, here's my e-commerce budget,' but the proportions are so off. Brands have to get away from the idea that those big campaigns are everything. In those big companies, you'll have all of the budget for the campaign, but when it comes to [their] e-commerce [images for their website], you'll have a hard time even getting budget for a manicurist.

You're shooting with Mario Testino or Patrick Demarchelier, and then there's a long, huge... gap. How do you achieve that same level of excellence throughout the year? How do you narrate what you're doing right now? Don't just tell me you have a new bag or a new shoe, tell me about it's background. It's formulaic: you launch the bag, you hold the dinner, you gift the bag to the influencer and it takes care of itself. I want more narrative from brands. Brands need to stand by their heritage, where they come from."


ON 100% DEDICATION AND WORKING HOLIDAYS:

"If there's something you know you love, you put the hours in. I'm going to sound very old lady, but I've put in the time, countless hours, and never minded it. If I'm working on the Fourth of July, I don't mind; Memorial Day weekend, I also don't mind. It's a bit of a German thing also: that work ethic where not only does it have to be done, it has to be done in a positive spirit, and wanting to do so.

My art director and I, Coco [Lloyd], who I love, we get along because we have a similar work ethic. If we had to come in in the middle of the night, it would not be a question. You have to love it so much it doesn't feel like work. If you have to force yourself to come to work on Saturday, it's probably not going to be successful. In this industry, people respond to 100% dedication."


ON WHAT SHE LOOKS FOR IN EMPLOYEES AND JOB INTERVIEW TURN-OFFS:

"I respond to people who have an opinion. I see quickly whether someone's actually good at what they do or whether they just think they are. Again, I'm very German in my approach. I keep a base layer of manners in my approach, but my communication's pretty direct, so I always respond to that. I appreciate realness. If I see someone not only has the talent and capabilities, but attention to detail—if I have a 23-year-old coming in with 'Creative Director' on their resume but the resume is not typeset well, there's typos in there... that to me, that's tragic."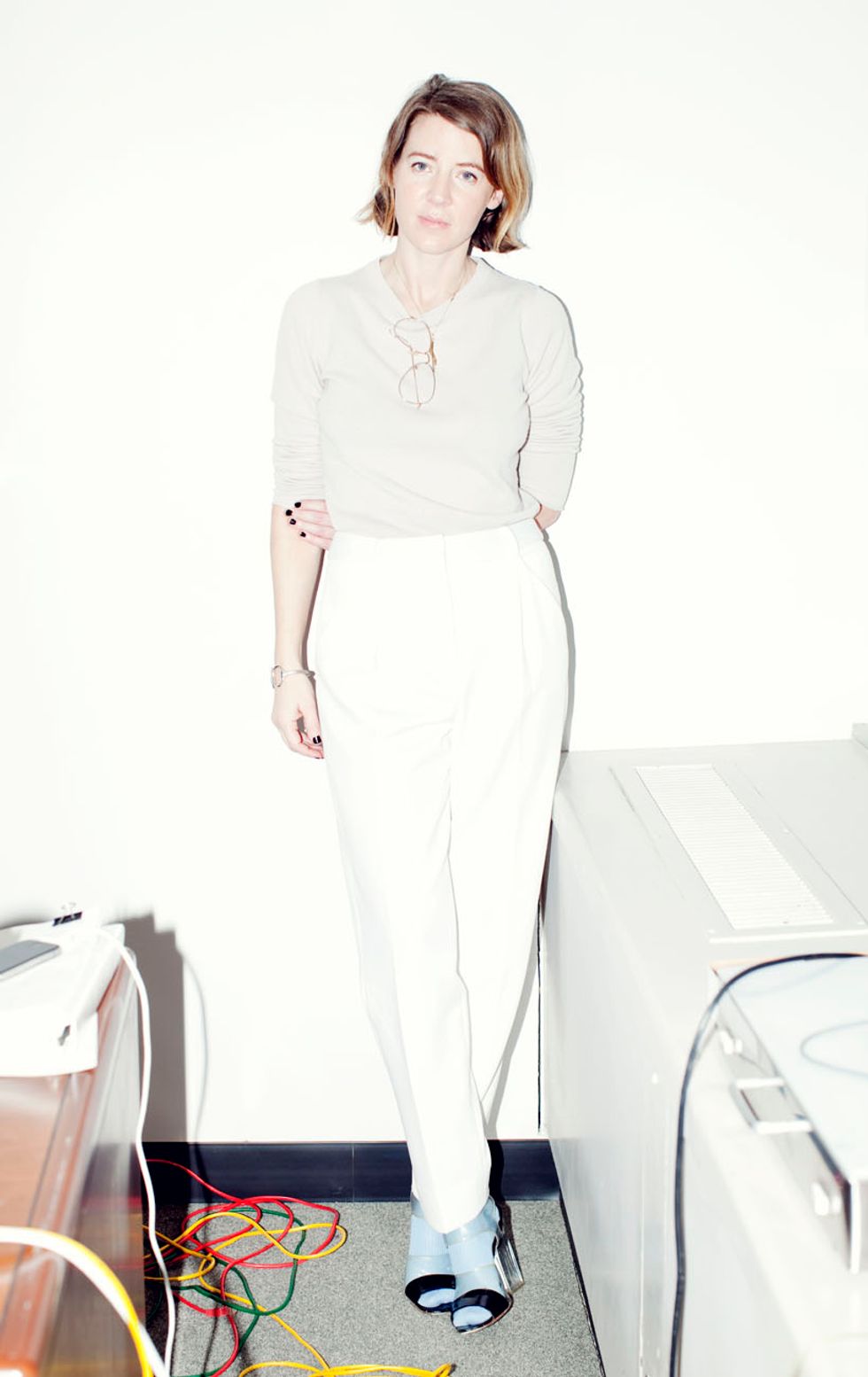 "People talk about the same subjects, like what Taylor Swift's wearing, from the same angle. It's become very formulaic in a way."
ON HOW SHE PULLS OFF BEING AN INTROVERT IN THE FASHION INDUSTRY (AND IN NEW YORK):

"I love that Karl Lagerfeld quote, 'Never compare, never compete.' Focus on your own thing. When I first moved to New York, everybody said to me, 'You have to be out every night, always tell people how wonderful you're doing and how many exciting projects you're working on.' I'm not that type. I could be working on the most exciting project, but for no real reason, I could run into you and not mention it."


ON THE FUTURE OF LUCKY:

"What's going to be interesting is the mixture of editorial content with shopping. In the last year, under Eva's direction, we've developed a pretty clear voice. The magazine has found a clear path. This is me daydreaming, but I would love a fragrance for Lucky! I've done fragrance design, and I know what it would look like. I haven't mentioned this to Eva..."