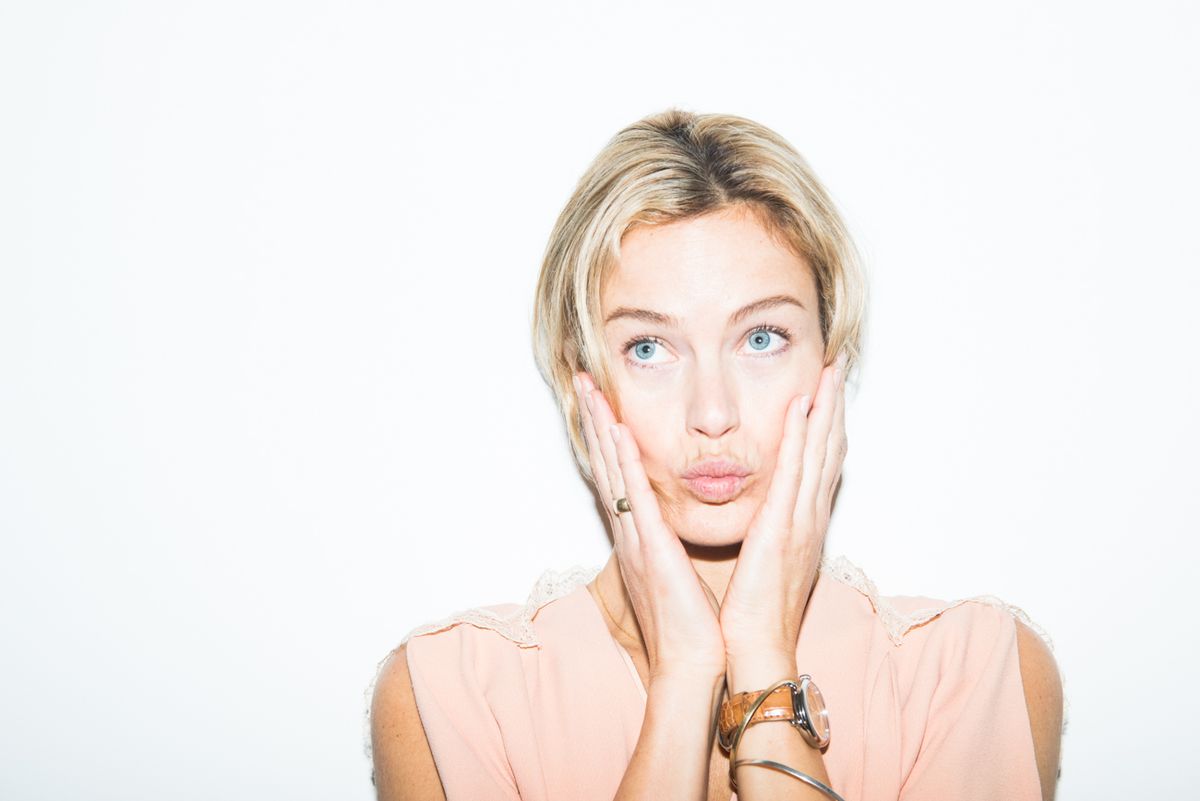 Makeup
Maggie Dolan goes barefaced for a weekend (Blind dates! Wine nights!) and finds it strangely freeing.
Walking into work on my first barefaced day, I didn't feel insecure or afraid but totally aware of my self—mind, skin and soul. Although not totally unused to the idea of going sans makeup, the anonymous pressure of its daily application, and sometimes reapplication, was beginning to feel like an unnecessary chore. After watching the #nomakeup selfie's rise, on top of Marc Jacobs' naked-faced fashion army for spring 2015 and Jennifer Aniston's cosmetically clean role in Cake, I was curious if makeup free was the way to be.
Committing to wearing zero makeup for three days left me completely candid. No eye opening mascara to hide behind, no crutching into concealer—it was thrilling. Of course, insecurities crept in. Will I come off tired and lazy at work? What if I run into *him* without any protective armor? Is that what I really look like? But there's something very calming and satisfying in simply smiling and finding self-acceptance when you're so exposed and unguarded. Aniston has it
right
, not wearing makeup is "dreamy, empowering and liberating."
---
"Will I come off tired and lazy at work?
What if I run into him without any protective armor?
Is that what I really look like?"
Beyond the usual teenage cystic spot or monthly hormonal chin situation, my skin has never been very moody. I started a daily skincare 'regimen' in middle school. My mom was still way into the Mary Kay pale pink three-step—cleanse, tone, moisturize—and my friends and I experimented with makeup and picked up tips for lip-gloss, glitter and Urban Decay products (it was the aughts). I liked manipulating my look, but wasn't properly educated until I lived with a makeup artist in London a few years back. She taught me how to do a liquid cat eye and the perfect red, purple, brown lip; makeup brush maintenance 101—wash them (all the time). Makeup was fun and decorative but skin—a good foundation—was still everything. My roommate went without makeup more than me.

I had a meeting scheduled with my boss late Friday afternoon and until the Outlook flash reminder popped up, I had totally forgotten my barefaced circumstance. Feeling a little nervous about the dark circles I had acquired after staying up all night anxious about dark circles, I Snapchated my friends. They dutifully responded with "niiice" and "rosy cheeks tho!" I asked a coworker at the end of the day if she noticed—to be fair, I'm still very new and she is very polite—but she said she didn't and her fears were the same as mine: looking tired and not put together would reflect poorly. Do we all just need to get some sleep?
"I gave my number to a guy on Tindr—my first,
but all in the name of research right?—and we decided to grab dinner."
It was a busy Friday. I gave my number to a guy on Tinder—my first, but all in the name of research right?—and we decided to grab dinner. Walking out of the office I put on some lip suave, gave my cheeks a squeeze and hoped for the best. The restaurant was dark. We ate, we talked and he didn't seem to notice. When I brought it up, the conversation breezed past like was a nonstarter—smart man? But what about guys anyway? They never have to deal with the existential crisis of not wearing makeup. It felt good to be on the same level.

By Saturday I felt comfortable in my commitment. After going through a meeting with my boss and a first date, who am I really trying to impress? I headed to Dover Street Market. None of the Commes-loving, Nike-buying patrons obviously cared about my bare face and for the sales associates: no makeup is their comfort zone. Inconspicuousness is the new black.
That night I went to a friend's for dinner and, surrounded by girlfriends, I didn't have a second thought about the perception of my 'done-ness;' but in conversation, it was interesting to hear their to makeup or not to makeup woes. One friend revealed she gave up eyeliner a year ago, mascara six months ago and is never going back. Another says she goes without makeup whenever possible, while another didn't know who she'd be without a red lip.
"And after three days without makeup, my skin looked better then ever.
Maybe it was the lack of hangover, and therefore lack of passing out in a full-night face,
or maybe it was the self-acceptance."
By Sunday I settled into the empowered emotion of it all. I imagine it's how the third day of a cleanse feels when your torture turns into bliss: the day everything restarts with clean energy. And after three without makeup, my skin looked better then ever. Maybe it was the lack of hangover, and therefore lack of passing out in a full-night face, or maybe it was the self-acceptance. The whole experience felt like a sneeze size version of the orgasmic vulnerability you'd feel standing naked in public. Bare, nothing to hide and you don't care.

—Maggie Dolan