Entertaining
The Best Vegetarian & Vegan Eats in NYC & L.A.
As told to The Coveteur by Remington Guest of The Cheap, The Best & The Hidden.
While we've waxed on the myriad cultural differences between Los Angeles and New York before, we've never addressed what might very well be the ultimate "cultural" showdown between the two: their vegetarian and vegan grub.
Okay, so boutique fitness studios, opportunity for humblebrags, best celebrity sightings and longest brunch lines might be up there too, but we digress. Oh, and for those of you apt to dismiss the East Coast's selection of meat-and-dairy free dining in favor of California's long-upheld reputation for all things green, allow us to remind you: health in the name of fitting into that pair of Frame Denim ordered via priority shipping from Net-a-Porter may as well be a blood sport in Manhattan. That, and have you tried the seitan nachos at Caravan of Dreams? In other words: why choose? Here's a list of some of the best vegetarian and vegan joints found in Los Angeles and New York, as dictated by the man (that would be Remington Guest) who eats (a lot) for his blog
The Cheap, The Best & The Hidden
, by night. Guys, he knows.
---
"Dear Cov Fam,

My New Year's reso is to be more like Jay Z. I know what you're thinking. 'But Rem, you're already JUST like Jay, minus the Grammys and mellifluous beats.' All very true, but I'm going for that 22 day vegan challenge. At the very least, I'm going to eat vegan 4-5 times this month. Going vegetarian or vegan, whether for health reasons, for a night or to boost your standing in the eyes of your social circle is HARD. I'm never one to turn down a kale salad or a quick cleanse from Juice Press, but cutting out meat altogether is easier said than done. Here are a few places that will have you thinking of more than just salads when you hear the word vegetarian."



New York City
Backhanded Ways of Securing Favors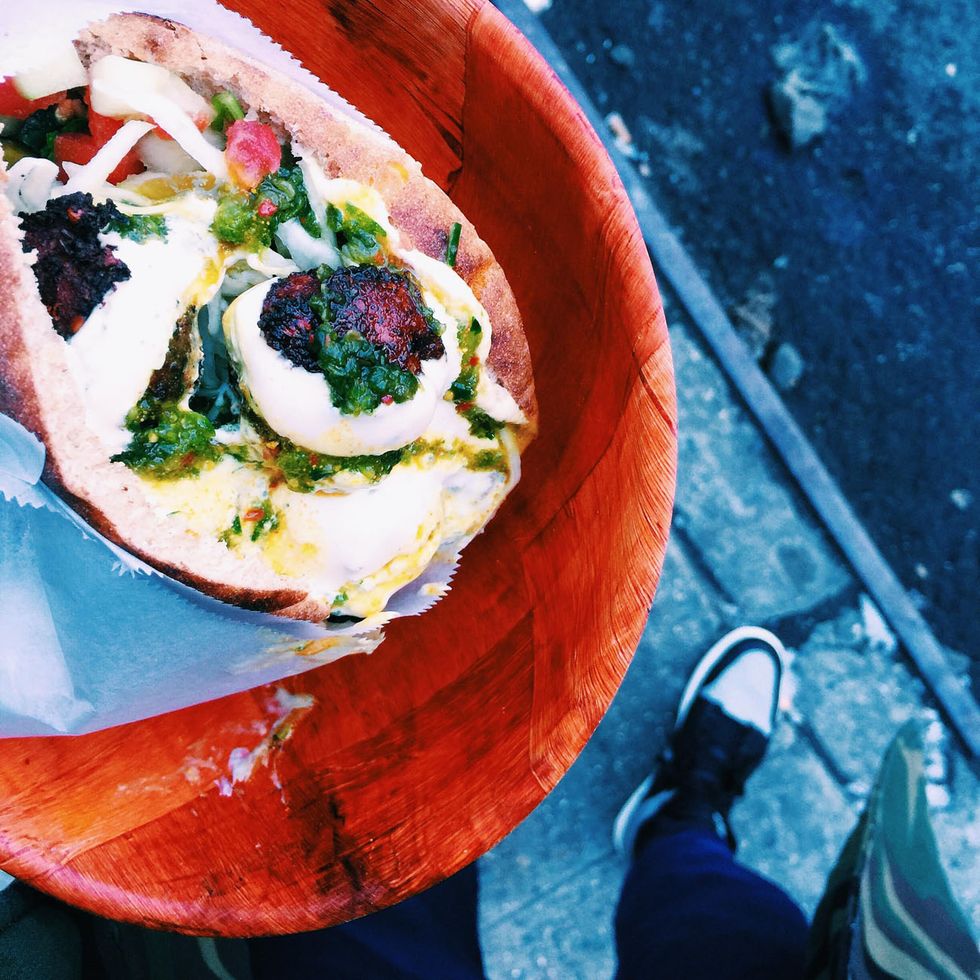 Let's make one thing super fucking clear—while I do enjoy me the occasional kale salad, I AM NOT A VEGETARIAN. Taim is the sort of place that can make you believe being one is possible and not just a theory you read about that one time on Goop. The first time I ate at Taim, I went for the next consecutive 30 days AT LEAST ONCE. Consecutive, not just business days, including holidays. Taim is perfect because whoever you bring here, you'll likely be changing their life which you can hold over them forever. This is how you get IOU's that you can redeem later for favors, like a plus one to that Wang after party. It's also perfect for after you blow all your money online sale shopping for sweet deals like I just did on this mega dope jacket. Look good, feel good, TWENTY FIFTEEN.
TAIM
TIP
: Order the falafel sandwich with everything. No additional charge.
TIP
: Go to the Noho location. They take cards.
TIP
: The fries are incredible and huge. Easily shareable with another person. That saffron aioli (insert emoji prayer hands).
PRICING:
Falafel sandwich $6.25; mixed falafel platter $12, fries $4.
When to come here: lunch is the best time, although it can be wild crowded. It's a small space so plan for that. Dinner is the low key move as there are few people there and you'll most likely have the space to yourself.
WHERE:
45 Spring Street New York
HOURS:
 11 A.M.-11 P.M. Daily
PHONE:
212 219 0600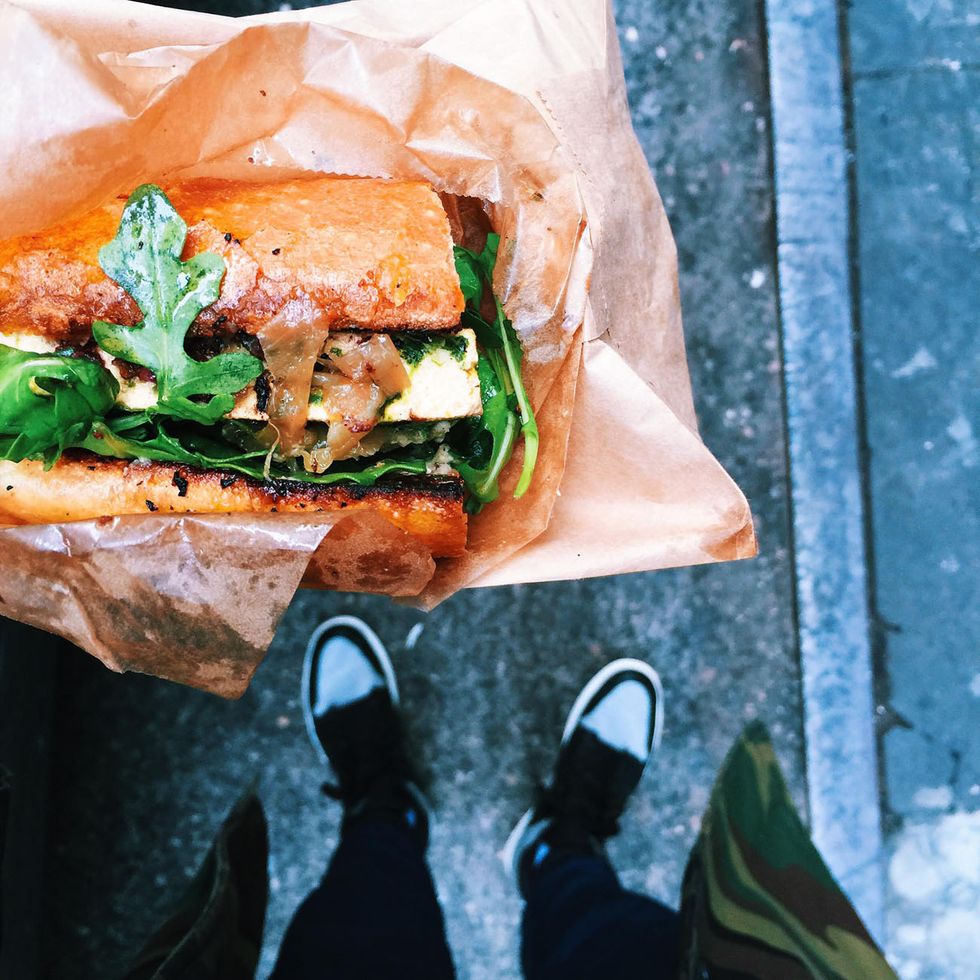 You know when you just HAVE to meet up with someone? Like when you run into your friend in the steam room or Soho House bathroom? For whatever reason you dropped the 'Oh Stacy, I haven't seen you in so long, it was GREAT running into you. We should get lunch.' Then Stacy is all like, yes! We should! Then whips out her phone and is like, 'HOW'S TUESDAY??' Stacy just called that bluff and rolled over you like a manatee. Since Stacy happens to be a vegan you take her to the Cinnamon Snail. She might be kind of mad you have to eat standing up on the street, but will forgive you after tasting the heavenly flavors of this next level trucks offerings. This is the perfect non committal meal. Disaster averted; lunch was 20 minutes and dope.
THE CINNAMON SNAIL
TIP:
It's hard to tell you what to get, but I'm not going to tell you not to get the ancho chili burger if you know what I mean.
TIP:
Track them down here because they're a truck that moves.
PRICING:
Ancho chili seating burger $9; fresh fig pancakes $10, Korean barbecue seitan $9.
WHEN TO COME HERE:
whenever the truck is near you. They have breakfast, lunch and dope pastries.
WHERE:
various locations.
HOURS:
Check the Twitter
, but usually 9 A.M. to 3 P.M.
PHONE:
862 246 6431
When Your Life is like Classic Children's Novels
I was never a big fan of meat substitutes like seitan and the like. But I remember when I was growing up I didn't like sushi. There was even a kid I knew who didn't like STRAWBERRIES. Fast forward to me today and sushi (and Netflix) is my ideal Friday night. And I'm pretty damn sure that kid loves strawberries, because I mean, come on. I suppose this could potentially mean I still have some growing up to do (cut to my dad casually smirking/nodding). I am about to recommend a vegan place slinging dishes like pulled pork burgers and fried chicken and waffles. Champs in Brooklyn is amazing. It's sort of like 'Where the Wild Things Are'. You board the L train out to East Williamsburg absolutely starving, brave the jungle-like weekend line, triumph the line, get seated and order. You ultimately decide to leave and find a hot meal waiting for you in your bedroom. Yea, my life almost always plays out like all classic children's books.
CHAMPS DINER
TIP: Brunch is the move, but the wait is long. It's a popular spot.
TIP: Cash only. They have an ATM but chances are it's not a Bank of America.
PRICING: Chik'n & waffles $11; mozzarella sticks $8, Philly cheese steak $11.
WHEN TO COME HERE: if you want meat, but don't eat it, whenever you're in the area, brunch.
WHERE: 197 Meserole St Brooklyn, New York
TIMES: 8 A.M. -12 A.M. daily
PHONE: 718 599 2743
The Hide-ability Value of Restaurants
You know what one of the most important features of any dining establishment can have for me? HIDEABILITY. As in how much it will make me feel like there is no one else around. Gonna level with you: I like eating at home, in bed. I mean, if I could make my own ramen and fine vegan fare I would probably get Amazon Prime, order a lifetime supply of toilet paper and never leave. It's my faves. Peep the name of my blog: cheap, best, HIDDEN. Sometimes I'm so overwhelmed with the non basics to basics ratio, and I panic. So speaking of places I love going to: Pure Food and Wine. It's basically a fine dining raw foods restaurant. The food is on the decadent side which is dope because thats always an unexpected move coming from a vegan place. The back patio is a dream and Irving Place in general is sort of this hidden Diagon Alley of sorts. Also I love that they abbreviate themselves PFW which makes me think of Paris Fashion Week. Wow, now I have super anxiety. Macarons tho...
PURE FOOD AND WINE
TIP:
Try and reserve a spot in the back patio (obviously closed during winter). The main dining room is pretty dope too.
TIP:
 Immediately put in an order of guac while you figure out what else you want.
TIP:
 The lasagna is great.
TIP:
 Note the sake cocktails.
PRICING:
Lasagna $25; kale caesar roll $19, mint sundae $16.
WHEN TO COME HERE:
you want that outdoor dining experience, a fantastic dining experience, or whenever you can expense a meal.
WHERE:
54 Irving Pl, New York
HOURS:
12-4 P.M. & 5:30-11 P.M. every day.
PHONE:
212 477 1010
This is a super sleeper. Kajitsu is giving it to me on all levels. The attention to detail at this vegan restaurant is to a level unexplored by most. The menu changes once monthly, and reflects the vegetables in season at that time. You can either order a four or eight course tasting. This is NOT the moment to be responsible and try and pay off that credit card bill; you're going to want the eight course. Kajitsu specializes in Shojin Cuisine which is a type of vegetarian cooking that originates in Zen Buddhism. This is when you realize theres some super next level shit taking place all around you. This is not a meal, its a ceremonial experience. As I sat in the barebones space, I couldn't help but think this is exactly the sort of setting major discussions might go down. You might cruise in and see me at the corner table in some tinted shades and a rare Raf joint chopping it up with a powerful zaibatsu.
KAJITSU
TIP: Go for the 8 course tasting. You'll wish you did if you don't.
TIP: Locally sourced, meat free fare beloved by Buddhist monks.
TIP: Try to sit at the bar so you can watch the chef work.
PRICING: 4 course lunch $50; 8 course dinner $95.
WHEN TO COME HERE: A super quiet and relaxing meal, for a completely different kind of meal experience, to feel like you're in Japan, to say you ate at a Michelin starred restaurant.
WHERE: 125 E 39th St. New York
HOURS:
Tuesday-Saturday 11:45 A.M. - 1:45 P.M. and 5:30 P.M. -10 P.M.
Closed Monday
Sunday 5:30 P.M. -10 P.M.
PHONE: 212 228 4873
Los Angeles
I love the Arts District. The amount of space available in that part of L.A. allows places like Zinc to exist. It's set up sort of like a super cafe. There are an immense amount of food options, with vegetarian being the overall theme. I had no idea this was a vegetarian restaurant for the longest time. Anytime you don't have to think about it, you know they're doing a good job. Man, just writing about L.A. from New York during the winter makes me so MAD. In New York you can just feel the struggle in the air. Meanwhile everyone over on the west coast is just chillin', planning their next weekend in Palm Springs, and frolicking around Equinox. I'm desperately trying to find a Uniqlo that isn't sold out of extra warm Heat Tech tights, while everyones heaviest decision in L.A. is whether or not to eat their salad outside. If you happen to be in L.A., eat your salad outside at Zinc. They're patio is super quaint.
ZINC CAFE & MARKET
TIP: Sit outside in the garden area.
TIP: Don't just go in and sit down. There are different options for food depending on where you order from. Explore homies.
TIP: Bar Mateo is kind of hidden in the back, and opens at night. It is pretty amazing and worthy of its own trip.
TIP: Free coffee refills, no WiFi.
PRICING: two eggs in a cup $5; zinc salad $8.50, pesto pizza $15.
WHEN TO COME HERE: a quiet place to sit and relax, when you want a ton of options, to get away from it all, for a casual dinner.
WHERE: 580 Mateo St Los Angeles
HOURS:
7 A.M. - 12 A.M. Monday-Saturday
7 A.M. - 10 P.M. Sunday
PHONE: 323 825 5381
Intimidating the Hostess with Fire Outerwear
Going to let you know right out of the gate this is one of my favorite restaurants in LA. Gracias Madre makes some of my favorite Mexican food, which happens to be vegan. It's also one of the most beautiful spaces in L.A. The restaurant is super chic during the day, and truly stunning at night. I can't emphasize enough how incredible the food is. The first time I ate here, I began to wonder what 'usual' Mexican food was. What did I get when I went to El Coyote??! I couldn't remember. Suddenly it felt like vegan chilaquiles with cashew crema are what I had been ordering my entire life. This place is a hot ticket, so while a rezzo is a good idea, I don't usually make one. Most things I do are a spur-of-the-exact-moment-I-think-of-them decision. So while just showing up to eat there at 8 P.M. won't usually get you an immediate seat, you'll probably be able to get one eventually. My two-part trick with this is to stand out as much as possible. Whenever a table opens up they'll think of you first. To do this I wear my most intimidating coat. They'll be like, who's this kid in the Dries coat floating around? I know L.A. gets chilly at night but this is some other level jawns. Better get him seated immediately before some drastic shit takes place. While you're creeping around waiting on tables, check out the bar program. It's the kind of bar you would go to even if you weren't dining that night. It's really, really well done.
GRACIAS MADRE
TIP:
Check out the happy hour.
TIP:
 Try and sit outside, although to be honest, I love the inside too.
TIP:
 The bar menu is extensive and well thought out. Pay attention to it.
TIP:
 Don't order too quickly because food usually comes out fast. Order a few drinks and guac otherwise you can be in and out in 45 minutes.
PRICING:
guacamole con tortillas $8; enchiladas con mole $16, strawberry cheesecake $9.
WHEN TO COME HERE:
on a date, business lunch, dinner meeting, for a drink, some of the best Mexican food in LA.
WHERE:
8905 Melrose Ave Los Angeles
HOURS: 
11 A.M. -11 P.M. daily
PHONE:
323 978 2170
The Cafe Gratitude team is just majorly on point. They have this super vibe-y casual eatery where you order by adjectives or emotions, and the previously mentioned Gracias Madre under their belt? Damn. It's as if they had 2 kids, and instead of one of them being like Donny Darko status they got 2 breadwinners. Cafe Gratitude is one of my L.A. staples. I just know I'm going to have a great meal––breakfast lunch or dinner, and feel fucking fantastic afterwards. This is the typical L.A. restaurant. Everyone is super trendy, the people are pretty, and everyone's a vegetarian. When you sit down the waiter asks what you're grateful for. Then you look at the menu. Do you order the 'trusting" or the 'fantastic"? Whatever you order, the way you order is by putting 'I am" in front of everything. It's like god damn Jeopardy in here. Trebek doesn't care it's 'a soliloquy' he only wants to hear 'WHAT IS A SOLILOQUY.' When you're just not in the mood, saying I'll have an 'I am abundant and I am dazzling' is pretty difficult. I do love cruising over to the Venice location. Everyone's juicing, eating kale bowls, and generally relaxed to the point of meditation. It's the sort of place you'd wear one of those eco friendly organic cotton non-toxic indigo-dyed sweaters. It's a cool 68 degrees, so its time to jump on those layering opportunities. I'd cruise in wearing a Elder Statesman, roomy, comfortable-fit smoking jacket. The guy behind you in line will ask where on the boardwalk you got so lucky, when you can coyly reply 'BERGDORFS HOMIE'. No new friends.
CAFE GRATITUDE
TIP:
 The pancakes have to be one of my all time favorite dishes. THAT CASHEW WHIPPED CREAM.
TIP:
And the key lime pie. It's insane.
TIP:
The I Am Grateful bowl is available by donation to go only. $3 minimum. Shout to the struggle.
TIP:
The I Am Comforted sells out fast. If you want it, order it when you sit down.
PRICING:
Comforted (roasted yams) $9; open hearted (pancakes) $10, pressed juices $9.
WHEN TO COME HERE:
you're feeling trendy, you're feeling like you want to feel super L.A., incredible food that will make you feel incredible, a chill dinner, breakfast before an active day.
WHERE:
Quite a few.
HOURS: 
8 A.M. - 10 P.M. daily
Where to Dine When You become Famous
Sometimes it feels like every vegetarian/vegan restaurant claims to be revolutionary and/or a leap forward in 'plant based cuisine'. I mean that's some Paulie Shore verbiage––straight out of Biodome. But Crossroads ain't lying. This is some of the best vegan I've had. Not only because it was so different, it was so good. The way dishes like artichoke oysters and crab cakes are prepared, you don't just not miss the fish, but in a way prefer the way they've done them. Even better, they have one of the best bar programs in the entire city. The ambiance is dim and dramatic which is perfect for dating a celebrity, if you are one yourself, or just have a massive amount of Instagram followers. Getting through one meal uninterrupted is a blessing, let me tell you. You can pull up to a corner at the bar and completely disappear. One time while I was eating dinner there, my sister and her business partner thought they saw John Mayer at the bar. It wasn't him, but man was that exciting.
CROSSROADS
TIP:
 Crab cakes and artichoke oysters are my must haves. Keep in mind, I'm refraining from listing about 30 other things.
TIP:
 The bar program is amazing, they'll probably have what you want.
TIP:
Everything is a small plate. I recommend anywhere from 2-4 depending on how hungry you are. Start slow and order more.
PRICING:
Artichoke oysters $13; crab cakes $12, hearts of palm calamari $12.
When to come here: for a business dinner, power lunch, getting a drink, a date, for one of the most unique restaurants in LA.
WHERE
: 8284 Melrose Ave Los Angeles
HOURS
:
Monday 11:30 A.M. – 2:30 P.M., 5:00 P.M. – 12:00 A.M.
Tuesday 11:30 A.M. – 2:30 P.M., 5:00 P.M. – 12:00 A.M.
Wednesday 11:30 A.M. – 2:30 P.M., 5:00 P.M. – 12:00 A.M.
Thursday 11:30 A.M. – 2:30 P.M., 5:00 P.M. – 1:00 A.M.
Friday 11:30 A.M. – 2:30 P.M., 5:00 P.M. – 1:00 A.M.
Saturday 5:00 P.M. – 1:00 A.M.
Sunday 5:00 – 10:00 P.M.
PHONE
: 323 782 9245
Respecting Specific People Who Are Specific
This vegan sushi place Shojin, is some of my favorite sushi I've had; vegan or not. It's also the sort of place where everything is amazing. What should you get here? I don't know, how about some sushi, fam? Trust me, you're going to be super into whatever you order. Shojin is only open for dinner. I love people, places and thing that are specific and difficult. You know what I mean? There's something so BOSS about being super fucking specific, about at least a few things. For example, ordering your beverage with exactly TWO ice cubes and sending that shit back if they dare put 3 in there. Or having to take a coffee at 1:20 P.M. every day. To the point you're leaving meetings to go get that new Starbucks Flat White. Like when I was modeling in Milan, I'd be at castings all day. No matter how deep and theme park status that casting line became, the casting directors would JUST BOUNCE FOR LUNCH. Mad respect for specific people. New years resolution, being as specific and needy as possible. I'm exclusively wearing SLP (Saint Laurent Paris) and only drinking room temp Perrier.
SHOJIN
TIP: Dynamite Roll is great.
TIP: Go to XLanes after. I know, it's an arcade bowling alley, but I mean, you're already in a mall. COMPLETE THE EXPERIENCE.
PRICING: Dynamite roll $13.95; pirates of the crunchy $14.50, pumpkin croquettes $11.95.
WHEN TO COME HERE: for vegan sushi, lunch meeting, business dinner, on a date.
WHERE: 333 S. Alameda St. Suite 310 Los Angeles
HOURS:
5:30 P.M.-11P.M. Monday-Friday
12-11P.M. Saturday
12-10P.M. Sunday
PHONE: 323 978 2170