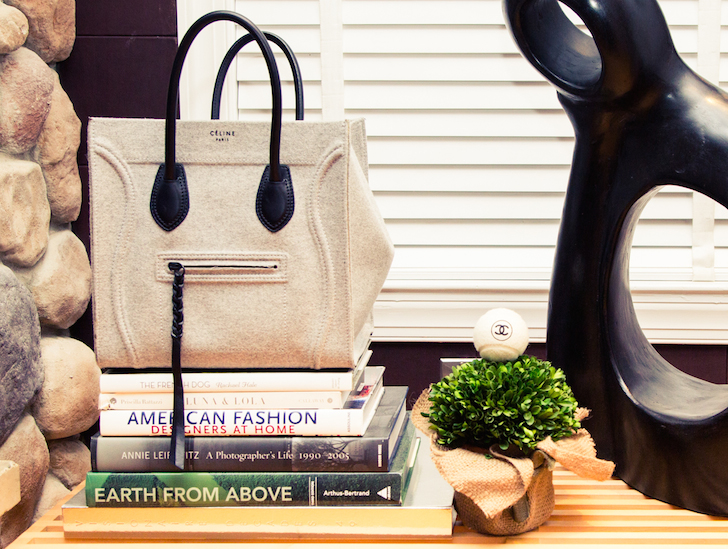 January's Most Coveted
Everything we want right now.
Let's all take a moment to forget about some of the not-so-great things about the month of January. Like, say, heading back to work only to find that stack of all the things you filed under "I'll save dealing with this 'til after the break." Or the fact that treating melted Camembert as a food group over the holidays has finally snuck up on you. Or that a five-minute walk outside elicits a frozen face redolent of a botched Botox job (#meanwhileinCanada).
Okay, so it's not our favorite month. End rant. But there are a few things that'll keep us going 'til spring, including but not limited to primetime TV/Netflix additions, taking our Christmas/Chanukah presents for a test drive, wooly items, Joan Didion for Céline, and, of course, alcohol all of the following.
1.
Alright, so the name may call to mind images of tiny knit ear-cozies (we wish!) or some kind of nightmarish hybrid insect (shudder), but ear jackets are actually those ultra-elegant earrings that combine a dainty stud and a lobe-hugging appendage—think spikes, pearls or triangulated gems. Basically, they're statement earrings that don't look like you've hung dream-catchers from each lobe. Uh, sold.
2.
Brand to watch: Régime des Fleurs.
Not sure whether it's the ethereal touches like categorizing scents as Lyrics, Ballads and Epics, or the floral obsession that rivals that of every teen's sartorial choices at Coachella, but our feelings towards Regime des Fleurs can only be summed up in the immortal words of the Pokémon franchise: Gotta catch 'em all. With their old-timey vials and opaque ampoules, they're the kind of perfumes we make excuses to pull out of our purse. Dare we say, heaven scent? (We'll stop now).
3.
(again)
Time to dig these bad boys out of the back of the closet. (Fine, front of the closet. You never really gave up on them, did you?). This iteration of our favorite inches-adding, comfort-is-king commodity has that whole effortless Parisian tomboy/model-off-duty vibe all laced up. Sporty Spice would totally approve.
4.
Much to the delight of our significant others, more time indoors means more time to spend smearing stuff all over our faces. If you're a fellow enthusiast, you know no mask is quite as satisfying as a thick mud that turns you into a stone gargoyle after 15 minutes (#flawless). But come mid-winter, we're thirsting for something just as potent that'll leave our skin a little less parched. Well, consider us quenched. As IRL hydrating mud converts, we can attest to it leaving crackly skin soothed and baby-butt smooth.
5.
From the fringed suede to the bell-bottoms to the optical illusion prints, the latest decade to revisit is a much-needed antidote to the winter blahs. Nothing cheers up trudging through snowdrifts quite like doing it in metallic YSL go-go booties, right? Which is exactly why we resolve to fill 2015 with all things Jackie Burkhart. Hold the rainbow pantsuit.