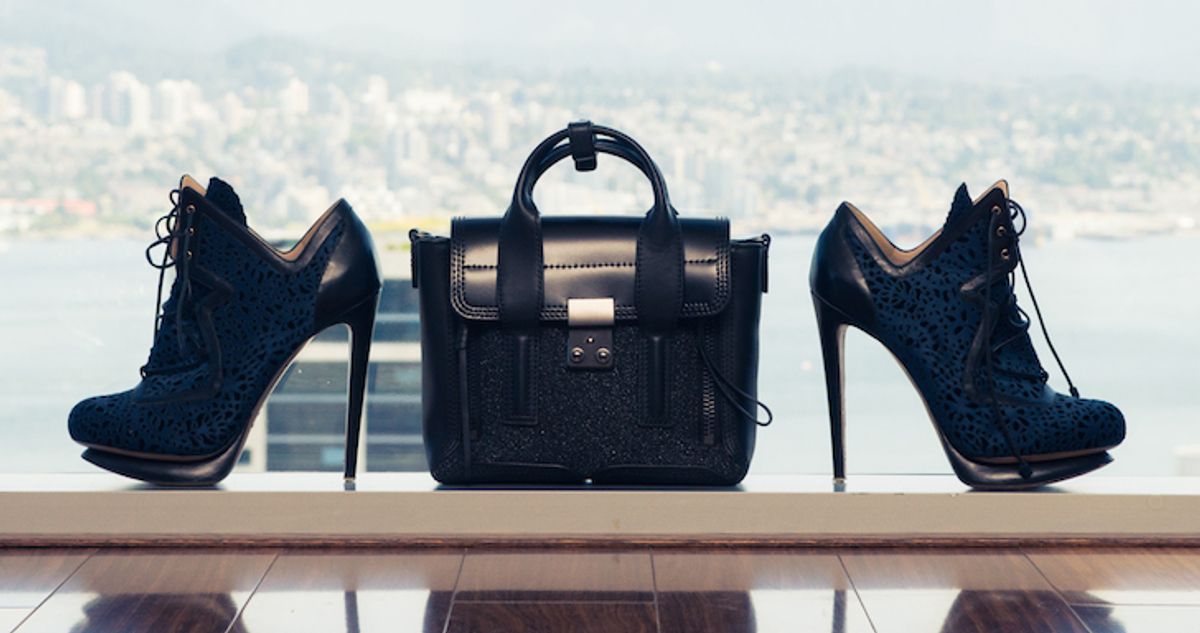 Fashion
New year, new closet: because the one resolution we can actually keep is a wardrobe refresh.
So now that we've snacked, swiped and sipped our way through the week of cheat days they call January first through fifth, we're now ready to brush the crumbs off our fingers and get serious about 2015.

But actually. We swear. Literally backing away from the cronut as we speak.

We'll admit our track record when it comes to keeping resolutions is as spotty as a Sophia Webster pump—which, may we add, was the purchase with which we broke last year's "stop spending rent money on heels" resolution. But who were we kidding with that one?

In our defense, there are those resolutions we actually intend to keep ("find future baby daddy...") and the ones that are—let's face it—just there to window-dress ("...without using Tinder").

But if there's one bullet point we know we can stick to with militant precision, it's the Wardrobe Upgrade Resolution. Once a year, we comb through our closets, take inventory of the outdated, prioritize our purchases, and then write it all off as a work expense.*

Evernotes at the ready—here's our formula for a 2015-ready wardrobe.

*We wish.
---
The "At Least My Phone Fits" Clutch
A few too many nights out (and maybe we've left it in an Uber a couple of times, so sue us) and our go-to beaded clutch is looking a little worse for wear. It's been a good run, but when you start leaving a trail of tiny sequins wherever you go and it's not New Year's Eve, it's time to part ways.

Luckily this year's tiny totes have already caught our wandering eyes—and this time around, size doesn't matter (as long as we can jam our phones and a sample-sized tube of YSL lip stain in, we're good).

Unless of course you're a proud owner of the iPhone 6 Plus. May we suggest a duffle?
The "Basic But Not That Kind of Basic" Pump
Forget what you heard on College Humor. In the official Coveteur dictionary—yes, it's a thing—'basic' is in no way a bad word. (See our definition of 'basic bitch': (n) A Grown-Ass Woman who delights in stocking up on "essentials" such as Alexander Wang tees and Saint Laurent heels.)

When it comes to everyday footwear, we've resolved to eschew the ordinary and opt for something a little more our style—think croc prints, geometric heels and metal accents. Because if there's one thing we learned from the blink-of-an-eye that was 2014, it's that life's too damn short for boring shoes.
The "Job Interview Turned Drinks with Bros Who Work in Finance" Skirt
One thing we love about 2015? It seems as though the line between fashion and workwear has never been so blurred. And you don't have to work for an avant-garde startup anymore either—ask any Wall Street dude under 35 to lift his pant leg for you and we're willing to bet you'll find a statement sock.

Needless to say, office attire is no longer synonymous with a black pencil skirt and ill-fitting blazer. We'll take this as a green light to mix in an Erdem tweed mini and still mean business—no shorter than three fingers above the knee, of course. We're still ladies.
The "Tommy Ton would totally pap me in this, right?" Coat
We've said it once (or, you know, all the time), and we'll say it again: if you skimp on your coat, you'll regret it. Cut to you frantically unzipping your practical-yet-shapeless parka as you pass Tommy, screeching, "Wait! I swear it's better underneath!"

Which is exactly the kind of life lesson we mutter to ourselves as we invest in a little belted cashmere Bottega Veneta, with a side of quilted cotton Isabel Marant. That was totally what your financial planner meant by 'acquiring assets', right?
The "I Swear I Can Wear This Anywhere But a Funeral" Cocktail Dress
You know that Friends plot line when Monica buys those seriously pricey boots swearing they'll "go with everything," only to find out they are completely unwearable foot-killers? (Side note: Another thing we love about 2015? Friends on Netflix.) That's kind of how we feel about every cocktail dress we've ever owned. We buy them with the best of intentions, only to wear it once and find that fatal flaw that banishes it straight to the back of the closet.

Not this year. We're on a mission to find that one dress that works as well under a blazer in a meeting as it does paired with a Chloé cross body later that night.
The "Fits My Work Laptop & Doesn't Look Out of Place on a Tinder Date" Bag
If you're anything like us, you're carting your work clutter to and from the office on the daily. And if you're anything like us, you conveniently forgot about your laptop last year when you opted for the Céline Micro over the Mini (yes, stranger on the street, we did intend for half our MacBook to be sticking out, thankyouverymuch). But now it's 2015 and we've learned our lesson: measure, measure, measure. It's not an It Bag if can't go from work to play—and by that of course we mean conceal your iThings while you race to meet Marshall, 28, one mile away.
The "Feels Comfortable, Looks Expen$ive" Flat
Take it from those of us who spend half the year slipping out of winter boots and into less-of-an-eyesore footwear upon office arrival—flats should never be an afterthought. Pick the comfiest pair and you'll instantly feel like someone's aunt (tell us that isn't a Croc logo); pick the best-looking pair and you'll end up with scoliosis and mangled toes (granted, we are not medical professionals).

This year, we resolve to do our homework. And by that we mean walking a mile in our Kirkwoods.
The "Wouldn't Look Out of Place on a Nonagenarian or in a Céline campaign" Sweater or Blouse
We're the first to admit the generation gap between our tastes in fashion is closing by the year. We were totally eyeing Grandma's chunky knit turtleneck from across the Christmas dinner table, and since when do we have a thing for brooches? We'll take it as a sign it's time invest in some serious cashmere (swear we'll draw the line at the orthopedics).
The "Yes, Pilates is Paying Off" Trouser/Pant/Jeans
As much as we wish we could just be 7/11 Beyoncé 24/7 and wear exclusively boy cut panties and superfood sweatshirts, some of us actually have to put on pants in the morning. But even with the 50 shades of denim stacked in our closets, the clock struck midnight and all of a sudden we couldn't help but hate every pair. Cue excuse to find our New Favorite Pants, 2015 Edition. Only caveat: they have to be just tight enough in the backside area to earn back those wall chairs and leg lifts and privacy-of-own-home "Anaconda" dancing.
The "I'm Resisting Using the Word 'Bling'" Piece of Jewelry
Because it's 2015 and, like 'selfie' and 'twerk,' that word officially belongs to our parents. But that's not to say we're giving up on the bling large, shiny statement jewelry anytime soon. What's a closet overhaul without a pièce de resistance, right?
—Chelsey Burnside