Food
No really. Hemsley & Hemsley share five sweet and festive recipes that don't require a cheat day.
So we don't necessarily spend December afternoons with our mothers cutting Christmas tree shapes out of crumbly shortbread anymore, but the whole Christmas cookie/bar/square/generally decadent sweet thing that seem to always be in the near vicinity during this oh-so festive time of year is still very much a reality. And yes, we indulge. Because really, how can you not? So we asked the genius sisters Melissa and Jasmine of whole food resource Hemsley & Hemsley (their new cookbook, 
The Art of Eating Well
, would make a damn good present, just FYI, Santa) to share their guide on how to enjoy all that holiday goodness without the guilt. Herein, five recipes that are actually delicious and nutritious (had to).
---
We're all about celebrating food that tastes good and does you good. Wellness begins from within; eating real, unprocessed and nourishing food allows you to live a healthier, happier and more energized life. Our delicious recipes are nourishing and easy to digest as well as being gluten, grain and refined sugar free. We focus on healthy food, but not as you know it, and pride ourselves on keeping things simple in the kitchen (especially in the lead up to Christmas when stress can be the order of the day!). We love to employ the freezer and enjoy batch cooking on weekends to make it as easy and convenient as possible to enjoy nourishing, homemade cooking. By adopting a few preparation techniques such as soaking and activating nuts or boiling bones, we like to keep the rest of our cooking simple. We're all for one pot cooking that requires minimal washing up and love creating nourishing and delicious food that doesn't need fancy knife skills.
Our aim is to arm you with the knowledge and tools to take control of your food choices and begin your own journey to the art of eating well. By preparing your own meals you can be more in control of what is going into your body and feel better for it. The answer is not to limit calories but to eat more high-quality foods and listen to our bodies. It's mindful eating.

Our advice for the silly season? Christmas is a beautiful time to enjoy food. Substituting refined sugars, gluten and grains for nutrient dense options allows you to enjoy the flavours we associate with Christmas but enables us to add nutrition to the foods we know and love. We make our own almond-pastry mince pies, which are free from refined sugar, grains and gluten and make use of whole food ingredients and the natural sweetness of dried fruit. This way, you can certainly have your cake and ENJOY it too!
We love a sweet treat, using natural, whole food sweeteners. We're also fans of both saturated and unsaturated, high quality fats which not only impart natural flavour, texture and nutrition, they make food satisfying. By adding just enough natural sweetener such as raw honey, pure maple syrup or fruit and balancing it using nourishing fats we can avoid the blood sugar roller coaster and inevitable energy dips and mood swings (and let's not forget cravings) from too much sugar—natural or not. Recipes such as our cannellini bean Christmas Pudding and Chocolate Salted Clementines rely mostly on the natural sugars from fruit. We love adding a hint of sea salt to our desserts to enhance their sweetness and give them a more well rounded flavor, as well as being nutritious in itself. And don't forget to limit the sugars in your drinks during the festive season. Sugar and alcohol together will not promote a clear head and positive frame of mind, but this doesn't mean you can't get into the spirit of things. Try making your own sugar-free cocktails. Our Blueberry, Lime and Lavender cocktail is deliciously fresh and fruity. For a non-alcoholic alternative to champagne, try our Kombucha Fizz Mocktail. Those extra probiotics aid with digestion too!
Christmas is a great time to take time to practice savoring and enjoying every mouthful of food instead of guiltily reaching for a treat or inhaling food so that it's 'out of sight, out of mind.' If you take the time to taste, chew and enjoy each mouthful, not only will you appreciate the flavours but your digestive system will thank you. You'll also be less likely to overeat or feel bloated and lethargic. Christmas is a time for sharing, so when enjoying food out or cooked by family and friends, opt for the healthiest, most nutritious foods available to you. Listen to your body and be conscious. Enjoy your food, enjoy it slowly and savor treats so you're not left wanting more. Last but not least, stay hydrated and stay paced, avoiding bad decisions 'under the influence' and bad hangovers!
We love preparing treats to keep on hand in case unexpected guests drop by during the holiday break. Planning ahead and preparing homemade treats means you'll be less likely to purchase processed, refined or pre-packed foods and you'll be better equipped to say no to sugar-packed snacks if you're well stocked.

Here are our favorite recipes for the holiday season.





Inspired by our favorite American classic, pumpkin pie, we decided to give our easy, almond-based gingernut biscuits (the classic British biccy) a holiday makeover using the same fragrant spices.



Ingredients

220 g (2 c.) ground almonds
1 tsp. cinnamon
1 tsp. allspice
¾ tsp. ground ginger
½ tsp. nutmeg
⅛ tsp./pinch sea salt
1 tsp. baking soda
40 g (⅓ c.) sugar-free dried cranberries (try apple sweetened)
40 g (⅓ c.) whole pecans, each chopped into 4 pieces
5 tbsp. pure date syrup or pure maple syrup



Instructions

• Preheat oven to 350°F.
• Mix ground almonds, spices, sea salt, and baking soda in a bowl.
• Stir through the cranberries and chopped pecans.
• Stir in date/maple syrup until well combined. Dough will be crumbly.
• Take approx. 1½ tbsp. of the mixture and shape into a rough cookie with your hands.
• Place on a baking tray lined with parchment paper, pressing each biscuit lightly with the flat of your hand to approx. ½ cm (⅕ in.) thick.
• Repeat with the rest of the mixture, leaving plenty of space between biscuits.
• Bake at 350° for approx. 12 minutes, until browned at the edges but still soft in the middle. (Oven temps vary, so keep an eye on the biscuits after 10 minutes.)
• Let cool for 10 minutes to crisp up before serving.
• Store in the fridge in an airtight glass container. You can also freeze after baking and defrost at room temperature as desired.





A touch of lavender is a fantastic complement to coconut and maple flavors in these chewy bites. They're delicious hot. Just re-crisp them in the oven before serving if you're making them in advance.



Ingredients

approx ¾ tsp lavender flowers, or more to taste
4 tbsp pure maple syrup
½ tbsp vanilla extract
150g (5½oz) unsweetened desiccated coconut
3 medium egg whites



Instructions

• Preheat the oven to 330°F.
• Finely chop the lavender with a sharp knife and mix together with the maple syrup, vanilla extract and coconut in a large bowl. Place to one side. In a squeaky-clean mixing-bowl whisk the egg whites with ⅛ tsp sea salt until stiff peaks form. Gently fold the egg whites into the coconut with a metal spoon to form a loose mixture.
• Use a tablespoon measure to scoop the mixture on to a baking-sheet lined with parchment paper, making 18 mounds. Every now and then combine the mixture gently between scoops, to prevent it from separating. Using your hands, carefully neaten the little mounds on the tray.
• Place in the oven for 12 to 15 minutes, until the macaroons are lightly browned.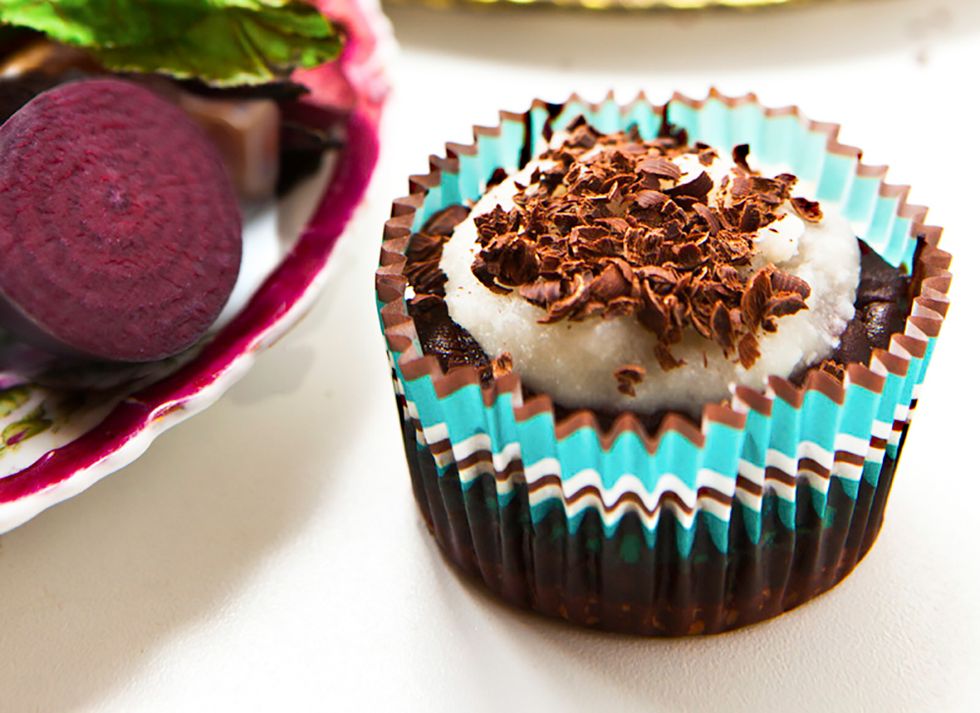 These rich and moist chocolate fudge cakes can win over even the most stubborn haters of beetroot! Whole beetroots are sweetened with sticky dates and we make them gooey using full fat butter. Ground cacao beans provide the chocolaty hit and tamari, the salty, earthy, gluten-free sauce brings out the sweetness.



Ingredients

CAKES
300g cooked beetroot, cut into chunks (quarter and steam them for approximately 15 minutes or buy pre-cooked)
230g dates, chopped
1 tablespoon of tamari (we use Clearspring)
85g cacao powder (we love Choc Chick)
4 eggs
115g butter, melted
2 teaspoons of vanilla extract (we use Nielsen Massey Organic)
Optional: blend in ½ teaspoon of bicarb of soda for a slightly more cake like consistency

ICING
1 packet of Biona creamed coconut
¼ cup of filtered water
1.5 tablespoons of honey
2 tablespoons of lemon juice



Instructions

• Blend the beetroot chunks in a food processor with the dates, melted butter, tamari and vanilla extract (UPDATE: and bicarbonate of soda if using) until smooth.
• Next add the cacao and then the eggs (adding the eggs afterwards helps stop the cacao travelling up the sides of the machine when you turn it on). Blend until smooth and creamy.
• Line a muffin tray with cupcake cases (we like If You Care).
• Use 2 spoons to transfer the mixture into the cupcake holders. These don't rise and puff up so fill almost to the top.
• Bake at 170C for around 17-19 minutes. The cakes are ready when still slightly soft in the middle and will firm up as they cool.
• Cool on a wire rack before transferring to the fridge.
• To make the icing – slowly heat the creamed coconut and water in a pan, over a low heat, until the coconut melts.
• Remove from the heat and stir in the lemon juice.
• When it has cooled enough to eat, mix in the honey and spoon a little onto the top of each cake, using the back of a spoon to smooth it.
• Immediately sprinkle on the grated chocolate before the icing sets.
• Transfer the covered cakes to the fridge, or serve them hot with a dollop of Neal's Yard full fat crème fraîche/yoghurt infused with grated ginger – so good.



A superfood breakfast or anytime snack, our Chia Baobob breakfast pudding champions the humble chia seed, a protein-packed seed high in Omega 3 fatty acids and soluble fibre. The baobab fruit, which is tart and refreshing, boasts one of the highest antioxidant capacities of any fruit in the world and adds a delicious zing to this pudding.



Ingredients

Serves 2

2 sachets of Aduna baobab powder (2 x 4.5g)
1¼ cups of filtered water
5 tablespoons of whole chia seed (we like Chia bia)
1 cup of fresh or 1/2 cup of dried cranberries (we like Biona)
½ cup of pecans
1-2 tablespoons of honey to taste (we like RAW Health)
Optional: full fat organic bio yoghurt



Instructions

• Whisk the Baobab powder and 1 tablespoon of honey with the water in a large bowl.
• Roughly chop the cranberries and add to the bowl – reserving a few to top.
• Add the chia seeds and stir – the chia will start to soak up the liquid. Let it stand for 5-10 minutes, stirring occasionally.
• Meanwhile, chop the pecans in half and enjoy them raw – or for extra flavour spread them out on an oven tray and toast.
• Stir the chia baobab again and taste – if you use fresh cranberries you may need more honey.
• Spoon the chia baobab mixture into glasses.
• Sprinkle over the pecans and the last few cranberries
• Optional: Top with yoghurt and drizzle with honey for extra flair.



These sweet little treats make a great festive canapé or after-dinner sweet. Keep a big batch of these in the fridge ready to whip out at a moments notice. Just peel, dip and serve.



Ingredients

100g bar of dark chocolate - find the highest percentage organic dark chocolate you can
6 clementines
flaked sea salt



Instructions

• Line a baking tray with parchment paper
• Melt the chocolate in a glass or stainless steel bowl over a pan of water on a low heat. Make sure the water does not touch the bottom of the bowl and do not allow the water to boil or simmer, you may have to keep removing from the heat
• While the chocolate is melting, peel clementines and pull apart segments. Remove any loose pieces of white pith
• When the chocolate has almost melted, take the bowl off the pan
• Dip half of each segment in the melted chocolate, lay them on their backs and put in the fridge to set (or freezer if you are in a rush!). It will take up to an hour in the fridge
• When ready to serve, lay on a pretty plate and lightly sprinkle with a little sea salt



Photography courtesy Nick Hopper