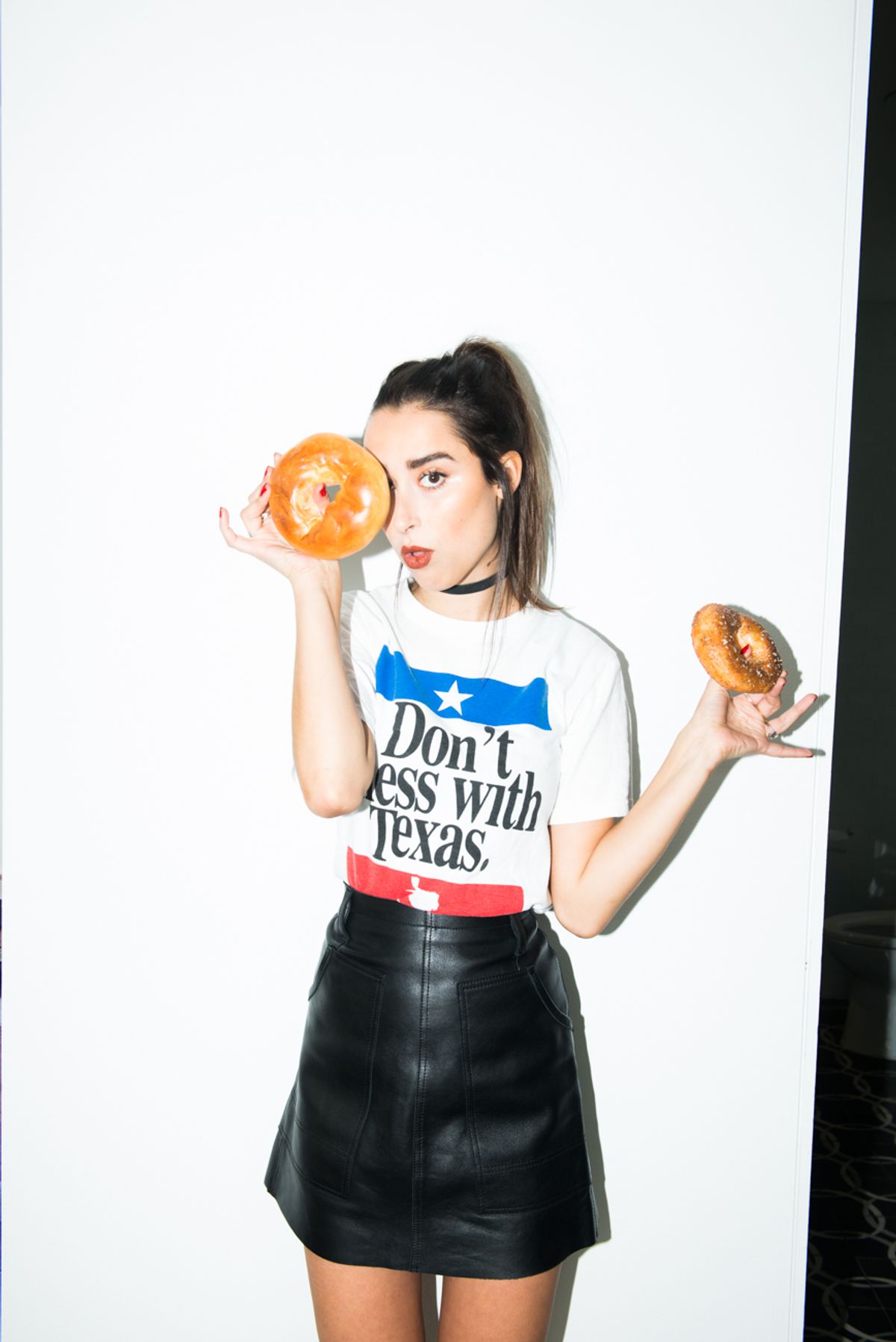 Closet
In collaboration with Coach. New York
We've expounded on this before, but we really think model
Ali Michael was onto something when she tweeted
"You might not realize it, but a lot of people are Canadian." Don't believe us?
Joanna Hillman
.
Alana Zimmer
.
Kelly Oxford
.
Drake!
C'mon. There's bound to have been at least one name there that should have thrown you for a loop. Yeah, there's a lot of talent amongst the frozen tundra (JK!). But in the case of
Chloe Wise
, also known as the now New York-based artist behind the series of oil-paint-and-urethane bagels, baguettes and braided challah you've likely been noticing cropping up just about everywhere, let's just say we saw this one coming. "My morning beauty routine is waking up and taking 10-400 nude selfies before leaving bed. Kiehl's moisturizer and Maybelline eyebrow gel and a thorough cleansing of my retainer," Wise explained, daring us to dig further as we watched her prep for our shoot at
The Wythe Hotel
in Brooklyn. Outfitting herself in a vintage tee, a Coach leather miniskirt and a shearling coat that would not look out of place on a teddy bear, Wise broke down her gift-giving strategy while sifting through the rolling rack of goodies we'd brought along. "I want to get my mom the shearling. I want to give myself the light blue leather jacket. I want to give my cat the leather skirt." Yeah, we're pretty sure that cat has a better life than we do. As for Wise's day-to-day now that she's made the move across the border? Turns out it all boils down to putting her nose to the grindstone (or more accurately, the Macbook screen) with the help of a green juice. "I wake up, get
Juice Press
, go straight to my studio and cast, paint fake food or self portraits, or video edit for like 10 hours. Then I go home or go rage depending on the night. That's basically it." Sounds about right to us. Oh, and as for the advice she'd pass on? It's pretty fittingly, well, Canadian. "I've been given the advice of not saying yes to everything. My advice is to be nice. And moisturize." See what we mean?