Career
Girl Talk With 3 Victoria's Secret Angels
Candice Swanepoel, Behati Prinsloo & Karlie Kloss share their beauty secrets, travel essentials and just what it feels like to walk a runway in lingerie for millions of viewers.
There's nothing like walking into a massive room full of the most gorgeous, impossibly flawless, prepping (via extensive hair and makeup) to look even more gorgeous for a show that's broadcast to millions of people (that's tonight FYI, in case you forgot to make an iCal invite for yourself) to make you question your life choices. Cue
hanging out backstage at the Victoria's Secret show last week in London
where we pretty much had that exact feeling—and, guys, the Angels weren't even in full glam yet. We mean,
Karlie Kloss
was still getting her extensions put in when we sat down with her and she was already photo ready.
But we had to ask, when it comes to these women followed and admired by millions (and yeah, we count ourselves among them), what's the deal? Are they magically just, um, kind of perfect? As it turns, in a lot of ways it's all-natural: see
Behati Prinsloo
's relatively easy going (when it comes to strutting your stuff in lacey lingerie) workout regimen and Candice Swanepoel's lack of cardio. Then again, when we got down to it, they were all kind of refreshingly normal—as in they deal with oily skin, snack on cookies and stock up on lip balm. And, guys, they were all just as excited as we were to be there—especially after
their group arrival and flight from New York
("like a school trip" according to Swanepoel)—and nervous to take the stage, too. Although, we'll be honest, after watching the show live ourselves, you'd never know it.
---
On arriving in London in full glam…
"Other than the rain… Earl's Court is so much bigger; the space is crazy. But I'm most excited about seeing the crowd tonight—there's three times more than what it is in New York. [And flying here] was like a school trip. I sat in the front and because we did the photo op, we were all hair and makeup ready, so I looked behind and it was just this glamorous flight."



On her daily beauty routine…
"When I wake up, I cleanse, tone and moisturize. My toner is a rose water; my cleanser is a a herbal, tea tree astringent—because my skin is oily, it takes a lot of the oil away; and then I use a pretty rich moisturizer. When I'm not working I try not to wear too much makeup, but in my purse I'll have a good concealer like the Laura Mercier or the Maybelline BB cream, which is pretty light. And then I use this MaxFactor Falsies mascara, which makes your lashes crazy. And a good cheek tint that can be used for your lip as well, because, you know, traveling it's better to be compact."
On her travel essentials and (somewhat risqué) reading material…
"[When I'm traveling, I also carry] a charger, a book, moisturizer. I'm reading a little Anaïs Nin, which always keeps on entertained. I take my rose water spray, which is really good for a little refreshment—it's amazing on the plane—lip balm; pretty straight forward."



On how she prepares for the show (a.k.a. getting everything "up there and tight")…
"About three weeks before, I'll start really focusing on eating a lot more protein, because the workouts become more strenuous. I generally eat really clean anyway, so it's not a problem—it just makes me feel better. I box, I do Pilates on the machine, and I do resistance training. I don't do any cardio because I lose weight really easily, so it's more about building the muscle, building the bum and everything—keeping it up there and tight [laughs]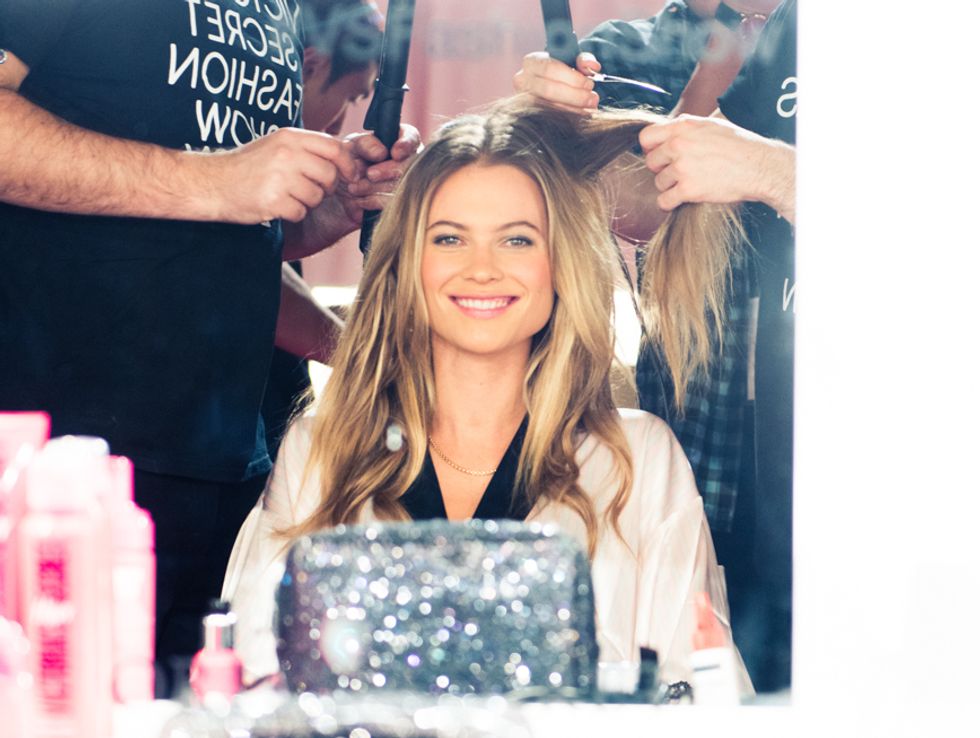 On her (relatively relaxed) workout regimen…
"I love doing yoga. I did yoga once a week and then the rest of the time I did a lot of—I don't know what you call it—but lunges and stuff. My trainer just tells me what to do, it's amazing. I did some weight training to look not so skinny. I ran a little bit—I was in California, so it was really fun being healthy. I feel like it's way easier to do it out there than in New York. In New York, I'm like, I don't want to leave and go uptown to the gym! But yeah, I just kind of cut out bread and pasta, 'cause those are my favorite things and try to be a little bit healthier."



On getting into the #VSFashionShow spirit and opening the show (!!!)…
"It's a lot to do with seeing all the girls and seeing everyone getting ready and the excitement coming. I'm opening the show, so I'm constantly thinking about that moment and I'm getting nervous. I wish I had headphones because I wanted to be listening to something, but yeah, it's kind of like the vibe of the girls. We did the rehearsal last night and it was amazing, it was really fun. It's so beautiful—the stage is next level."
On taking on the Dutch hockey team in the hot-girls-who-travel-together department…
"Oh, it's so much fun. It's like we're on a school trip or a hockey team going from place to place. Do you remember that whole thing about the Dutch hockey team and how hot they were in the Olympics—it's like that."



On her travel essentials and her biggest pet peeve…
"I'm a very light traveler. I usually just take carry-on. For beauty products and stuff like that, I always take lip balm, because I cannot stand chapped lips—like, I'll go crazy. I always have rose water spray with me. And then I have the La Mer moisturizer because it's thicker and I can really slather it on."



On never losing that rookie feeling…
"I'm really excited for breakfast. I want pancakes and eggs benedict and everything. But I have an early flight back to L.A., too, so I'll have to quickly get it in and then get on the plane. But I'm really excited to do the show and then go to the after party with all the girls. The after party is always fun and hearing all the new girls' experiences and how nervous they all were. It still feels like my first year right now—I'm so nervous. You know the process, but the nerves, for me, never go away. It always feels like my first show."
On the reward (and serious risk) of traveling as a group to London…
"It was like a big sorority; the most glamorous sorority in the world. It was really special because we all travel a lot, but in opposite directions, never together, so it was good. If that plane went down, the fashion industry would never be the same… can't even think about it."



On her (long list) of travel essentials, including—you guessed it!—Kookies…
"On the plane, train, automobile I try to pack light. This is my backpack and I always try to fit everything into a carry-on. So I always have rolled up in my bag a sweater, because I always get cold. And super basic, necessary essentials—so I'll bring a sweater and socks and an eye mask, 'cause you never know when you're going to need to sleep. Always a good cream or moisturizer. A lip balm—L'Oreal has this really good balm that kind of matches your lips and kind of makes them a bit pinky and beautiful. I really like the new Glossier products. I always travel with a snack in my bag. It sounds so cliché, but I always travel with a Kookie in my bag just because it's good, clean energy—you never know when you're going to be able to sit down for a proper meal; it's just a good something to carry you through. I like to always have a bit of chocolate on me—dark Hershey's kisses—again, a good bit of burst of energy. I always have cough drops or mints or gum. I'm like a little grandma—if you need something, the girls know to come to me or Lily [Aldridge]. Lily's also really good. I have so much stuff at the ready in case: it's the Mary Poppins bag."