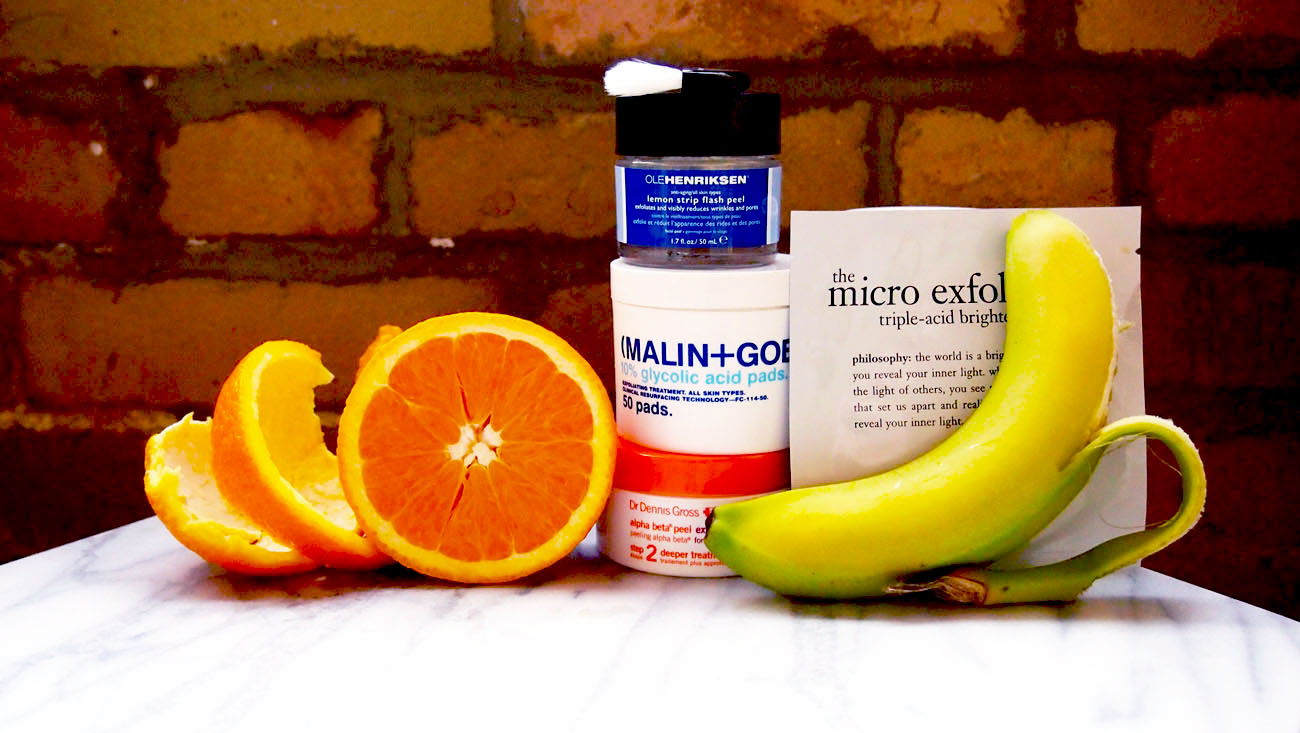 Beauty Test-Drive: Acid Exfoliators
The ins and outs of six of the best at-home chemical peels.
As you may have noticed, we're the investigative types. As in, when something piques our interest, it doesn't take long to get down and dirty (or clean, as it were) with the trend in question. So when we started to notice that our collective complexions were, well, a little duller and drier with the change in season, we figured it was time to jump to action the only way we know how: call in a host of skincare products. This time around, the term "brightening" really captured our attention, and it wasn't long before Cov HQ was knee-deep in acid exfoliators. The hope? Saying goodbye to roughed up and winter-worn skin. The reality? Well, no one had their face fall off, so there's that. Here's everything you need to know next time you get sold on the whole brightening thing.
Nikki
I have super sensitive skin; if I leave my Origins Clay Mask on just a bit too long, I go red as a beet. So I was putting off trying this two part peel until after my cousin's wedding, because I was scared it would literally peel off my epidermis.
No need. I'm pretty much obsessed with this peel. It's gentle, but still effective. The first step consists of pads that you wipe on your "face, neck, and décolletage" and then leave on for 3 minutes. It stung ever so slightly, but only enough to let you know it was doing something. Then you apply the second part: a firming milk. I'm a big fan of anything milk related (namely, strawberry milk. Guys, it's literally the best thing you have ever tasted—go buy some now). So call me a little biased, but this was the dealmaker. It immediately cut out the (ever so small) burn and left my skin dewy and moisturized, but not greasy.
It might be wishful thinking but I'm pretty sure the peel has made my skin a little clearer in some of my problem areas. It's definitely made it softer though. Two words: baby's bottom.
Would I use this again? Yes
Rating: :baby_bottle: :baby_bottle: :baby_bottle: :baby_bottle: :baby_bottle:
Emily
The whole acid exfoliator/peel thing is totally new to me. And just a little bit scary. Masks, which is really what this Ole Henriksen product actually is, what with it's clear, goopy contents and application brush, always freak me out a little. They tend to bring everything out rather than getting rid of it, if you know what I mean. Then again, winter does its fair share of damage to my face: it's a little rougher, redder and much dryer. And I'm minorly obsessed with grainy exfoliators and regularly scrub my poor skin within an inch of its life, so if this is as close to professional skin-sloughing as I can get, bring it. Brushing the peel onto my skin instead of using a pad only made the experience more akin to getting an actual clinical peel (minus the whole being in my own bathroom and bathrobe thing). As directed, I left a (very) thin layer of the stuff on my skin for 10 minutes, before rinsing it off with lukewarm water and moisturizing.
The result? It's honestly hard to know. I quite liked the feeling of the mask. It was tingly while it was on and my skin felt softer when I washed it off. Immediately following my skin also appeared brighter—but that also could just as well have been the effect of my atrociously bright bathroom vanity lights. After one use, my pores didn't appear smaller, but my skin definitely isn't as dry. One thing, (I think) is for sure: there's no doubt the potent lactic, glycolic and multifruit acid cocktail gets rid of dry skin. That, and the whole delicate experience of actually using the stuff, is more than worth a weekly ritual as far as I'm concerned.
Rating: :snowflake: :snowflake: :snowflake: :snowflake:
Katie
"When news hits the office that another beauty test is about to go down, I am always intrigued. I'll be honest: never in my life did I think I would be given the opportunity to try some amazing (and some not so) beauty products and then rant about them. This month's test-drive is all about acid exfoliators, something that I have zero experience using. I am fortunate to have clear skin and often get questioned if I'm a teenager (I got it from my mama and I know 10 years from now I'll be flattered as opposed to annoyed).
I tried the Philosophy Micro Exfoliating triple-acid brightening peel. Right on the box it says, "Reclaim the glory of youthful skin". Is my skin actually going to peel off? Do I actually want to do this? As directed, I'm to use it once a week (it comes with 12 pads). The box also states that dull skin is dissolved, discoloration is brightened, clarity is improved and the appearance of fine lines is buffered.
The process is pretty simple: remove pad from sealed baggie; wipe pad all over face; moisturize if needed. The burning sensation was the most satisfying burn I have ever experienced. And my skin didn't peel off—so that, to me, is a win. I do have a tendency to suffer from dry face and luckily with this product I didn't have to deal with that! I did feel that my skin was much smoother and clearer in general—something I doubted would be noticeable. I'm definitely going to continue using this: my new goal is to have the skin of a healthy toddler. Because that can totally happen, right?"
Rating: :baby: :baby: :baby: :baby:
Jordana
"I honestly think that my skin is fully addicted to Clinique's three-step regimen and (without jinxing myself) it really seems to do the trick: I have clear skin, my pores stay the size they should and I don't get intensely embarrassing oily breakouts. Trying Kate Somerville's Clinic-to-Go Resurfacing Peel Pads I was hesitant: the box was small and barely had a paragraph to spare on how to apply the serum. This threw me off completely; I felt that if I was going to be taking a chance on this product and change up my routine I wanted to know the nitty gritty details of exactly how-to. But there wasn't much to instruct, using the pad provided you spread the serum in circular motions around your face, wait 2 minutes, rinse and voila! Two minutes?! If I decide to apply a facemask or treatment, I take pleasure in the fact that you can put it on, set a timer and multitask while beautifying. Two minutes did not leave any time to do much more than color coordinate a row of nail polishes. Timing issues aside after using this mask the recommended two times a week, my skin is slightly softer, but no life altering results have been achieved."
Rating: :massage: :massage: :massage:
Monika
"Whenever I see acid exfoliator pads, I can't help but to have a That's So Raven moment. But instead of gazing into the future, I gaze into the past at my adolescent self standing in front of the mirror with a container of Oxy Pads. Ah, the days of psyching myself up for the burning sensation on my teenage skin and the glorious feeling of seeing all that yucky dirt on the pad after you were done with it. So gross, yet so rewarding.
Flash forward to my current big girl acid exfoliator pads. Origins' Instant Brightening Pads are no way on the same scale as Oxy Pads. They're subtle and proved to be a delight. No burning sensation, which I was a little bit disappointed by (is that weird?) and made me wonder if it was even working. It felt nice but I couldn't really see an outcome. Nearly 10 minutes later however, I felt the affects of the brightening pads. My skin felt tight (in a good way) and I noticed my face had a bit of a glow. I'll definitely continue to use the pads, but I'm not sure how much of a difference I'll see in the coming weeks, TBH."
Rating: :evergreen_tree: :evergreen_tree: :evergreen_tree:
Raleigh
Generally, my skin is in pretty good shape. I mean, it's a little dry, but I have no acne.  For that reason, I hardly spend any time or money on skincare products (other than my ever-faithful nightly smear of Vaseline Intensive Care Lotion for hand, face and body), so you can imagine my hesitation when asked to acid peel my face off (with a product that retails at around $250 a pop). Don't get me wrong, I've always secretly wanted to be one of those I-care-about-my-face-enough-to-La-Mer-it-every-night kind of girls, but, by nature, I'm just not.
I unwrap La Prairie's Cellular 3-Minute Peel from it's glamorous chrome packaging to find a similarly aesthetically pleasing product with a miniature paintbrush for applying the peel. Five minutes later, I'm in front of my bathroom mirror literally painting my face with the cold cream. Immediately, my entire face starts tingling. And not in a ha-ha funny tickle kind of tingling either, but a WTF, my face is being bitten by tiny red ants kind of tingling. It only lasted about 10 seconds, then my face was back to normal just with, uh, goo on it. The instructions said to leave the peel on for 3 minutes, so I waited the allotted time and removed the peel with a damp, warm washcloth.
You guys, I'm not even exaggerating, my face was as soft as cashmere. C-A-S-H-M-E-R-E. I didn't stop feeling my face for an hour straight. I felt so fresh and so clean that the suspect tingling situation became irrelevant. I would completely recommend this product (to someone with an extremely disposable income) and I'm totally going to keep using it (or at least what I have left of it).
Rating: :ant: :ant: :ant: :ant:
Meagan
I'm going to start this out by my declaring my love for all things glycolic acid. Acid peels in general, really—it's my preferred method of exfoliating (is that actually something people say? Is this Goop?). The whole thing started with Philosophy's Micro-Exfoliating Peel, and after speeding through my first box I decided the time to switch things up was there and then.
Cue one Malin + Goetz impulse purchase later (another skincare obsession of mine that goes way, way back—it admittedly initially stemmed from their on-point graphic design but quickly evolved into something, well, deeper) and I found myself making the switch from Philosophy's mandelic, phytic and azelaic acids to glycolic ones. Opening the container, which doesn't not resemble the Clearisil toner of my pre-teen past, I was greeted by 50 acid-soaked pads. Prior to purchasing, I'd been forewarned of two things: to leave the seal on, and to keep an eye (er, feel) out for stinging. Apparently you're supposed to build up a tolerance over time, at first splashing water on over your application, gradually working your way up. Fancying myself a veteran of the whole acid peel thing, I of course blindly assumed that I'd be perfectly fine, and was thus a little taken aback by the stinging I did feel. That said, I soldiered on and ignored the instructions (oops!), leaving it on instead of rinsing post-application. Following up with a little face oil, I've been using the pads for a few weeks now and have started relying on them as my go-to the night before a day where I need to look, well, glowier (as copywriting-cliché as it sounds). I can honestly say the continued use of glycolic peels has significantly faded my dark spots and made my skin clearer and more even. And what else could I really ever want?
Rating: :ok_hand: :ok_hand: :ok_hand: :ok_hand: :ok_hand: