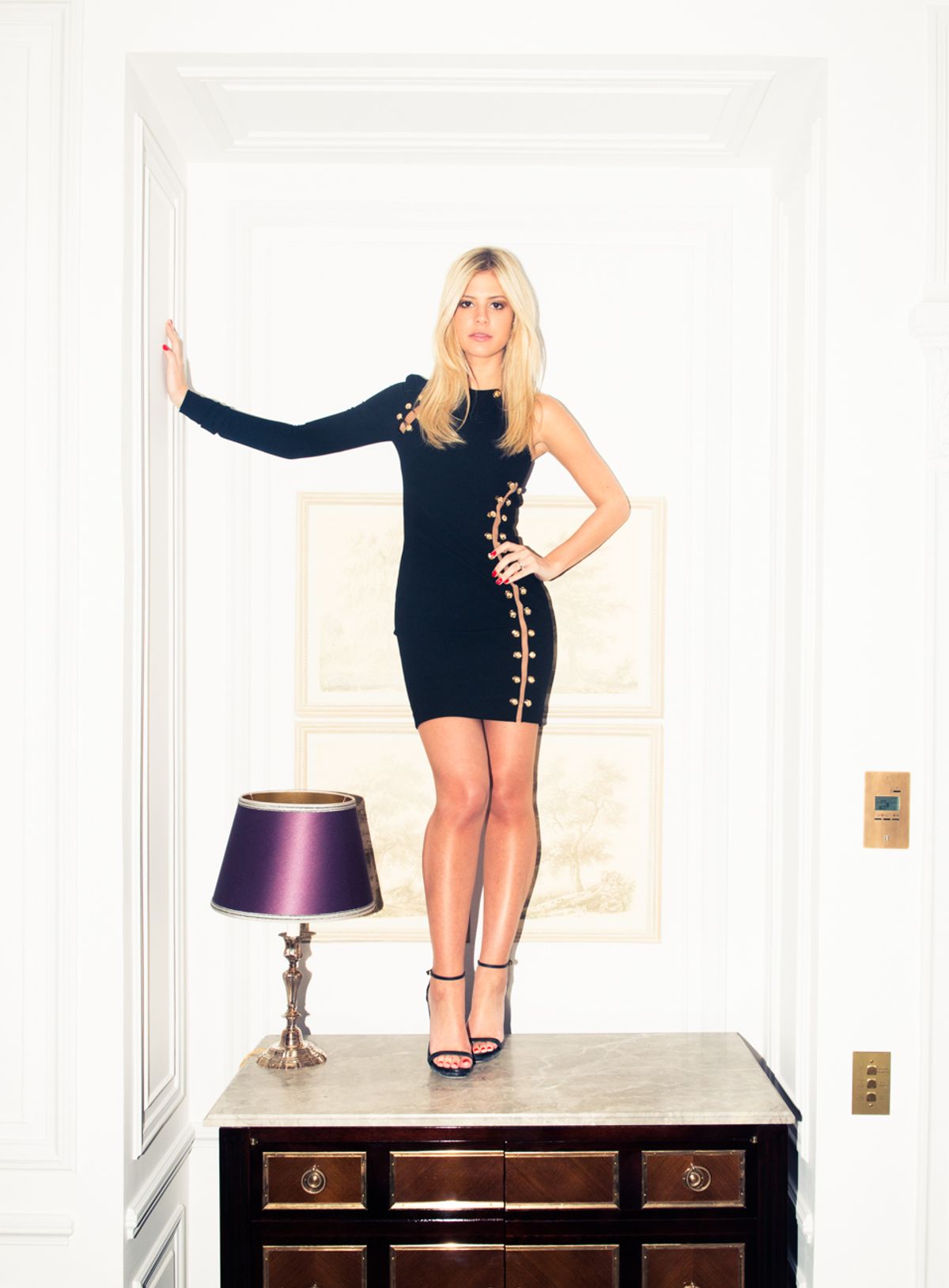 Closet
Blogger; Entrepreneur; Founder, La Rouge Belle Lingerie. Paris
It takes a certain kind of girl to hoist herself up to stand on a marble dresser in the suite of a five-star Parisian hotel, while wearing a pair of six-inch strappy Gucci sandals and a Elizabeth Hurley-worthy Versus mini dress. To pull the whole thing off with the exact same ease you would, say, plopping yourself onto the couch to curl up with some Netflix takes considerable aplomb, too. It makes sense, then, that the same girl also wrapped our photo shoot in an emerald green
Burberry
trench, leather
Valentino
mini shorts and thigh-high
Christian Louboutins
, and looked every bit as second-skin comfortable in them as we do in a pair of silky, slouchy Piamita PJs while getting our earlier-mentioned Netflix on. JK, we're more likely to be found in a decade-old
Britney Spears
concert tee and, like, our high school gym shorts, but we digress.
That kind of girl (can you tell
Lena Dunham's been rubbing off on us
yet?) is
Lala Rudg
e, the Brazilian blogger and founder of
La Rouge Belle
, her very own lingerie line. Taking time out of her show schedule to meet us at her suite at Paris' Hôtel Plaza Athénée for a photoshoot, Rudge greeted us in an oversized
CHANEL
jacket (that '90s-apropos
Versace
moment would come later, guys), ushering us in to rifle through her luggage. Inside we came across an assortment of the rarest of rare accessories: intricately beaded Valentino, polka dot-slash-leopard-print
Giuseppe Zanottis
and a CHANEL clutch in the shape of a globe.
The proverbial crown jewel of Rudge's collection, though? According to her, it's that same pair of Louboutin thigh-highs she paraded around in during our shoot. "I had been trying to find a Louboutin over-the-knee boot in black suede since I don't know when. I could never find it in my size. I had literally been to every Louboutin boutique and I finally found it at the beginning of this year. Happy!" If her closet is any indication, girl has a whole lot to be happy about.