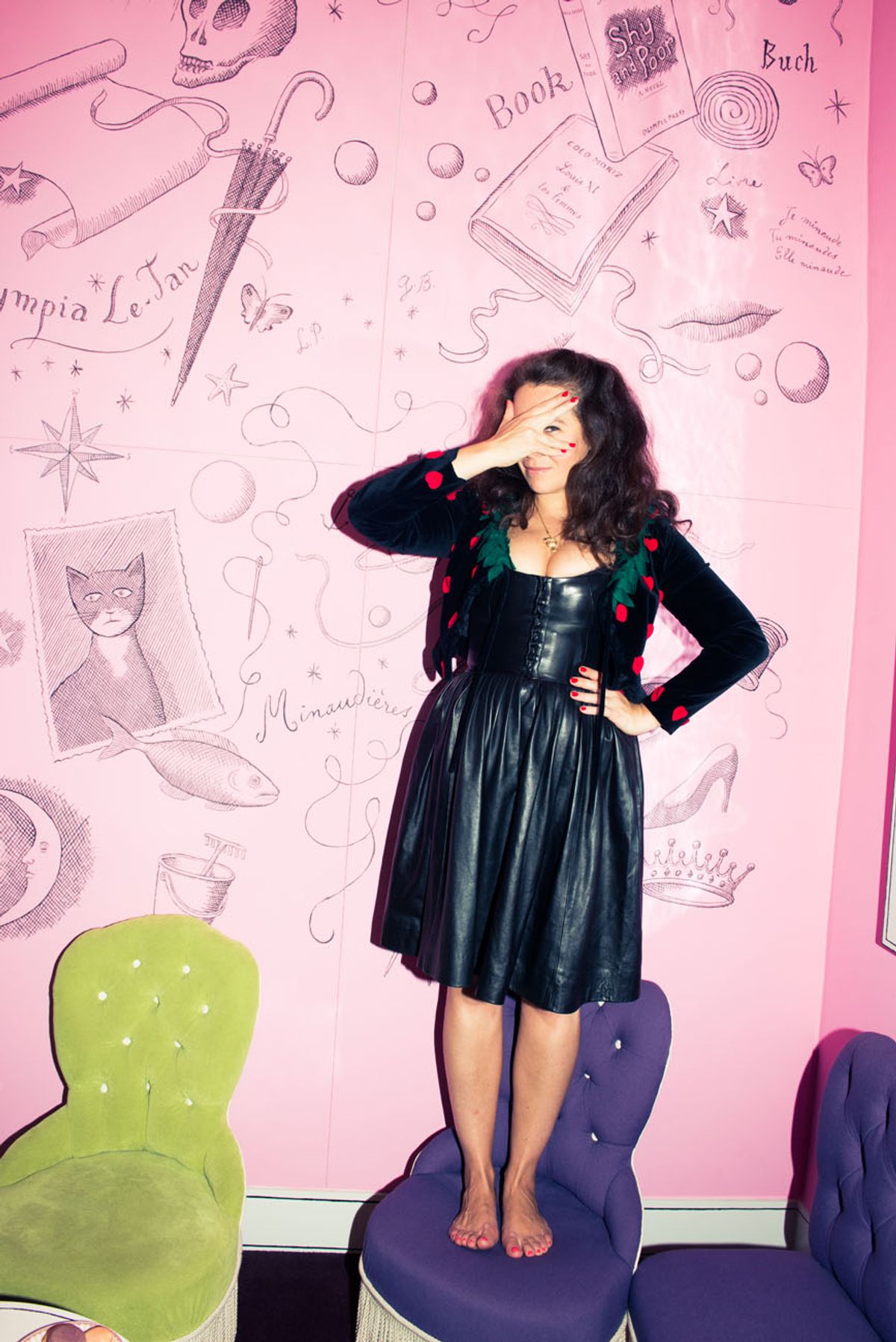 Closet
Designer. Paris
Stephanie Mark
During our myriad closet excavations, there are a few trusty standbys we can always pull out in a pinch: rare
CHANEL
, beaded
Balmain
,
vintage Versace
and
Pucci
, six-inch
Louboutins
and
Manolos
. You know, staples. And always, always, if the subject whose space we're intruding on (as we do) happens to own an
Olympia Le-Tan box clutch
, it can't be missed (see:
Chelsea Leyland
,
Kristina Bazan
,
Erika Cohen
,
Laure Heriard Dubreuil
,
Ploy Chava
,
Sabine Ghanem
—the list goes one. And on.). They're almost always limited edition and delicately cared for by the owner in question. And we've got to admit, her ultra special book-imitating bags have always been high on our wish lists, too. So you can imagine our anticipation when Le-Tan herself invited us to stop by her storybook-worthy HQ in the middle of Paris Fashion Week. In fact, the French designer's whole MO is pretty fairytale-eque, if we're being honest, from her ready to wear pinafores to those emblematic clutches, so it only makes sense that at Le-Tan headquarters, her signature whimsy was on full display. Think a fully catalogued library of her most special book clutch editions, from
Madame Bovary
to Dr. Seuss's
One Fish, Two Fish, Red Fish, Blue Fish
, along with the designers on assemblage of her eccentric collectibles, including a Salvador Dali-designed earring and
vintage Moschino
(a taste for which she shares with none other than Miley Cyrus). Kind of like a fashion Wonderland, right? We mean, it was all very down the rabbit hole and Le-Tan herself was every bit the curious heroine—it made perfect sense when she admitted that Alice is the literary character with whom she most identifies. And when she told us that Marilyn Monroe and Bettie Page were two of her style icons, her own retro-inspired, ultra-feminine style (and designs, for that matter) made perfect sense. We mean, she's kind of their Gallic, modern-day incarnation after all—although even Bettie Page herself couldn't have pulled off the corseted leather dress of Le-Tan's design like she can. Just saying.