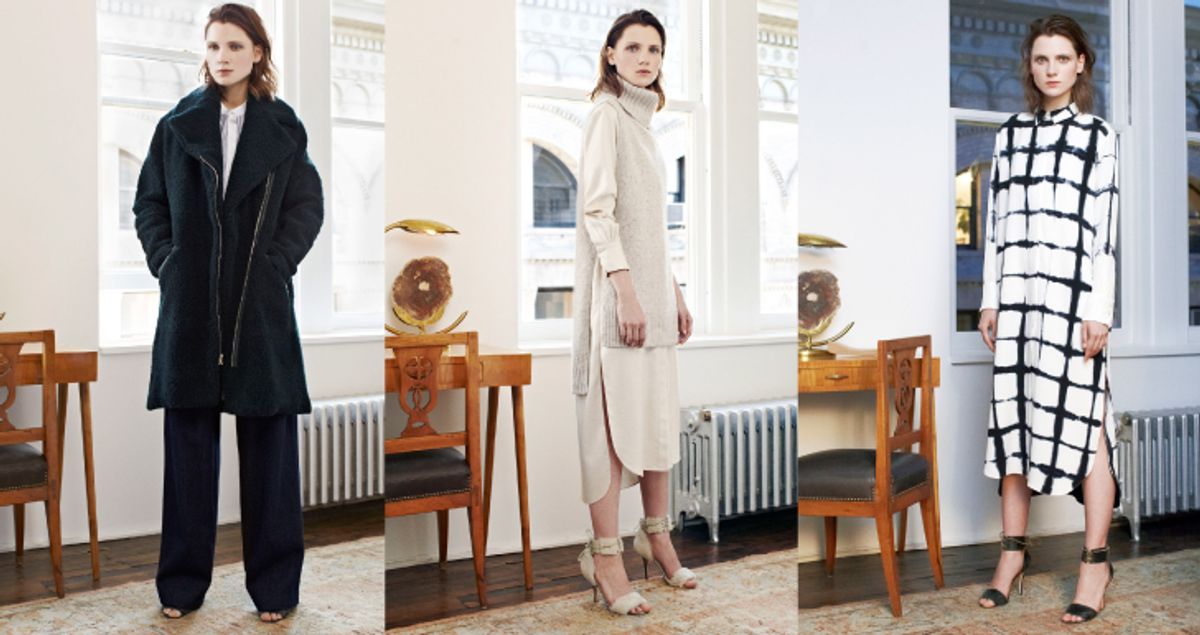 Career
On the late Mr. de la Renta, drugstore beauty buys and $90 t-shirts.
---
Think fast: what has all the elegance of something from the brain of the late Oscar de la Renta and the power to make us want to throw credit card caution to the wind and spend our entire savings account on a dress? If you answered virtually anything by Adam Lippes, you get an entire row of hand-clapping emojis. And while we've been obsessing over the designers sportswear-inflected wares on Net-a-Porter for what feels like forever, it turns out that Lippes' eponymous brand has only existed as we know it for the last 18 months, give or take. What with our fervent obsession with his chain-embellished silk dresses and classics-for-now separates, it kind of goes without saying that we were first in line while the designer was in town for an appearance at Hudson Bay's The Room. Here's what we learned about the late Mr. de la Renta, drugstore beauty buys and $90 t-shirts.
On the woman he designs for:
"People ask me this question and ask other people's opinions of this question and they get so specific. I've heard the craziest stuff, like 'she lives on W 4th'. I could make that stuff up, but it would be a lie. I think of our woman more in what she appreciates as opposed to who she is. She wants a collection of clothes that don't wear her, [but] that she can wear. She wants a collection of clothes that she can play with. She wants clothes that can take her multiple places. She wants to feel feminine without feeling girly. And she definitely understands quality and she's willing to spend for it because our clothes are not inexpensive. It can be a beautiful, very simple t-shirt that's not inexpensive, so you have to really understand why. Otherwise you could go wherever and get a $90 t-shirt."
On his grooming routine:
"I use Neutrogena face cream. Forever. I went to a dermatologist once who said buy stuff from the drugstore because it's the best, the most tested. And I use Shu Uemura, it's called Kaze and it's for my hair and that's really all I use. I blow dry it, and put it in. Then there I go!"
On being alluring versus sexy:
"I have this feeling when I design about making clothes [that are] alluring as opposed to making them sexy. There's no limits to what someone's going to throw on and wear. If you're going to show every single piece of your skin and body, you're going to have to have a perfect body. I really want to be a collection that women can buy and not just our ideal woman can buy, so that is number one. I also find that being alluring is so much more mysterious and sexy. We have really long side slits so when you move, you're showing some skin. Or it's a pleated skirt that looks like it's a solid leather, but when she moves it has sheer panels on the inside. I like to think that our customer on the first date will have the most fascinating conversation. That's how I feel about our clothes. "
On drawing inspiration from Sharpie'd Moroccan textiles (seriously):
"Spring started with a Moroccan textile. I saw it and it was so beautiful it was actually on a rug. I took the idea of it, went back and hand drew [the pattern] with a Sharpie and the embroidered coat [I created inspired by it], it's all  silk knots and silk fringe, but it follows that pattern very closely."
On the importance of a little fringe––but knowing where to draw the line:
"Movement is [also] very important to me. I don't like things to be stiff. [We wanted to] make movement and texture without it being heavy in summer, which led to the tassels and the fringe. We started fringe very early, and I love the movement it gives. In fact, I would have done more [with] fringe because I love it, but at some point you have to step back."
On his one travel essential:
"I always travel with my mom's overnight bag. It must be a 30 year old Louis Vuitton that my puppy ate a little corner out of and I always have that with me."
On being mentored by Oscar de la Renta and Ralph Lauren:
"My mother and father actually imbued me with a great sense of style and Oscar [de la Renta] really refined it. I was at [Ralph Lauren] for a year and I was a kid, so when I went to Oscar is really when I learned––he taught me the importance of, first of all, dressing a woman, not just a six-foot tall 16-year-old. He taught me this whole thing about color, quality, construction and about how a woman should put something on and feel beautiful. I think my aesthetic is different than Oscar['s was], but the foundation and the pillars are exactly the same. I was so fortunate to learn from such a master. I look back and I'm like 'Holy shit! How did that happen?!' I was there for eight years and it was a blessing."
On the things he just can't live without (even though he doesn't have one of them yet):
"Dogs, I have three. My country house, friends and family, dorky things and doing what I do for work! I think it would be devastating if I couldn't do it. Oh and maybe an Hermès overnight bag—that I don't have yet."
On making the decision to fly solo:
"I came from a family of entrepreneurs and I just always wanted to have my own business. It was a very hard  decision because [Oscar]'s my family, but I had my own voice to say in fashion. I started by launching very high-end t-shirts, very well-made t-shirts that I still have today, because I would never have left Oscar to start a fashion line. You don't do that to your mentor, but I wanted my own brand. It evolved. You know, he was amazingly supportive because I told him, this is my dream and it's not a full-time job yet and he was like, 'stay here, work on it and it's fine.' He was one of my initial investors. He's good people. Fashion breeds some very good people."
On his dream artist collaborator:
"Rothko. If [Mark] Rothko could do a print, like a jacquard, I mean... Die happy. I love the colorful artists [of] his era. Alex Katz. I mean who did portraiture better than that Prada collection? The craftsmanship is amazing, but Rothko is my answer."
On embracing the now:
"[My favorite era for design is] now. I think that people always reference [the] past. You're looking and researching how did they do a pocket in the 18th century just to see, and it's also for knowledge, but converting it to now is what matters. There's so much out there too! Even if you have certain references from the past, you have to do it [for] today. Otherwise it looks like a costume."
On the difficulty of defining sportswear:
"To me, American sportswear is a collection of pieces that can be mixed and matched. Everyone's always said to me, 'you're an American sportswear designer' and I was like 'WTF, what does that even mean?' But to me, that makes sense from the very beginning, looking to the past sportswear designers."