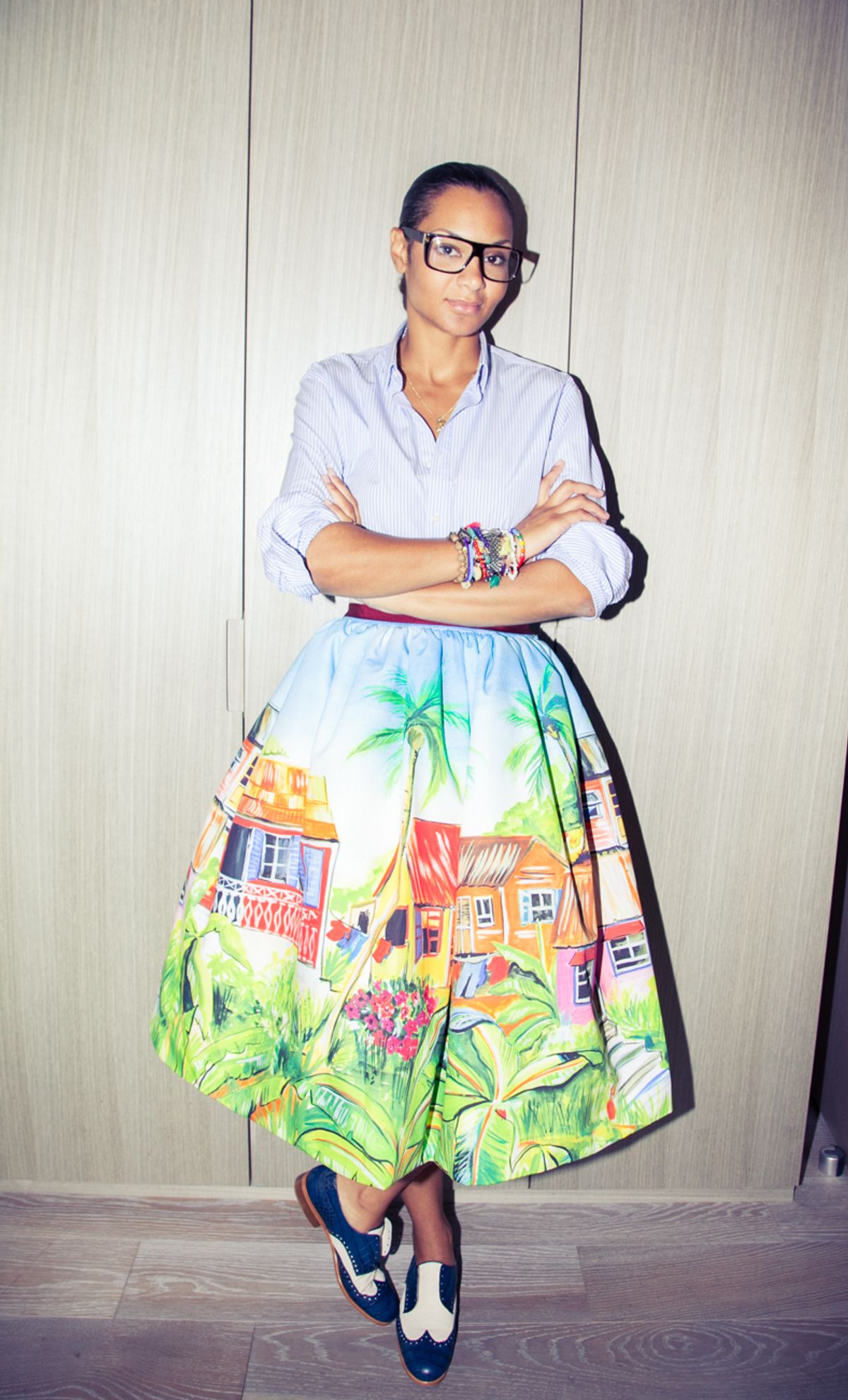 Closet
Designer. Rome
When potentially game-changing opportunities arise, it's a requirement that you swing into action pretty quickly. Such was the case when an email arrived in our inbox inviting us to a reception welcoming Stella Jean to our hometown to celebrate Holt Renfrew's Italian Immersion (in case you slept through Milan Fashion Week, there's a lot worth noting over there, from Versace's reemergence to up-and-coming talent like Fausto Puglisi and, well, Stella Jean). Because, guys, if she was traveling all the way from her native Rome to Toronto, you know she's got to be bringing along some seriously well-packed baggage. What can we say? We were curious.
And wouldn't you be too? In our minds, Jean is pretty much the most exciting thing contemporary fashion has going for it right now—her collections are just, well, novel enough that we can't really tear our eyes away. Oh, and for the still-uninitiated: hers are those wildly printed circle skirts paired with tailored banker shirts you keep seeing on Moda Operandi and in the windows at Holts. And they're totally intimate, personal designs, with crisp tailoring inspired by her Italian father, colorful prints influenced by her Haitian mother and the country's ties to Africa—so one would (rightly) assume that Jean herself is just as interesting and eclectic, are we right?
Lets just say we weren't disappointed. When we arrived at her neutral, monochromatic Four Seasons Hotel suite, rainbow of dresses and skirt pulled from her suitcase were already piled high on her bed. And while we'd like to think that the (seriously stunning) former model and mom is probably the best spokesmodel for her designs (we've never seen a crystal-embellished, printed pencil skirt worn with leopard print stilettos with such ease), Jean surprised us when she told us she has two closets at home in Rome (okay, that's not the part that surprised us, but…): one that's completely white, for summer, and one for winter that's completely black. Her accessory game though, didn't follow the same strict dress code and we fawned over her orange Hermès clutch, red Ferragamo sandals and burgundy Céline Trapeze bag (and then reprimanded when we tried to style it on the floor—it's a superstition, okay?!). Our favorites? The Sorels she'd purchased the day before in Toronto—fine, so we're not expecting her riff this particularly Canadian boot to show up on her runway any time soon, but hey, if Jean can pair them with her pencil skirts, we're suddenly seeing our dreaded winter boots in a different light.