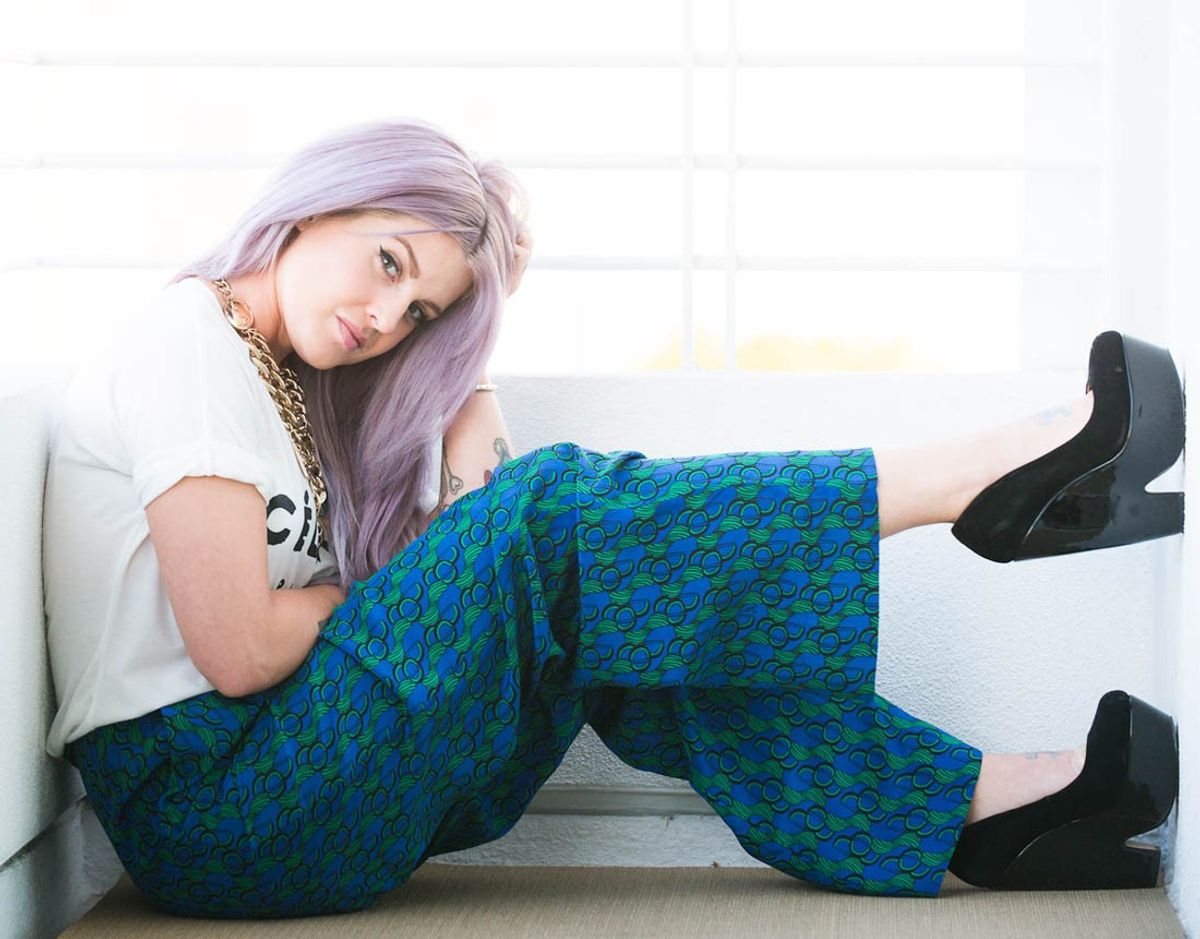 Career
As she launches her first collection, we chat with Osbourne about fair fashion, bolo ties and dressing for yourself (get your notepad ready).
Okay, so maybe she makes fun of red carpet looks on E!'s
Fashion Police
(although, let's be real, her comments are usually pretty spot on), but
Cov-alum Kelly Osbourne
is one of the few who has our vote when it comes to dressing for the spotlight, if only because she doesn't fear the Worst Dressed List. Read: she's never boring. And when it comes to the endless parade of satin mermaid gowns the pop up on our feeds come awards season, that's definitely something we can applaud.
---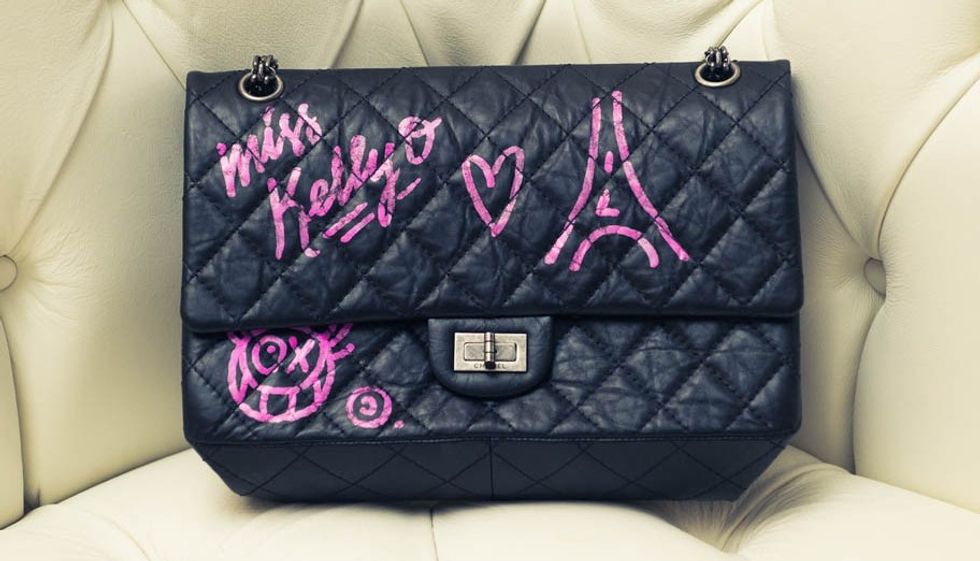 When we chatted with her over the phone the other day, she noted that she dyed her hair purple long before everyone else got on the pastel trend (are you listening
Nicole Richie
and
Jemima Kirke
?). And guys, it's kind of true: the girl really does march to the beat of her own drum. So who better to launch
her own collection with Bluefly
, appropriately called Stories... by Kelly Osbourne (more on that later). And while, by her own admission, her particular brand of fashion sense isn't for everyone, her new pieces are easy to wear and have just the right amount of signature Osbourne
joie de vivre
. Herein, she spills on size insecurities, purple hair and one very special green suit.
On her excitement over having her own collection…
"I've been working on having my own line and learning about the business for the last 12 years. It's only been in the last 18 months that it's actually started to happen because I finally found a manufacturer that was brave enough to take this journey with me—no one else was.
The funny thing is, even though I'm really excited about it, I'm even more excited about talking to you about my next collection because we just picked pieces for that and it's even better than the first one! With every collection I'm learning more and more so we start today, after I'm done with this interview!"
On making fashion fair…
"I wanted to learn about pattern making because my mission was just to make fashion fair. Unless you are under a size 12, first-rate fashion is not available to you. If it is, you have to get shamed in the process by walking into a plus-size store or going to the big and tall section. I don't even think I was a real size 12 when I got sent to the big and tall section, but this happened all the time. That was the worst feeling I've ever felt in my life and I'd ask why, for a size 12, can't you make the same dresses bigger? They've got a size for twos. It shamed me and I want to take that shame away from women and change the perception that the fashion industry has unfortunately [instilled in] women: that they have to look a certain way and they have to be a certain size, because that's not true. I have friends who look, if we take a picture next to each other, they look skinnier than me, but they're a size 14 and I'm a size 2-4. It's just that they're taller. You know, some people have small bums, some people have bigger bums, it's not all to do with weight."
We have to cut three patterns and that's why most manufacturers wouldn't take this job. I'm not changing the cut from a size 0 to a size 14—it's the same cost. No woman in the fashion industry has really been able to pull this off and I'm praying to God I do!"
On how what you wear tells a story…
"I called it Stories...by Kelly Osbourne because I was going through my closet getting rid of some stuff and I couldn't because everything told a story! I was like I wore that Buckingham Palace or wore that on my very first date where I fell down the stairs because I didn't want him to kiss me and I broke my wrist. Just funny things, memories. I mean, I still have my school uniform—I couldn't get rid of it. So it got me thinking: everything you wear, has a story around the first time you wore it."
On leaving her ego at the door…
"The way I dress, I am very aware that it's not for everyone. I know that, I've got tattoos and I smoke like a truck driver, so I had to leave my ego at the door and really think about my mission here. It's speaking to fashion sense, but also making people feel confident and beautiful, at prices they can afford."
On how clothes can make the woman…
"I look back on some photos now and say "OMG." That's the fun in fashion. Through your clothes you can make yourself be whoever you want to be. Through your clothes you can feel really confident and feel good and feeling great in what you're wearing makes you unstoppable—like you can take over the world as opposed to those clothes you wear and you just feel fat."
On how her approach to fashion has changed…
"More than a month ago for the Emmys, even the last five Emmys, you can tell I've changed so much over the years. I have become a bit more careless, though. I have more fun with it because I don't care what people think, I don't follow trends. I mean, I walked around with purple hair for two years getting called a witch and now everyone's doing it."
On fashion advice to remember…
"Just be yourself and don't dress for men. Also, don't dress for other women. I find that women dress to piss other women off. Wear it because it makes you feel wonderful. Wear it because it makes you feel confident. Don't wear it because you think you're going to attract someone else. If you don't like something, you don't have to wear it. If you wear something someone else doesn't like, who gives a shit! They don't have to wear it."
On her first fashion memory…
"My mom says, ever since I was a kid, I knew what I wanted to wear and I just wore it. I remember being a kid in Santa Monica at Fred Segal and there was this green suit that made me look like a walking Boogie. It had a waistcoat. It was serious. I asked my mom, 'Please, please, please can I have it?' And she said no, it's gross, smelly and you're not having it. Plus it's expensive, but we bought it and I still have it to this day.
I LOVE bolo ties. I was with my mom again and I really wanted this bolo tie, but she told me I was ridiculous, so I said I would work for it. So she agreed and told me for every chore I would get 1 cent. So, literally, any single way I could help out I did—it took months. Little did I know she had bought it for me the day of, but made me work for it anyway."