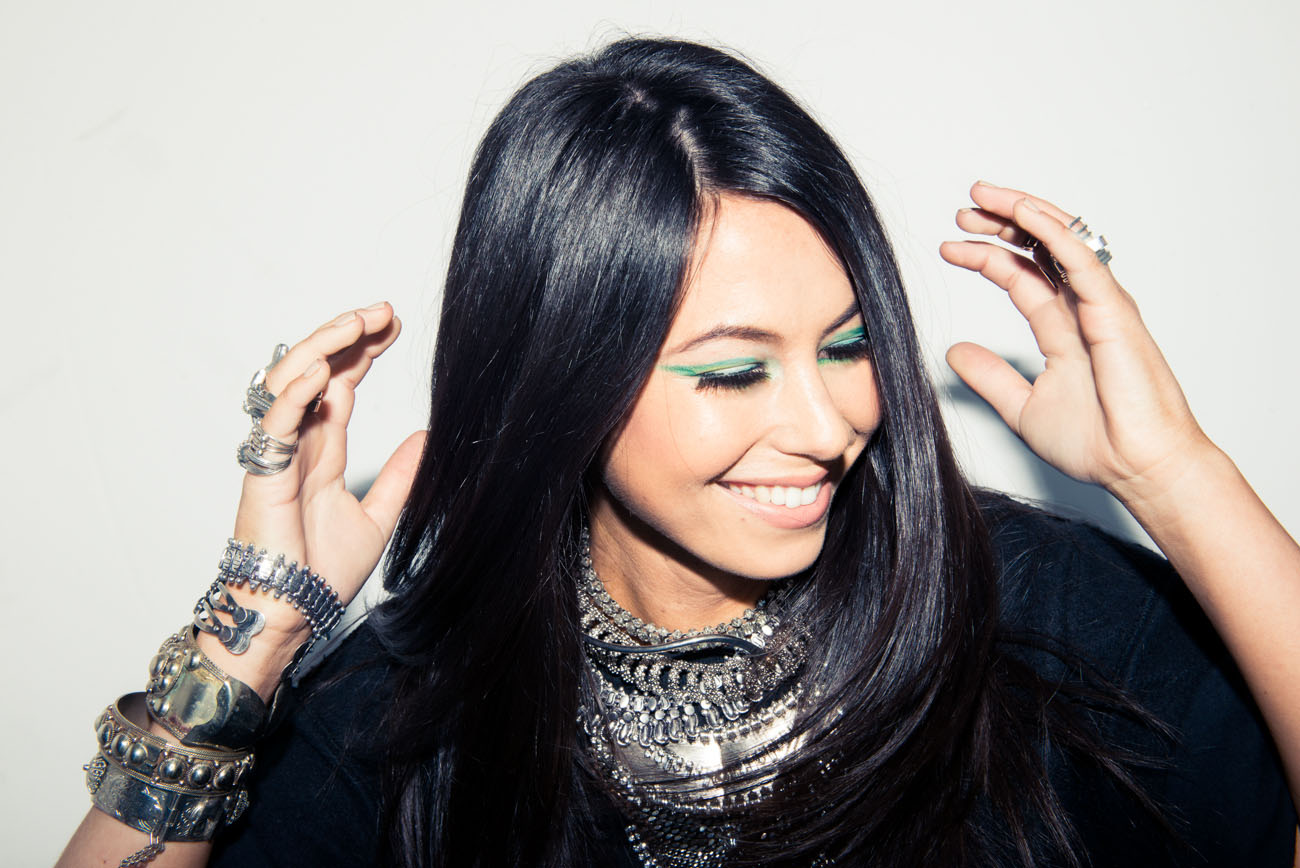 Beauty Truth or Dare: Drew Ginsburg
We watch as the jewelry designer goes (way) out of her beauty comfort zone with Shu Uemura.
Is it bad that we have that 'Brave' song stuck in our heads right about now?
Before you ask if we'd like a side of Pumpkin Spice Latte or a copy of Eat, Pray, Love to go alongside our unofficial entrance into basic-dom, we swear that we can explain.
It all started innocuously enough, when jewelry designer and DYLANLEX founder (you might know her better as the girl behind those seriously OTT, magpie-worthy sparkly chokers you keep seeing on everyone from Rihanna to Kendall Jenner) Drew Ginsburg uncovered a bit of a beauty paradox. It turns out that when mammoth necklaces that are shiny enough to potentially spot from space occupy a considerable amount of real estate on your person, making major statements with your make-up can occasionally fall to the wayside. And who better to push Ginsburg right out of her comfort zone, than Shu Uemura, who you may better know as the Japanese beauty brand who's brought you everything from false eyelashes made with feathers and sequins to eyeshadow in quite literally every color of the rainbow? "My chest party, hands, jewels... DYLANLEX pieces are my outlet for risks", Ginsburg explained. "I don't wear very much [make-up] at all, which I think says that I pretty much DGAF," she told us later in an emoji-laden e-mail. Touché.
Unwavering state of DGAF-ness aside, the fact remained: Ginsburg has a serious penchant for a nude lip and an inky-black swoop of liquid liner, but little in between. Leave it to make-up artist Gina Brooke, who happily took some time out of her schedule doing make-up for the likes of Madonna and Kim Kardashian (!), to give Ginsburg a make-up-swatch-covered-hand and help her proverbially shake things up a little. Much to her (initial) chagrin, it turns out that "just the thing" was swapping out Ginsburg's usual black for a teal-green cat eye.
But it was with Brooke and Shu Uemura's mantra of 'Brave Beauty' in mind that Ginsburg soldiered on—and eventually, in fact, not only came around to her electric green eyeliner, but kind of fell in love with it. But what else would you expect from the beauty brand that's collaborated with everyone from Takashi Murakami to Viktor & Rolf and Karl Lagerfeld? That, and the fact that their false eyelashes alone are not only some of the best in the business, but also range from being made entirely of everything from feathers to tulle and sequins—we were even able to convince Ginsburg to try a pair on herself. How's that for brave?
P.S. Thinking about playing with sequinned false lashes or yellow liquid liner this weekend? Okay, so maybe you don't have to go that far. Next time you go out of your beauty comfort zone, snap a selfie & share your #BraveBeauty (hashtags = a thing, guys) with @thecoveteur and @shuuemurausa––and yes, we're expecting you.
The Emerald Green Cat Eye
Step 1
Start by prepping the skin with shu uemura Stage Performer Instant Glow cream. Concentrate the product on the high points of the face such as the cheek bones and bridge of the nose to reflect light and enhance bone structure.
Step 2
Prime the eyes with a skin-toned eyeshadow, such as M light beige 813 to neutralize the lids.
Step 5
Using the same brush, apply a lighter shade of green eyeshadow onto the inner corner of the eye to create a point of light. Complete the look with Petal Lash mascara and/or a pair of fierce lashes.
Step 6
To frame the eye, fill in the brows with the Hard Formula brow pencil using short feathery strokes to mimic the appearance of natural hairs.
Balance the bold eye with a classic nude lip. Apply Kolinsky lip brush for extra precision.