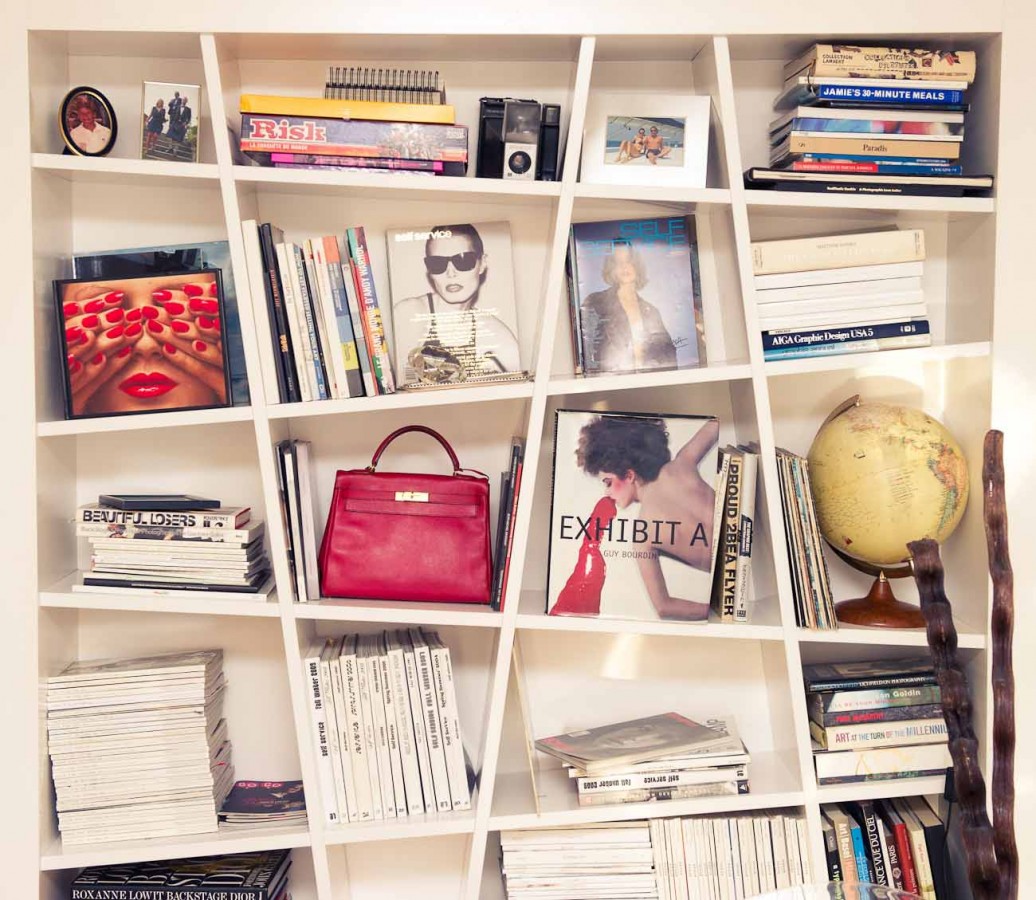 How to Judge A Person By Their Coffee Table
Because you can actually judge a book by its cover
If there's one age-old adage that we straight up can't get behind, it's "Never judge a book by its cover." Because let's be real, who's not judging books, metaphorical or otherwise, by their covers? Why else wear that Balmain blazer or a dress by The Row if we're not being judged by it? And in those cases, should The Row dress be ours, why please, please judge us!
But besides the expression that comes through in what we wear, another way to really let people know what you're really all about is through your reading material. Or, more specifically, through your coffee table tomes. Because besides pilfering through some of the industry's best closets, we've also managed to get a pretty good look at what the owners of said wardrobes keep next to their sofas. In other words, we've learned that Joanna Hillman has a thing for Mario Testino's work and Lori Goldstein's stylings, that Quentin Jones collects Basquiat books and Erica Pelosini Tim Walker's photography volumes. We've also learned that, based on what people read, what they love, we can well judge. So, seriously guys, who are you? Or better, who do you want to be? We mean, you're just a few Amazon clicks to being a total expert in one area or another.
You know every designer on Style.com alphabetically and backwards. The Bergdorfs shoe department is your church and Industrie is your bible. Here's what every fashion obsessive needs on their table: an intellectual-y, pseudo-educational, historical perspective—'cause everyone needs a textbook. And then you need the fashion editor life and times, Carine Roitfeld: Irreverent, say, or one of the many books on Diana Vreeland, which is all kind of like having a miniature panel of the best in your living room.
The Anatomy of Fashion: Why We Dress the Way We Do by Colin McDowell
O.Z. Diary: Olivier Zahm
Carine Roitfeld: Irreverent
Diana Vreeland: The Eye Has to Travel by Lisa Vreeland
Little Black Jacket by Karl Lagerfeld and Carine Roitfeld
You lived in Williamsburg long before rents were comparable to those across the bridge and you consider Benjamin great before-bed reading. Your studio apartment is filled with Nan Goldin's rarer, but most critically lauded work (her infamous photo essay of then adolescent model James King is child's play), stacked on '50s anti-establishment depictions of a not-so-Stepford country and Jusy Chicago's feminist reading of Frida Kahlo. And you're in intellectual love with Ryan McGinley.
Ryan McGinley: Whistle for the Wind
Nan Goldin: The Ballad of Sexual Dependency
The Americans by Robert Frank with an introduction by Jack Kerouac
The Hand Written Letter Project by Craig Oldham
Frida Kahlo: Face to Face by Judy Chicago
Forget Condé Nast's much lauded stable of photographers—your favorites are the legends and their lesser known works. Your biggest dream is to hang a Mapplethorpe on your wall and you consider Richard Avedon's tour of the west way more impressive than his celebrated fashion shots. Diane Arbus is your kindred spirit.
Ansel Adams: 400 Photographs
Diane Arbus: Revelations
Henri Cartier-Bresson: The Modern Century
In the American West by Richard Avedon
Mapplethorpe
Your closet is filled with Carolina Herrera and Tory Burch and you consider the New York Times wedding announcements required reading. Your status on the social register is dependent on the fact that multiple volumes of Silm Aarons greatest books are prominently on show, along with decoration advice from Valentino and portraiture by fellow blue bloods like Claiborne Swanson Frank and Lord Snowden.
A Perfectly Kept House is a Sign of a Misspent Life by Mary Randolph Carter
Valentino: At the Emperor's Table
Swans: Legends of the Jet Society by Nick Foulkes
Slim Aarons: Once Upon a Time
American Beauty by Claiborne Swanson Frank
You have an expansive catalogue of film noir and your style icons range from the Hepburns (Audrey and Katherine) to Johnny Depp. At your annual Oscar party (complete with Best Picture-inspired libations), you proudly display Wes Anderson's anthology as well as your recently purchased collection of Juilian Wasser's snapshots of Hollywood's midcentury golden age.
The Way We Were: The Photography of Julian Wasser
Edith Head: The Fifty-Year Career of Hollywood's Greatest Costume Designer by Jay Jorgensen
Vanity Fair: The Portraits
The Wes Anderson Collection by Matt Zoller Seitz
You scoff of 50 Shades of Grey and its second rate mainstreaming of fetish. Guys, this is art we're dealing with here, especially when dealt with by the genius minds that are Ellen von Unwerth, Guy Bourdain and the undisputed king of provocatively rendered kink: Helmut Newton.
Fraulein by Ellen von Unwerth
Helmut Newton: Sumo
Guy Bourdin by Alison M. Gingeras
Daido Moriyama
The Polaroid Book: Selections from the Polaroid Collections of Photography
You're all about getting inside: into the VIP box, behind the red rope, into the back room. You know everyone and everyone knows you, so it only makes sense that you're reading reflects that you're in with the cool kids, whether that's with the collegiate elite, inside Max's Kansas City or through Ron Gelella's lens.
Seven Sisters Style: The All-American Preppy Book by Rebecca C. Tuite
Max's Kansas City: Art, Glamour, Rock and Roll by Steven Kasher
Inside: The Chelsea Hotel by Julia Calfee
Ron Gelella: New York
Los Angeles: Portrait of a City by Jim Heimann
The only city you'd even consider purchasing new chairs for your dining room table is Copenhagen. You think Ai Weiwei should win the Noble Peace Prize (proven by the fact that you purchased his Taschen collector's edition for $1,500. You regularly take yourself (and anyone else you can drag along) on architecture tours of your hometown. Books chronically the triumphs of Nieymeyer and Gehry populate your coffee table beside volumes on Bauhaus and Eames.
Oscar Niemeyer by Matthieu Salvaing
Ai Weiwei by Hans Werner Holzwarth
Jean-Michel Basquiat Drawing by Fred Hoffman
Eames: Furniture 1941-1978 by Brigitte Fitoussi
Bauhaus by Magdalena Droste