Food
It starts in 7 days. Here's a full meal plan from our friends at bonberi to get you geared up.
In case you guys hadn't already noticed, we're in serious preparation mode. We compared situating ourselves for fashion month to
training for a marathon
, and with the amount of mind space it all takes up, we really weren't even joking. For real though: fashion month is a biannual run-around that, should you actually be heading to the shows or approaching the festivities in the least, will get the best of you, no matter how many coordinated outfits you've created around your
brand new Simone Rocha brogues
. In an effort to make as much as we can of the next week, our gal pals over at
bonberi
have crafted a pre-fashion madness meal plan that will boost our energy while simultaneously aiding with the whole fitting-into-discount-samples thing for the pleasure of Tommy Ton's lens. Read on, and then eat up.
---
Dear The Coveteur,
As summer comes to a close (sigh), we are savoring the last few days of bottomless glasses of rosé and plates piled high with barbecue. But with fashion week around the corner, it's time to get back on the proverbial grind. Enter: Our pre-fashion month meal plan. To help kick off a new season of seemingly endless shows, booze-fueled fetes and trans-continental flights that inevitably leave you feeling drained, bloated and jonesing for greens, we designed a weeklong meal plan specifically tailored to keep you balanced, satisfied and full of vitality. A bit heartier than our summer steez, this week we emphasize seasonal vegetables, clean protein and proper food-combining to ensure high energy while keeping you lean and mean for that Jason Wu slipdress if you so desire. Enjoy!
With Love,
Nicole & Vanessa of bonberi
General Guidelines
1. STAY HYDRATED. Yes, this means lugging an extra-giant Fiji in your Margiela tote as well as liquids loaded with minerals and electrolytes. (Read: unpasteurized watermelon juice, raw coconut water and aloe-infused water.)
2. SIT AND DINE. Eating on the go may be great for time management but not so great for the digestive system. If you're making your own meal plan, stick to fruit and vegetable-based juices and smoothies for breakfast, light salads for lunch and a properly combined dinner (i.e. separate meat and starches.)
3. KEEP SNACKS FRESH AND ALKALINE. Essential digestive enzymes throughout the day will avoid those sugar spikes and keep circulation flowing. (Think: fresh fruit, crudite and green salads—yes, salads can be snacks!)
4. A NOTE ON NUTS. They can be nutritious but only in moderation and don't forget to soak them overnight. When sprouted, they become easier to digest. (Tip: Store them in a small Ziploc for when your home base becomes the backseat of an Uber trekking between Lincoln Center and Milk Studios.)
5. TO JAVA LOVERS, don't fret, we won't steal your daily iced Americano. Just remember with every cup of joe, balance it with two glasses of water, ideally with lemon to boost alkalinity. (Same goes for wine and spirits.) Also skip the additives like milk and sugar and drink it alone, at least 30 minutes before eating and never after a meal. Kiss that Hotel Costes post-lunch espresso adieu.
6. LEARN TO LOVE YOUR NUTRIBULLET. Our on-the-go smoothie secret weapon, it's small enough to fit in your Rimowa roller and won't bust a socket when schlepping through London, Milan and Paris—just pack the right converter.
7. PACKING ESSENTIALS. We never leave home without these healthy defence supplements and you shouldn't either: Dr. Ohira Probiotics, SunChlorella, Mag07 Magnesium Capsules and Ginger Yogi Tea.
MONDAY
Morning
GREEN BLAST SMOOTHIE
BLEND
1 handful of fresh romaine,
1 handful of fresh spinach,
1 cup of fresh organic blueberries,
½ teaspoon of maca powder*, and
½ ripe frozen banana with water in (Nutribullet or Vitamix.)
Lunch
CUCUMBER AND DILL SALAD
1 English cucumber - peeled, seeded and chopped
1 handful of chopped dill
3 tablespoons diced white onion
Olive Oil
Sea Salt
Red Pepper Flakes
In a bowl combine chopped cucumber and diced white onion. Add in dill, drizzle with olive oil, sprinkle sea salt and red pepper.
BONBERI PERFECT AVOCADO TOAST
1 ripe avocado
1 clove garlic, smashed and chopped
1 lemon
Sea salt and freshly ground pepper to taste
Optional: Pinch of red chili flakes
2 slices of millet or sprouted Ezekial toast
In a bowl, combine avocado, garlic, juice of lemon, salt and pepper. Mash with fork until well combined. Spread on toasted millet bread, garnish with red chili flakes.
Dinner
SIMPLE CLASSIC SALAD
Arugula

Grated Carrots

Sliced Cherry Tomatos

Sliced Radicchio

Stalk of Celery

Olive Oil

Handful of Chopped Basil

White Balsamic Vinegar

Fresh Black Pepper

Sea Salt

1 clove of garlic

Crush clove of fresh garlic and finely mince. Smear in and around the inside of a medium sized bowl before making salad.
Toss in grated carrots, arugula , sliced cherry tomatoes, sliced radicchio, chopped stalk of celery, and chopped basil.
Drizzle extra virgin olive oil, drizzle in white balsamic vinegar.
Add in fresh pepper, a sprinkle of sea salt and mix
JUST BROCCOLI AND QUINOA
Steam a head of broccoli, serve 2 cups of cooked quinoa and season with gluten-free Tamari sauce.
Evening
TEA
Cup of hot lemon water or ginger tea.
*Superfood supplement Maca provides the ultimate clean energy boost and improves moods without the dreaded caffeine dip.
TUESDAY
Morning
SUNSHINE IN A BOTTLE
1 packet of SunChlorella granules* [Can substitute handful of fresh kale if available]
2-4 drops of liquid Vitamin D3
1 frozen ripe banana
1 scoop of SunWarrior protein
2 cups coconut water or filtered water
Lunch
KELP NOODLE SALAD
3 Romaine Hearts, sliced thin
½ red cabbage head, sliced thin
3 large carrots, sliced thin with mandolin or serrated vegetable peeler
1 avocado, cut into small cubes
1 red pepper, sliced thin
1 package of sea kelp noodles, drained
½ red onion, sliced thin.

MISO VINAIGRETTE
2 tablespoons of white miso
1 tablespoon of toasted sesame oil
1 tablespoon of gluten-free tamari sauce
2 tablespoons of rice vinegar
2 tablespoons of water
Juice of 1 lime
Optional: 1 tsp of raw honey or 3-4 drops of liquid stevia

OPTIONAL GARNISH
2 tablespoons sesame seeds
Chopped Cilantro

Combine dressing ingredients in food processor or blender, blend until emulsified. Toss salad ingredients with dressing. Add Garnish.
Dinner
HEAD OF BOSTON LETTUCE WITH CARROT GINGER DRESSING
CARROT GINGER DRESSING
In Nutribullet, blend:
2 chopped large carrots
1 tablespoon of chopped shallot
½ inch ginger knob, minced
½ cup water
½ teaspoon cold-pressed sesame oil
1 tablespoon gluten-free Tamari sauce

POACHED SALMON OVER SHITAKE MUSHROOMS
Serves 2
2 1/2 pound filets of wild king salmon, seasoned with salt and pepper
1 cup of shitake mushrooms, rinsed and sliced
1 large tomato sliced in large, thin pieces
1/2 red onion, sliced thin
2 cloves of garlic, smashed
1 inch-long knob of ginger, minced
2 cups of fresh spinach
1 teaspoon of sesame oil
Heat a medium-sized cast-iron pan (about 2 inches deep) on high. When pan is hot, add a drop of sesame oil and add garlic and ginger so it starts sizzling. When an aroma releases, lower heat and add onion, then layer shitake mushrooms on top. Add a little water so the vegetables begins to steam. Let cook for about 2 minutes. Then layer over tomato, followed by the spinach and finally the 2 salmon filets. Drizzle remaining sesame oil and cover tightly with a lid. Keep heat on low. Cook for about 10-15 minutes or until salmon is medium-well.
To serve, use a large flat spatula and serve each filet over a bed of the steamed vegetables. Serve immediately.
Evening
TEA
Cup of hot lemon water or dandelion tea
OPTIONAL DESSERT
2-3 squares of 70% organic dark chocolate or higher
*When you can't get your greens, these little green algae packets are the ultimate superfood. Perfect for when the line at Joe's Juice Bar in the Marais is out the door.
WEDNESDAY
Morning
GREEN BLAST SMOOTHIE
See Above
Lunch
CLASSIC FRENCH BISTRO SALAD AND BONBERI PERFECT AVOCADO TOAST
2 heads of Bibb lettuce
5 radishes
1 handful of chives
1 cucumber, peeled and de-seeded

FOR THE DRESSING
1 Tablespoon Dijon Mustard
1 lemon
Apple Cider Vinegar or Red Wine Vinegar
Olive Oil
1/2 of a Shallot
Salt
Pepper

In a small mixing bowl add minced shallot, dijon mustard, the juice of 1 lemon, a tablespoon of apple cider vinegar and about 2 tablespoons of olive oil. Whisk together till amalgamated. Taste for acidity, depending on how you like it add more olive oil or more acid (lemon or vinegar). Add in salt and pepper to taste. Allow mixture to sit while you put together the salad, about 10-15 minutes, so the shallots can infuse the dressing.
Clean all the vegetables. In a large salad bowl add Bibb lettuce, chopped into bite-sized leaves, diced cucumber, very thin slices of radish, and minced chives.
Stir up the dressing again before pouring over the salad. Toss together. Enjoy!
Dinner
SIMPLE CLASSIC SALAD
Arugula
Grated carrots
Sliced Cherry Tomatos
Sliced Radicchio
Stalk of Celery
Olive Oil
Handful of Chopped Basil
White Balsamic Vinegar
Fresh Black Pepper
Sea Salt
1 Clove of Garlic

Crush clove of fresh garlic and finely mince. Smear in and around the inside of a medium sized bowl before making salad.
Toss in grated carrots, arugula , sliced cherry tomatoes, sliced radicchio, chopped stalk of celery, and chopped basil.
Drizzle extra virgin olive oil, drizzle in white balsamic vinegar.
Add in fresh pepper, a sprinkle of sea salt and mix
DUDLEYS BRUSSELS AND QUINOA
DRESSING
50ml soy sauce
25ml cider vinegar
25ml maple syrup
50ml lime juice
100 ml grapeseed oil
Black pepper
Fine salt

PICKED HERBS
1 sprig Mint
1 sprig Tarragon
1 sprig Dill

BOX OF QUINOA
2 Pints of Brussel Sprouts
Make one Cup of Quinoa according to package directions.
Cut Brussel Sprouts in half and peel off outer layer. toss in olive oil and 1t salt
Roast on a sheet tray in a 375 degree oven until golden brown
While this is cooking make the dressing and pick a small amount of herbs
When the quinoa is finished and the sprouts done roasting mix them together, add two tablespoons of dressing and the herbs in a mixing bowl and season with salt.
Pour into a serving bowl and enjoy.
Evening
TEA
Cup of hot lemon water or dandelion tea
CHIA SEED PUDDING RECIPE
1/3 cup chia seeds
1 1/2 cups homemade almond milk
2 tablespoons maple syrup
cinnamon
nutmeg
4 chopped walnuts

Combine chia seeds, almond milk, and maple syrup in a pint jar, cover with lid and vigorously shake.
Chill contents overnight until it becomes a pudding-like consistency.
Sprinkle with nutmeg, cinnamon and chopped walnuts. Enjoy!
THURSDAY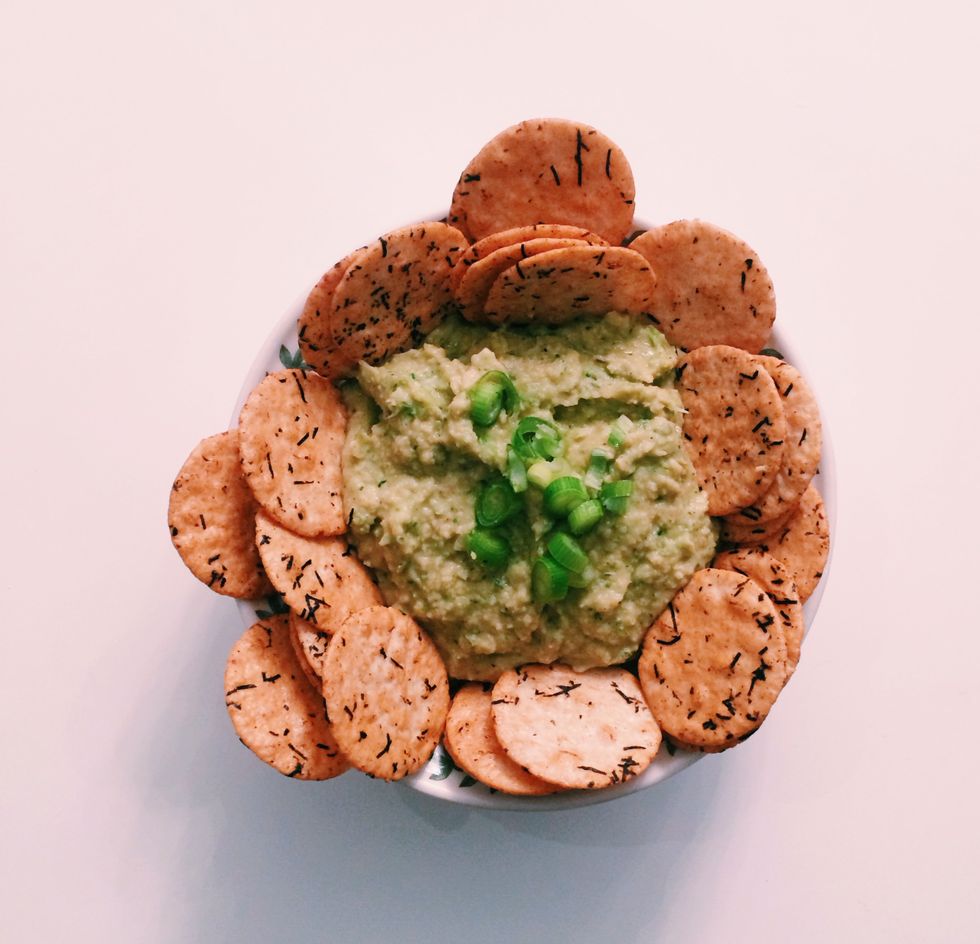 Morning
PUMPKIN PIE PROTEIN SHAKE
Add 1 scoop of Sun Warrior protein and 1 cup of coconut water to recipe
From detox 4 Women
32 ounces of fresh carrot juice

1 cup of raw sweet potato
Peeled and cubed (Jewel yams work best)

1-2 packets of stevia or drops of liquid stevia to taste

1/2 avocado
Pitted
1/2 teaspoon of pumpkin pie spice

Place all of the ingredients in a high-speed blender and blend until smooth. Enjoy right away or store in airtight container and enjoy within 36 hours.
Lunch
MIXED GREEN SALAD DRESSED WITH LEMON AND SEA SALT
CARROT-TOP HUMMUS WITH CRUDITE AND BROWN RISE CRACKERS (WE LIKE KAME)
1 can 15 oz organic garbanzo beans (chickpeas)*
3 cloves garlic, smashed, marinate in 2 tablespoons of white wine vinegar and refrigerate for at least an hour, or use pickled garlic from The Pickle Guys
2 tablespoons hemp seed oil
2 tablespoons water
½ tablespoon almond oil
¼ cup tahini
¼ cup carrot top leaves
¼ teaspoon ground cumin
¼ teaspoon ground mustard seeds
¼ teaspoon ground paprika
½- ¾ teaspoon Murray River or Himalayan pink salt
Zest from 1 ½ lemons

Blend tahini, lemon zest and smashed garlic in food processor or blender for about 1 minute or so. Scrap sides of bowl - add carrot top leaves, hempseed and almond oils, ground cumin, mustard seeds and paprika and blend for 30 seconds to a minute. Scrap sides of bowl and add chickpeas, water, salt, and blend for about 1 minute or so until desired consistency.
Add a touch of any ingredients to taste.
*For the intrepid, try raw sprouted chickpeas; soak I cup dried chickpeas in 3 cups water for 2 days, changing the water every 12 hours until they sprout, rinse thoroughly before use. Sprouted chickpeas have a more intense flavor and are packed with nutrients.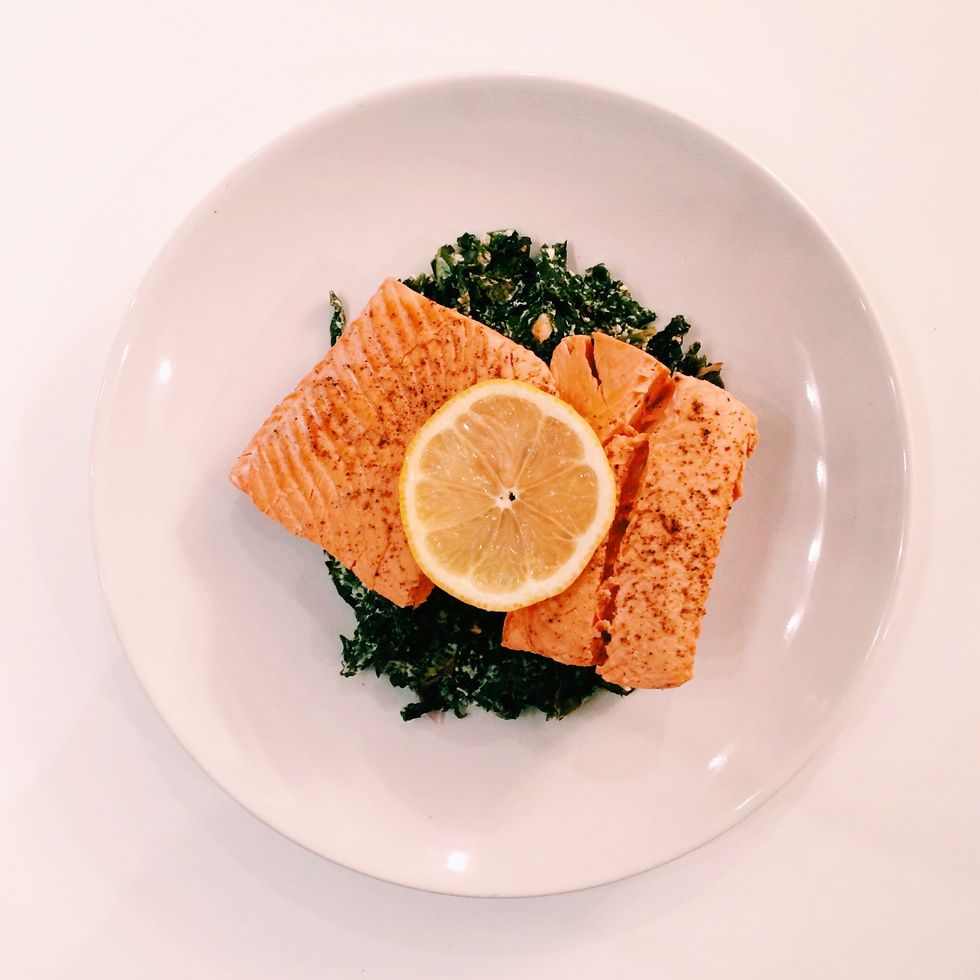 Dinner
CHOPPED SPINACH SALAD
1 bunch of organic spinach
1 yellow bell pepper
3 scallions
1 handful of chopped cilantro
1 organic cucumber
1 handful of basil
1 lemon
1 clove of garlic
Extra virgin olive oil
Salt
Pepper

Wash all vegetables. Mince clove of garlic very finely and line the salad bowl by rubbing the pieces in and around the inside of the bowl. Finely slice scallions and chop cilantro add to bowl. De-seed bell pepper and chop, add to bowl. Peel and de-seed cucumber, add to bowl. Roughly chop spinach and basil, add to bowl. Squeeze juice of lemon, drizzle olive oil and add salt and pepper to taste. Toss and enjoy!
OVEN-ROASTED WHOLE RED SNAPPER WITH STEAMED SWISS CHARD
Serves 4
2-3 pound red snapper, cleaned (You can ask the fish monger to do this for you)
1 bunch of dill, chopped
1 bunch of fresh oregano, chopped
4 garlic cloves, smashed
1 lemon, sliced thin
1 lemon, quartered
Sea salt/fresh cracked black pepper
Olive oil

Heat grill. (If you don't have a grill, pre-heat oven to 375 degrees and roast for 20-25 minutes or until fish is opaque and flaky.)
While oven/grill is heating, stuff snapper with half of the herb, garlic, and lemon slices. Score the fish with a sharp knife diagonally (similar to picture above). Add the mixture of the herb, garlic and lemon slices into the crevices. Do the same on the other side. Drizzle the entire fish (both sides) with olive oil. Generously season both sides with salt and pepper.
If using grill, place fish directly onto grill and wait 5 minutes (do not touch the fish or it will stick.) After five minutes, using an oiled spatula, flip fish and cook for another five minutes. Continue to do the same, cooking for five minutes and flipping until flesh is opaque and flaky, about 20 minutes total.
Serve on a large platter with lemon wedges and garnish fresh dill. Enjoy!
Evening

TEA

Cup of hot lemon water or ginger tea




OPTIONAL DESSERT

2-3 squares of 70% organic dark chocolate or higher
FRIDAY
Morning
SHAMROCK PROTEIN SHAKE
Add 1 scoop of SunWarrior protein to recipe
2 frozen ripe bananas
1 cup almond milk
1 teaspoon mint extract
1 handful of kale or raw spinach
1 tablespoon of almond butter
Optional: Cacao nibs to garnish

Blend and enjoy!
Lunch
AVOCADO SUMMER ROLLS WITH NUOC CHAM SUACE
Swap sliced steamed kabocha squash for carrots in recipe
Makes 6-8 servings
2 avocados, sliced
½ lime
1 seedless cucumber, julienned
2 large carrots, peeled and thinly sliced
1 bunch cilantro, trimmed of bottom third coarse stems
1 cup loosely packed mint leaves
1 cup loosely packed basil leaves
Twelve 16cm rice paper spring roll skins
Nuoc Cham Sauce (recipe follows)

Heat several cups of water in a kettle until just shy of boiling. Pour the water into a baking dish so it comes up the sides about 1/4 inch. Keep the remaining kettle water handy.
Two at a time, dip the spring roll skins into the warm water to coat on both sides, shaking off any excess. Immediately remove to a large cutting board or clean work surface. Wait about 30 seconds for the skins to soften. Then arrange 2 avocado slices, 2 cucumber spears, and 2 carrot spears in the middle of the spring roll paper, parallel to the edge of your cutting board. On top, place a few sprigs of cilantro and a small handful of basil and mint leaves. Fold in the sides of the wrapper lengthwise - you should have about an inch on either end to play with. Then fold over the flap closest to you. Pull that flap tight around the vegetable pile so it seals with the paper on the other side. Then roll the whole thing up. You should have a tight package.
Cut each roll in half and serve alongside peanut or nuoc cham sauce.
Dinner
WARM SESAME QUINOA SALAD WITH AVOCADO
1 box of white quinoa
3 large carrots, peeled and chopped
1 zucchini, chopped
1 bunch of cilantro, chopped
2 tablespoons of sesame seeds
1 cup of red cabbage, chopped
1 cup of fresh arugula
1 clove garlic
1 teaspoon coconut oil or grapeseed oil

DRESSING
1/4 cup of tamari soy sauce
1/2 teaspoon of sesame oil
Juice and zest of 1 lime
1/4 cup of rice vinegar

In large pot of boiling water, prepare quinoa as directed on box. While quinoa is cooking, in a large pan, heat 1 teaspoon of grapeseed oil or coconut oil. Add garlic. When garlic is fragrant but not brown, add chopped carrots and zucchini. Saute on low heat for about 10 minutes. Remove from heat and set aside.
In large bowl, add cooked quinoa and cooked vegetables. Mix well and add half the dressing. In a large separate serving platter, layer raw arugula and red cabbage. Add quinoa mixture on top and pour remaining dressing over salad. Sprinkle with sesame seeds and fresh cilantro. Serve warm.
Evening
TEA
Cup of hot lemon water or dandelion tea
OPTIONAL DESSERT
Chia Seed Pudding
SATURDAY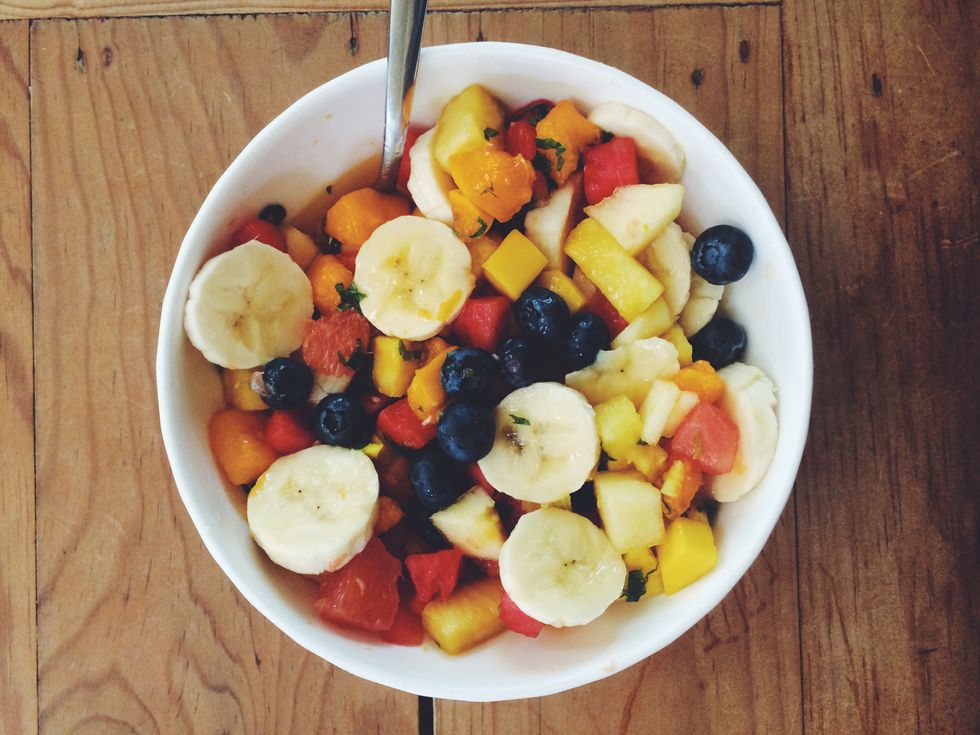 Morning
AUTUMNAL FRUIT SALAD
1 Fuji apple, chopped
1 Bosc pear, chopped
½ cup of pomegranate seeds
1 persimmon, chopped
2 figs, chopped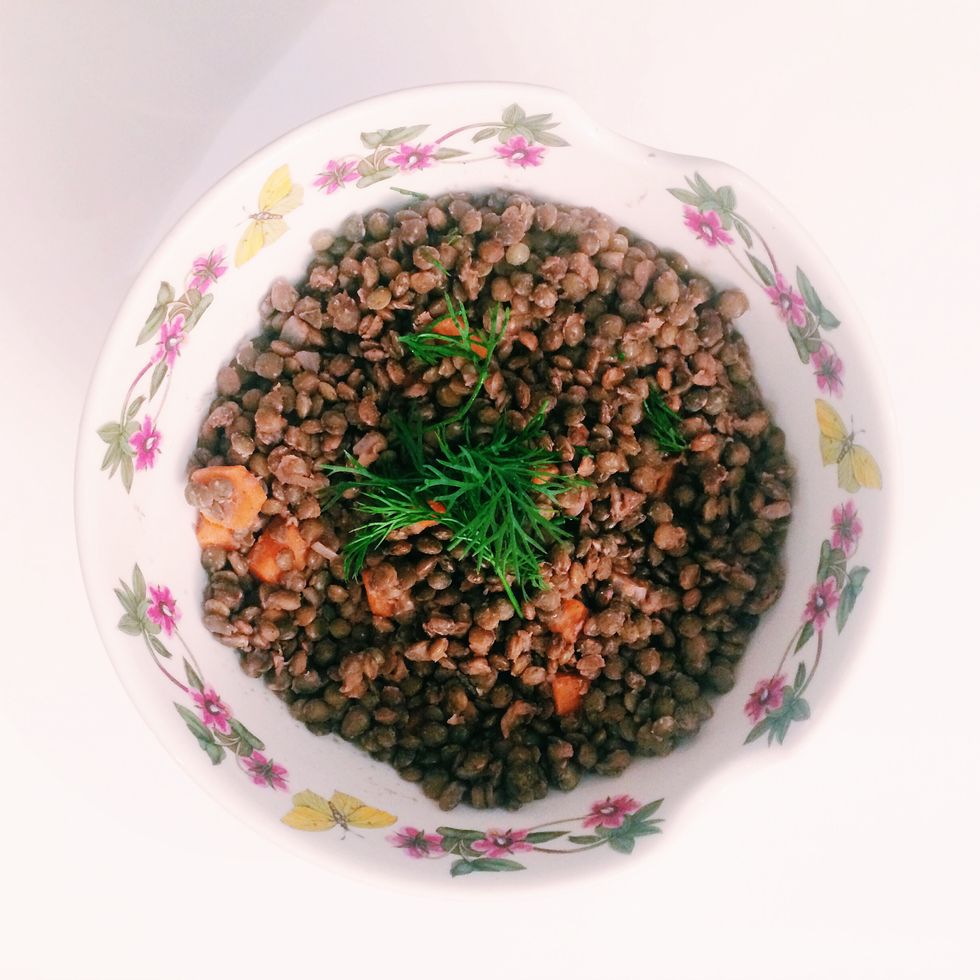 Lunch
SIMPLE ARUGULA SALAD
2 cups of arugula
½ cup of cannellini beans
Lemon and sea salt

CLASSIC FRENCH LENTILS
Adapted from Around My French Table by Dorie Greenspan
1 cup lentils du Puy
1 clove
1 small onion, peeled
1 medium carrot, trimmed, peeled, and chopped
1 celery stalk, trimmed, peeled, and chopped
1 garlic clove, smashed, peeling, and germ removed
1 bay leaf
3 1/2 cups vegetable broth
1 shallot, finely chopped, rinsed, and patted dry
Freshly ground black pepper
Extra Virgin Olive Oil

Optional: 1 cup dry white wine
Clean lentils in a strainer under cold running water. Put lentils in a medium saucepan, cover with cold water and bring to a boil. Cook for 2 minutes then pour lentils out through a strainer. Drain, rinse lentils again and rinse out saucepan.
Add clove, chopped onion, carrot, celery, garlic and bay leaf to the pan. Pour in vegetable broth, stir in lentils, and bring to a boil. Lower the heat to a steady simmer and cook for 30 minutes until lentils are tender. Season with salt and pepper and add in dry white wine if you are using it. Stir together.
Drain the lentils, reserving the cooking liquid if you want to reheat them. Keep in vegetables, add shallots and drizzle with olive oil. Combine well and serve. Can be stored and served cold as well. Enjoy!
Dinner
SALMON NICOISE SALAD
Serves 2-4
2 filets of wild salmon
Handful of chives, chopped
2 tablespoons of Veganaise
1 tablespoon of Dijon mustard
Juice of one lemon
Sea salt and pepper
1/2 cup of chopped celery
4 free-range, organic eggs
4 beets
Handful of haricots verts
1 ear of raw corn, with kernels shaved off husk
1/2 red onion, sliced thinly
1 handful of cherry tomatoes, halved
1 handful of radishes, sliced thinly
Mix of lettuce (Boston, Red Leaf, Frisee)
Dressing: Fire Cider Vinaigrette

FOR SALMON: Pre-heat oven to broil. Place two filets on foil or baking sheet and drizzle with olive oil and sea salt. When oven is hot, place filets on middle baking rack. Cook for 10-12 minutes or until salmon is opaque in the middle. Remove from oven and set aside. When cool, remove skin and place in mixing bowl. Add celery, dijon, chives, Veganaise, and lemon juice. Season with salt and pepper. Mix well, set aside.
FOR BEETS: Pre-heat oven to 400. Place whole beets on foil or baking sheet. Roast for 1 hour to ninety minutes or until soft. Remove from oven and let cool. When cool, peel skins and chop.
FOR EGGS: In small saucepan, boil 4 eggs for 10 minutes. Cool, set aside. When cool, remove shell and cut in quarters.
FOR HARICOTS VERTS: Snip ends and boil in small saucepan until tender but crisp, about 6-8 minutes.
FOR SALAD: In a large bowl, place washed lettuce torn into bite sized pieces. Around the perimeter of the bowl, arrange beets, eggs, haricots verts, corn, radishes, red onion and cherry tomatoes. In the middle, place a mound of salmon salad. Serve with dressing on the side.
Evening
TEA
Cup of hot lemon water or dandelion tea
OPTIONAL DESSERT
2-3 squares of 70% organic dark chocolate or higher
SUNDAY
Morning
SUNSHINE IN A BOTTLE SHAKE
See Above
Lunch
CUCUMBER AND DILL SALAD
1 Bunch Kale
1 Cucumber (Peeled and Seeded)
2 Stalks Celery
3 Scallions
2 Tablespoons Raw Tahini
1 Lemon
1 Tablespoon Chopped Dill
Sea Salt
Fresh Black Pepper
Red Pepper Flakes
Optional: A Touch of Toasted Sesame Oil for an earthier taste.

Remove kale from stem. In a bowl, add chopped kale, sliced cucumber, celery cut into small pieces, and finely chopped scallions. In a smaller bowl, or food processor, combine tahini, dill, juice and zest of lemon, sprinkle of sea salt, black pepper to taste, and a sprinkle of red pepper flakes, and if you are using sesame oil add it here. Stir together until well combined. Pour over salad and massage gently until everything is evenly coated. Let stand for 5-10 minutes before serving so the kale softens. Enjoy.
SWEET POTATO HARISSA SANDWICH
3 organic sweet potatoes
coconut oil
salt pepper
4 slices of Ezekiel bread
1 yellow onion
Harissa Sauce (adapted from Sprouted Kitchen):
2 cups parsley – de-stemmed
2 cups mint – de-stemmed
2 cups cilantro – de-stemmed
juice of 1 lemon
4 small jalapeno peppers – seeds removed and chopped
3 garlic cloves
salt and pepper
olive oil

Preheat oven to 350 degrees.
Peel skin off sweet potatoes.
Set aside.
Slice two sweet potatoes into one inch rounds. Toss them lightly in coconut oil and salt and pepper. Cover a baking sheet with a light layer of coconut oil. Lay the sweet potatoes on the baking sheet with enough space between them.
Place the baking tray and the foil wrapped sweet potato in the oven. Turn the slices of potato over after 30 min and let cook for approx. 1 hr total until brown and slightly crisp on the tops and bottoms. Remove and set aside.
While potatoes are cooking, slice the onion into rings and lightly grease a frying pan with olive oil. Cook onion until caramelized – golden brown and soft, approximately 15 minutes.
Toast slices of Ezekiel Bread. Assemble the sandwich by applying a thick layer of harissa sauce to once slice of bread, then add in rounds of sweet potato- approx. 4 per sandwich – top with onions and the other slice of bread. Cut sandwich on a diagonal and enjoy!
HARRISSA SAUCE: Add the parsley, mint, cilantro, garlic, jalapenos and lemon juice to a food processor. Add in about ¼ cup of olive oil and begin to blend. Continue to blend adding olive oil in as needed. Consistency should be that of a relish. Season with salt and pepper as needed. *for even more heat in your sauce, add in another jalapeno. Stores in fridge in air tight container for approx. 2 weeks.
FOR BABY JACK: Wrap one of the sweet potatoes in about a 10x10 square of tin foil. Repeat this step. Let it cook for approx. 1 hour or until it is soft when you press in. Carefully open the tin foil and let the potato cool slightly. Place the potato on a plate and with a fork mash the entire potato flat. Continue to let cool. Once cool, store the smashed potato either in small air tight containers in the fridge or you can fill an ice cube tray with the potato, cover with foil and freeze for future use.
Dinner
HEAD OF BOSTON LETTUCE WITH CARROT GINGER DRESSING
Add ½ avocado if desired
MULLIGATWANY SOUP
2 Russet Potatoes, cubed
1 zucchini, cubed
1 head of cauliflower, chopped
2 carrots, peeled, cubed
1 red bell pepper, chopped
Handful of Spinach
1 Yellow Onion
2 cloves of garlic
2 inches of ginger
Crushed red pepper flakes
1 tablespoon of curry powder
Olive Oil or organic butter
5 cups of vegetable stock
1 can of whole coconut milk
Chopped Scallions for Garnish
Sea salt

In large soup pot filled with water, boil potatoes. Drain when soft and set aside. In medium soup pot or dutch oven, add olive oil or pat of butter. Add diced onion and garlic to pot. When garlic and onion are tender, lower heat. Add vegetables, curry powder and stock to the pot. Bring to boil, then lower heat for simmer. Simmer until vegetables are tender, about 20 minutes. Add cubed potato, sea salt to taste and red pepper flakes, cover pot with lid and continue to simmer for 10 minutes. Turn off heat and add coconut milk. Stir until well mixed and creamy. Serve hot with scallion as garnish.
Evening
TEA
Cup of hot lemon water or dandelion tea
OPTIONAL DESSERT
Chia Seed Pudding