Off the Menu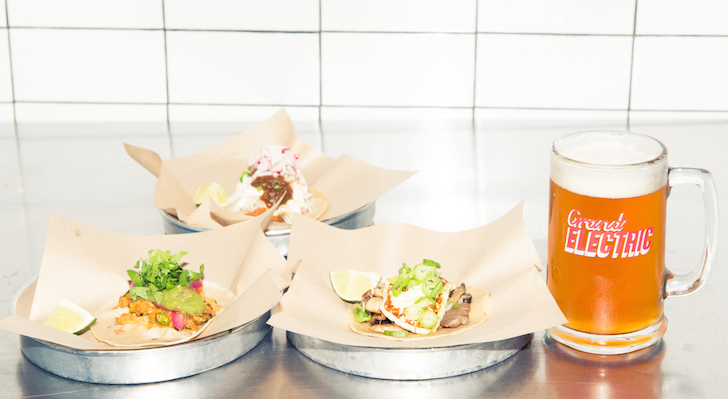 3 Labor Day Taco Recipes
The boys behind our favorite two-hour-wait-worthy taco joint share 3 of their secret recipes.
Allow us to set the scene for a second: you enter a dark, slightly dingy space, which, save for the blaring Wu-Tang and Bone Thugs (as in, yell across the table blaring), is housed in a blink-and-you'll-miss-it storefront. You're seated, peruse the chalkboard menu likely located at an incredibly inconvenient angle from where you're sitting, and place your order, only to be greeted a few minutes later by a killer cocktail (we recommend the bourbonade or the margarita) and guacamole and tortilla chips so good you begin doubting your commitment to Kim Kardashian's Fit in Your Jeans by Friday (don't ask, just click). If this sounds familiar, we're willing to bet you've paid a visit to Grand Electric.
The Toronto taco joint is renowned for two things: the seriously delicious food and, well, the inevitable two-hours-and-then-some wait times that come with a visit (pro tip: come early, leave your number, and go grab a drink down the street). Oh, and for reliably blasting '90s hip-hop at all hours of the afternoon and evening.
With Labor Day weekend approaching terrifyingly fast, we figured we'd hit up the boys behind GE—Chef Colin Tooke and manager Ian McGrenaghan—to break down three different takes on their signature tacos: Cochinita Pibil, Baja Fish and, as a veggie option, Fried Queso and Smoked Mushroom. (What with their new location in Muskoka—a.k.a. prime Canadian cottage country—they've become pros at easy weekend dining.) Oh, and while we're not chefs or anything, we'd like to advise that given the dog-days-of-summer timing, these recipes are best served with tequila—and lots of it.
Taco #1: Cochinita Pibil
"Cochinita Pibil is a Mayan dish originating from the Yucatan. It is traditionally done by burying a suckling pig 'cochinita' in a pit 'pibil' with a fire built at the bottom to roast it. The whole pig is then covered with banana leaves and left to slowly cook.
Before cooking, the pork is marinated in a combination of bitter orange juice and achiote paste (a bright red paste made of ground annatto seed and other spices). Because we don't have the luxury of having a massive pit at our restaurant, we like to do our cochinita wrapped in banana leaves in a low oven (225) over night.
The pork is then picked down, skin and all, and garnished with pickled red onion, cilantro and salsa verde. Serve with a big-ass stack of warm corn tortillas."
Ingredients
1 suckling pig (or a bone in, skin on pork shoulder can be substituted)
1 cup of achiote paste (or 1 package of the premade stuff)
4-6 large banana leaves
1 cup bitter orange juice (traditionally done with Seville oranges. If unavailable, use a mix of two parts lime juice, one part orange juice, one part grapefruit juice)
STEPS
Rub suckling pig with achiote paste and bitter orange juice and let marinate for six hours, or ideally overnight. Preheat oven to 225 F, wrap suckling with banana leaves––try to make sure the entire pig is covered. Place in a large roasting tray, and roast until meat becomes tender, while still remaining juicy. It should take anywhere from 3-6 hours depending on the size of your pig. If you wanna be precious, take your pig to 185 F. Let pig rest in the banana leaves before picking it down.
Pickled Onions
2 red onions
3 habanero chiles
2 cups bitter orange juice
salt to taste
Slice onions and habanero, cover with juice and salt and let marinate for a number of hours before serving.
SALSA VERDE
10 husked tomatillos
1 white onion
4 jalapenos (seeds included)
4 tablespoons chopped cilantro
1/4 cup lime juice
salt to taste
Quickly grill tomatillos in boiling water until they soften slightly and turn a brownish green colour. Cool immediately, then blend with remaining ingredients.
TO SERVE
Heat white corn tortillas on griddle or cast iron, until warm and just slightly crispy using the fat of your choice (olive oil, shmaltz, grapeseed oil, etc.). Keep wrapped in a dry towel.
Tray up the meat and let your guests garnish the tacos themselves with the pickled onions, salsa verde, chopped cilantro and limes.
Taco #2: Fried Queso & Smoked Mushroom
"This is a super simple, super quick taco. At the restaurant, we use a variety of different mushrooms including chantrelles, trumpets, lobsters, oyster, king oyster... however, this dish can be done with any mix of mushrooms that you can get your hands on. For this recipe, we will be using king oysters, chantrelles and shitakes. For smoking the mushrooms, we like to use a Japanese cold smoking wood block––these can be found at a Japanese specialty food store. If you can't find them, simply get on the old Googletron and look up smoking mushroom. You're bound to have a good time! The smoking of the mushrooms can also be omitted… you'll just lack that certain smokiness."
SMOKED MUSHROOMS
INGREDIENTS
2 lb. mixed mushrooms (equal parts King Oyster mushroom, chanterelle and shiitake)
1 tablespoons chopped epazote (or parsley, if unable to find)
3 tablespoons butter
2 cloves chopped garlic
Salt to taste
STEPS
Cold smoke mushroom for 20 minutes by placing them in an unlit BBQ. Light a small chunk of smoke block on fire. Once it begins to start smoking, blow it out and put it on the opposite side of the BBQ as the mushroom. Close the lid and forget about it. Once smoked, sauté mushrooms and garlic until slightly crispy. Add epazote for the last few minutes of cooking. Season and keep warm.
FRIED QUESO FRESCO
INGREDIENTS
1 small brick Queso Fresco
STEPS
You'll want to make sure your mushrooms and tortilla are ready to go before you fry your cheese, because you'll want to eat the queso soon after it comes of the griddle pan.
Slice your queso in roughly 1/4 inch slices and sear on a hot griddle. Crisp up one side of the queso, and carefully flip it over. Both sides should be golden brown and the centre will be super stringy.
TO SERVE
Place a nice scoop of mushroom mix on a tortilla and top with a fried piece of Queso.
Taco #3: Baja Fish Taco
"The only way to eat fish tacos is deep fried. Some people grill or pan sear their fish, [but] it just isn't the same. Any firm, meaty fish will work for this: cod, tilapia, halibut, haddock all will work perfectly. If you've never deep-fried food, it's super simple but can be very dangerous if you don't watch your shit. The easiest, least stinky way to do this at home is heating up your oil on the side burner of your BBQ (deep frying in a home kitchen without a commercial hood will leave your house stinkin' of oil for days!)"
INGREDIENTS
FISH & BATTER
2 loins of firm fish
3 cups A/P flour
350 millilitres beer
Salt to season
CHILE SALSA
Dried chipotle chiles
Salsa verde
Make a paste from your chipotle chiles by toasting them slightly, then rehydrating them in hot water and blending until smooth. Then, add paste to salsa verde to get the spice level to where you want it––double check for seasoning.
STEPS
Simply heat vegetable oil to 350 F. If you don't have a thermometer just sprinkle a spoonful of batter into your oil. It should start to sizzle right away, but should not be smoking hot!
Cut the fish into 3" strips.
Whisk all 3 ingredients together until you get a smooth, but not too thin of a batter. Add more beer if too thick or more flour if to thin. Simply dip the fish in the batter and carefully add it to the hot oil, fry until golden brown. Remove from oil, and season before serving.
TO SERVE
Heat your shells and serve with cabbage, chipotle salsa, mayonnaise and limes.