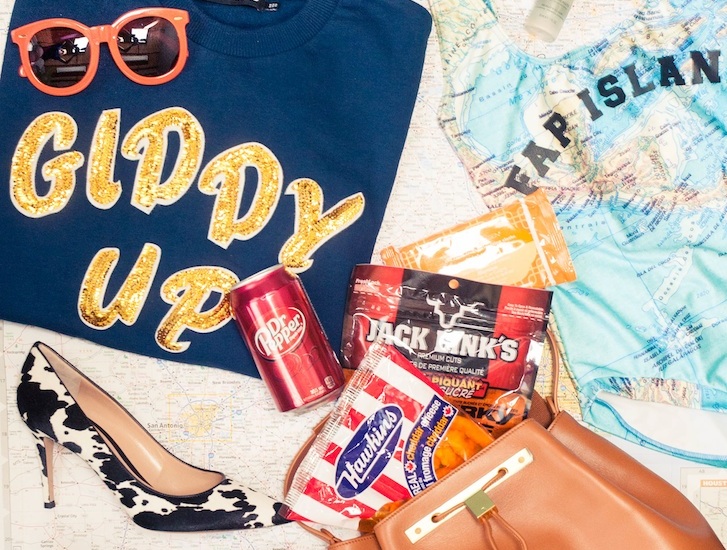 Road Trippin' Cov-Style
Our three favorite road trip routes to help make the summer last just a little bit longer.
Let us set the scene. Your hair's blowing in the wind as you're perched in the passenger seat of a killer convertible with an expertly-curated playlist blasting from the speakers, hundreds of miles of surf, sand, desert or mountains stretching alongside you. Oh, and a local delicacy (lobster rolls! Roadside tacos! BBQ!) sitting pretty in your lap. There's nothing like the open road, right?
With t-minus one month, give or take a week or two, left of summer (the sooner we accept it, the less it will hurt. Like a Band-Aid!), we thought it was high-time we got to thinking about a quickie getaway of our own. And when all that's required is a GPS, an hour or two of Internet research and a seriously detailed road map, there's not a whole lot that could come between you and seeing 'Merica at it's very finest. Consider a package of face wipes, a little facial mist, dry shampoo and your BB or CC cream of choice—bonus points if you manage to swipe on some mascara—too. And, yes, maybe a $4,000 leather backpack by The Row or some pointy-toed Tabitha Simmons flats if you're feeling special. Oh, and preferably a partner to do the legwork (by which we mean the actual driving part of said road trip) for you.
If it wasn't entirely obvious by now, yes, this next month is very much the time to splash out on those sick days that you've banked. So pack your bags, cue up Songza and get Google Mapping. We totally won't tell.
Must-see Spots
Cape Cod Outer Beach
Okay, so this is probably one that's hard to miss (and very possibly the entire reason for this whole road trip out to the Cape). We mean, nothing really beats a day at the beach, and you'll be hard pressed to find a beach better than Cape Cod's main drag, which is a full forty miles of sand on the Atlantic, dotted with perfectly picturesque New England staples like lighthouses and clam shacks.
Hyannis Port
Do as the Kennedys do (or as Lana Del Rey and A$AP Rocky, a.k.a. America's First Family 2.0, do) and explore Hyannis. Whoever said there's anything wrong with a little healthy curiosity about the grand summer homes of our most notorious dynastic family? Be sure to pay your respects to the beauty that was JFK Jr. and CBK, after which you should take yourself to the nearby Naked Oyster and drown your sorrows in oh-so-fresh bivalves.
Plymouth
Get all junior high history and drive through Plymouth—where the Pilgrims supposedly first arrived in the 1600s, remember? If you're so inspired, check out Plymoth Plantation, a permanent outdoor exhibit where you can immerse yourself in 17th Century life, only with Instagram.
Hyannis Whale Watcher Cruise
If anything will make you believe in the power of nature, it's a trip out to watch the Humpback Whales (and dolphins if you're lucky) in the Cape's National Marine Sanctuary.
Cockle Cove Beach
Get sporty and go windsurfing or kayaking off this pretty beach. And if you're into extending your trip by a day or two, head across the sound to Nantucket—more on that another time, swearsies.
Packing List
Rest Stop
Salt House Inn, Provincetown
While the idea of a B&B might conjure thoughts of shared bathrooms, piles of pillows embroidered with cheesy quotes and "family style" breakfasts, the Salt House Inn is no such thing. Think classic New England (a cedar shingled exterior—the building housed salt minors in the 1800s) meets Brooklyn hipster (kitschy-in-an-ironic-way gallery walls, with lox and fried egg sandwiches for breakfast).
The Playlist
Must-see Spots
Glass Beach
Should you find yourself kicking it in Mendocino (and if you do this trip right, trust us when we say you should), take it upon yourself to drop by Glass Beach in Fort Bragg, which is covered in a mosaic of millions of smoothed shards of sea glass. Not only is it a testament to going green (it's the result of Fort Bragg residents tossing their garbage on the beach back in the day, and has since been given a makeover by the state), but it'll likely go down as your most double-tapped photo of the year.
Big Sur
Embrace your inner writerly type. Or just take selfies among the mountains and coastline. Either way, make a point of stopping along Big Sur—you'll totally become one with nature and stuff.
Hearst Castle
There's nothing like a publishing magnates actual castle when the West Coast's whole occasionally overtly-lax granola thing might be starting to grind your gears, right? Take an hour or two and make like you're rubbing shoulders with the ghosts of Greta Garbo, Cary Grant and Joan Crawford. Just no wire hangers, k?
Santa Cruz Beach Boardwalk
Yes, this is an amusement park and if you're anything like us, those are typically your actual living nightmare, but there's no admission fee, a sprawling beach and lots of old school, picturesque and pastel rides. We recommend a requisite funnel cake, cotton candy or soft serve while you walk the boardwalk and feel the sand between your toes.
Golden Gate Bridge
Is there really anything we need to add here? Given that it'll likely serve as either the starting place or grand finale of your trip, stretch your legs and give it a stroll.
Packing List
Rest Stop
Post Ranch Inn, Big Sur, Monterey County
The stuff that Pinterest dreams and travel porn are made of. Don't believe us? How does waking up to an infinity pool overlooking the ocean sound? Or your very own lodge embedded in a Californian cliff? Yeah, we thought so. Splurge and enjoy the most luxurious twelve hours of your life.
The Playlist
Must-see Spots
Hamilton Swimming Pool
Just 23 miles outside of Austin is this natural swimming pool (yes, it's jade green and yes, it has a waterfall). The locals have been going for a dip here since the 60s, so it's kind of the perfect place to cool off from the Texas heat.
Garrison Brothers Bourbon Distillery
Obviously the first and oldest legal bourbon distillery in Texas is worth a pit stop. We aren't condoning drinking and driving here (PSA, guys!) but why not finish off the popular Sit and Sip tour of the distillery by buying a bottle (or two!) to enjoy in Marfa? Tim Riggins would approve.
Cranky Franks BBQ
Dubbed the best pit BBQ (which Google tells us is the ultimate, OG breed of BBQ) in Central Texas it's a no-brainer that this place is worth the visit. Plus, after a couple hours of driving, you're sure to be hungry. Word on the street is the brisket is the must-get, so get it.
Caverns of Sonora
Not for the claustrophobes among us, but this cave has been dubbed the most beautiful cave in Texas. We might suggest swapping the Gianvito Rossi cow-print heels for sneakers on this one.
Marfa Mystery Lights
After sunset, you can view (or at least try to view) the famed mystery lights just nine miles east of Marfa. No one knows what causes the basketball-sized lights to appear, but most bets on are UFOs, paranormal activity, or magnetic fields. Oh, and should you find yourself here over Labour Day weekend, you can totally join in on the annual Marfa Mystery Lights Festival.
Food Shark
The best restaurant in Marfa is also a circa-1974 food delivery truck, duh. The menu changes daily but features all the goodies from Banh Mi to pork tacos to the famed Marfalafels.
Packing List
Rest Stop
Comfort Inn Sonora
Not the fanciest of pit stops, but neither are road trips, exactly. This inn has all you need to rest your tummy full of brisket and bourbon before ploughing on through the rest of the state.
Hotel Paisano
A historic 1930s-era hotel located right in Marfa, featuring a gorgeous pool (a must-have), and some legit Hollywood history. The cast of Giant—you know, the one with Elizabeth Taylor, James Dean, and Rock Hudson?—stayed here in the '50s and their rooms are available on request. So get requesting.
The Playlist