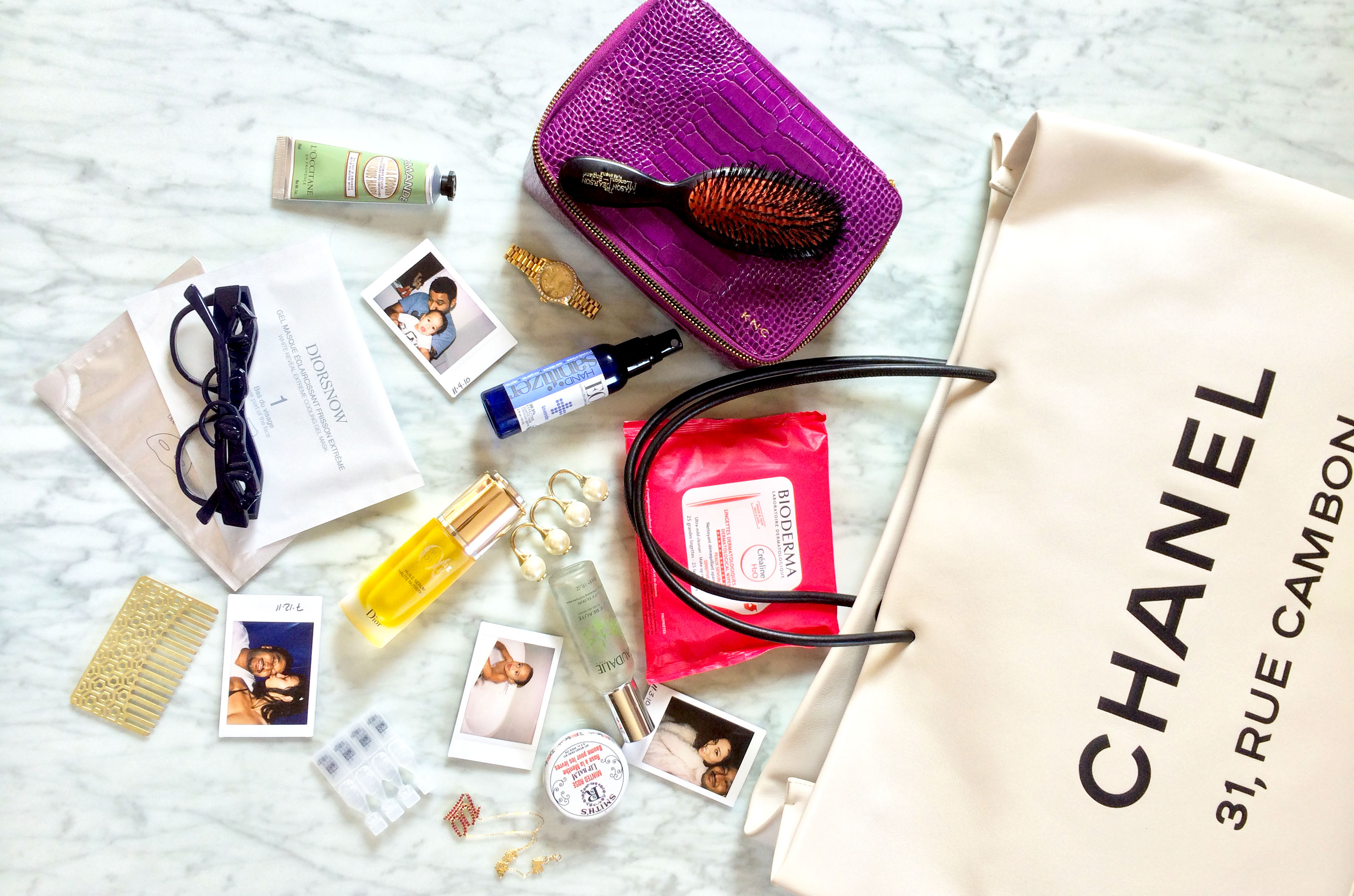 Inside Kristen Noel Gipson's Beauty Cabinet
The RSVP Gallery owner, jewelry designer and all-around girl-of-our-dreams lets us in on her beauty secrets.
In our unending saga of Instagram envy (perhaps we should soon alter our tagline? The Coveteur, bringing you behind the photos of the most screenshot-worthy profiles on your feed), Kristen Noel Gipson (@kristennoelgipson, in case you were wondering) rates high on our search list. As the owner of Chicago's cult-cool boutique, RSVP Gallery, Gipson fills her feed with the kind of lifestyle porn that makes up our more extravagant daydreams (XXL Saint Laurent boxes, super bright Nikes and Louboutins alike, tropical, palm tree-laden vistas, front row CHANEL seats, the list kind of goes on). We guess that when she's got it this good, it kind of goes without saying that she's also drop dead gorgeous.
We always love when someone of Gipson's, uh, stature, shares her beauty secrets—among the Hermès shopping sprees and casual hang outs with Andre Leon Talley, getting some insight into her mascaras and oil cleansers of choice brings it all down to Earth a little (not that we're not totally into a life in the clouds though, guys). So, over dinner at Piccolo Sogno in Chicago the other night, we asked her for the full rundown. Herein, deets on favorite moisturizers, products worth splurging on and her can't-live-without-them jetset essentials.
On her latest beauty obsession…
"I just bought this amazing skin cream from Natura Bissé—it's super hydrating and is infused with Vitamin C which is really good for your skin! I also just got these facial peel pads from m-61…I love them and use them about 3 times a week."
On her always-the-same nighttime routine…
"I can never go to bed without washing my face. I feel so uncomfortable if I don't and I usually will wake up in the middle of the night and do the zombie walk to the bathroom sink! I keep my nighttime routine pretty consistent. I start with Kanebo Mud Soap (swear by this), Bioderma cleansing water and BRAD Biophotonic Bio-Fermented Algae Concentrate (amazing). I've added Natura Bissé C+C Vitamin Cream as well because I've been so dry lately. I also use Kanebo Total Lip Treatment—it conditions your lips during the night and prevents wrinkles around your mouth. I swear by Dr Sebagh Supreme Eye Serum (not pictured because I recently ran out). I always shower at night, too; I like to go to bed clean. Tony Maleedy makes the best shampoo ever; I had dandruff before I discovered this shampoo! I use Rahua Deep Conditioning mask 2 times a week as well."
On products that are totally worth the splurge…
"My best beauty splurges are any and all Dr. Sebagh products—I'm utterly obsessed. His masks are the-bomb-dot-com! I'm currently lusting over his Vitamin C powder and I'm dying to try his Platinum Gold Elixir! Besides Dr. Sebagh, I also love BRAD products. They're made in small batches in L.A. and feature crazy good ingredients. The Algae concentrate that I use has over 90 different sea minerals! I'm also really into SheaMoisture products, I use all of their products for my body: scrubs, body wash and oil. They're all-natural and the best part is that everything is under $12!"
On her desert island must-haves…
"Coconut Oil, toothbrush and toothpaste!"
On the products she hoards every time she's in Paris….
"I always stock up on Bioderma when I go—it's so much cheaper over there! I love Nuxe as well; I just got their mineral deodorant and I really like it. Last time I was in Paris I found a Caudalie lip balm. I only bought one and I'm kicking myself now because I used it all up in a week and now I'll have to wait until September to get it again because they don't sell it anywhere in the States!"
On her signature scent (she'll never tell)…
"I'm obsessed with Frederic Malle fragrances! He's the best really. I've had my scent now for about three years and it's so special to me that if I told you I'd have to kill you… but seriously though, I can't tell you!! But I will let you in on another Frederic Malle product that I'm so in love with: it's the Carnal Flower Hair Fragrance. It smells sooo good! Sometimes I skip my perfume and just use that; it smells like I just ran through a field of fresh flowers..."
On how her diet effects her skin (guys, she's totally human)…
"I totally notice a change in my skin when I don't drink enough water or eat junk food. I tend to break out if I go out drinking with my friends, too. #thestruggle"