Entertaining
The Coveteur Guide to Grown-Up Interiors
3 interiors experts on how to ditch your college-years decor for something a little more, ahem, elevated.
We've all been there. You know, that feeling of flipping through an issue of
ELLE Decor
or clicking through
Lonny
and being left with the most singularly soul-sucking breed of lifestyle envy: the perfectly-decorated kind. After all, if the home is where the heart is, there's nothing that quite gets us feeling like we have a Philippe Starck-sized one in ours quite like a breathtakingly well-accessorized home. Ditto for the feeling we get when, after a week of raiding homes that range from
minimal with offbeat tchotckes
to
LES walk-ups
with priceless art strewn everywhere you turn
, we arrive home to our own apartment only to be greeted by a dying orchid and a single half-eaten box of quinoa. (That said, after commiserating with
Amber Venz
,
we find comfort in chalking it up to #GirlBoss syndrome
.)
---
Somehow, we figure that the post-college decor-limbo is one in which we're not alone. While we're not at the stage where we're able to ball out on all-Le-Corbusier-everything (you know we would if we could), but surely we can ditch the fairy lights and muster up the savvy to DIY a gallery wall or neon baseboard worthy of
F*ck Your Noguchi Coffee Table
, right? And so we turned to
Lulu & Georgia
, as well as three of our go-to design and decor experts,
Estee Stanley
of
Domaine Home
,
Kelly Wearstler
, interior and fashion designer of our Hollywood dreams, and Noa Santos, co-founder of
Homepolish
, the firm behind the spaces of everyone from
Leandra Medine
to
Rumi Neely
, for a little help. Here, they talk the right pieces to invest in, eschewing hand-me-downs and the one way easy step to make a rental look like it's yours. Welcome to our grown up apartment, guys.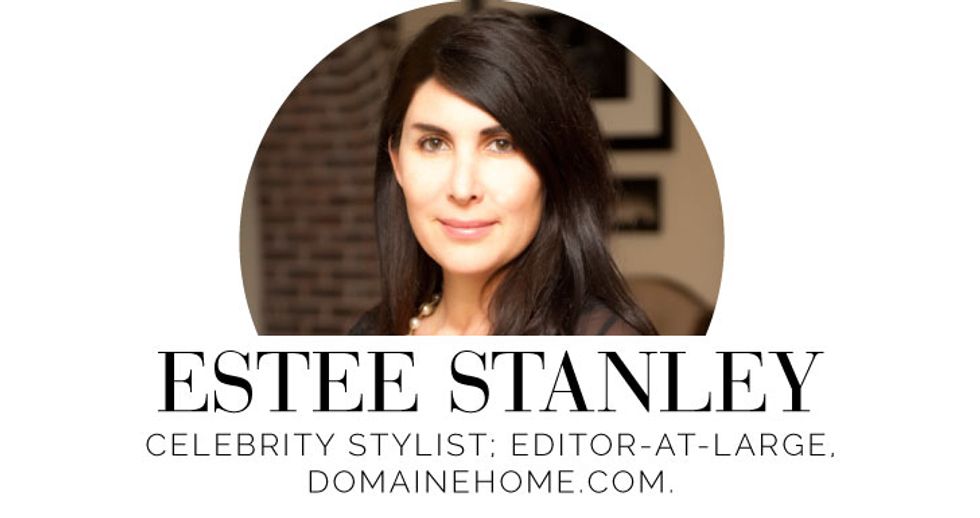 What are the few key pieces one should invest in to give a space more of a polished, grown-up feel?
"I feel for a way to feel more ladylike or more hostess-like is to splurge on great dishware, glassware, art or linen hand towels or napkins—these items people pay attention to. The devil is in the detail."
What are your favorite budget-friendly tips & tricks that give a home a more luxe feel?
"Great framed art, even if you're just printing great images on your printer, but use interesting or art gallery-type frames, boosts up the vibe of the home. I also [like] great, luxurious bedding, which can be found inexpensively at department stores or Bed, Bath and Beyond."
What are some don'ts when it comes to creating a more sophisticated vibe in your first apartment?
"Try and stay away from using too many of your grandparents' or parents' hand-me-downs. Most can be beautiful, but too much can start to feel like your Aunt Lola's house."
Any tips for making a rental apartment your own?
"I think just creating comfort, yet sexy and casual is always a great way to make a home feel like your own and always use every little bit of the house. Don't make anything too off limits!"
What are a few pieces someone can invest in to give a space more of a polished, grown-up feel?

"The first step to investing [in] the right pieces is understanding how you hope to use a space. For example, if you're a cocktail (not dinner!) kind of girl, consider investing in a great bar cart or a few comfortable bar stools instead of worrying about a pricey dining table. If movie nights are more your speed, pick the perfect sofa and spend there. Then, dress it up with a mix of pillows you find on the cheap. Most importantly, if you're planning to move in the near future, be smart about your purchases and invest in items that you can take with you. Opt for a sofa and a chair instead of a sectional sofa with a fixed chaise—who knows if you'll need a right arm or left arm in your next place? Bar carts, coffee tables, and lounge chairs are the safest ways to go because they don't vary much in size and can be repurposed. No room for a bar cart in the next place? Use it as an amazing end table next to the sofa."
What are your favorite budget-friendly tips & tricks that give a home a more luxe feel?

"Throws. Invest in a great (but not too expensive) fur or knit throw that you can drape over the sofa. Restoration Hardware has a great faux fur throw that is foolproof. And when it comes to pillows, more is more. It's much easier to dress up a drab sofa by filling it with your favorite pillows than it is to go on the hunt for a new one. Art is something that is always challenging but there are companies like Uprise Art that are making one-of-a-kind pieces available at a much lower price point. Most importantly, be smart about how you light your home. Use lamps as a way to highlight the specific areas you're particularly proud of and create a sense of depth throughout the space."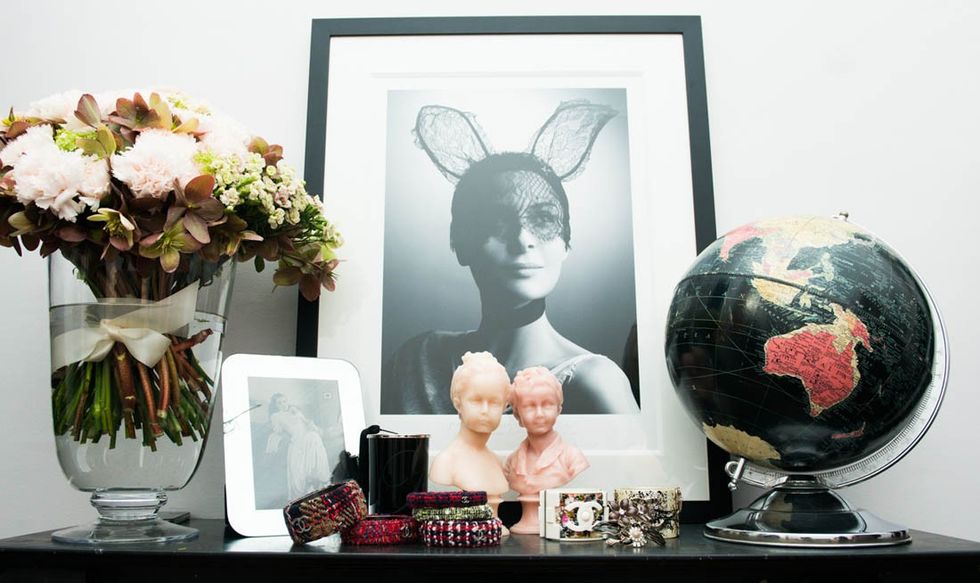 What are some don'ts when it comes to creating a more sophisticated vibe in your first apartment?

"Don't be afraid to make a bold move. A forgettable space is probably the worse type of space you can have. Each apartment you move into should be an experiment in discovering your style—so if you never have the guts to design something spectacular, you'll never know what you really love or hate.
Personally, I like creating vignettes. Rather than trying to spread all of your furniture and accessories throughout your space, create moments of beauty by grouping objects together. It helps to think if each vignette as a single photo—a chair, a plant, a small table and a few accessories are all you need. Again, add a lamp to highlight the design moment and you're golden."
Any tips for making a rental apartment your own?

"The easiest way to take an apartment from a rental to 'oh, you own this?' is to paint the walls. And not just one wall, but most or all of them. If color makes you nervous, try the Benjamin Moore Williamsburg line of 144 colors that are pretty much foolproof.
Lighting related and SUPER easy—have an electrician come in and put all of your overhead lights on dimmers. It's by far the best way to give you the flexibility to take your space from day—brighter—to night—dim and moody—without having to burn your apartment down with hundreds of candles. Then, once the lights are dim, add in just a few candles (only one should be scented!) to guide your guests eyes exactly where you want them."
WHAT ARE THE FEW KEY PIECES ONE SHOULD INVEST IN TO GIVE A SPACE MORE OF A POLISHED, GROWN-UP FEEL?
"Don't underestimate the impact a rug can have on your space. A unique design can easily infuse your home with color or evoke a sense of nature. Invest in one amazing art piece. You can effortlessly alter your vibe in your apartment with unique, one of a kind art. It's a great investment and it will add soul to your home."
WHAT ARE YOUR FAVORITE BUDGET-FRIENDLY TIPS & TRICKS THAT GIVE A HOME A MORE LUXE FEEL?
"You don't have to sacrifice functionality for good design. Home accessories, like my marble hashtag, can multitask as chic and unexpected bookends. It's an unexpected yet sophisticated piece that will instantly elevate any bookcase. Stylish bar accessories, such as bottle openers, wine stoppers and a nice tray, grow with you from your single days to entertaining with your future significant other. Environments affect people. Cultivating a habitat that reflects your life, style and interests is so important. Your home should feel like you! Be true to your own style and you can't go wrong."
WHAT ARE SOME DON'TS WHEN IT COMES TO CREATING A MORE SOPHISTICATED VIBE IN YOUR FIRST APARTMENT?
"Don't be afraid to take risks! It's the only way to learn and grow as a person. Just jump in and experiment! Don't buy everything from the same place! You wouldn't buy all of your clothes from only one store—same philosophy!"
ANY TIPS FOR MAKING A RENTAL APARTMENT YOUR OWN?
"Paint is a simple and chic way to introduce color into a space! It's an effortless way to add a chic and sophisticated vibe to your living space that can be easily removed when you move out. A vintage screen is [also] an effortless way to add a chic and sophisticated vibe to your living space that can comes with you when you leave!"