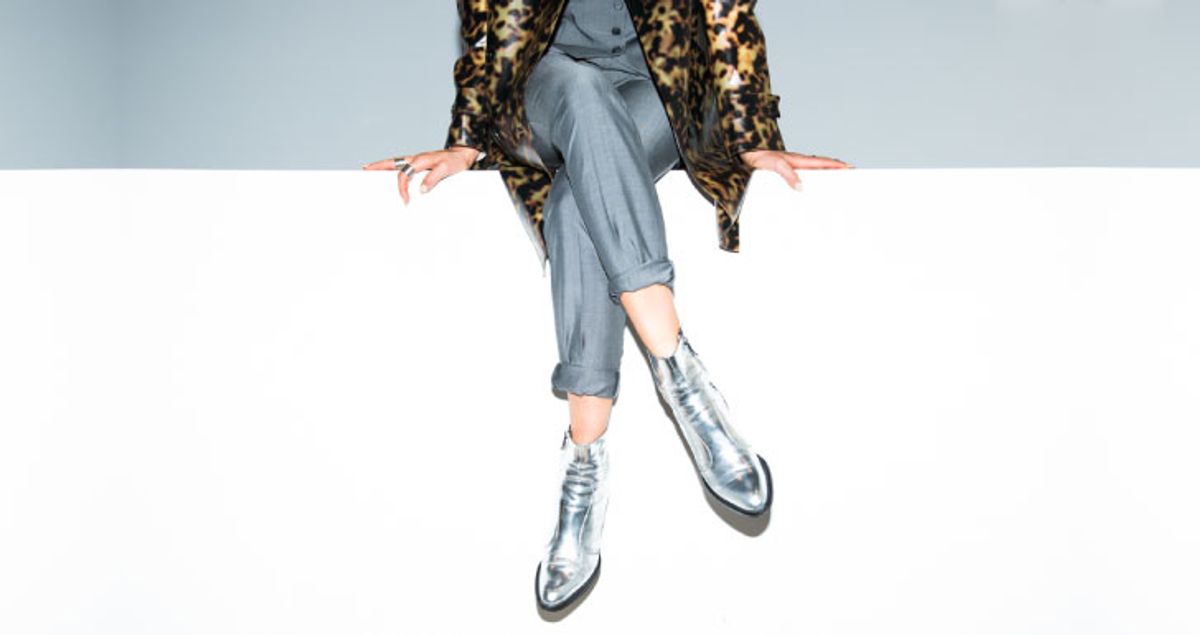 Fashion
Part II in an education in seasonal dressing.
Whether we like it or not, fall is coming. We mean, we feel like we're only just now, as July draws to a close (sob), beginning to experience the true heat of summer. Problem is, we're beginning to start the last few BBQ and beach-filled weekends left until Labor Day.
---
The question upon us now, of course, is really how can we begin to prepare for the inevitable drop in temperatures (not to sound so totally serious and dour here) without getting a serious case of the SADs. We mean, we guess that besides the slowly darkening days and necessary layers (did we mention we're summer babies?), there are actually some things to look forward to come September. There's always fashion month for one thing and, well, the art of shopping for brand new fall wardrobes. While our back to school days may be long over, but there's something about this time of year that demands extra sartorial attention and a certain, uh, excuse for freshening up the old closet situation.
With this in mind, we figured who better to ask for advice when making the inevitable transition from summer to fall than Cov-alum (we mean, at this point, she's pretty much become a TC family friend) Shea Marie, who, given the way she schooled us on NYFW dressing, when it comes down to it, knows the drill when it comes to aesthetic preparation for any occasion (check her recent Instagrams if you want a quick primer on dressing for the kinds of exotic locations you've only ever seen in travel mags). Throw her a full Barbara Bui pre-fall wardrobe and she'll really go to town. And, we mean, we can't really blame her: pouring over the decidedly drool-worthy coats, tailored suits and metallic boots (and jeans!), we have to admit we got pretty excited about colder weather, too. We mean, if we have the opportunity to slip into a suit like Shea does here, it might not be such a bad thing after. Or at the very least, a teensy bit more bearable?! Herein, the L.A.-based blogging queen on how to enter into fall—how shall we say?—gracefully.
On how to smoothly make the transition from hot to cool weather dressing…
"An easier way to go about it is figuring out what pieces you can add to your summer wardrobe for the transition. Living in Los Angeles where you could easily wear your summer clothes all year long (and many people do), this is a serious trick to master. I give my looks a fall vibe by adding cool leather ankle boots and a great leather jacket—even if I'm still wearing shorts and tees. Of course, the color scheme is important: earthy tones, blacks and greys are all fall musts. Invest in several great pieces you will wear all winter long, rather than trend pieces."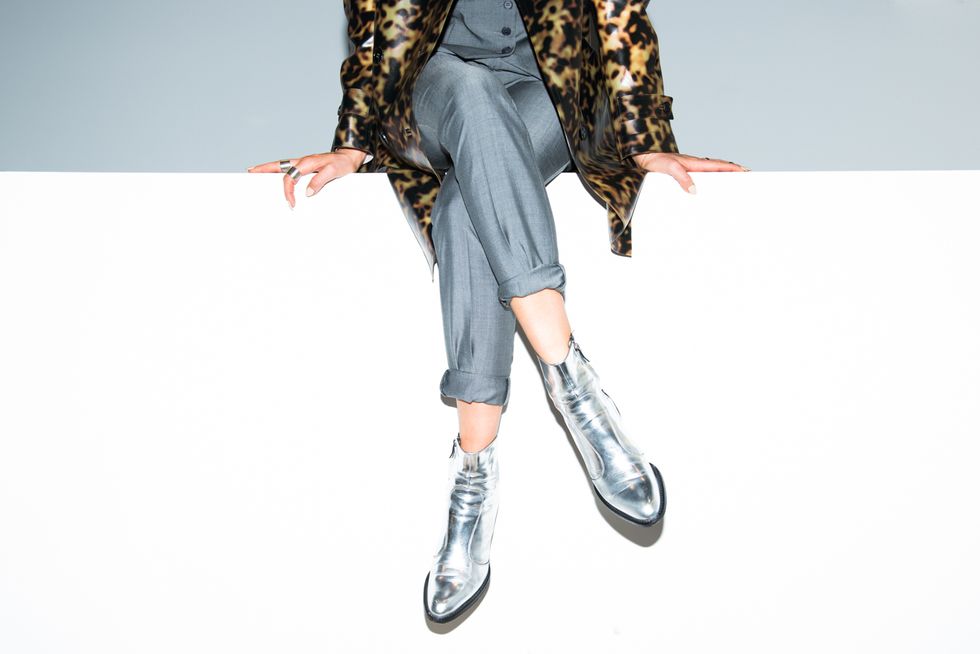 On the five pieces every girl should have this season…
"A silk cream-colored, ankle-length maxi, booties (worn with socks), a robe-style coat that ties around the waist, an animal print bag and an electric fire engine-red accessory."
On the secret to making a masculine suit sexy (it is possible, you guys, and might just involve the absence of items of clothing previously considered totally necessary)…
"I always say that what makes a woman sexy isn't how much skin she shows; what makes her sexy is her sense of style and confidence. If you wear a masculine suit you need to walk into the room and own it. A suit is sexy on the woman because it leaves a lot to the imagination. Oh, and did I mention I also wore the suit without a top underneath? I think by default that makes it sexy."
On whether metallic is a neutral and how exactly one should be wearing them…
"Seeing that I mainly only wear blacks, whites, creams, grays, metallics and leopards, I consider everything I like a neutral. If you're wearing metallics you have to let them stand out. Black jeans, a simple white tee and gold ankle boots is the kind of look you'd most often find me in—it's a perfect mix of effortless and chic."
On the shoes she absolutely must have come fall…
"Patent leather oxfords, metallic ankle boots, slides with thick socks (make the boys say hello!), socks in general, lace up velvet ankle booties, structured heels, pointy toes and the perfect 'cool girl' sneakers, of course."
On that ineffable Parisian style that Barbara Bui does oh-so well…
"There's just something about those Parisians, the way they glide through the streets in perfect style, while looking like they didn't lift a finger or stress a hair getting dressed. How is this possible? Where as I, in my small hotel room, try on dozens of wrinkled outfits, contemplated punching out the mirror (there must be something wrong with it!) and still don't come up with a look that's satisfying. To give myself some credit, I do spend half the year living out of a suitcase—just to make things more difficult! [During Paris Fashion Week], at every turn there's a street-style photographer, L'Officiel editor and power PR woman watching your every move (and outfit choice). Or so at least it feels that way!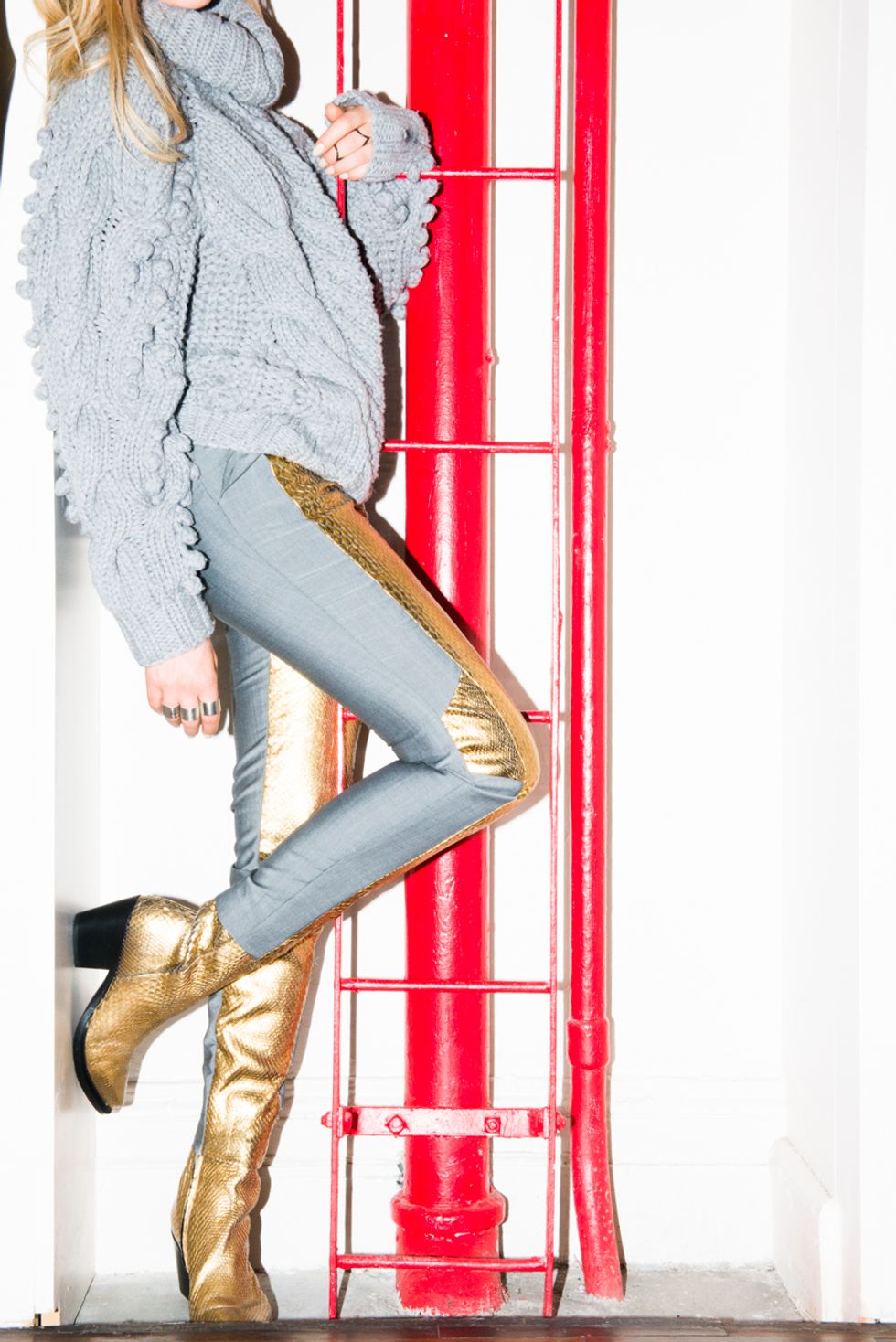 After many long flights lugging way more clothing than I'd ever need across the world, I've realized that sometimes, less is more. There are exceptions to every rule, but in America, we do what I'd like to call 'trend shopping.' We'd rather buy the affordable version of every new trend that comes along. In Paris, they 'necessity shop.' They save up their money to buy a designer leather jacket and jeans that they will continue to wear all year long (and probably into the next as well). It's not true Parisian if it doesn't look a little worn in. The Parisian woman's closet might be a mere rolling rack of thirty amazing items she's collected over the years and continues to re-wear."

On the little extra beauty kick fall calls for…
"I'm always about less is more when it comes to beauty. Blush, mascara and a hint of upper cheekbone sparkle is about as far as it goes for me. Sometimes in the fall I do a wine-stained lip. Fast Ride by Nars is my fav!"