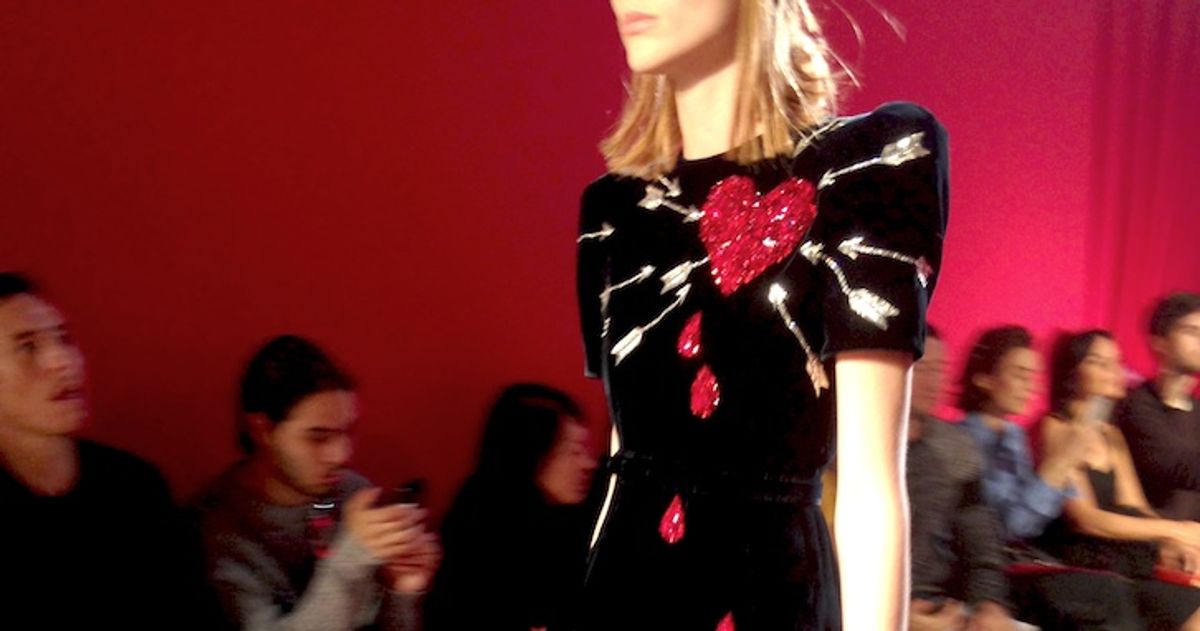 Fashion
That time we spent a week in Paris with our favorite Cov-alum. Well, kinda.
Allow us to introduce you to an ancient Coveteur proverb: when the going gets tough, the tough skip couture week in lieu of Ibiza. We know: our lives are filled with the kind of adversity akin only to a Sarah McLachlan SPCA commercial (kidding, but seriously). And while we've been following along (duh) from Spain with faces Krazy-glued to Macbook screens and Style.com, nothing really captures the entire experience like constant email updates from a few of our favorite Cov-alums—namely, Stephanie LaCava. We were lucky enough to follow the writer, who was in town not only for couture, but also to get in a little recherche for her upcoming book (the City of Lights just so happens to be her second home, after all). As much as we have to admit that the Di-orchid (get it?
Dior
+ orchid) snaps she sent along from the show only slightly reduced our serious case of Instagram-induced FOMO, there's no one we'd rather have (virtually) been in Paris with.
---
"Ready to go back to where I grew up! Here, I'm wearing a
Miu Miu
red pleather skirt,
Prada python shoes
and a Richardson Hardware t-shirt. I always bring at least four books and then return with that multiplied by five. I never travel without candy. I'm excited to see Lydia Davis––a favorite writer and translator––I do both––read at Shakespeare & Co. while I am in Paris. I personalized my carry-on with my initials SLC using a Sharpie marker. This is usually the only suitcase I bring with me. I've become an expert packer. Packed, you can see mostly black and white lace pieces or suiting by
Isabel Marant
and
Saint Laurent
."
"That magical view! Citron pressé at Cafe Flore and [my] cahier, making notes. My red shoes! I love this mirror and my heart shaped glasses, though they never made it out past playing dress up."
"Berries in the marché stand in Saint-Germain-des-Prés. A visit to the
Maison Michel
pop-up on rue Cambon. I bought the Melanie and a pith helmet-style hat. The Dior invite from days earlier, so lovely to keep and one of my French cahiers with
Isabel Marant by Oliver Peoples sunglasses
. Hôtel La Louisiane, where I was doing research for the novel I am working on. My matcha supplies, most necessary when I can't get to Toraya for a snack. A starry earring at Eugenie Niarchos Venyx World presentation at the Gagosian. I love the collection."
"This is one of the first looks from Dior. The mirrored walls of the venue were covered in white orchids. I loved this bleeding heart look at Schiaparelli. Hiding from street style photographers, using my beloved Phil Oh, Streetpeeper as shield. He seems unfazed. A picture of Johnny Depp on the wall of L'hotel where I often stay to cocoon, a little hideaway. Schiaparelli shocking pink invite. The elaborate set up at Musée Rodin for the Dior show. A lovely St. Germain building facade"
"Chandelier at Hôtel Salomon de Rothschild where
Valentino
is shown each season. My mess of things, the
Westwood dress
I will wear with a Maison Michel flower crown for a wedding in New Orleans. Café de Flore's delicious espresso. Here I'm at my favorite place, the storied Shakespeare & Co. The owner, Sylvia Whitman is a friend with a baby a similar age to my own. My red shoes again, snakeskin
Alaïa super high heels
and my Maison Michel Melanie mini bowler. Apollinaire, Invites—
C
HANEL
had a Vanessa Paradis show, and my cahier. A look from the runway at Valentino. A Violette Leduc book I needed for research and
Jean Paul Gaultier
's gold invite."