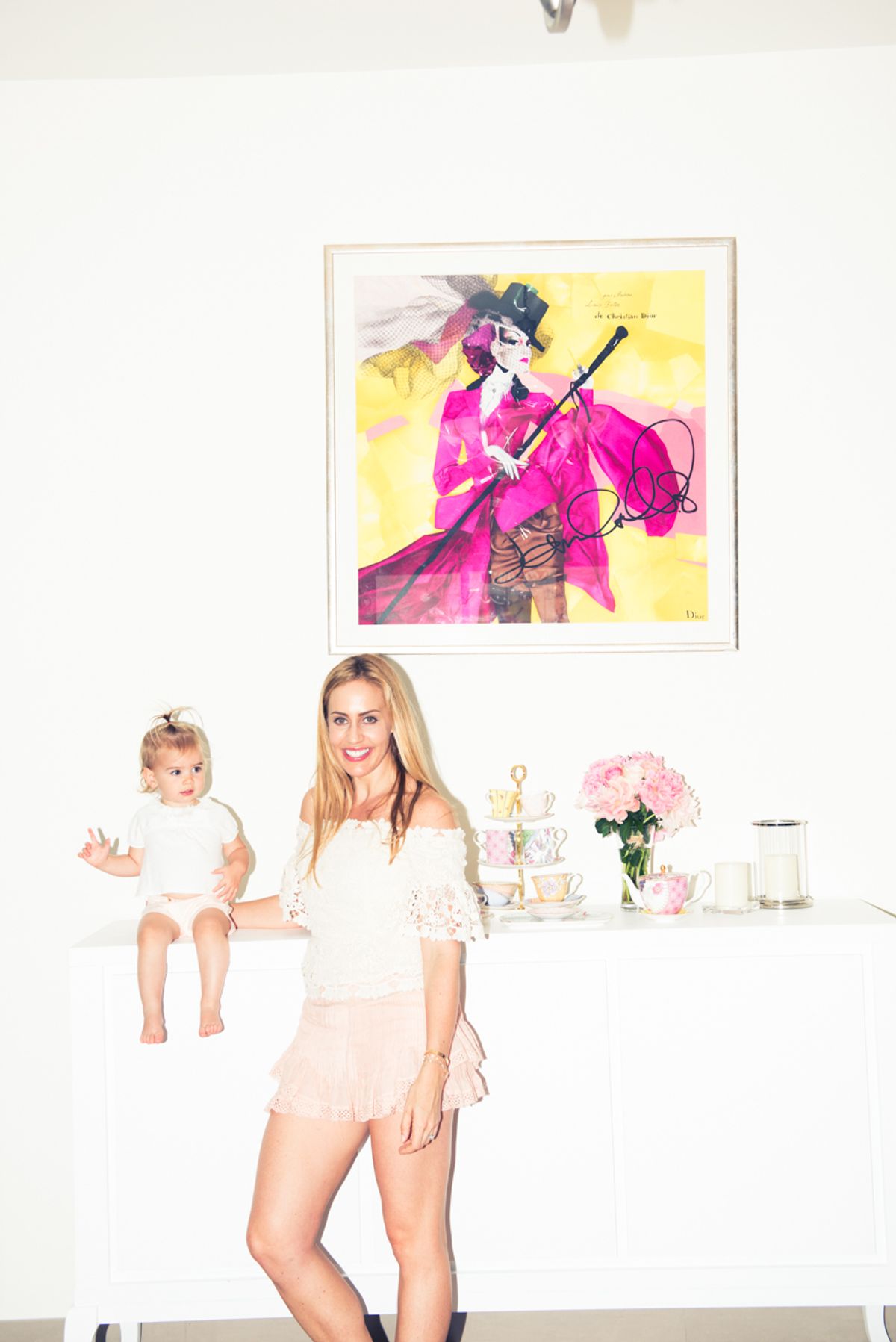 Closet
Editor-in-Chief, Harper's Bazaar Arabia. Dubai
Stephanie Mark
We
already told you
that everything is grander, more extravagant and pretty much just bigger in Dubai. (Texas has officially be dethroned, kids, 'cause nothing can really compete with a 96,000 square foot shoe store or an indoor ski hill.) But what happens when you mix the look of another favorite locale with Dubai's whole 'more is more, is, well, more' ethos? Well, when the destination in question is
London
, for instance, and the city's specific, impossible to imitate eclectic-yet-refined aesthetic is something you've been born-and-bred with in your sartorial lexicon, you might just get the likes of Louise Nichol.
Don't believe us? As the British born-and-raised editor-in-chief of
Harper's Bazaar
Arabia, Nichol's style ranges from romantic English rose femininity to full-on Dubaian razzle-dazzle (see: OTT
gem-encrusted Jimmy Choo stilettos
that would look perfectly at home on the sales floor of Dubai's equally OTT Level Shoes). In fact, shoes like the latter were kind of a running theme (we know you've read that before, but hear us out). We mean, when you baby daughter is already trying on your
sky-high Christian Louboutins
, you know things are a bit of a family affair (for the record, our dress-up box was more cast-offs-from-Great-Aunt-Mildred than
Stella McCartney
, but we're trying to leave our jealousy at the proverbial door here). When Nichol explained that her daughter Leo's second word was "shoes," and that the editor herself got her own first pair heels at the tender age of 12, we knew there was no competition for authority over her footwear wardrobe. And Little Leo was definitely dominating as she paraded around in
Gianvito Rossi stilettos
.
We did manage to snag a pair of glossy pink
Roger Vivier Virgule pumps
, though (partnered with Leo's miniature
cowboy boots
in matching pink, of course). And we think it goes without saying that that particular blush tone (a signature of especially feminine English expats, to be sure) was also a bit of a recurring motif. It all kind of played into an elaborate daydream (of sorts) that we were beginning to work up in our minds after spending what felt like the entire afternoon making eyes at the lace-y pieces by
Lover
, pink
CHANEL
tweed and embroidered lavender
Burberry pencil skirt
we found hanging in her closet. And before you think our fantasy is totally unfounded, allow us to assure you: Nichol herself admitted that she's kind of taken to shopping as though she were a Disney heroine. Then again, the whole living-in-Dubai-thing doesn't exactly hurt when it comes to living the dream, especially when the princess in question is also the editor-in-chief of the glossiest magazine in the land (excuse us while we really getting into the whole fairytale metaphor). "My style is definitely more glamorous and infinitely less practical since moving to Dubai," Nichol laughed as we stared enviously at her sparkled-soled
Lanvin pumps in fuchsia satin
(we mean, does it get more decadent?). "We don't have to contend with rain, public transport or indeed anything that necessitates 'sensible' wardrobe solutions. It's pretty much impossible to be overdressed in this part of the world—
cocktail frocks
at breakfast wouldn't raise an eyebrow (and women here love a well-groomed power eyebrow)—and when it's sunny all year round, color is essential. Hurray!" Yeah, we'd say that pretty much sums up Dubai. Let's just say we're totally convinced to join the kingdom. Driver, the closest brow salon, STAT!