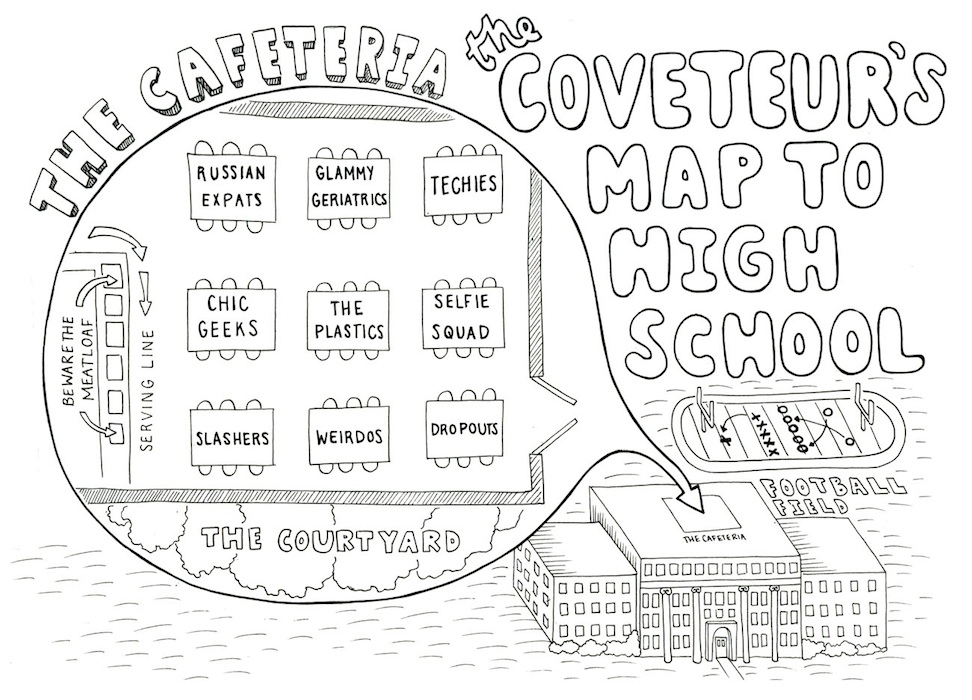 Mean Girls of Fashion
You can't sit with them.
Imagine scooping up fashion's cliquiest of cliques and dropping them into the infamous North Shore High School cafeteria—suddenly Cady Heron's jungle fantasy—complete with animal print—doesn't seem so far-fetched.
In honor of 10 years of watching and rewatching, default Halloween costumes and entirely unironic usage of the phrase "boo you whore", we thought we'd better pay tribute to the most quotable movie of all time—Mean Girls, duh—with a cafeteria map of our own. So here it is—your guide to lunch hour at North West High (our mythical school may or may not be sponsored by the Kardashians). Pay close attention, 'cause where you sit in The Cov Caf is, like, totally crucial.
THE PLASTICS
ANNA WINTOUR, KARL LAGERFELD & TOM FORD
"On Wednesdays, we wear mink."
You can't tell through their sunglasses, but yes, they're judging you. They nibble an avocado in stony-faced silence, except for the odd whisper when Atlanta de Cadenet passes with a flannel tied at the waist ("Vintage! So fetch."). Not too many wildcards get invited to sidle up to the fash-eteria elites—although like Cady, Grace Coddington is the ginger with a pass.
Cue fashion's Ms. Norbury, A.K.A. Kelly Oxford: "Raise your hand if you've been personally victimized by Karl Lagerfeld."
Do we even have to say it? You can't sit with them.
THE RUSSIAN EXPATS
MIROSLAVA DUMA, ANYA ZIOUROVA, NASEEBA ADILOVA & ULYANA SERGEENKO
Otherwise known as the foreign exchange students. You're equally as intimidated by the thought of trying to pronounce their names as you are by their immaculate wardrobes. It's rumored Karl once actually gave a 10-degree nod at Miroslava's outfit. It could have also been a shiver. The jury's out.
THE TECHIES
BRYANBOY, CHIARA FERRAGNI & SUSIE BUBBLE
This is Basecamp Blogopreneur (it's totally a word). Their table is concave under the weight of seven iThings apiece. They often have to rotate shifts after Wordpress complained about their combined crashing capability. And don't even try getting a word in between the beeps and buzzes—lunch may not be analytic primetime, but hello, prescheduled posting! They'll have tuned you out before you can say "snackable content."
THE SLASHERS
HARLEY VIERA NEWTON, HANNAH BRONFMAN, LEIGH LEZARK, ATLANTA DE CADENET & CHELSEA LEYLAND
A.K.A. It-Girl DJs in band tees and CHANEL. A quintet of bedhead and headphones draped like neck pillows who roll in nursing ever-so-slight hangovers just in time for lunch (the menu: fries that instantly evaporate from their waistlines). They're no Plastics, but these scenester Spice Girls are a different tier of cool*—an amorphous crew of undergrounds the sight of which makes you whip out your camera faster than a tourist on safari ("Oh my god! Is that Rachel Bilson?! Oh wait...")
*You still can't sit with them.
THE WEIRDOS
ANDRE LEON TALLEY, LYNN YAEGER & ANNA DELLO RUSSO
The Damian and Janices of the fashion lunchroom. Anything goes at this table—muumuus, face paint and shoes that look as though they've been recycled from Muppets? They've got 'em. Known for gratuitously erupting with laughter and staging impromptu twirling lessons through the cafeteria aisles, this pack of eccentrics is more exclusive than you'd think, but...*
*You can probably sit with them.
GLAMMY GERIATRICS
IRIS APFEL, LYNN DELL & ILONA ROYCE SMITHKIN
This is the only table without a centerpiece of vibrating iPhones. From a distance, they may look like a trio of fortunetellers in a sea of monochrome, but venture a little closer and you'll see these glamorous octo- and nonagenarians are really just living it up in ways twenty-somethings simply can't comprehend. Catch them rocking their turbans and XXL eyewear, giving bum-cleavage the side-eye and skipping every class because life's too damn short (and they may not have heard the bell).
THE SELFIE SQUAD
KARLIE KLOSS, CARA DELEVINGNE & JOAN SMALLS
They're the ones sitting in a row on one side of the table (the side facing the natural light, duh), twig-thin arms extended, eyelids drooped to Tyra-smize perfection, lips puckered ever so slightly, already-flawless skin glazed with Valencia. Overhear such musings as "You know the arm rule—crop if there's elbow!" and "Beanie or no beanie?!" when you give their table a quick pass by. (Emphasis on the quick—move too slow and you'll inevitably be snapped mid-bite in the background. And that is something Afterlight cannot fix).