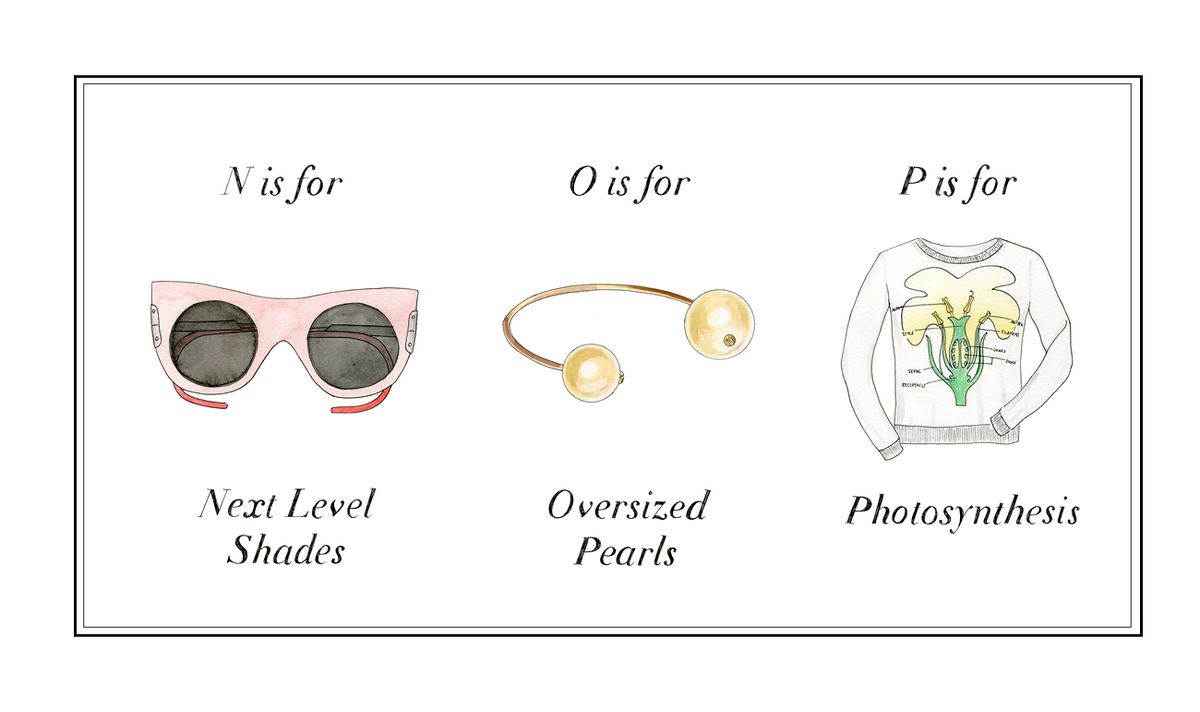 Fashion
Round two of our illustrated best of Spring 2014, with a little help from Meghann Stephenson.
We've shown you A through M of our illustrated spring-trend alphabet (apologies for the cliffhanger—we may be watching a little too much True Detective) now it's time for N (next-levelshades) through Z (zipped-up).
From the revamped John Lennon, to the jagged and trapezoidal, to The Jetsons-esque, this season is all about shade-shifting (remember these cartoon-y Prabal Gurungs in Crayola-box hues?). Since spotting many a plastic pair on Spring/Summer runways, strong sunnies have topped our hit list—not only because we're desperately in need of a Clubmaster/Aviator upgrade, but also because these top-heavy shades give the illusion of a bold brow, for those of us who weren't blessed with the Delevingne gene.
Another lesson in geometry (and also testing gravity)? Questionable heels. We can't be the only ones inexplicably enamoured with teetering around on see-through soles and heels shaped like paper weights/bike pedals/spinal cords/we could go on. Which brings us to another seasonal must-have: The slip-on sneaker. For when you fall off your questionable heels and need something to hobble home in.
And whether it's science-textbook photosynthesis diagrams, rainbow color palettes, wood-grain textures, 3D bling or under-the-sea graphics that strike your fancy (huh), this spring will be chock-full of patterns reminiscent of your middle school days (scrunchy'd side-pony optional). Day-of-the-week prints, anyone? Or better yet, channel your fashion-maven seventh-grade selfand wear them together!*
Now sift through Meghann Stephenson's illustrations whileyou wait for the ground to thaw (sorry for the premature exhilaration—we couldn't help it).
*Don't wear them together.
—Chelsey Burnside
---