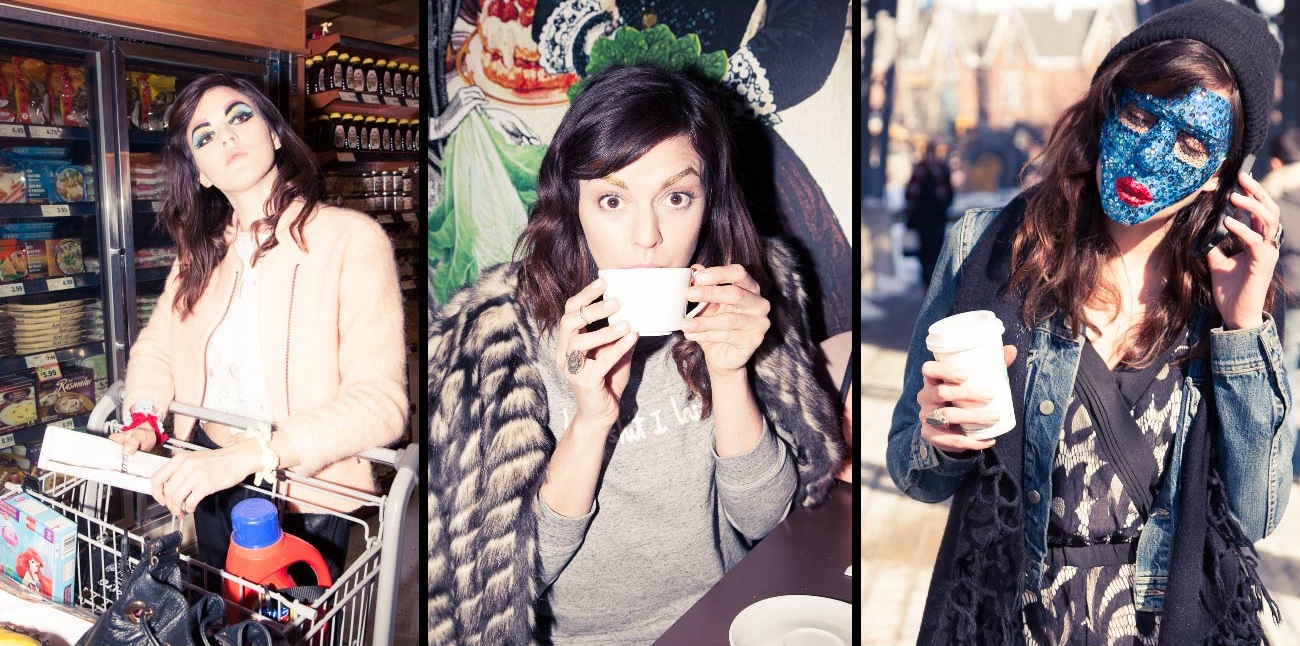 Runway vs. Real Way
Gold eyebrows IRL? Make-up artist Misty Fox takes CHANEL, Dior and Givenchy's most extreme runway looks to the streets.
When it comes to the world of backstage beauty, it's admittedly not the pared-down cool-girl 'no-makeup-makeup' that has us clicking through Style.com with any sense of urgency. Yes, that's regardless of our personal allegiance to the designers in question. What really gets our trackpads moving and hearts racing? The artists who boldly go where eyelids, lips, eyebrows and general facial real estate have never gone before.
And while we regularly worship at the respective altars of Pat McGrath and Peter Philips, we unfortunately find ourselves unable to wear gilded eyebrows and color-blocked abstract eyes on the daily. But that doesn't exactly stop us from wondering: what if we did? And so in the pursuit of recreating their artistry ourselves, we teamed up with make-up artist Misty Fox, who was brave enough to test-drive three runway-inspired looks (from Givenchy, Dior, and CHANEL, respectively) from the spring shows for the purposes, of, ahem, research—okay, and our own entertainment, too. She was also kind enough to show us how to dial down those runway ready looks for everyday life, or something, too—you know, if you're into that sort of thing.
There's nothing quite like wearing a full midnight-blue sequinned mask, complete with ruby red lips to Starbucks during their morning rush, right? Well, that's exactly what we tasked Fox with doing. And while she actually got a surprisingly small number of stares that A.M., she was still kind enough to reinterpret Riccardo Tisci's vision for date night.
"If you're not planning to become the most chic bank robber ever in history, then you probably want to tone down Givenchy's runway look. Pat McGrath applied a full face of oceanic colours, lace texture and netting, raunchy metallics, sequins, sigh... and you can do it all, just in a 'less is best' way. I pressed black cream shadow through lace, and set it with diamond powder from Make Up For Ever. If you're not confident with the lace stencilling, go for the glitter alone. I can safely say this is an evening look—table for two please!"
Lets be real: we would happily gold leaf our brows on the daily would it not guarantee unwarranted stares from strangers. And while we're still working up the courage to do just that, in the meantime, we tasked Fox to taking her Dior-inspired gold eyebrows to lunch. Literally. We mean, what goes better with gold leaf than a juicy burger and a side of fries?
We were sort of surprised that Fox's 'brows didn't get more stares—but that said, they did warrant a healthy helping of second takes. Oh, and as for actually wearing a, ahem, similar look outside of your bedroom? Fox explained, "If you don't fancy wearing the gorgeous gold eyebrows laid boldly by Pat McGrath, you can opt for the flawless skin that accompanied them. Just shift the gold down to the lid and brush some glittery mascara across your brows to pay homage. The thin periwinkle cat liner and dolly blush was added to really pop the colors and tie in the blues and pinks from the outfits. Adiorable!"
It kind of goes without saying that Uncle Karl's latest paint-splattered iteration of the classic 2.55 and oversized pearl chokers are retaining their spot at the very tippy-top of our most wanted list. That said? The beauty at CHANEL's spring show has its own place in our heart, too. Bluntly cut bobs with choppy bangs, paint-splattered eyelids, bold, black brows... yeah, safe to say we've been fighting the urge of taking a tear-out to the make-up counter and hair dresser.
And while we're still waiting on the right, uh, occasion to trot out this look on our own, we figured there was no better place for Fox to hit up than the grocery store to test drive the look in full. Oh, and for those following along at home? "If you're one of those folks who likes smaller strokes, then you probably want to stay closer to the lashline for this. I chose to take inspiration from the palette and placed the strawberry pink on the lips. Cheeks were left clean, as we straggled the line of sanity to bring you a less chaotic, more wearable version of the spectacle that was seen on the runway. "