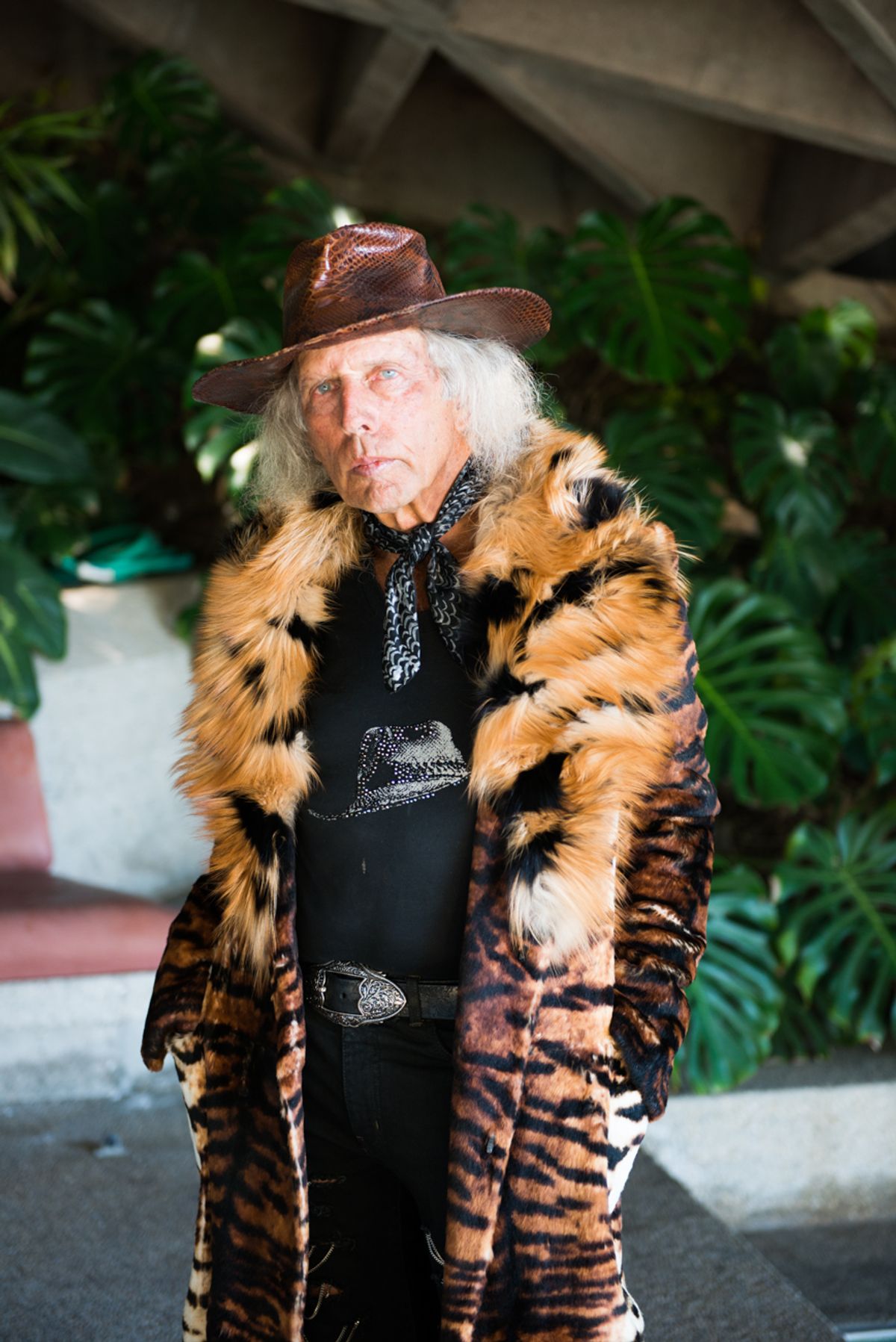 Closet
Designer, Architect, Fashion & Basketball Enthusiast. Los Angeles
There's an elusive, mystery that follows James Goldstein wherever he goes. Yet, no abracadabra-type magic trick can really hide him; after all, he's kind of hard to miss. Whether he's sitting front row at the
John Galliano
show or courtside at a Lakers game everyone can't help but wonder the very same thing, "Who is that guy?" "Fashion, architecture and basketball," his business card reads. But even that doesn't say much. Goldstein's daily get-up has sort of become legendary: an exotic skin, a wide-brimmed hat, some sort of flashy embellished blazer or leather jacket and a printed scarf tied just so around his neck. Couple that with his signature silvery hair, those icy baby blues and smize that even
Tyra Banks
can't compete with and basically you have a recipe for someone who is a Google Image Search dream come true. When Goldstein invited us over to his iconic pad, we basically awoke from our
Instagram
K-hole (you know, that thing when you sit scrolling and double-tapping obsessively) and hopped on the first flight to L.A. Okay, so it didn't exactly play out like that, but whatever. So there we were, driving this bizarre winding road through the Hills making lefts and rights and pulling over every pedestrian possible to figure out the address. Thanks for nothing, GPS. We'd heard rumors about Goldstein's abode and seen plenty of pics of people like
Naomi Campbell
kicking it there; then again, if you've seen
The Big Lebowski
,
Charlie's Angel's: Full Throttle
or, like, a
Snoop Dogg
video, you'll recognize this place, too. The house, itself, is so famous it should have it's own iMDB page or something… it's already got it's own Wikipedia, FYI. Once we finally found the place, we were greeted by Goldstein who introduced himself as Jim. "Or you could call me, 'Jimmy,'" he said. After getting the grand tour, he guided us into his bedroom to show us his
Cher Horowitz
-like revolving closet, which is basically a merry-go-round archive of
Galliano
,
Gaultier
,
Saint Laurent
and
Balmain
's best moments over the past decades. "I just picked this up the other day," he said, unwrapping a gold-studded and stitched
Versace
leather jacket. "And this one." Goldstein reached inside a white
Saint Laurent
bag and pulled out a fur-vested leather jacket. Let's just say this: the man knows how to shop. After switching into another recent purchase, – that pair of those slashed
Saint Laurent
denim with chains that Kanye keeps wearing – Goldstein walked his way to the very edge of his bedroom overlooking all of the
90210
. Insert unstoppable sound of Jake's camera here. And, yeah, the rest is history.