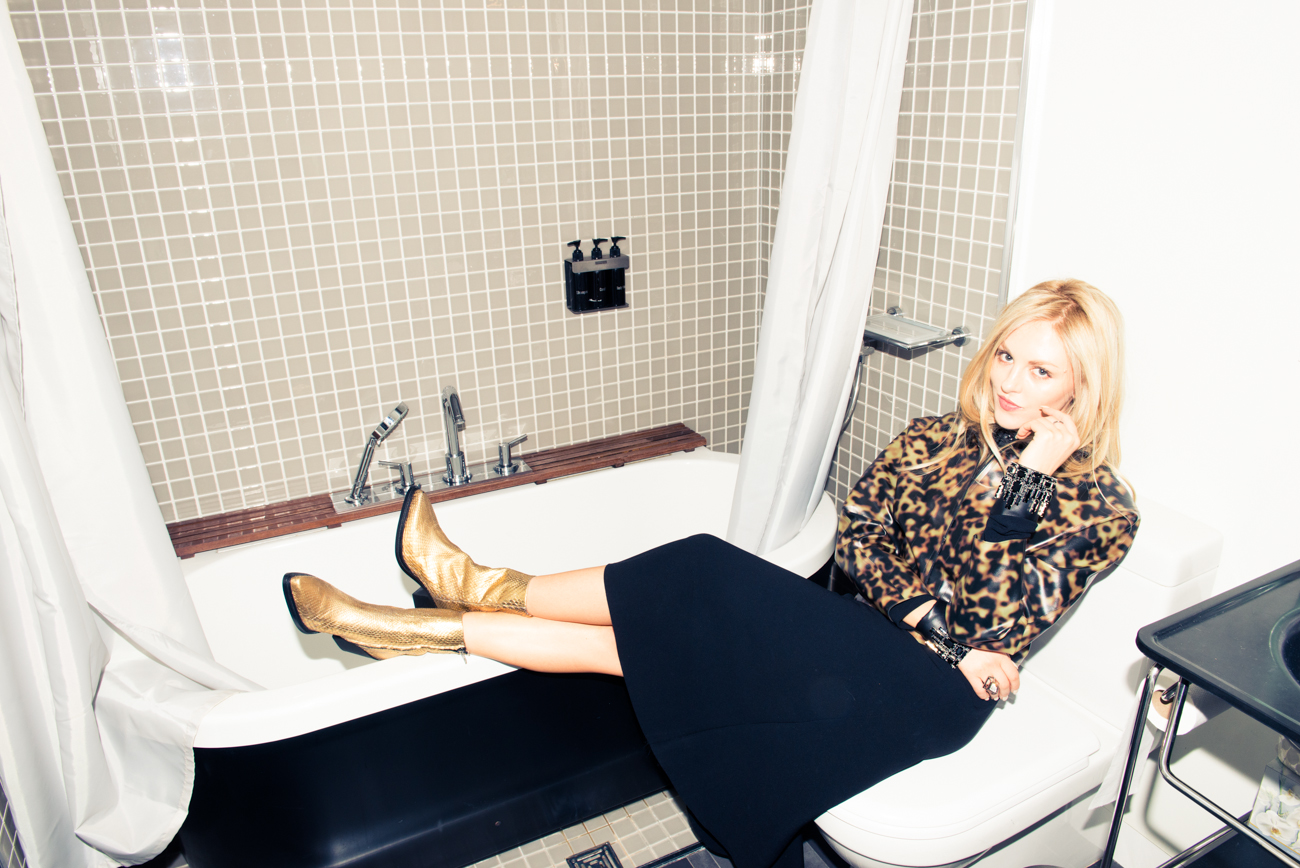 Street Style Essentials
Don't blame us if (and when) you're mistaken for Emmanuelle Alt.
It's (almost) that time of year again. Okay, let us clarify: like it or not, fashion month is a'coming. In our attempt to circumvent our annual 'what-the-eff-are-we-going-to-wear-for-four-weeks' crisis, we've taken the liberty of putting together a little list of the staples that we'll be coming back to over and over (and over) again all month long.
And so with a little help from our girl Shea Marie and the babes over at Barbara Bui (who were gracious enough to give us a preview of their pre-fall collection), we took to the Standard East Village to break down a few of our fashion week favorites. After all, when one of Team Vogue Paris' go-tos asks if you'd like to say dress-up, you don't exactly refute the request. We have a feeling your virtual shopping cart trigger finger is about to go haywire.
The Sneaker: To be honest, we collectively never thought we'd see the day where sneakers would be trumping stilettos among the fashion crowd. And while some may never fully come around (ahem, Anna Dello Russo), this relatively recent sea change is one we're welcoming with open arms—and relatively blister-free feet. A pair of grey python high-tops and a pair of classic white Chuck Taylors fit the bill just fine.
The Sweatshirt: As if you weren't convinced of athleticism's stronghold on street style already, sweatshirts had to go and slide themselves into our regular rotation and become pretty much the only thing we want to wear, like, ever. That said, we aren't exactly talking about your dad's classic cotton Hanes here—instead, look for sweats with unexpected extras, like neoprene and leather sleeves bejeweled detailing, or the ultimate street style bait in the form of Givenchy's Bambi print on neoprene. Plus, for those mornings where you find yourself feeling on the more, ahem, sluggish side (the culprit likely being table-dancing at whatever collaboration that party was for at the Standard last night) you basically have a built-in statement necklace. You're welcome.
Metallic Seperates: Spoiler alert: the fashion world is made up of magpies. Pair a well, pair, of gold trousers with gold ankle boots and you have yourself the kind of photog-baiting ensemble that legions of the street style-obsessed could only dream of. Ditto for the same shoes in sea green, too. After all, Shea kind of lives in them—look no further than her Instagram for proof.
Menswear-Inspired Suiting: We're suckers for a girl in a suit. And here you'll find plenty of photographic evidence of why you should be, too. Any questions?
The Statement Outerwear: The weather outside will likely still be frightful—especially in New York. The fix? Holy-sh*t-what-is-she-wearing outerwear; the kind that practically creates a kind of forcefield for the Sartorialists and Tommy Tons of the world. Case in point? A leopard-printed PVC jacket and slightly mindblowing striped fur chubby, PETA be damned, from Barbara Bui. Pair with a schlubby grey tee and leather skinnies and voila—don't blame us if (nay, when) you're mistaken for Emmanuelle Alt.