Entertaining
A dash of this, a splash of that for the birthday girl.
Things Kate Moss has at 40 that we mere mortals couldn't fathom having in a lifetime:
- A waist that is one zero... and a bank account that has seven.
- An 18-karat gold statue of herself.
- The innate ability to drink other models (and probably frat bros) half her age under the table, and still manage to look like she's been swigging the elixir of youth this whole time.
What's on the birthday agenda for the multi-hyphenate supermodel-spokeswoman-muse-to-everyone-ever? A full week of festivities with her A-list entourage in tow, reportedly infiltrating Richard Branson's Necker Island in the Caribbean, and—we can only speculate—a few too many vodka-somethings in hand.
We're almost as curious about Kate's isle style (and whether it'll dethrone the star-studded CHANEL jumpsuit as her best birthday ensemble) as we are about the after-party shots—both photographic and alcoholic. And because she's rarely spotted without some variety of stemware making a cameo, we thought the best way to celebrate the waifish wild child would be to stir up a few custom concoctions inspired by Miss Moss herself.
We turned to our pals at the Drake Hotel's (read: where we spend literally every free hour we have basking on their rooftop patio, downing adult lemonades or filling our faces with brunch) new downtown outpost, Drake One Fifty, and challenged two of their bartenders to a face-off of sorts for best beverage. We may have also falsely promised them that Moss would like, marry them or something if they won, but no matter. In their own words, here's the entire bevy breakdown—symbolic ingredients and all, you guys—so you can follow along at home. Here's to 40!
---
Drink 1: The Moss-mosa
"To be honest, in the beginning, I didn't really know a lot about Kate Moss—as much as I enjoy supermodels—but it's not really something I put a lot of thought into. I did a bit of research and I decided to make something with a London-style gin because she's from London. Then, I decided I wanted to use a super food, [again], because she's a super model. So I picked blueberry, but I didn't want it to just be a regular blueberry in there, so I used some English lavender and made a syrup with the blueberry and lavender and put a little vanilla in there. I then added a touch of Elderflower liqueur because it's a very elegant French vintage liqueur that sort of reminded me of high fashion when I thought of it. Then, I used some lemon juice for balance in the cocktail because that's really important, it didn't really have much to do with anything other then making sure it was a good cocktail. Then I topped it with champagne because of the elegance of it all and the celebration of a birthday party. I thought it would help bring out the attitude and that sort of look that she's always had. You know, I sort of picture her smoking cigarettes and being like, "I'm so cool, I don't care!" kind of thing. Then also with the blueberry, I was aiming to have a very passionate sort of colour to it in hopes that she would fall in love with me and keep me as her boy toy." - Simon, Drake One Fifty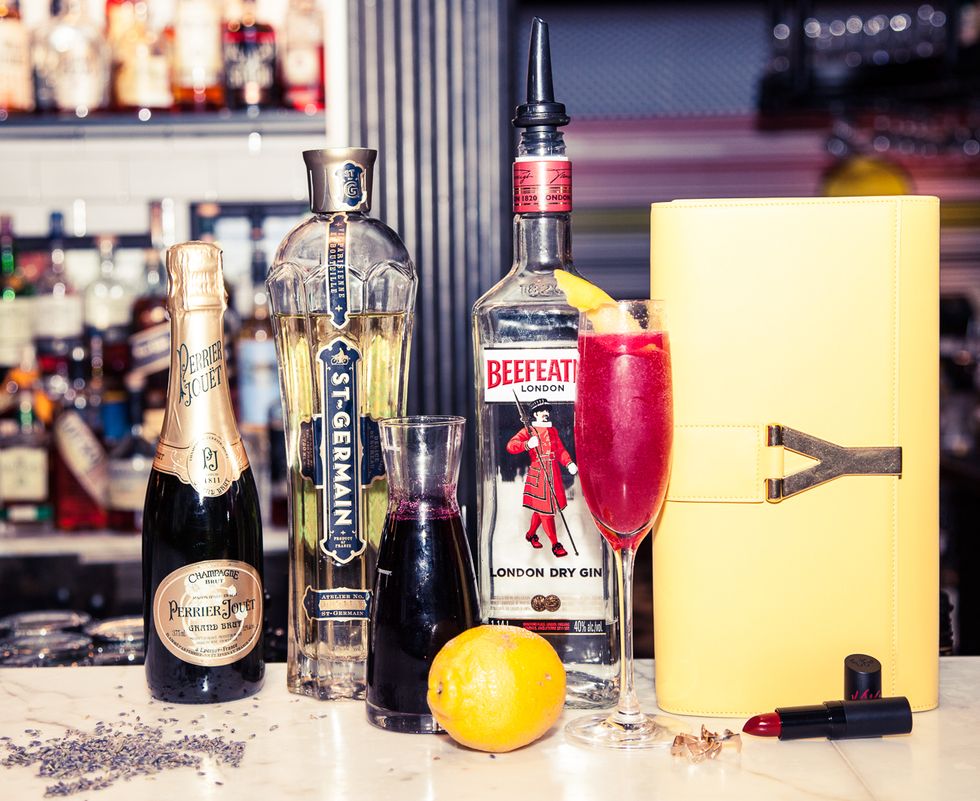 Drink 2: 24-Karat Gold Gimlet
"I took an over-proofed number 10 lemon dry gin, a nice and strong gin to really give the cocktail some punch. It has some nice grapefruit notes [in] it that compliment mixology and working with cocktails really well. We made a homemade pomegranate syrup, so we boiled down pomegranates and made a fresh syrup with it. It has Aphrodite bitters in it, and my thinking was that it's named after the goddess Aphrodite—a beautiful woman—I thought it would complement the drink really well. It's supposed to be a little bit of an 'elixir' too to add a little flare. Going along with that, it has lemon juice [in it] to round it out. I wanted to give it some fresh notes, so I just took some basil and didn't muddle it, but just ripped it and threw it in the drink. It works itself into the cocktail when you crack it over ice. Then I took some 24-karat gold leaf, and as a garnish, we rubbed the gold leaf over the basil and placed it on the top to give some high fashion flare to finish it off." - Arthur, Drake One Fifty