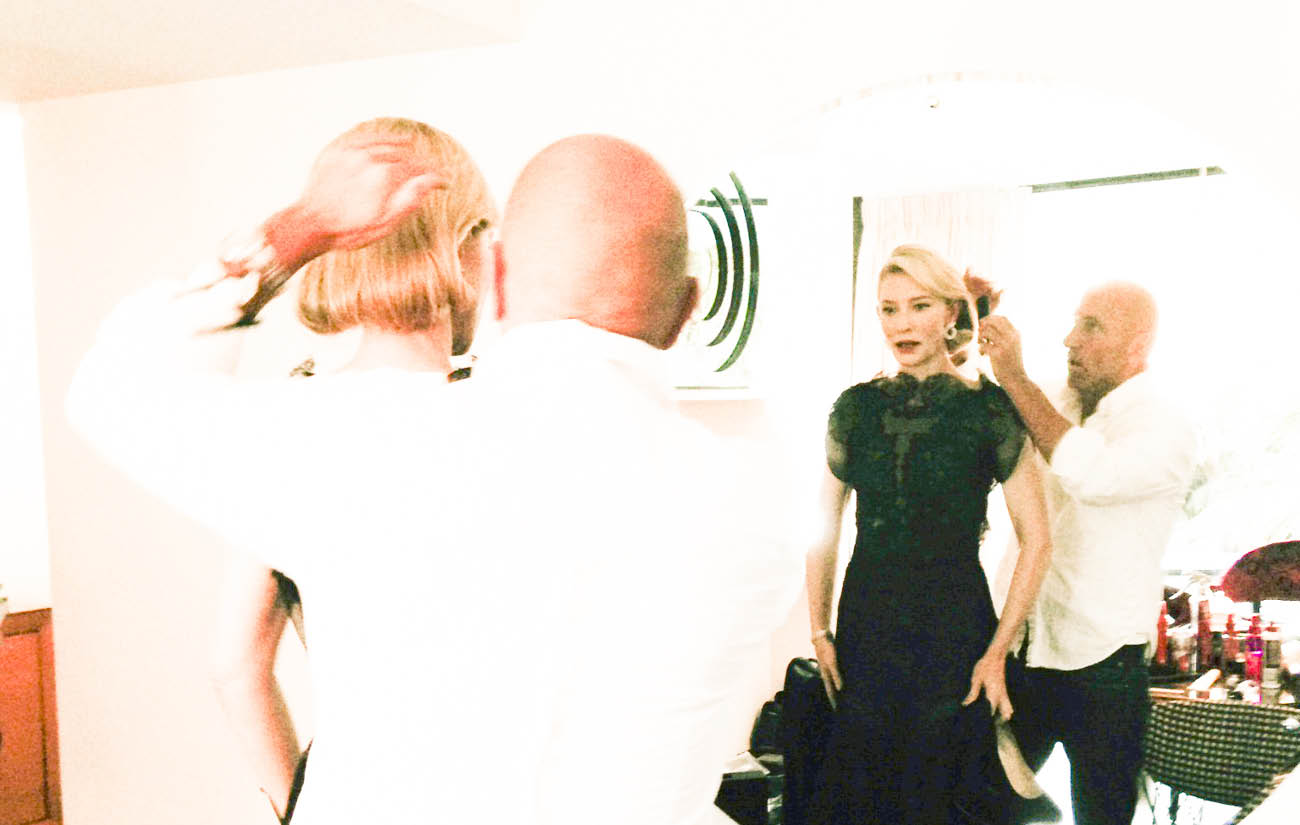 Getting Golden Globes Ready with Cate Blanchett
Getting Golden Globes ready with Cate Blanchett & Robert Vetica. Los Angeles
Hours before taking home last night's big Best Actress statuette and briefly throwing shade at Bono on the red carpet—("Your first album was really good," we mean, could we love her more?)—Cate Blanchett was sitting in Robert Vetica's chair - the man behind the eponymous L.A. salon at the SLS Hotel's Ciel Spa. What can we say? Expertly pinned-up faux bobs don't just do themselves, you know?
As one of Blanchett's long-time go-to guys for all things coiffure, it's not exactly a secret that we've been religious worshippers of Vetica's work. And so who better to send on a mini-mission of sorts to document the entire getting ready process? Equipped with just his iPhone, we put the mane magician to work with Blanchett's stylist (and Cov-alum!) Elizabeth Stewart (the woman responsible for that Armani Couture gown and those unreal Chopard earrings) and long-time make-up artist Jeanine Lobell in tow.
Apparently these sorts of experiences totally do not lose their luster... even once you've become accustomed to things like intensely-talented Oscar-winners plopping themselves into your salon chair on the regular. Case in point: when Vetica exclaimed to us, "I'm just honored to be in the room with those clothes!" But the man's kind of got a point—can anyone really forget the time Stewart whipped up the pastel-pink Givenchy couture gown heard 'round the world for her to wear at the 2011 Oscars? Because we're pretty sure that for us, that's one red carpet moment permanently pinned to our mental moodboards until the end of time.
Luckily for us, Vetica was more than happy to fill us in on the entire primping process—from pulling visual inspiration to flying bobby pins. "After we get a feel for the dresses, I go to my archives and start pulling images. I have thousands of photos [and I'm continually building this] archive on an ongoing basis. So I'm inspired first by the amazing [Blanchett], then when the dress is chosen I go through my archives and boil it down to some of my favorite looks that will inspire Cate and myself as well."
And so what about the big day? "The mood was light and easy as we already had a pretty good idea of what we were going to do. We always pre-plan the week prior so there's no mistakes on the day of. Cate is as you would think she would be: kind, gentle, funny, and also she's a professional and 'gets' the process. Ultimately she needs to feel amazing and [so] I follow her lead, a little volume here, a little push there."
Remember what we said about some things just never getting old, no matter how many times you've done them? Turns out the exact same thing applies to that last minute "she-needs-to-be-on-the-red-carpet-right-now" rush. "I start with the hair set as she's getting nails done, then she goes into makeup and then it starts to get a bit crazy [when] time is running out and we need to get her in the dress. It's the kind of rush you get at an amusement park. You're nervous and excited, but we have a job to do! Bobby pins are flying, [the] seamstress is fixing something on the dress, she needs her lips done. I'm not finished, so I'm following her around with my comb, hairspray and bobby pins. It's the best part of the day but also the most nerve-wracking. I've got to keep my cool under any circumstances! In those last 20 minutes, I'm fried!" Add a pair of Chopard stunners and voila—one serious red carpet moment, non?
In the end, of course, it turns out that all of that mind-numbingly stressful rushing is totally worth it when Vetica sees the finished product. "I look at her in front of the door with that alluring smile and her spirit... I can't even tell you. So genuine, looking beyond beautiful." Oh, and P.S.? We totally like to think that hair had something to do with the Best Actress win. Academy Awards, watch your back!