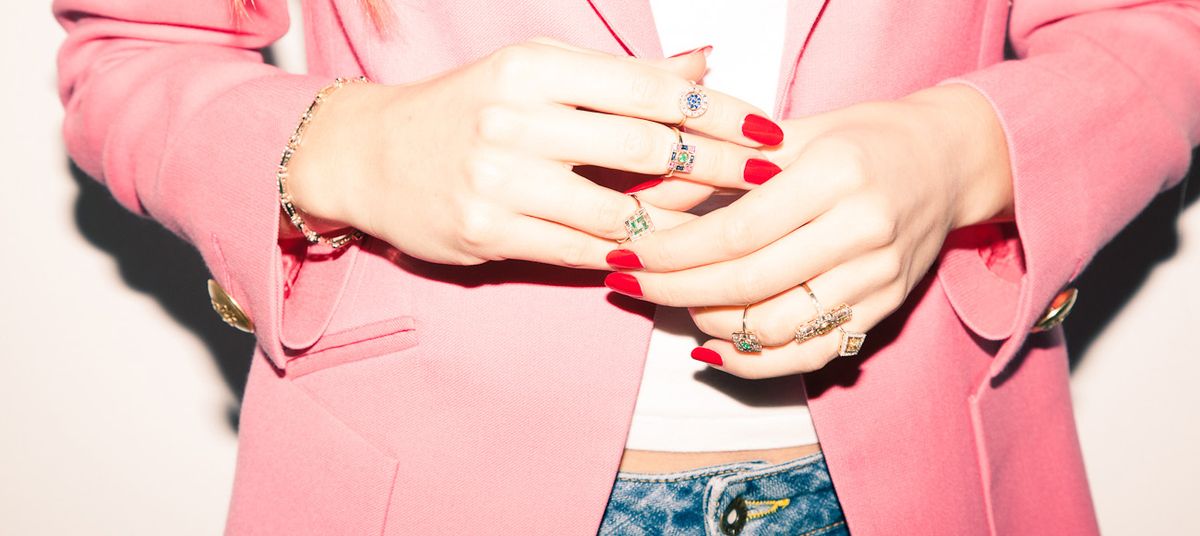 Career
Jewelry Designer. London
Renée Rodenkirchen
---
"I got into jewelry out of complete desperation! I had studied at the Gemological Institute of America in New York and was looking to find a job. As nobody wanted to hire me I decided to design a couple of pieces for fun and I quickly understood that I would be."
"I usually take inspiration from a specific era or from women I admire. For example 'Harlequin' is very much based on the Art Deco era and it is also a homage to style icons I adore such as Marissa Berenson and Catherine Deneuve."
If you're anything like us, you're no stranger to the age-old process of discovering new "I need to have that, like, yesterday" designers while clicking around the ol world-wide-shopping cart web. And when we first came across Sabine G, the latest (eponymous) jewelry line that we're slightly obsessed with and considering selling a kidney to own. It's not just us, right? We seriously dare you to take one look at Ghanem's line-up of rose gold and ruby-and-diamond-studded baubles and not find yourself immediately calculating exactly how you could bypass next month's rent in favor.
Fast forward to our second-latest jaunt to Texas (it's become our home-away-from home of sorts), where we joined Cov-alum Nasiba Adilova and W Hotels to celebrate the TWOxTWO for Aids gala co-hosted by Adilova and Vladamir Roitfeld (yeah, relation to Carine). We're never ones to pass up toasting to a good cause, so it was only necessary that we packed up our cowboy (er, Chloé) boots and headed to Dallas just in time for the hotel's latest, greatest renovation, mind you. Yeah, we didn't think it was possible for the W to get even more cowboy chic either, but, well, there you have it. The weekend-long affair benefiting amfAR and Dallas Museum of Art was our kinda scene: Lily Kwong, Chelsea Leyland, Mary Katrantzou (all coming soon to a Coveteur near you!), Diane von Furstenberg, Tina Craig, Derek Lam and more. Got FOMO, yet?
Greeting us in a Pepto-pink blazer and blue jeans, Ghanem was all bleach blonde hair, ruby red lips and serious jewels, effortlessly slipping into a velvety Christopher Kane mini, a silvery Kate Moss in the '90s-esque slip, and finally, a floor-length teal lace gown, while flitting around in front of the camera. As if we weren't obsessed enough already, right?
"Yes, this is how I take my phone calls... wearing Christopher Kane and red lipstick."